Toyota Avalon years to avoid — most common problems
Find out which Toyota Avalon models to steer clear of.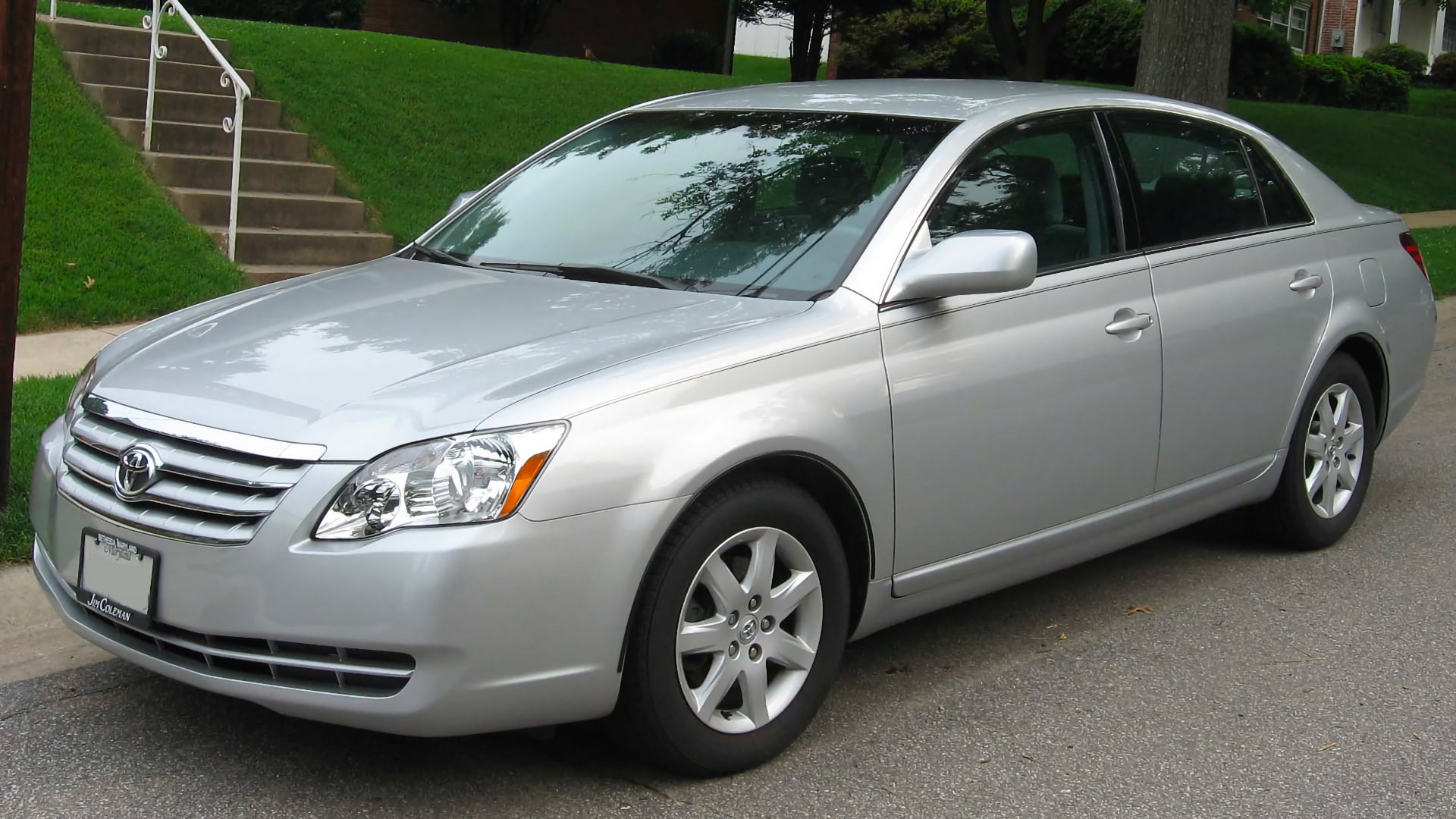 In 1994, Toyota rolled out the Avalon, its most high-performing front-wheel-drive vehicle, and it seats as of the leading models around the world. Since its release in 1994, the Toyota Avalon has been manufactured in different model years, with each new model year having some slight changes from the previous.
While some Toyota Avalon model years are better than others, most models are famous for their reliability, making these models excellent choices for a used vehicle. Conversely, a few Toyota Avalon models do not maintain this line of reliability, resulting in lower consumer appraisals with a high number of complaints. This article presents you with Toyota Avalon years to avoid while highlighting the models' common problems and their best years.
Why you can trust REREV's advice on which car model years to avoid: Our car experts look at official data, ask real drivers what they think, and talk to experienced mechanics to make sure our list is useful. This reliable info can make buying a car easier for you. Want to know how we do it? Find out more about our research methodology.
Most common Toyota Avalon problems
You must know the long list of issues you can experience if you purchase any of the worst years of the Toyota Avalon. These issues include defective rear window sunshade, shifting problems, sudden acceleration, defective EVAP vapor canister, distorted speakers and defective infotainment, engine misfire, peeling paint, clogged idle air control valve, engine oil leaks, and faulty oxygen sensor.
Defective rear window sunshade
A faulty rear window sunshade has been a common complaint from drivers who own the 1995-2016 Toyota Avalon. Car owners who have driven these Avalon models have complained that the sunshade gives off grinding noises and requires the passenger to push it down manually. Fortunately, this issue is typically resolved by completely replacing the sunshade assembly. Also, disconnecting the fuse is a common fix to eliminate the grinding noise.
Shifting problems
Many owners of 1995-1998, 2000-2007, 2009, and 2015 automatic transmission Avalons have given reports about their cars being unable to shift correctly. They complain that when driving at low speeds, their transmission usually hesitates when shifting from second to third gear.
Furthermore, there have also been cases where the transmission would jolt or stay neutral before shifting into gear due to a defective throttle position sensor or shift solenoid. A throttle position sensor replacement can cost around $150-400, while a new shift solenoid could cost anywhere between $100 to $500, including labor costs.
Sudden acceleration
Sudden inadvertent acceleration usually occurs when a vehicle has an electronic malfunction, allowing the throttle to expand without the driver hitting the gas pedal. Sometimes, this can happen when the driver steps on the brakes, shifts gears, or switches to cruise control.
For Toyota, sudden acceleration has been a prevalent problem experienced by many 2014 Avalon owners. These owners complain that their vehicles would accelerate without reason, with the RPM springing from 700 to 3600 in 1.5 seconds. Some also report that their accelerator pedal leaped from 27% to 79.5% in less than a second. Toyota, however, maintains that they spotted no issues on the affected models.
Defective EVAP vapor canister
Some 1995-2004, 2006, 2011, and 2015 Toyota Avalons have experienced issues with their vapor canister releasing charcoal pellets, which may block the vent valve. This issue fired up the check engine light in the affected modes and emitted a fuel vapor smell from underneath the engine.
Since evaporative emission system leaks can be created this way, it's not a problem that should be taken lightly and it may make you fail your emissions test.
Distorted speakers and defective infotainment system
Many owners who own the Avalon's 2015 redesign have complained that their speakers gave off buzzing noises when playing lower bass tones on the radio. Although other drivers tried installing extra padding to fix the problem, the issues still occurred. In line with this, owners have been to replace the door panel as this is a design flaw.
We've also received reports of a defective infotainment system in some 2015 Avalon units. Drivers complain that their navigation, radio, and other applications would reboot from time to time. Also, the screen sometimes freezes, leaving the caller ID information displayed.
Engine misfire
Several 1995, 2010, and 2012 Avalon owners have complained about engine misfires. They note that their vehicles would jolt and hesitate due to a faulty ignition coil. Thankfully, replacing this part is affordable, with a cost range of $5 to $50, including labor costs.
However, it is essential to note that there may be several other causes of an engine misfire, like a defective control module, fuel injector, or crankshaft position sensor. Additionally, mechanical issues may also lead to an engine misfire. If you are experiencing an engine misfire on your vehicle, it is best to have a professional mechanic diagnose it.
Peeling paint
A typical 2011 Avalon problem reported by several drivers relates to peeling paint off the vehicle's roof. Owners complain that paint bubbled on their vehicle's roof and between the sunroof and windshield. There have also been instances where the paint peels off in sheets owing to the lack of primer upon applying the paint.
Clogged idle air control valve
A clogged idle air control valve has been a common issue reported by some owners of 1995-2004 and 2006 Avalons. Owners of the affected models report that their vehicles took longer to idle down. Also, there have been cases where the engine refuses to accelerate under 2000 RPM due to debris buildup in the idle air control valve.
Engine oil leaks
This has been a commonly reported problem by many 2006 Avalon owners. Drivers report that their vehicles would make unusual engine noises due to a defective oil hose that causes engine oil leaks. Some drivers add that they had to tow their car to a repair shop due to an enormous hole in the side of the engine block.
Faulty oxygen sensor
Some 1996-2008 and 2012 Avalon drivers have reported symptoms of bad oxygen sensors like harsh engine operation and poor gas mileage, which may have caused them to fail their emissions test. The cost of replacing the oxygen sensor is typically between $30 and $150, including labor costs.
Which Toyota Avalon years to avoid?
Some Toyota Avalon model years have caused their owners different annoying, expensive, and life-threatening issues. Thankfully, from reports from many Avalon owners, we have a complete picture of which Toyota Avalon years you should avoid to save yourself from unnecessary stress and expensive fixes. We recommend avoiding the following Toyota Avalon model years.
Third-generation Avalon (2005-2008, 2011, 2013, and 2014 model years)
The 2005 Toyota Avalon is the oldest model in this generation, and it's not a good choice if you want a vehicle with high reliability. Owners report oil leaks in the engine, causing early wear to parts. Some add that these oil leaks begin within the first few months of purchase.
The 2006 model year had many grievances that shook the maker's reputation. It suffered an abrupt loss of force along with engine oil loss. At about 60,000 miles of driving this Avalon model, many owners complained that the engine would suddenly stop working. Additionally, this model year had accompanying issues like a broken dashboard, controlling rack leakages, complete loss of engine oil without a warning light, etc.
The 2007 Avalon shares similar problems to the 2006 year model, and Toyota did nothing to fix these problems. It had its first recall, which had to do with defective ignition coils. Afterward, owners of this model began complaining of several other issues like cracked dashboards and oil leaks that often lead to engine failure.
With the release of the 2008 Avalon, Toyota had much to prove. Since the previous models of this generation didn't end up satisfying their customers, they needed to introduce a model that would help regain the mass's trust. Unfortunately, the 2008 Avalon wasn't this model.
This model had issues with its headlight, which would often go out, making it dangerous and difficult to drive at night. It also suffered dashboard cracks-an issue that is common on previous models. Owners also report rack and pinion leaks, which would make steering the vehicle nearly impossible.
2011 Avalon was also plagued with issues like peeling roof paint, which is a critical concern if you intend to keep your vehicle long-term. Additionally, it experienced a malfunctioning sunshade, so you may sometimes have to drive without using it. Lastly, this model suffered a malfunctioning power door lock, which means you must go around locking the doors manually.
2013 and 2014 had similar issues. A common one was sudden acceleration due to an electronic malfunction. On the 2014 model, many owners complained that the accelerator pedal jumped from 27% to 79.5% in less than a second. They also add that their RPM would rise from 700 to 3600 in 1.5 seconds. However, whenever the vehicle was shipped back to the manufacturers, they claimed there wasn't any issue with this model.
Best Toyota Avalon years
The Toyota Avalon has been on the market for nearly three decades, with five generations in circulation. Up till today, it is still being manufactured with the 2022 model available in some dealerships. Most Avalon models are renowned for their reliability, and you can get a great experience if you keep away from the few faulty ones. We recommend purchasing the following models to avoid expensive repairs and hazardous effects.
1994 Toyota Avalon
1995 Toyota Avalon
1996 Toyota Avalon
1997 Toyota Avalon
1998 Toyota Avalon
1999 Toyota Avalon
2000 Toyota Avalon
2001 Toyota Avalon
2002 Toyota Avalon
2003 Toyota Avalon
2004 Toyota Avalon
2009 Toyota Avalon
2010 Toyota Avalon
2012 Toyota Avalon
2015 Toyota Avalon
2016 Toyota Avalon
2017 Toyota Avalon
2018 Toyota Avalon
2019 Toyota Avalon
2020 Toyota Avalon
2021 Toyota Avalon
The Avalon models listed above have been proven reliable, with a few complaints from drivers. If you intend to buy a used Avalon, we recommend purchasing any of these trusted model years. Surprisingly, while it is natural to expect older vehicles to have more issues, Avalon model years from the late 90s and early 00s are remarkably reliable, except for the 2005-2008 model years.
Is the Toyota Avalon worth buying?
The Toyota Avalon is a durable and reliable car and can give you a great unforgettable experience. However, this can only be possible if you keep away from the worst model years we mentioned earlier.
Which year is the most reliable Toyota Avalon?
The 2022 Avalon is Toyota's most reliable model year, with outstanding performance in one of many areas like fuel efficiency.
What is the major problem of the Toyota Avalon?
The Toyota Avalon's prevalent problem lies with its electrical system, brakes, and engine.