Kumho Crugen HT51 review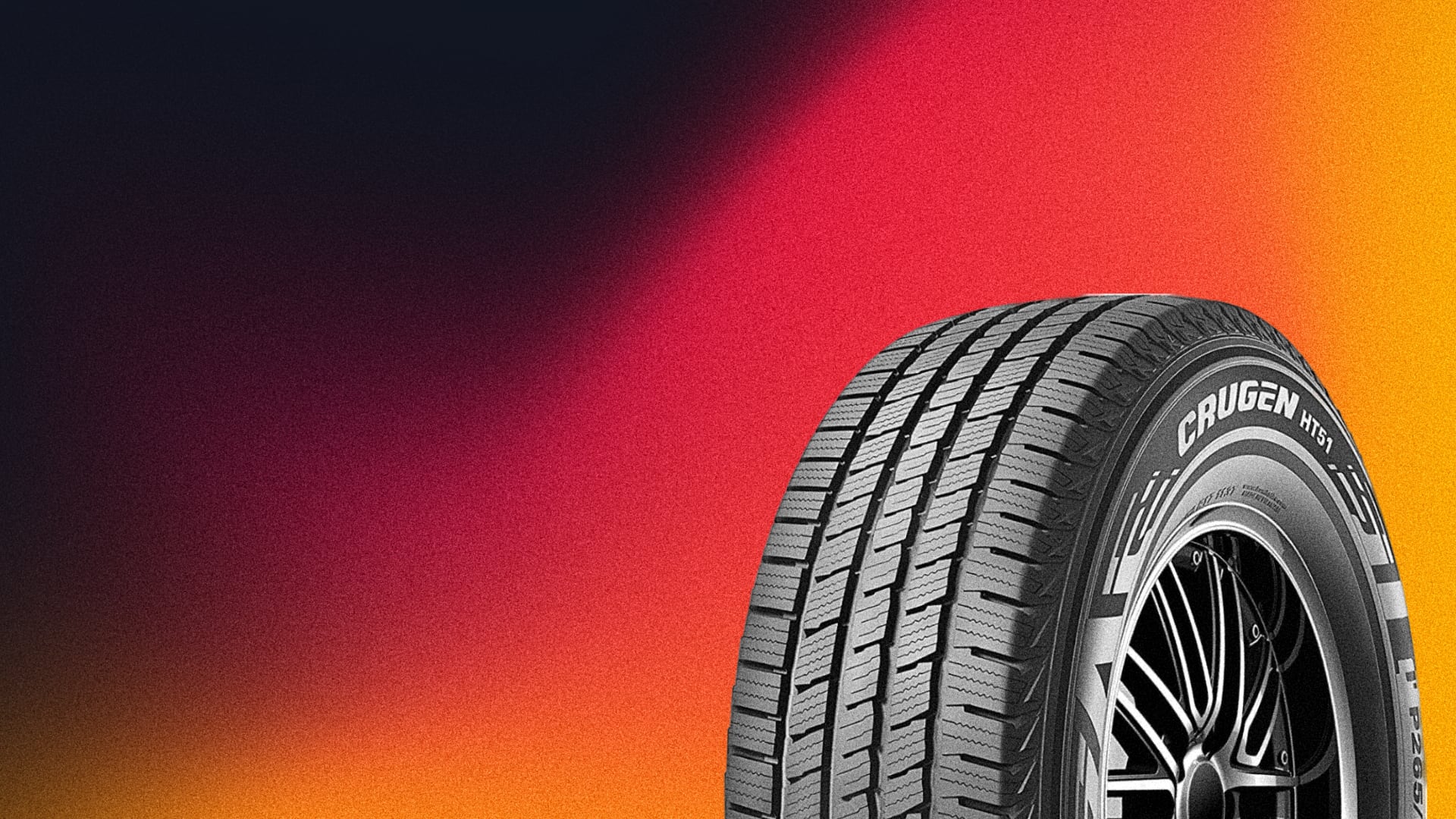 Having an SUV or a truck as your daily ride requires tires that handle highways well for the summer days, along with a set of winter tires to avoid getting stuck in the snow in winter. It might be both bothersome and expensive to switch the two sets, so Kumho came up with a solution.
They engineered it, and we'll introduce it to you in our Kumho Crugen HT51 review! It's an all-season tire capable of tackling both hot and cold weather with enhanced stability, and impressive estimated tread life.
Recommended
Kumho Crugen HT51
Kumho Crugen HT51 is an SUV tire optimized for equal grip on dry and wet roads, and it also behaves impressively in light snow, making it a complete all-season long solution for your SUV or truck.
REREV may receive a commission for purchases made through links on our site. Learn more.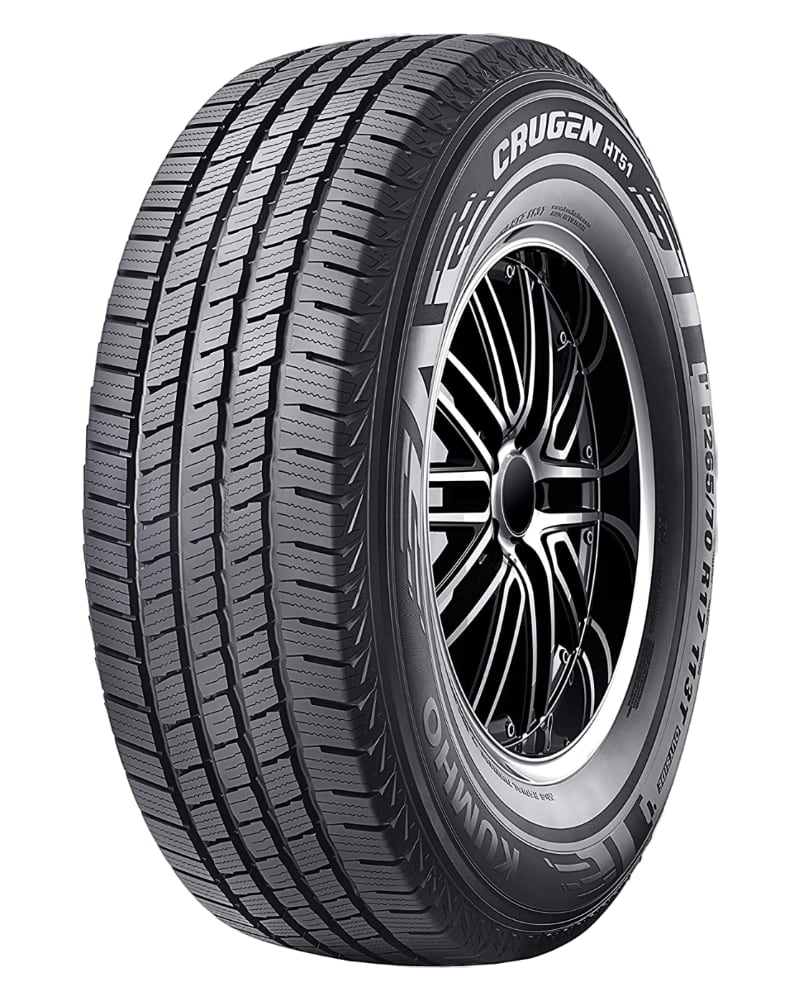 Why you can trust REREV's tire reviews: Our automotive expert researchers analyze tire specs, customer feedbacks and reviews from credible sources. This thorough analysis provides accurate information about tire performance, helping you make the best choice. Find out more about how we evaluate tires.
Key features and technologies
If you are more road-oriented with your SUV rather than driving on off-road terrains frequently, you'll find these tires more than compelling. Starting with the tread design that's made for higher durability and support, these beauties bite on highways and town roads with an immense grip.
Here's a brief overview of the main features and technologies that Kumho used in production:
Tread pattern optimized for long mileage performance
Reinforced center rib for higher stability
3D sipes for better traction and handling
Draining grooves
One thing is obvious from the first glance at Crugen HT51 tires – these are made to last! You can tell that by the tread pattern that entices even wear with a maximized rubber surface that grips the road.
Even the narrow shoulders with large tread blocks are focused on ground grip, rather than on cornering performance. In other words, these are not your standard SUV tires that are capable of off-roading or achieving high performance – they are made for everyday driving on the highway and town roads.
You'll also notice the reinforced center block that offers higher road stability and maximized traction. There are just narrow gaps between the treads in this block, making it seem like it's all a single-piece tread.
While we are at the traction, it's impossible not to mention the 3D-engineered sipes spreading across the treads. You'll spot these spreading on each tread block for higher snow traction and better handling.
The sipes and draining grooves work splendidly in eliminating the water that bursts into the tire on wet roads.
Safety features
You can generally trust Kumho when it comes to safety features, and Crugen HT51 tires also have several of them to brag about. Looking at the tire, you'll notice the four wide circumferential grooves that disperse the water from the tire.
Kumho did this to prevent hydroplaning, which is when you lose handling over your SUV under a layer of water between the tire and the ground. Luckily, you won't have to worry about this ever happening with the Crugen HT51 tire, since it also has wave-shaped 3D sipes.
These are small shallow lines spread over each tread block, and Kumho made them in wavy design on purpose. They lead the water and snow away following the sipe pattern into the larger grooves and out of the tire.
Speed ratings
Like we already said, Crugen HT51 tires aren't exactly like performance-type SUV tires. Still, you can find them in three different speed ratings – "R", "S", and "T". Generally, a tire's speed rating specifies the speed limit you can push the tire at without losing stability or noise isolation.
Going with a set of Crugen HT51 tires with an "R" speed rating mark will get you rolling up to 106mph. The "S" speed rating means you can drive a bit faster, up to 112mph, while the "T" speed rating gives you comfort and stability on speeds up to 118mph. If you are going to use these tires for what they were made for, and that's pleasant and comfy highway driving, these speed limits should suffice.
Kumho Crugen HT51 treadwear and durability
We've discussed how the 3D sipes on these tires serve your safety and driving stability, but they also extend the tread life. They prevent overheating due to high friction in the summer and cool the tires down.
Air passes through the small cuts on each tread block, giving you optimal tire temperature in the summer, therefore extending the tread life. Thanks to this feature, and the maximized rubber compound for higher traction, Kumho Crugen HT51 comes with an estimated tread life of 70,000 miles.
Even if you are going to use them on your SUV as a daily ride, you should be able to make them last for at least 4 to 5 years!
Maintenance indicators
One thing that can help you with understanding the tread life of these tires is a wear indicator. You might have encountered it before, but didn't realize what it means, as it's a small number embedded in the grooves.
You can't see it when the tires are new, but as the tread continues to wear off, you'll spot the mark specifying the last 2/32 inches of tread. It's an industry standard, and it's just a shame that Kumho didn't include more wear gauges.
Still, you can make use of this marking to tell you when it's the time to change your Crugen HT51 tires for a new set, as driving below the final 2/32 inches isn't as safe as with a new tire.
Kumho Crugen HT51 traction performance
Now that we've covered the basics, let's see how these tires perform in different weather conditions. They are, after all, all-season tires that should get your SUV rolling on the hottest summer days, as well as on cold snowy days, so let's take a look:
Wet traction performance
Looking at how these tires performed in the rain, our team had a few benefits and drawbacks to spot. First, their braking distance and highway performance in the rain is great, thanks to the wavy grooves and large grooves that eliminate the water easily.
However, the extended tread life leaves its mark on the traction, since the shoulders are narrow and more focused on road grip than on cornering stability. Sure, it's still safe to make turns even at higher speeds in the rain, but you shouldn't overdo it with Crugen HT51.
Overall, the wet performance isn't great, but it's far from bad either, especially given the price range of these tires. Bottom line is that you should use these for an all-season drive if you don't intend on making any sudden as they work best for directional driving.
Dry traction performance
Kumho Crugen HT51 tires perform great on dry tarmac and highways, with the tread compound that features self-cooling thanks to the wavy sipes. You won't have to worry about excessive wear or stability issues when driving in dry conditions.
Our team was amazed at the short braking distances, and it's no wonder – these tires have maximized rubber surface on the road. It means better grip, higher stability, and easier handling on dry roads. These tires make one of the best all-season options for your SUV when it comes to dry performance, no doubt about that.
Snow traction performance
These tires are simply great on light snow, and we don't have to convince you any further than stressing that they earned a 3-Peak Mountain Snow Flake symbol. If you are unfamiliar with it, it's the industry standard awarded to tire models capable of tackling extreme winter weather.
So, Kumho Crugen HT51 tires are the closest you'll get to winter tires among all-season models. They allow delicate snow steering without any particular sliding in the light snow, so you can take your truck for a drive even on snowy roads.
What about off-road traction?
If you got this far through our Crugen HT51 review, you'll know that these are not off-road tires. However, they do provide plenty of grip on slight gravel, sand, and even surfaces with smaller rocks.
The tires come with a reinforced casing capable of withstanding sharp objects without any tears in the tread. However, these simply won't suffice for hardcore off-road terrains with large rocks and deep mud. If you are aiming at tackling such terrains, you should consider getting AT tires instead of these.
Noise and comfort
Driving with a set of Kumho Crugen HT51 tires mounted will give you a refined and smooth sensation. It earns its place among the best all-season tires that we've tested in this category, as the cabin is completely isolated from bumps and road vibrations.
We also noticed that the difference between using these tires over regular test tires results in about 3dB. Don't let yourself be tricked by the sound of it – it may sound like an irrelevant difference, but it nearly reduces the noises and vibrations by half.
Competitors and alternatives
When you look at it, Kumho Crugen HT51 offers a considerably quiet and refined ride for your SUV, along with all-season traction above average. It fits among the affordable premium tires, so there are not many competitors. Here are some of the main rivals to this Kumho tire:
Firestone Destination LE3
Michelin Defender
Price range
Kumho Crugen HT51 tires come in sizes between 15″ and 20″. Going for a set of 15″ tires, you'll have to pay around $130 per tire. On the other hand, you'll be looking at a price of around $270 for a single 20″ tire.
Luckily, you can also count on rebates and discounts to get an even more convenient price for a set of Crugen HT51 all-seasons!
Warranty
It's a great thing that you get the maximum warranty deal for the price with Kumho Crugen HT51 tires. The manufacturer includes a mileage warranty on 70,000 miles. Also, you can count on the free replacement during the first year of use or the first 2/32 inches of tread.
Overall, it makes quite a decent deal on these tires, letting you use them on your SUV or truck for years to come.
Our take
As the time comes to make a verdict on these tires, it's important to consider all the crucial factors again. They bring you great value for money, an impressive 70,000 estimated tread life with warranty, and great summer and winter traction.
Wet cornering might be the only slight downside, but you'll be able to handle directional driving on a rainy day anytime. Moreover, these tires offer the highest comfort and noise isolation in the class, making them worthy of your consideration.