Jeep Compass years to avoid — most common problems
Discover the Jeep Compass years you should steer clear of.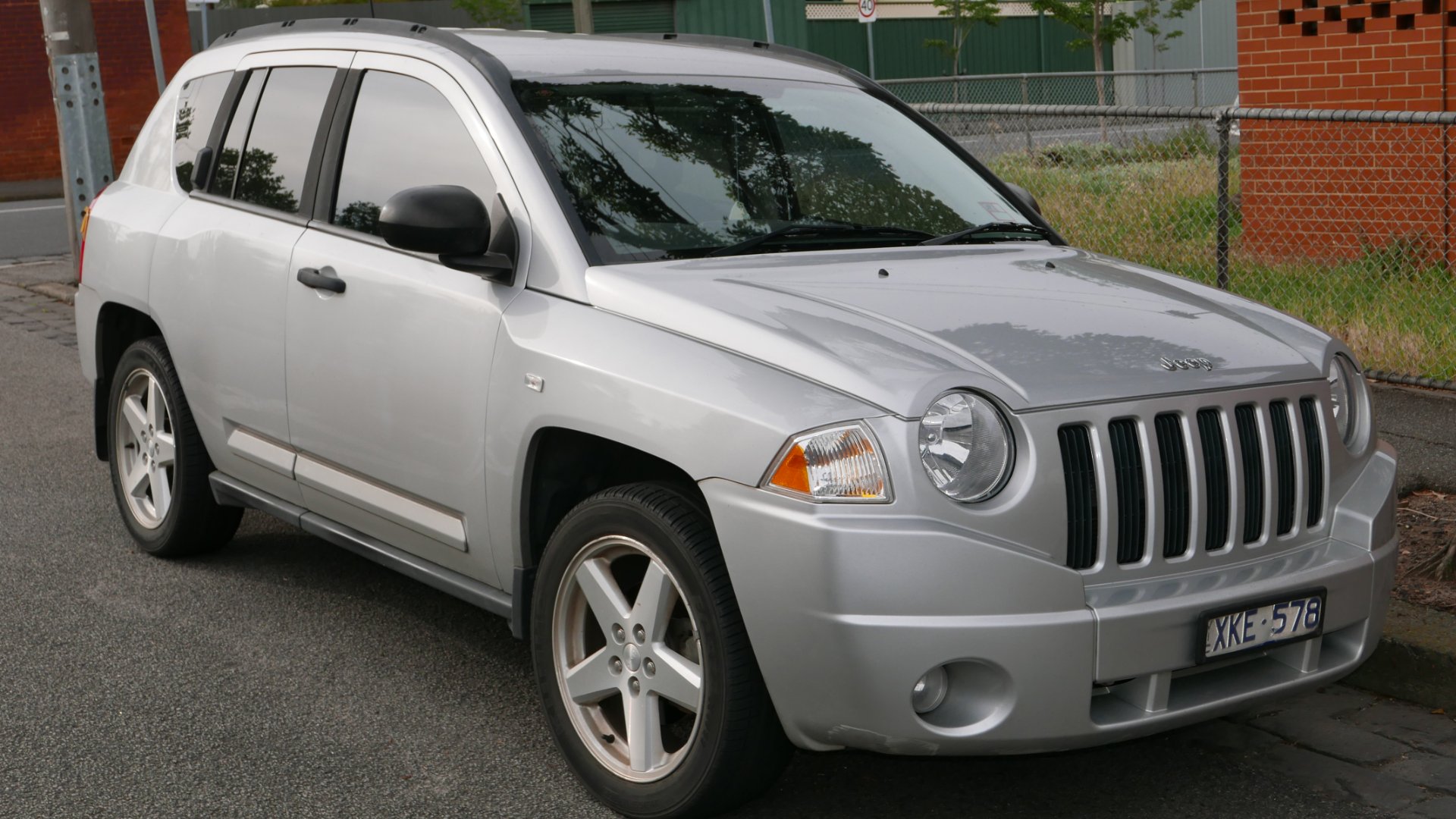 For years, Jeep Compass stood for a great compact family SUV with an optional all-wheel-drive system and great value for the price. It's not a luxury SUV, but it performed impressively well on the NHTSA safety and crash tests.
We don't mean to spoil the promising narrative for you, but although it's a great vehicle for family needs, there are still some Jeep Compass years to avoid. So, we had to dig deeper and uncover all the flaws of the model as well as help you pick the best possible model year for your needs.
Most common Jeep Compass problems
Considering the longevity of Jeep Compass production, the car received quite a low account of severe complaints regarding the engine completely dying or transmission problems. Still, there were some issues with the CVT transmission that led to drivers having to do expensive repairs. On top of that, they had to wait for quite a long time to fix the issue. Have you ever wondered how long does it take to rebuild a transmission? It's a long and complicated process that will leave you without a vehicle for days at best.
Besides, there were some reported problems with certain engines, mostly when it comes to the 2.4-liter Tigershark engine. Further issues reported by drivers include suspension issues and braking system faults that often result in grinding and similar bad noises.
There was also a reported TPMS light issue but it turned out it was just a software error and it was an easy fix in most cases. Because of all this, it may seem like it's enough to simply avoid a 2.4-liter engine and the CVT transmission, but let's take a closer look.
Troubles with the CVT transmission
From the first generation of the Compass, drivers were familiar with the CVT transmission problems that led to expensive repairs and transmission rebuilds. These mostly included sudden jerking motions and shuddering while accelerating, but it wasn't always related to the driving speed.
Even at a lower speed, drivers complained about excessive transmission noises and rough transmission performance often leading to drivers selling their cars. Because of this, it's better to go with a car equipped with Aisin's 6-speed manual or automatic transmission, as well as Hyundai's automatic transmission. There's also the 9-speed ZF automatic gearbox available for the second generation, so it makes a better buy than the CVT one.
Notorious Tigershark engine faults
With the second generation of the Compass, the infamous Tigershark engine also came into play and it wasn't the best thing, to say the least. These engines were prone to excessive oil consumption that sometimes led to the complete breakdown of the inner engine components.
The figures can vary as to how much it costs to repair the engine, but it's mostly close to at least $3000 and often even more. The same goes for the MultiAir four-cylinder variant, so it's better to stay away from these engines.
You can go for an inline-four cylinder turbo GME engine, or go with a convenient turbocharged diesel one that comes with lower fuel consumption.
Problems with the suspension
Having in mind that some Compass vehicles are fitted for an all-terrain drive, it's no surprise that suspension components can simply wear off. However, several issues shouldn't be taken lightly, and these include the bad tie rod symptoms and the control arm bushing problems.
Because of this, drivers had to experience road bumps and poor performance while driving off the road, as well as some noises coming from the suspension. As a result of this, the driver may not be able to properly control the vehicle and uneven tire wear is just another consequence.
Braking system faults
Finally, there's also a common problem of bad brakes on Jeep Compass vehicles. Drivers rarely experienced a complete loss of braking pressure, but a common thing was to hear grinding noise and stretching noises coming from the brakes.
Even after changing the brake pads, the noise kept on showing up and it turned out that it was coming from the rear brake calipers. So, there were a few solutions like installing brackets to prevent the noise and there was an official recall in 2018 to deal with the problem.
Which Jeep Compass years to avoid?
After hearing about the main problems that this model has faced over the years, it's time we get to the worst production years. Some model years received quite a lot of driver complaints, so let's see what it looks like based on each generation:
First-generation Jeep Compass (2007-2008 and 2014 model years)
The production of a first-gen Compass lasted for quite a lot and there was a re-design in the middle of the production. The 2007 model year received the most complaints out of all the models, so it's by far the worst Compass so far. Things didn't get much better with the 2008 edition, and these two models struggle with the suspension system.
The most notable issues include bad control arm and tie rods, and there was the engine control unit (ECU) fault as well. After a few model years, things got a bit better only to once again drop down in reliability with the 2014 model that had rear brake noise issues and a keyless entry system fault.
Second-generation Jeep Compass (2017-2018 model years)
The main problem with the second generation of the Compass is in a malfunctioning Tigershark engine. It caused sudden engine stalling without any warning signs. The good thing is that this mostly happened before the car even reached 20,000 miles, so the extended warranty covered most of the repairs.
It's still wise to stay clear of the Compass equipped with this engine, and another major problem is that the engine sometimes simply wouldn't start.
Best Jeep Compass years
Now that we told you all about the major problems of the Compass as a model, and the production years you should avoid, it's time to get to the best model years. Both the first and the second generation of the Compass have model years that received just a few complaints. With that in mind, it's time to get to the list of the best model years:
2009 Jeep Compass
2010 Jeep Compass
2013 Jeep Compass
2015 Jeep Compass
2016 Jeep Compass
2019 Jeep Compass
2020 Jeep Compass
2021 Jeep Compass
2022 Jeep Compass
The best model years of the first generation are 2009, 2010, and 2013 as they come with the lowest amount of driver complaints. Also, the suspension issues were more or less sorted out with the 2010 and following model years, and the problems with grinding brakes were sorted out for the final model years of the first generation.
When it comes to the second generation, the best model year is 2019 which received the least complaints. There were some important recalls at this time to sort out the problems that the 2017 and 2018 models had, but it's still safer to skip those and go straight for a 2019 Compass.
Is the Jeep Compass worth buying?
As the time comes to pass the final judgment on the value of the Jeep Compass as a model, we can say that it's a pretty reliable car. The engine and transmission issues can easily be avoided if you steer away from the models equipped with a Tigershark engine and a CVT transmission.
On top of that, you can settle for model years that achieved great reliability scores and make a great choice that won't leave you hanging in terms of brake problems or suspension issues. We hope that our efforts will help you avoid the worst model years and get the most value for your buck by buying this otherwise impressive compact SUV.
Is a Jeep Compass a good reliable car?
The Jeep Compass is a good reliable car as long as you avoid problematic model years like 2007, 2008, and 2018 Compass.
Are there issues with the Jeep Compass?
There are certain issues with the Jeep Compass including Tigershark engine faults, CVT transmission problems, and issues with the tie rods and control arm bushings.
Does Jeep Compass last long?
If properly maintained, Jeep Compass can easily last for 180,000 miles and even more.