Lexus IS 250 years to avoid — most common problems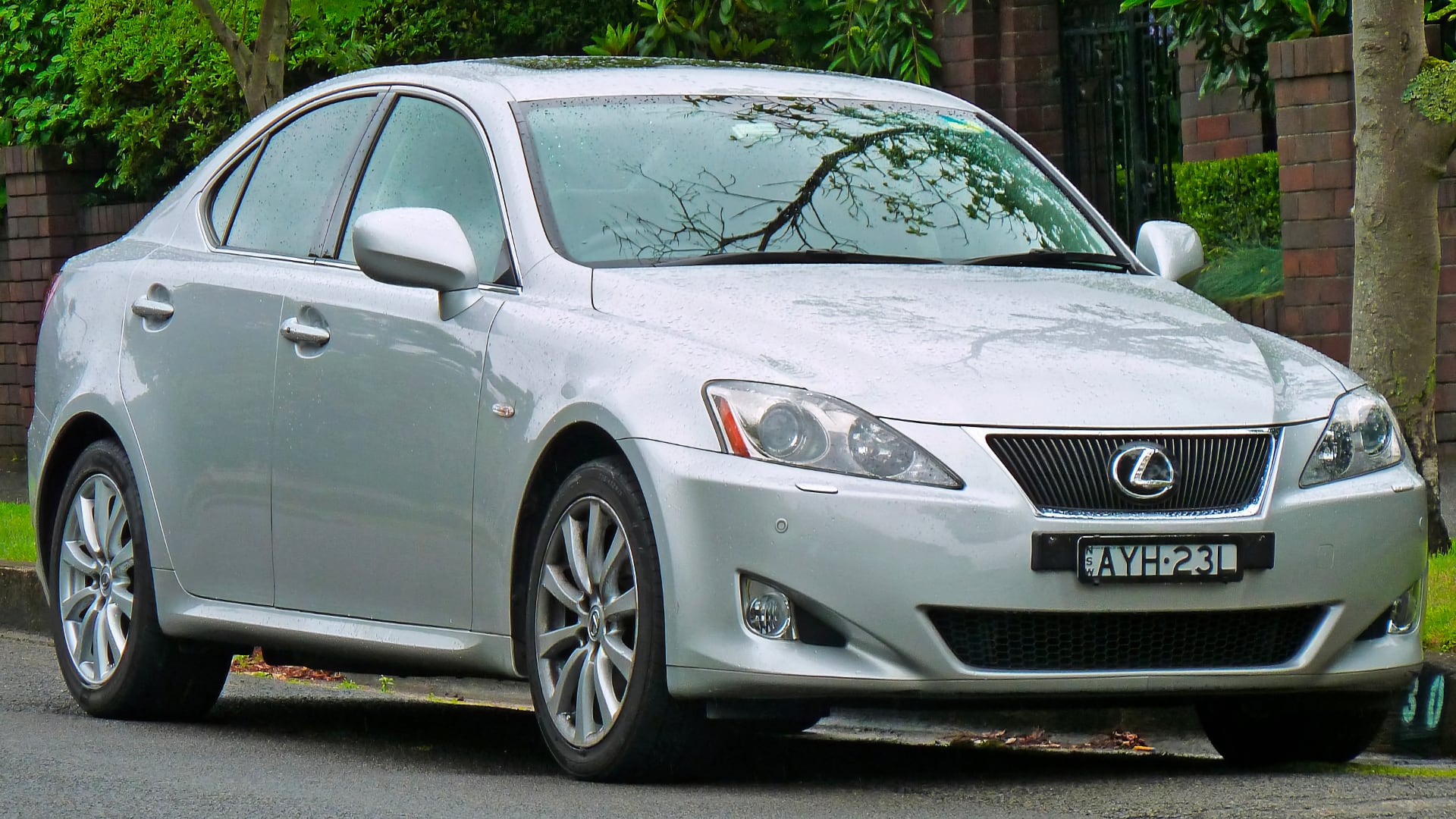 As a luxurious brand derived from Toyota, Lexus has been a pinnacle of the Japanese car industry in the technological sense, along with the comfort and performance of their vehicles. The IS model (short for Intelligent Sport) has been around for more than two decades now, and it's one of the best-selling mid-size sedans on the market.
The IS 250 is a variant that's present in the last two IS generations, and it's a car that comes with a 2.5-liter V6 engine. While the engine provides a refined and smooth sensation and powerful acceleration, it has its fair share of issues. So, our team made this guide to help you figure out the Lexus IS 250 years to avoid and we'll tell you exactly why.
Most common Lexus IS 250 problems
Over the years, you could hear drivers recommend the IS 350 over the IS 250 and state that this car is more reliable and claim it to be more desirable due to the power gap. While having a 3.5-liter engine is certainly worth it in a sporty body like the Lexus IS, the 2.5-liter engine didn't have that many troubles.
There were some engine-associated issues, but these were never mechanical faults with the engine parts. It's more of a fuel delivery line issue, especially for the models equipped with aluminum fuel delivery pipes. Because of this issue, the "check engine" light can illuminate the dashboard.
While that won't be a problem leading to a complete engine rebuild, there are some serious issues with the IS 250. Most importantly, there's the issue with the faulty airbag inflator module that could pose a safety concern. Also, this model is known to have struggled with the wiper arms that are sometimes inoperable under load like snow. Finally, a common issue for all the IS 250 generations is the melting dashboard.
Fuel delivery system faults
One of the most common problems for the Lexus IS 250 is fuel delivery pipes. Cars equipped with aluminum pipes could end up having corroded pipe interiors and it could lead to a fuel leak. Since the pipes are located in the engine compartment, it's a dangerous issue that could even lead to a fire hazard.
So, this is the first thing you'd want to pay attention to if you are considering buying a used Lexus IS 250. In case the check engine light illuminates, and there doesn't seem like anything is wrong with the engine except for the increased fuel consumption, you should check the delivery lines.
Airbag problems
Well, this one can be just as annoying as having trouble with the fuel delivery pipes. In both cases, you may not even realize that there's a safety hazard in your Lexus IS 250, making them equally dangerous. There have been numerous recalls concerning the airbag system in the Lexus IS 250, and the last one was in 2019.
The airbag problem is mostly associated with inoperable airbag inflator modules. However, there's another problem with the airbag system, even for the vehicles that got the airbags replaced during a recall. It's the safety hazard caused by inflator bags that could cause an explosion after humidity exposure if not used for a while.
Not only is the explosion a bad thing for airbag inflation, but the metal fragments could also end up causing lethal injuries. So, it's best to check your Lexus IS 250's airbag system and check if the car has gone through one of the mentioned recalls before buying it.
Inoperable wiper arms
This one may sound a bit silly at first, but it's a serious issue in situations with lowered road visibility. Namely, based on NHTSA's reports, certain Lexus IS 250 models have faced troubles with the inoperable wiper arms. While you can simply replace the arms yourself, relying on factory-set wipers is a bad thing due to their possible malfunction under heavy loads.
So, even a few cubic inches of snow may end up causing mayhem since you won't be able to move the wipers to clean the windshield. Don't worry, Lexus issued an official recall to fix these in 2013, for the IS 250 models produced from 2006 to 2012.
Interior material quality
Don't get us wrong here – the Lexus IS 250 offers a refined and comfortable interior when compared to its competitors in the same class. However, we can't just ignore numerous driver reports stating that the dashboard tends to melt after a while.
Interior materials are said to be of premium quality by Lexus and Toyota, so it's an odd occurrence that you may end up having with your car. There was no recall issued for this problem, so you may have to go through a bothersome process of replacing the dashboard.
Which Lexus IS 250 years to avoid?
Lexus IS started its journey back in 1998 with the first generation, but it only offered 2.0-liter and 3.0-liter petrol engines. So, the tradition of the IS 250 model started with the second generation of the IS model, and it continued through the third generation.
To avoid confusion, we'll simply refer to these second and third generations of IS as a model. Among the model years to avoid, it's crucial to dodge the recalled models with airbag issues and leaking fuel lines, so let's take a look by model years.
Second-generation Lexus IS (2006-2008 model years)
The second generation Lexus IS is the first generation of the model to feature the 2.5-liter V6 petrol engine, and troubles have started right from its inception. The 2006 model year is one of the toughest for Lexus when it comes to this model, mostly due to dashboard and door panels melting, as well as problems with the infotainment module.
Other frequently expressed issues for the second generation IS with the 2.5-liter engine include the mentioned airbag problem that led to numerous recalls by the manufacturer.
Third-generation Lexus IS (2015 model year)
The third and current generation of the Lexus IS is a rather reliable one, and the 2.5-liter engine is one of the most convenient options for maintenance. There are some airbag inflator module and SRS light issues associated with 2015 as the final year of the recall.
Also, this model year is the one to avoid due to fuel delivery system issues and bad aluminum fuel piping. Still, it's safe to go with the 2.5-liter engine when it comes to engine parts in particular since it has proven to be a smooth engine with just enough power to get the wheels rolling fast when needed and without any standout issues.
Best Lexus IS 250 years
Well, now you at least know that the problems that some drivers refer to as serious disadvantages of the IS 250 when compared to IS 350 aren't that much trouble. The airbag issue was sorted out for the 2016 and following model years, while the windshield wiper problem was sorted out for the 2013 model year.
Still, it's best to buy a car and cut the worries by picking one of the best model years in favor of the ones that are not so appreciated. Our team made the list below to recommend some of the most reliable Lexus IS 250 model years:
2010 Lexus IS 250
2013 Lexus IS 250
2014 Lexus IS 250
2016 Lexus IS 250
2017 Lexus IS 250
2018 Lexus IS 250
2019 Lexus IS 250
2020 Lexus IS 250
2021 Lexus IS 250
2022 Lexus IS 250
When it comes to the fuel delivery pipe issue, that issue was most persistent for the 2006 to 2009 model years and was later on sorted out with the next generation and later second-gen model years. That's why it might be a good idea to skip the mentioned model years and go for one of the listed production years just to be safe.
Is the Lexus IS 250 worth buying?
When the time comes to draw the line and decide on whether Lexus IS 250 is a reliable car or not, you have to consider all the items mentioned in this guide. It's ultimately a great car, especially for those looking for a premium-level sedan with sporty looks and quite some performance.
Sure, it won't pack the same performance as the IS 350, but if hitting the speed limit as fast as possible isn't your greatest concern, it's enough to go with the IS 250 and just avoid the problematic model years.
What year to avoid IS250?
It's best to avoid the Lexus IS250 model years from 2006 to 2009, and the 2015 model years due to their airbag problems, fuel delivery pipe leaks, melted dashboards, and airbag inflator issues.
Is the Lexus IS 250 a good car to buy?
Yes, the Lexus IS 250 is a good car to buy overall, but it's best to avoid the mentioned problem years, as discussed in this guide.