What are tire wear patterns?
Delve into the intriguing world of tire wear patterns and their impact on your time behind the wheel.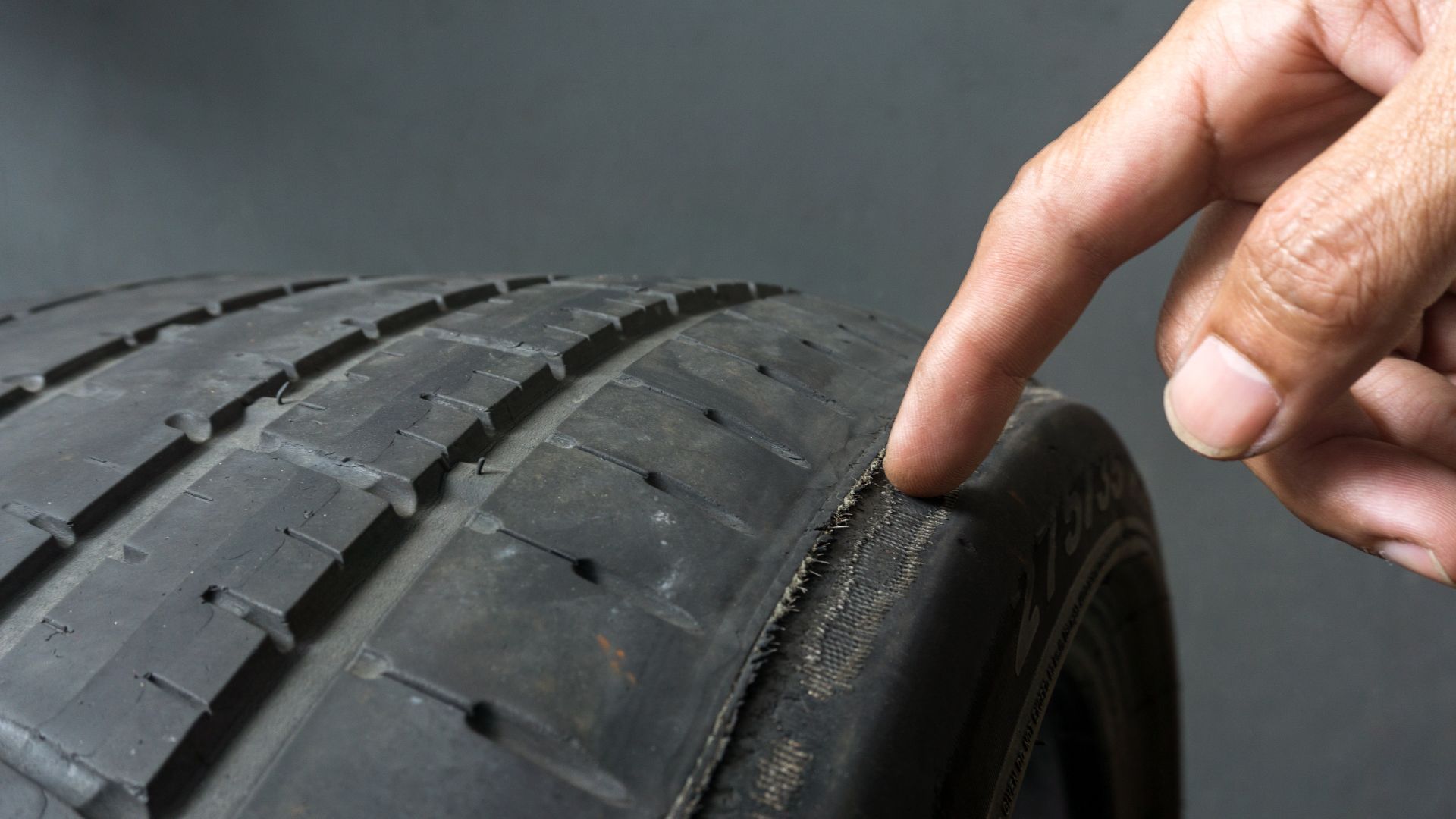 Many drivers put themselves and their vehicles at risk when they are unable to interpret various signals in the vehicle. A vital area of a vehicle that needs regular and thorough inspection is the tires.
According to the National Highway Traffic Safety Administration (NHTSA) data, 664 total motor vehicle traffic fatalities in 2020 were tire-related crashes. A considerable number of these crashes were a result of the driver's ignorance and inability to understand tire wear patterns.
It is vital for drivers to inspect their tires for wear patterns that develop from occasional usage of the tires. Below, we provide a step-by-step guide on how drivers can interpret these patterns and solve them. First, let's understand what tire wear patterns are.
Tire wear patterns defined
Tire wear patterns are clues in a tire that show areas that have been partially or completely smoothened due to irregular contact with the road surface. They are not to be taken lightly as they can pose a dangerous threat to the driver and vehicle. Wear patterns on a tire are caused by a variety of factors that occur naturally or as a result of the driver's mode of driving.
Tire wear patterns could be regular or irregular. When a tire wears evenly, the wear is said to be regular. However, when the tire wears unevenly, the wear pattern is said to be irregular.
Even, or regular tire wear patterns are normal and should be expected. On the other hand, uneven or irregular tire wear patterns can be caused by different factors and can be detected through regular inspection. You can also track the treadwear indicator bars, as mentioned in the Mastercraft Stratus A/S review since most tires have these gauges between the treads. If you see the tread wearing off rapidly, perhaps it's time to check for irregular wear and such patterns.
Types of irregular tire wear patterns
There are various types of irregular tire wear patterns and we have listed them here to educate you on what they say concerning your tires.
Centre wear pattern
The center wear pattern is very common in tires undergoing irregular wear. Tires tend to wear at the center when their pressure levels have been exceeded. Drivers should note that all tires have recommended pressure levels that should not be exceeded.
When a tire is overinflated, it causes a bulge in the center tread and as a result, the weight of the vehicle is felt only in the tire's center. This causes the tire to wear only at the center when the vehicle is in motion.
To solve the problem of your tires wearing in the center, deflate the tires to their recommended pressure level.
Patchy wear pattern
As the name implies, tires undergoing patchy wear patterns have irregular wear on the tire's tread in patches. When tires undergo patchy wear, they tend to bounce while driving. It is important to note that tires with patchy wear patterns have poor traction and can greatly affect handling.
When tires wear in patches, it means that the tires are out of balance. A common way to solve this pattern of irregular tire wear is by rotating the tires. However, it is safer to have the tires changed completely.
One-sided wear pattern
In the case where your tires wear on one side, the wear is said to be one-sided. One-sided wear is also referred to as camber wear and occurs as a result of poor wheel alignment.
Poor wheel alignment causes the vehicle to lean to one side thereby transferring the weight of the vehicle to that part. This causes the tire to wear on the side bearing the vehicle's weight.
A simple way to check one-sided tire wear patterns is to have the vehicle wheels properly aligned.
Cupping wear pattern
This type of wear pattern arises from the vehicle's faulty suspensions. It's no wonder that many drivers are intrigued about what causes tire cupping. To identify cupping wear, drivers will notice diagonal and scalloped wear patterns in the tire's tread that cause the tire to bounce when in motion. The bounce is because the tires do not have even contact with the road.
In this case, drivers should have their suspension systems checked or better still, changed.
Edge wear pattern
Edge wear pattern is also referred to as feather wear. The edge wear irregularity is a direct opposite of the center tire wear pattern. It occurs as a result of under-inflated tires.
When tires are not sufficiently inflated, the tire's edges or shoulder areas bear the weight of the vehicle and this causes them to wear on both sides. To combat edge wear, drivers should ensure that the tires are inflated according to the recommended pressure level.
Effects/signs of irregular tire wear patterns
When tires wear irregularly and unevenly, they give off different signs and effects that the driver can spot easily and quickly remedy the situation. The driver's ability to identify and solve these irregularities can save their time, money, vehicle, and most importantly, their lives.
In some cases, the effects are seldom noticed at first, which is why it is important for drivers to inspect their tires regularly for signs of uneven wear. Here are some signs and effects of irregular tire wear patterns.
Poor fuel economy
When tires undergo irregular wear patterns, the vehicle's fuel consumption takes an unprecedented rise. This occurs because worn-out tires have heightened friction with the road surface. Hence, the engine requires extra power to propel the vehicle and in doing so consumes more fuel than normal. This can tell greatly on the driver's gas budget.
Bumpy and uncomfortable ride
Drivers will notice irregular vibrations and noise that would greatly affect their comfort. For example, tires with cupping wear patterns do not have even contact with the road surface and this causes the tires to bounce when in motion.
Also, under-inflated tires tend to drag on the road surface causing uncomfortable vibrations.
Shortened tread life
Tire manufacturers offer impressive mileage warranties for their tires. However, in cases where the tires undergo irregular wear, their lifespans are shortened drastically.
Poor traction performance
Traction refers to a tire's ability to maintain a firm grip on different road and weather conditions. Tires with irregular wear patterns have little or no traction with the road surface and this can lead to dangerous cases of hydroplaning or skidding. Hydroplaning occurs when a tire's tread has worn past the final 2/32 inches of tread depth, giving the tire a poor grip on wet road conditions.
Tire bubbles and blisters
If you are wondering about what causes bubbles in a tire, they develop from damage within the tires which can be caused by one-sided tire wear patterns. Tire bubbles/bulges are very dangerous and need to be attended to as quickly as possible. Continuously driving with a tire that has bulges can lead to fatal accidents when the bulges burst.
Causes of irregular tire wear patterns
It is usually sad and disheartening when drivers get stranded in the middle of nowhere because their tires gave up on them. They could be on their way to a job interview, social gathering or even on a road trip.
There are a variety of reasons for irregular tire wear patterns and we have pointed them out to help drivers prevent such mishaps.
Failure to carry out tire rotation
Tire rotation is an important part of tire maintenance that drivers fail to acknowledge. When tires wear unevenly, especially in cases of patchy wear pattern, it is important for drivers to carry out tire rotation to combat the irregularity and promote even wear. It is advised to drivers carry out tire rotation every 5,000 to 8,000 miles to encourage even wear.
Over-inflation and under-inflation
Overinflation is a situation where tires are being inflated to exceed their recommended pressure levels. This oversight leads to a center wear pattern which causes the tires to wear only at the center.
On the other hand, under-inflation is a situation where the tires are not adequately inflated to meet the recommended pressure level. Under-inflated tires suffer from edge wear pattern in which the tires wear only at the shoulder areas or edges.
Faulty suspension system
A vehicle's suspension system incorporates the activities of the tires, springs, shock absorbers and linkages that connect the vehicle to the wheels to aid motion. When the suspension system of a vehicle is faulty, it affects the tire's operation and leads to cases of cupped wear pattern.
Improper alignment
Poor wheel alignment is one of the major causes of tire damage. When the vehicle's wheels are not properly aligned, they cause the tires to misbehave and this leads to cases of irregular wear patterns like patchy wear.
Reckless driving
Drivers tend to lose road manners and venture into reckless driving stunts that endanger their lives and the state of the tires. Acts like exceeding a tire's speed ratings, bumping into curbs, running over potholes, and racing over speed bumps are potent ways of promoting irregular tire wear patterns.
When a driver is at high speed and suddenly needs to avoid crashing into something, they either swerve hard or step heavily on the brakes. Braking when at high speeds can cause the tires to wear quickly due to the heat build-up when it drags over the road surface. Also, swerving can result in bumping into curbs that can cause the tires to develop bubbles.
Steps to combat irregular tire wear patterns
As mentioned above, there are easy steps to take to ensure that your tires wear evenly and last longer. These steps include;
Tire Rotation
Proper Alignment
Suspension System Inspection
Adhering To The Recommended Tire Pressure Levels
Regular Inspection Of The Tires
Replacement Of Worn-out Tires
Avoid Reckless Driving
Our take
No one prays for unfortunate tire incidents as they can lead to many unwanted occurrences that can prove fatal. Tire manufacturers equip their tires with basic information that helps drivers to know the operations of the tires.
Information like the tire's speed rating, tread wear indicator and max load capacity are some of the basic things a driver has to know about the tires they are using.
Tire Wear is inevitable but adhering to the steps above will aid in the extension of their life span and also save costs, time and lives.