Infiniti QX60 years to avoid — most common problems
Understand the reasons why you should steer clear of the Infiniti QX60.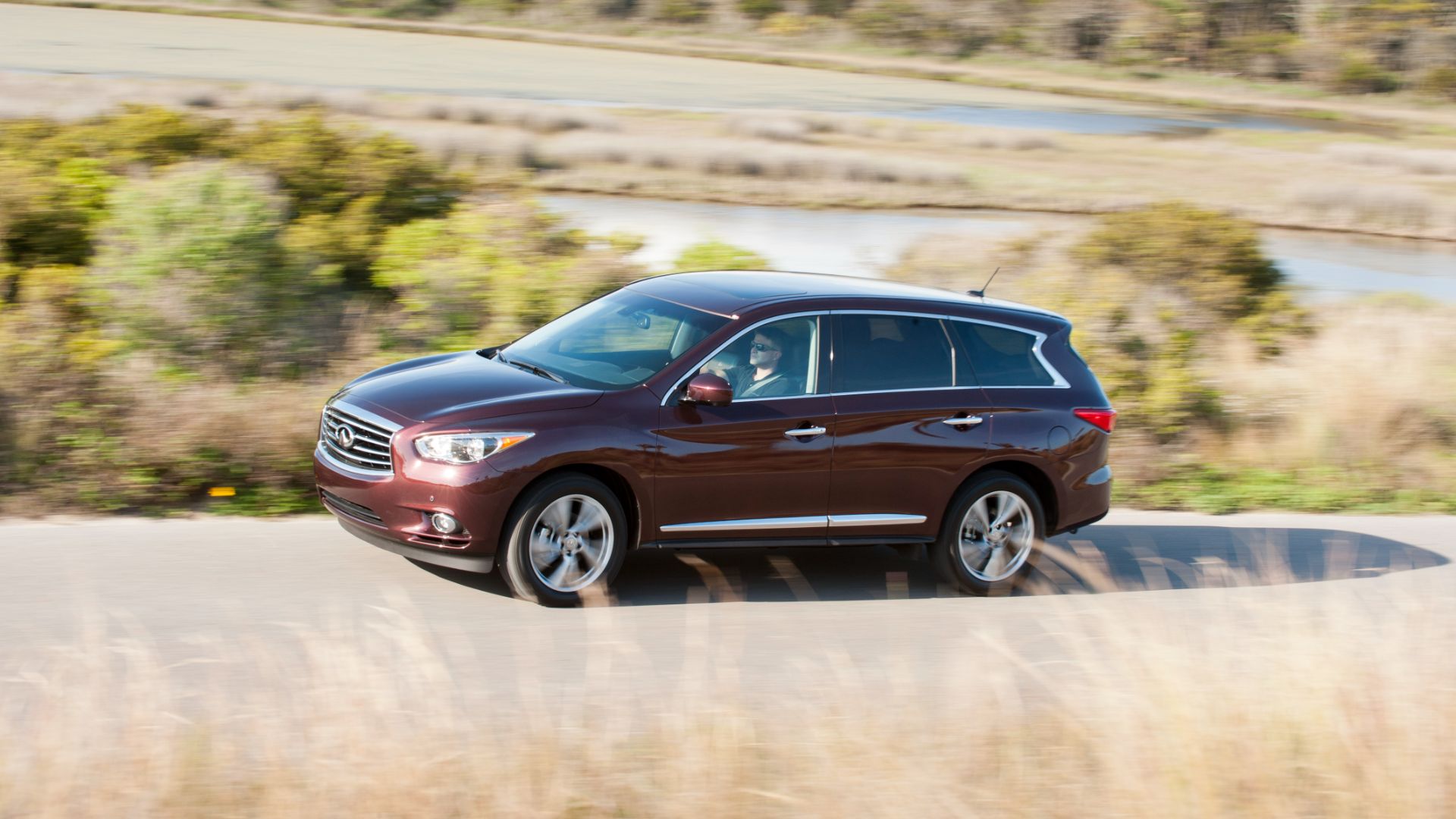 Previously known as the Infiniti JX35, the QX60 is a model that a lot of drivers overlook when searching for a premium used SUV. It has everything you may need in such a ride – from the capable selection of V6 and hybrid engines to the luxurious interior and high-end comfort that the QX60 offers while driving.
While the starting price of the car was perhaps too much to ask for when it comes to some drivers looking for a more affordable option, it's now one of the most cost-effective used SUVs. However, while it offers quite a bit in terms of driving comfort, there are some Infiniti QX60 years to avoid. Don't worry – our team will guide you through these, as well as the problems you should focus on before buying one.
Why you can trust REREV's advice on which car model years to avoid: Our car experts look at official data, ask real drivers what they think, and talk to experienced mechanics to make sure our list is useful. This reliable info can make buying a car easier for you. Want to know how we do it? Find out more about our research methodology.
Most common Infiniti QX60 problems
The QX60 is still a relatively recent model, even when it comes to the first generation with a code name JX35. Of course, we already have the reports of owners who drove their SUVs for more than 200,000 miles and that helps evaluate the reliability of the car as a model.
Based on the National Highway Traffic Safety Administration (NHTSA) reports, we can see that the main problem with this car is improper wheel hub assemblies that often affected the braking system. We also saw quite a bit complaints about the airbag system and there were three recalls concerning airbag-related issues so far.
The good news is – that's about it when it comes to problems that would affect the way your vehicle behaves on the road and compromise your driving safety. We have to point out a matter of cracked sunroofs which were reported by more drivers than you would guess.
Finally, there are a few powertrain issues including oil sludge forming and hybrid propulsion issues that we'll explain in further detail. Overall, the QX60 received quite a high reliability rating, making it rank as teh second most reliable car in this vehicle class.
Braking system problems
We already mentioned a big flaw of some QX60 models with wheel hub assemblies that were prone to separation from the brake caliper and that led to poor braking performance. This issue was mostly associated with the 2014 QX60, but there are a few other braking system issues that the model had.
One of these is caused by the faulty anti-lock brake actuator pumps which triggered the symptoms of low brake fluid. To make things worse, the fluid mostly leaked onto the circuit boards which causes electrical shorts and even fire hazards.
Airbag faults
One of the most common issues for all the QX60 models is the airbag fault which affected late airbag deployment and even failure of the seat occupancy sensor to detect the passenger. The thing with this issue is that Infiniti tried to deal with it multiple times and it only succeeded with the final recall in 2016.
The issue affected all the models produced from 2013 to 2017, making it difficult for interested buyers to find a model without any airbag problems. Sometimes the SRS light glows up on the dashboard in case of this problem, and sometimes it doesn't, only making the problem worse.
Cracked sunroof
Not all the problems with the QX60 will put you at a safety risk or affect your vehicle's mechanical systems. One such issue is the leaky sunroof that's known to be prone to cracking even if the car hasn't been involved in a crash or similar accident.
The thing is – you can spot the water leaking into the car's passenger side and if this happens towards the driver's side, it can affect the electronics. It's, either way, something you'll definitely want to avoid and it's therefore a good idea to inspect the sunroof on the QX60 you aim to buy.
Powertrain problem
For a 2017 Infiniti QX60, drivers have reported issues such as oil sludge forming inside the engine block and that's a problem that keeps popping up. However, it can be an issue of the wrong choice of engine oil or pouring expired engine oil.
On the other hand, we also found more than a few reports on hybrid propulsion issues. These even caused the manufacturer to issue an official recall in 2021. The problem was in the faulty hybrid propulsion control module which led to the hybrid component of the powertrain shutting down. However, this also led to the loss of power of the internal combustion engine, so it's crucial to check if the car has been through this recall in case you aim to buy 2014-2017 QX60 with a hybrid powertrain.
Which Infiniti QX60 years to avoid?
The Infiniti QX60 is one of those models that weren't created with equal reliability throughout the model years. That's why we have a few models we wish to warn you about, so you can avoid these and go for the most reliable pick among used QX60 vehicles.
The first generation model was named JX35 and it was produced from 2012 to 2013. This model didn't receive much criticism regarding reliability issues, so we'll start right from the second-gen model that was renamed QX60 within Infiniti's lineup:
Second-generation Infiniti QX60 (2014-2015 and 2017 model years)
The second-gen model of this SUV is the one named QX60 and here we have a few model years that you should avoid. Out of these, the worst model year is a 2017 QX60 and this one was bothered with quite a few issues. We already mentioned the difficulties that drivers had with improper airbag deployment, but this model also had issues with A/C heaters, transmission, and the hybrid powertrain.
Drivers have also complained about the issues with exterior accessories and electrical shorts, so it's best to avoid this one. Besides the 2017 model, you should also avoid the 2014 and 2015 models, but the 2014 one is nearly as bad as the 2017 QX60. It had issues with the automatic transmission including harsh shifts and shuddering.
There's also the issue of peeling paint which is quite uncommon for this class of the modern car. The 2015 model had issues with the transmission as well, but these weren't reported for other model years, so we recommend you skip these.
Best Infiniti QX60 years
Our team didn't want to scare you off from buying a QX60 with this guide, we merely wanted to give you an overview of the common problems associated with the model. With that in mind, we present to you the list of the best QX60 models based on model years that received the least complaints:
2013 Infiniti QX60
2016 Infiniti QX60
2017 Infiniti QX60
2018 Infiniti QX60
2019 Infiniti QX60
2020 Infiniti QX60
2021 Infiniti QX60
The most reliable model out of all these is the 2020 QX60 which didn't receive many complaints and it only had a few reliability reports. It's also safe to go with a 2018 or 2016 one, while the JX35 is also a pretty sturdy ride.
We have to say that this also depends on the condition of the particular unit you plan on buying, but the important thing is that it's possible to avoid the worst models. In that manner, just make sure that you avoid the 2017 model and that should make the purchase of a used QX60 a whole lot easier.
Is the Infiniti QX60 worth buying?
As the time comes to draw the line and decide on the QX60 and its reliability as a used car, we have to go through the common problems again. While transmission and engine-related issues were rare, there were some reports of these problems, especially with hybrid propulsion vehicles.
However, as long as you avoid the hybrid powertrain and steer away from problematic models like the 2017 QX60, you should be able to get quite some mileage out of your used QX60. The affordable price on the current used car market makes this car a tempting option and if you pick the right model, it will pay off in terms of reliability.
What is the best year for a used Infiniti QX60?
The best year for a used Infiniti QX60 is 2020, but you won't make a mistake by going for a 2016 or 2018 model either.
Does Infiniti QX60 have problems?
Infiniti QX60 has a few issues and these are mostly related to the airbags and braking system.
How long can an Infiniti QX60 last?
The Infiniti QX60 can last up to 300,000 miles if properly maintained, but the hybrid powertrain cars may last considerably less before the battery change is required.