Low brake fluid symptoms — causes and fixes
Recognize the telltale signs of low brake fluid to ensure your safety on the road.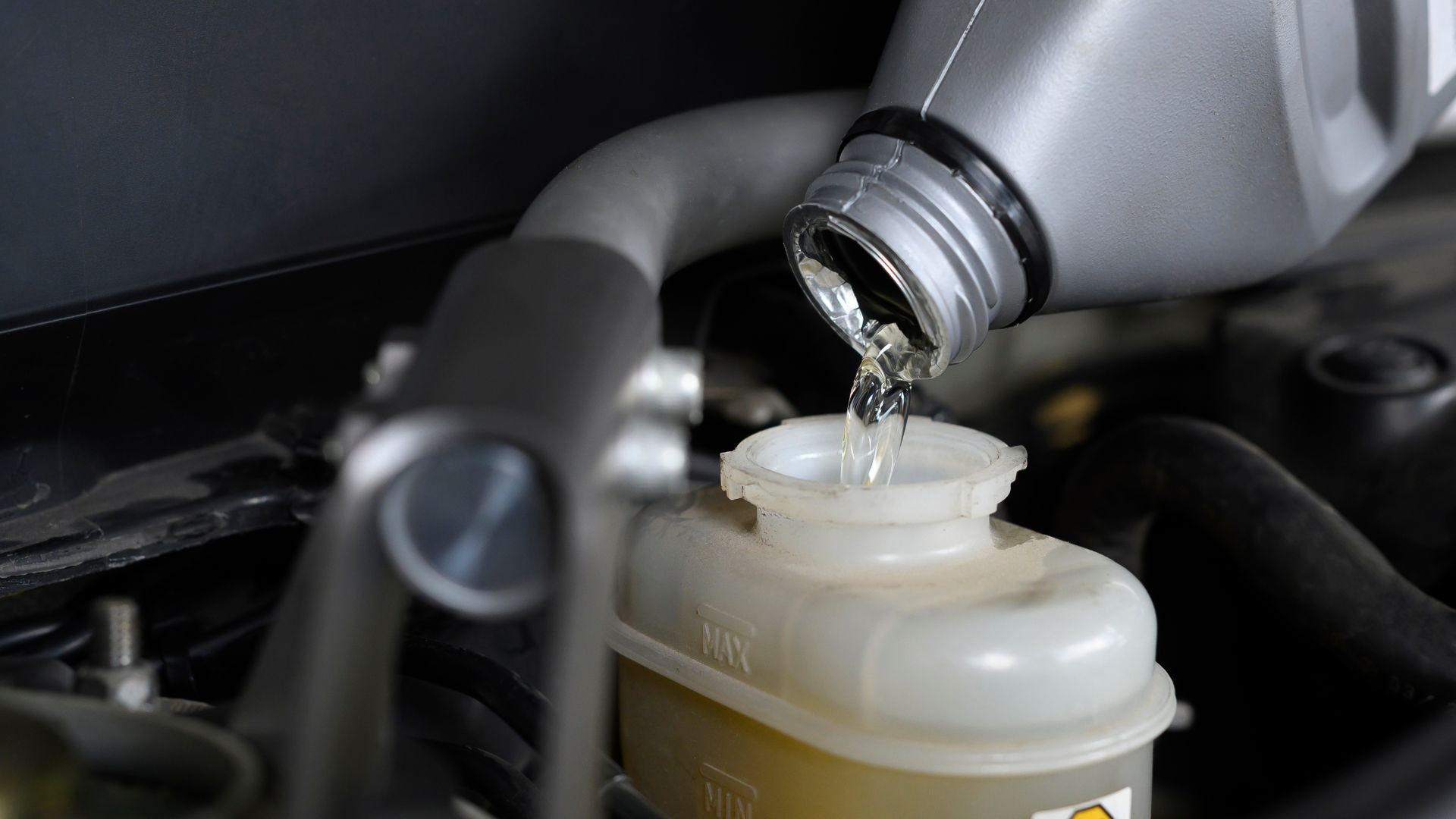 Many drivers tend to overlook the importance of brake fluid for ensuring a short braking distance and fast braking time. It's no wonder that low brake fluid symptoms also go under the radar because of this, but it shouldn't be taken lightly.
All the hydraulic brake systems use brake fluid to pressure the pads against rotors, which results in your vehicle stopping. So, our team made sure to give you an overview of the main signs of low brake fluid so you can change it timely and prevent poor braking performance.
The role of brake fluid
If you are unfamiliar with the concept of brake fluid, it enables proper braking power and prevents damage done to braking system components due to friction. Without this fluid, your brakes wouldn't work properly.
So, once you push the brake pedal, the fluid gets released from the master cylinder. It flows through the brake channels with high pressure until it reaches the brake caliper. Once it does, all that pressure is released on the pistons that push the pads against the brake discs.
That friction is what caused your wheels to stop spinning and your car stops. However, the pressure and heat caused by the friction would also damage the metal components of your car's braking system without the fluid. So, it generates the pressure that moves the caliper's pistons and helps preserve your braking parts at the same time.
If there's a leak somewhere in the system, and the brake fluid level gets too low, the life span of these components will shorten. So, if you want to make your brake pads last longer, make sure to check on the brake fluid level.
Signs of low brake fluid level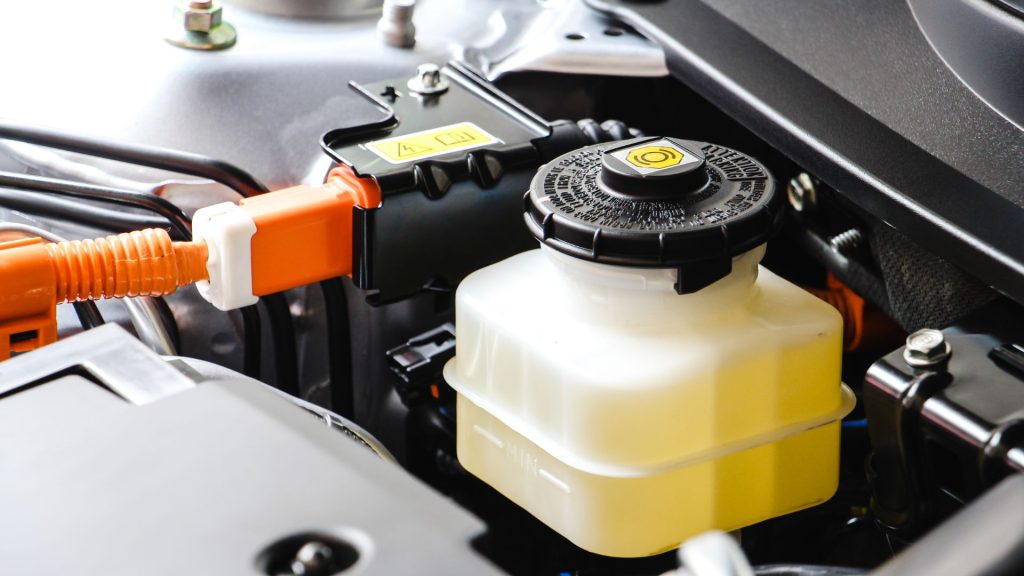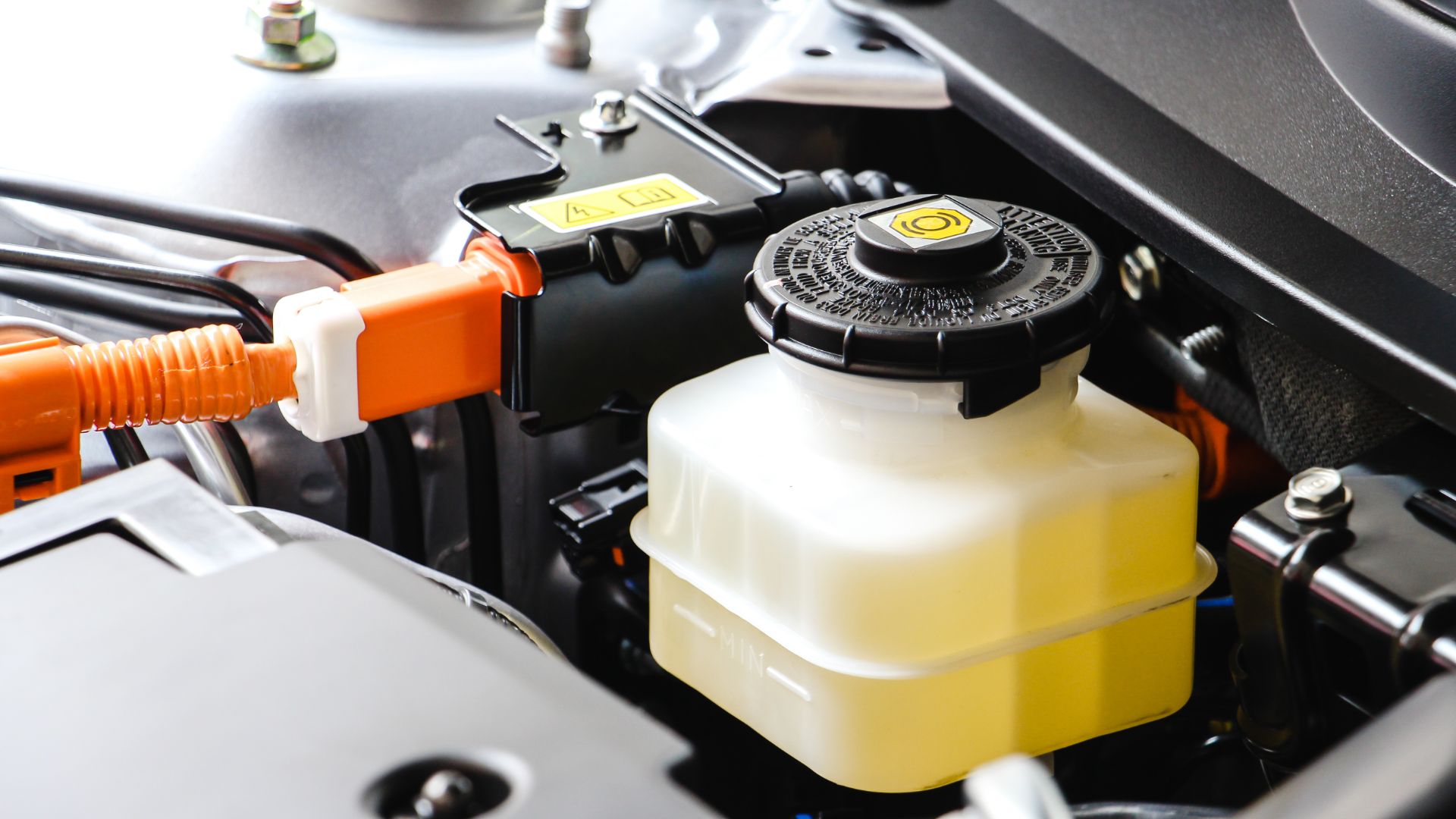 The first thing you'll notice in case of a low brake fluid level is a soft brake pedal. You'll notice how it takes more power to get that sense of resistance from the pedal and properly brake. Also, a low brake fluid level will mean less pressure in the braking system, so you'll need to brake harder to get the leftover fluid into motion.
It all results in a longer braking distance and it can be potentially dangerous to drive with your brakes in such conditions. That's why it's so important to change the fluid on time, so here are the most common symptoms of low brake fluid:
ABS or brake light glows on the dashboard
Leaks start appearing near the wheels
Brake pads wearing off faster
Strange noises when braking
You can also check the brake fluid yourself by taking a look into the reservoir. You can find it under the hood and it usually has a "Min" and "Max" designation. So, if your brake fluid appears to be low, it's a sign that you should look for leaks and refill the reservoir.
Also, you might spot some dirt or debris in the fluid, and this is not something that regularly happens. If the fluid appears to be dirty or contaminated, it's a sign that you haven't replaced it in a while and it might be time for that change.
Pay attention to dashboard lights
One sign of low brake fluid is the glowing dashboard light as the alert. Modern cars usually come with the low brake fluid message on the display. Older models will have the brake light glowing and it's a sign you should pop up the hood and inspect the brake fluid level.
On some cars, you'll notice the ABS lamp glowing, and it can also be a symptom of low brake fluid level. Of course, it can also be one of the sensors that go bad, so it's worth checking the fluid level just to be sure. If you see one of these two lights appearing on the dashboard, and you sense that the brake pedal is getting squishy, it's surely a low fluid level.
Dealing with brake fluid leaks
Brake fluid leaks can also be a common sign that fluid is missing from the reservoir, and puddles will often appear near the wheels. It can be a leak from the front brakes or back brakes, and the position of the puddle will tell you where the leak is.
Further examination of the brake calipers will tell you if there's a leak or not since this is a common location. Also, the leak could come from hoses that lead the fluid to the calipers, or from the master cylinder. If you can't find the leak by looking at the caliper, you should have a mechanic take a look at your braking system.
Brake pads might wear off faster on the low fluid level
If your brake fluid gets low, you might notice that the brake pads last much shorter than they are supposed to. On top of that, you should change your brake fluid every time you change the brake pads. Brake fluid is in a closed system, but it could get contaminated after servicing brakes.
If there's low brake fluid in the reservoir, your brake pads won't work properly and that could cause strange noises when braking. Without the cushion from the fluid, the noises get worse until you change it.
Braking noises
If you hear a creaking noise when braking or squealing noises, it could be due to a low brake fluid level. The noise could also get worse as you brake, resulting in high-pitched stretching that gets unbearable over time.
More importantly, it's a sign to check the brake fluid since your braking performance will be significantly lower. Braking noises can also be caused by worn-off brake pads or warped and rusty discs, so it might have nothing to do with the fluid. It's still worth checking out any time you hear a strange noise while braking.
Our take
Ultimately, if you happen to experience any of the listed low brake fluid symptoms, you should act swiftly. You must find a leak source as soon as possible, or change brake fluid to make sure it's on a level above the "Min" mark on the reservoir.
Either way, it's an essential component of your car's braking system, since it generates the pressure to push the pads down against rotors.
What does low brake fluid sound like?
Low brake fluid produces a squealing or creaking high-pitched sound when the brakes are applied.
Does Low brake fluid mean you need new brakes?
No, low brake fluid doesn't mean you need new brakes, but the drop in brake fluid level could mean that your brake pads have worn off. As the brake pads wear off, more fluid is needed to pressure them against the pads and that can cause a significant drop in brake fluid.
What does low brake fluid cause?
Low brake fluid causes squealing noises, uneven brake pads, and squishy or soft brake pedals.
How low is too low for brake fluid?
If your brake fluid gets so low that it's below the u0022Minu0022 mark on your brake fluid reservoir, it's too low and you need to refill it.