Subaru Outback years to avoid — most common problems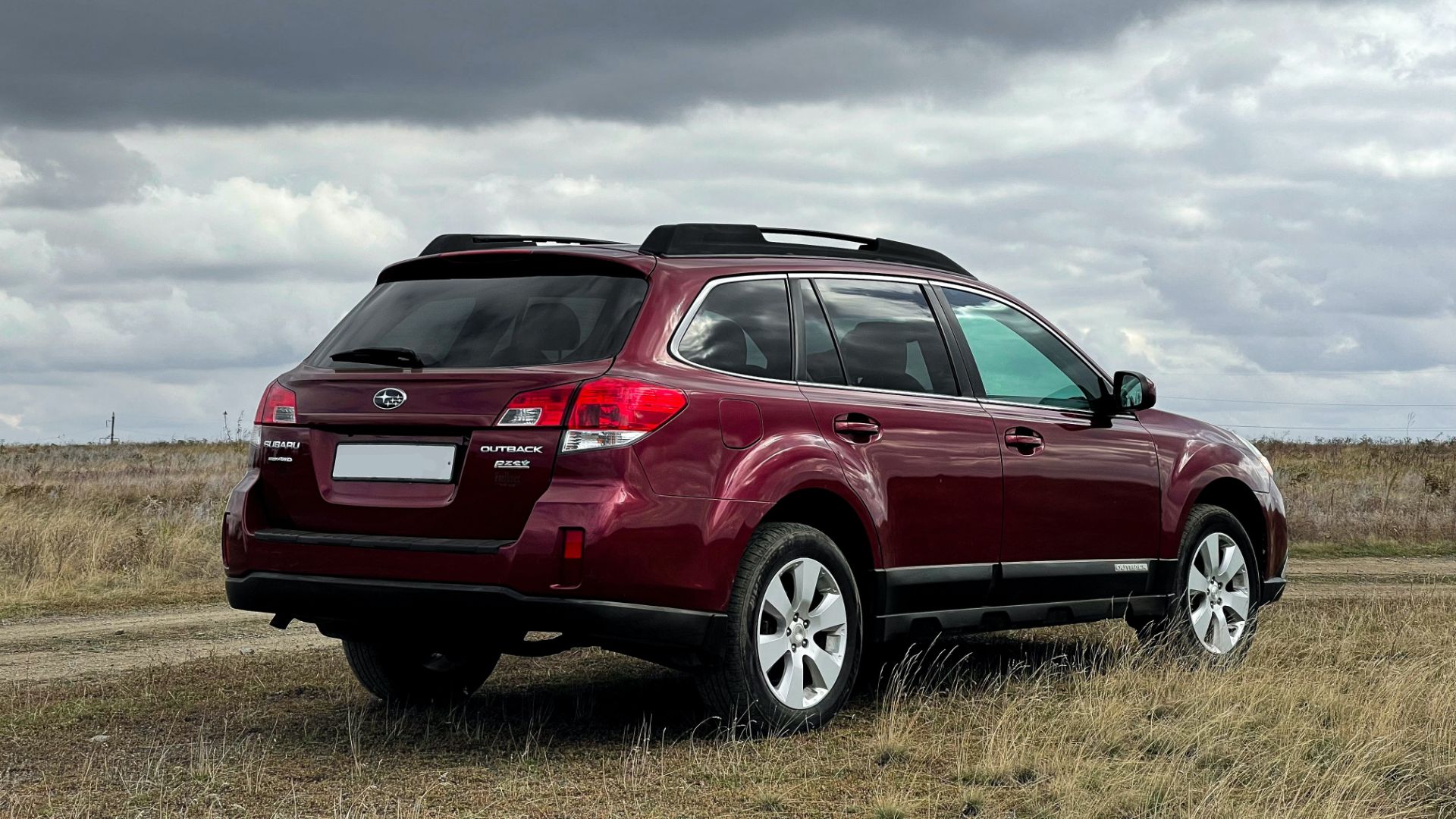 If you are determined about getting a family car with lots of space and raised clearance, Subaru Outback makes one of the rare models outside of the SUV class. It's one of the favorite family station wagons on US roads and the quality of the model speaks for itself through 5 generations and nearly 30 years of production.
Still, not all the model years were as successful, and like any other car model, there are some Subaru Outback years to avoid. If you've got your eye on one of these, make sure to take a look at this guide for the recommendation about the best model years.
Most common Subaru Outback problems
Over the years, Subaru Outback advanced with modern technological features but the car stayed true to the Subaru brand qualities. While it's not a rally car like a sporty version of the Impreza, it's still a car you can drive even off-road and enjoy the benefits of raised clearance and robust chassis.
Sadly, not everything was that great with some model years, and some of the most common problems include increased oil consumption, electrical issues, and problems with the engine cooling systems. Of course, these are not present in all model years, so let's go through the background of these issues.
Extensive engine oil consumption
One of the most serious problems you may encounter with a Subaru Outback is increased oil consumption. Engine oil lubricates the moving metal parts within the engine and keeps them safe from friction and heat.
Outback owners have reported increased oil consumption on models equipped with 2.5-liter engines in the fifth generation and the 2.5-liter and 3.0-liter engines in the third generation. Most of these problems occurred within the first 100,000 miles and a blown head gasket is one of the most common culprits behind this.
Electrical system faults
One of the less severe problems that might prove to be equally annoying as leaking oil is an electrical issue. While older generations of Subaru Outback didn't have feature-packed interiors, modern versions of the model come with a variety of electrical systems.
This mostly reflects the fifth and sixth generation of the Outback, and you'll mostly encounter issues like radio failure and infotainment system faults. Electrical connections were mostly the reason behind it, so most of these issues are solved with a help of a car electrician.
Cooling system failure
Another problem that's closely related to the head gasket leak is the cooling system failure on some Subaru Outback model years. The most common culprit is a malfunctioned water pump which fails to push the coolant from the car's radiator to the engine and the other way around.
If this happens, you might notice a significant increase in the engine's temperature and it could potentially lead to overheating. This problem is mostly reported for the third and fifth-generation models of the Outback.
Transmission problems
Besides the engine cooling and oil leak issues, another possibly fatal problem of the Subaru Outback is the transmission fault. It's common for the 2010 to 2013 model years, with the 2013 model year overlapping in transmission issues and faulty piston rings that caused oil leaks into the cylinders.
Transmission issues mostly involved harsh shifting and transmission slipping problems which even resulted in owners having to do a complete transmission rebuild. it's one of the most expensive repairs you can make on your car, and the estimated average for this model is in the range of $2500 to $3000 for a rebuild.
Which Subaru Outback years to avoid?
Some of the lighter problems you might experience on your Subaru Outback include electrical connection faults which still lead to necessary repairs. Eventually, you might have to fix the dashboard lights or radio connections, but it's still not the worst issue price-wise.
If you plan on buying an Outback, it's crucial to avoid model years that had troubles with oil leaks and transmission faults. Subaru eventually did have to pay for some repairs to the owners of the 2010 to 2014 generations that had oil leaking issues. Still, buying a used Outback will likely be a smart move as long as you avoid the following years:
Third-generation Outback (2006 model year)
While the third generation of Subaru Outback didn't cause many critics, the 2006 model year in specific had some issues with the 2.5-liter turbocharged engine. It's best to avoid this model year to prevent having to deal with faulty gaskets and oil leaks.
If you've got your eye on this generation of the Outback, it's much safer to go for a 2007 or 2008 model year where you can rely on at least slight adjustments in the engine bay to prevent these issues.
Fourth-generation Outback (2013 model year)
While the fourth generation of the renowned wagon has gone through significant exterior improvements, there were still some problems with leaking piston rings. The 2.5-liter engine in particular had a lot of claims of oil leaking problems which backfired at Subaru a few years later with an official lawsuit.
The company agreed to pay the repairs to drivers and admits that engine issues were present especially for the 2013 model year. Also, transmission issues including torque converter problems marked this model year as one of the worst Outback production years from 2006.
Fifth-generation Outback (2015-2018 model years)
The fifth generation of the Outback started production in 2014 and most of the engine problems were luckily solved. This generation lasted until 2020 when the current generation kicked in, and drivers haven't reported many engine or transmission-related problems.
The sole reason why you might want to avoid the 2015 model year in specific is the electrical problem. Modern interior features are reported to stop working in every other Outback and this often required owners to repair the connections or replace the battery. However, the 2019 model year proved as one of the most reliable versions of this car.
Best Subaru Outback years
Sure, going through all these problems might make you think that an Outback isn't much of a reliable car model. However, that's not the case here since it's inevitable for a car to come free of any issues over nearly three decades of production.
The important thing is to avoid engine and transmission issues by avoiding problematic model years. To help you do so, our recommends the following as the best Subaru Outback model years:
1994 Subaru Outback
1995 Subaru Outback
1996 Subaru Outback
1997 Subaru Outback
1998 Subaru Outback
1999 Subaru Outback
2000 Subaru Outback
2001 Subaru Outback
2002 Subaru Outback
2003 Subaru Outback
2004 Subaru Outback
2008 Subaru Outback
2009 Subaru Outback
2014 Subaru Outback
2018 Subaru Outback
2020 Subaru Outback
The first and second-generation Subaru Outback models are known to be one of Subaru's most reliable cars. While these are tough to find with low mileage these days, we'll focus on newer models. If you are planning on buying a third-generation Outback, it's best to go around the 2005 and 2006 models to avoid oil leaks.
The fourth generation brought significant improvements in this sense aside from the problematic 2013 model year, but you should carefully inspect the transmission to make sure it's in a good shape before buying these. The fifth generation is one of the best overall, and while you might face some slight electrical issues, it's nothing out of the ordinary for modern cars.
The 2019 model year is one of the best in that sense, along with the sixth generation that's still in production. An additional piece of advice here would be to avoid CVT transmission for its known faults.
Is the Subaru Outback worth buying?
When it comes to making a final judgment on this model, it's clear that the Outback is unprecedented in the station wagon category. It's roomier than most wagons and it also has a high clearance that gets on the verge of that of an SUV car.
If you avoid the model years with known oil leak issues like 2006 and 2013, along with the years with transmission problems, you'll likely only have to do regular maintenance and get the mileage that's higher than average. Regardless of the mentioned problems that some Outback model years have, this car is considered a reliable Subaru model.
What year Subaru Outback should you not buy?
You should not buy the 2006 and 2013 model year of the Subaru Outback due to known engine cooling and oil leak issues and should be careful with 2010 to 2013 models due to known transmission faults.
Which year Outback is most reliable?
Subaru Outback has several model years that strike as the most reliable, most notably the 2009 and 2018 model years.
What year Subarus had engine problems?
Subarus had engine problems in the 2006 model year and years 2012 to 2013 with potential piston ring damage and oil leaking into the cylinders.