Toyota Tacoma years to avoid — most common problems
Avoid problematic Toyota Tacoma years.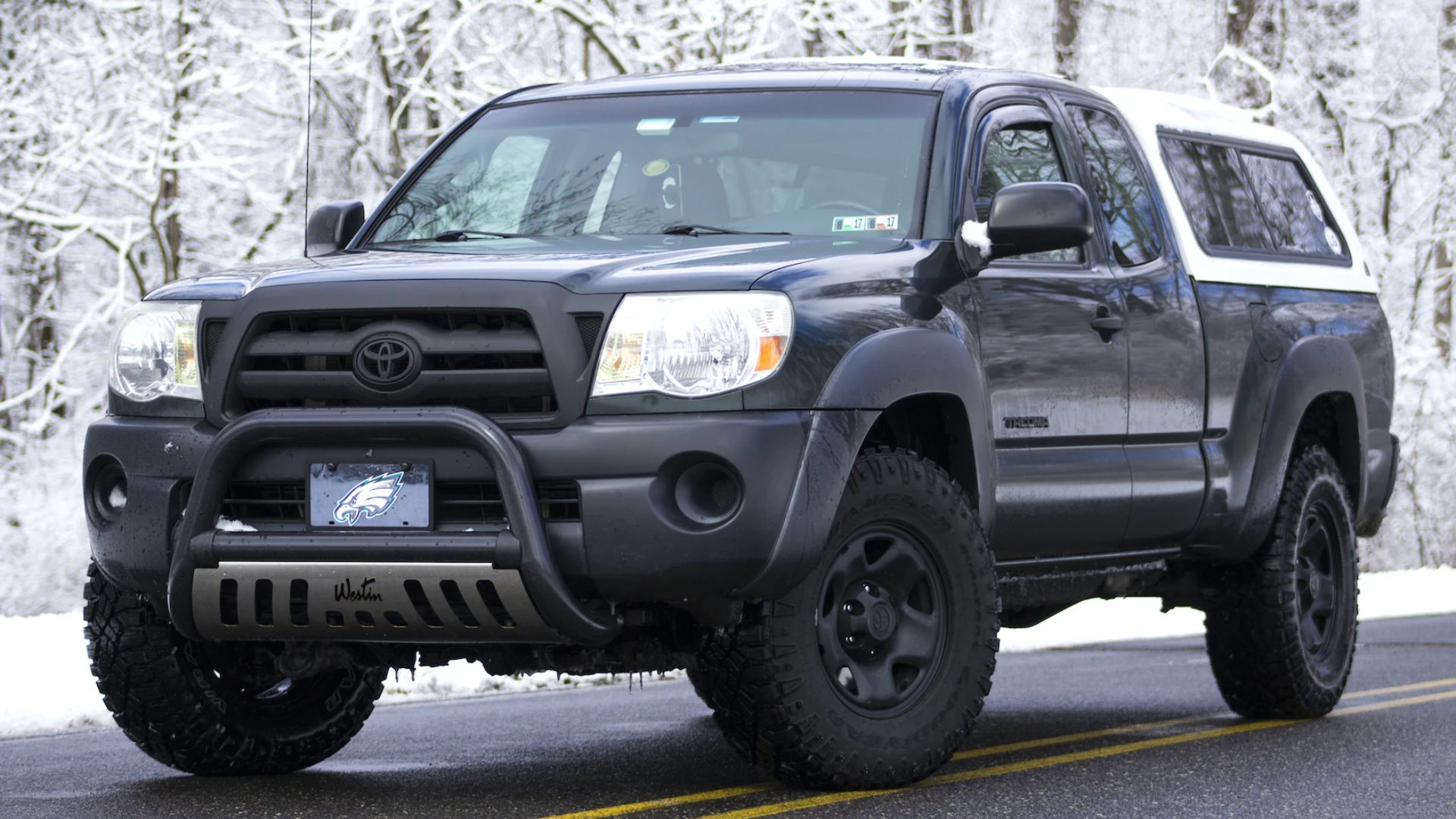 The Toyota Tacoma is a top contender for many people shopping for a truck. It is a stylish, challenging, and rugged vehicle with the perfect size for getting work done, as it is neither too small nor too big. This makes the Toyota Tacoma a top-rated truck among consumers in America and around the world.
The Tacoma was introduced in 1995, and since then, it has been a popular truck model for Toyota, making it one of Toyota's best-sellers among all its models- SUVs, trucks, hatchbacks, and sedans.
The Toyota Tacoma earned an APEAL index score of 791, making it one of the best midsize pickup trucks in general customer satisfaction. In this article, we will explore the Toyota Tacoma years to avoid.
APEAL stands for Automotive, Performance, Execution, and Layout (APEAL), and is a study which measures owner's satisfaction with interior design, exterior styling, comfort, performance, utility, and technology factors.
Most common Toyota Tacoma problems
The Toyota Tacoma is one of the most popular pick-up trucks in the U.S. Although, despite its high reputation for reliability, there are some issues you should be aware of. Some of these issues include the following;
Peeling Paint
It is unpleasant to see a beautiful truck blemished and dented. However, it is worse to see the truck's paint peeling. Many Toyota Tacoma owners reported their roof paint peeling for no reason. Repainting your vehicle can cost as much as $3000.
Because of the high repair cost, it could be a good idea to consider the benefits of ceramic coat for Tacoma, just to be safe.
Faulty transmission
The Tacoma transmission issues arise from the throttle position sensor. At a higher mileage, the automotive transmission may not shift appropriately due to the throttle position sensor being out of alignment or a solenoid that needs to be replaced.
Rear differential leaking
The rear differential of the Tacoma could leak oil; if the differential is in bad condition due to the oil leak or the lube is below the minimum gear lube threshold, then the internal components will need to be repaired.
Cracked blower motor
There have been complaints about the cage of the blower motor cracking and causing noise from the dash. This also causes a small amount of airflow to come from the vents. If the blower motor cracks, it causes the blower not to spin efficiently.
Lower ball point prematurely wearing
Toyota Tacoma trucks from 1995 to 2007 had struggled with premature wear and tear on the lower ball joint. This issue makes the steering wheel harder to use and has problems with self-centering.
Transmission hard shifting
Tacoma owners precisely reported the Toyota Tacoma with the 6-speed transmission with V6 engines. Some of the symptoms that have been noticed are issues with the transmission shifting improperly when trying to climb an incline or when on the highway.
The problem is – these are some of the main symptoms of a bad shift solenoid, as well as a few other transmission-related problems, so it's a drag to deal with this sort of issue.
Idle surging
When in idle mode, Tacoma owners have reported that the truck idling will surge if the steering wheel is moved. It is recommended to take your truck to a dealership if you are experiencing idle surging to have it remedied quickly
Which Toyota Tacoma years to avoid?
There have been a lot of reported issues with the 2006, 2007, 2008, 2011, 2012, 2016, and 2017 Tacoma year models, and we recommend that you avoid purchasing them. 2006, 2007, and 2008 models have issues with the body, paint, and engine mishaps. The 2009 year model interior accessories tend to get faulty and malfunction often, along with several lights, engine, and body defects.
The 2011 Toyota Tacoma has widespread problems. Consumer complaints were being issued about almost every component in some form. At the same time, the 2012 model had problems with the engine and drivetrain.
The 2016 and 2017 models share similar malfunctions with the 2012 model and unreliable transmission. These models are some of the worst Toyota Tacoma you can purchase as their transmission has so many defects that the trucks become hazardous to drive. If you are in the market for a Toyota Tacoma, it would be best to get a sturdy and robust vehicle that can take you off-road without worrying about safety.
Most Toyota Tacoma year models give optimal reliability, but there are some significant flaws to be aware of before purchasing them. We will be highlighting the considerable weaknesses in the Toyota Tacoma models to avoid.
Second-generation Tacoma (2006-2009, 2011 and 2012 model years)
The 2006-2008 Tacoma models all have problems with peeling and chipping. They also have major engine and transmission failures. The 2006 model is particularly problematic. The Tacoma models have a body frame that tends to break or rust at 100,000 miles, which could cost up to $3,500 for repair.
The 2007 model isn't better than the previous year's model. Toyota Tacoma trucks from 2007 tend to have sticky accelerators that can cause severe problems for drivers. The Toyota Tacoma 2008-2009 models have had early issues, some of which include a slipping clutch and anticipated acceleration.
The 2009 Toyota Tacoma model has severe electrical problems, more specifically with the radio that turns off all of a sudden. There were also problems reported with the headlight and radio, but there are no issues with the powertrain. The 4.0L V6 engine is also known for water pump failures, ignition could issues, and blown head gaskets.
The 2011 Tacoma models have headlight issues, including flickering and cracked covers. Many owners of this model reported a repetitive clicking sound from the truck. The 2012 model comes with several engine defects and heavy vibrations while driving.
For both of these models, the issues appear around 30,000 miles. The Toyota Tacoma 2012 model has almost 300 consumer complaints. However, most complaints cover less severe problems like mislabeled load stickers. The most serious grievance concerns airbags that may not deploy in a crash due to a faulty occupant sensor.
Many consumer complaints address engine problems, including issues with the air injection pump that can cause the truck to lose power unexpectedly, prompting the engine warning lights and going into limp mode.
Third-generation Tacoma (2016-2017 model years)
The 2016 and 2017 models gave some severe safety concerns compared to the previous models. These models have reported several transmission flaws. You should avoid the 2016 and 2017 models at all costs. The number of complaints for these models is the highest among other models.
The 2016 and 2017 Tacoma models face transmission issues and engine stalling. There are several complaints about the automatic transmission hesitating to shift from park to drive and sometimes when to reverse. Jerking and hard shifts have also been reported. For engine problems, the low-pressure fuel pump fails quickly. When this occurs, drivers can expect stalling, hesitation, and idling.
The 2016 Toyota Tacoma model has the lowest customer satisfaction index score among the models made in the past 15 years. It also has the most complaints from owners.
The complaints about the 2017 Tacoma model are related to high bill repair items like the drivetrain, transmission, engine, and steering. Because the Toyota Tacoma has an excellent resale value, the 2017 model is still expensive, with the average retail price that ranges from $20,000 to $35000.
Best Toyota Tacoma years
1996 Toyota Tacoma
2005 Toyota Tacoma
2013 Toyota Tacoma
2014 Toyota Tacoma
2015 Toyota Tacoma
2018 Toyota Tacoma
2019 Toyota Tacoma
2020 Toyota Tacoma
1996-2005, 2010, 2013-2015, and 2018-2020 Toyota Tacoma models have proven to be reliable. These model years are highly reliable, with few reported issues. Most reported issues are minor defects that do not become a problem until after 100,000 miles on average.
The 2005 model has a decent amount of complaints, but most have to do with paint peeling after 80,000 miles. With the 2010 and 2015 models, there are low chances that you may experience early engine or brake problems.
Since the chances are low, it shouldn't be an issue. 2018 and 2019 models have early vibration problems that are easily fixable. The 2020 Tacoma model is considered the safest model because it has yet to have complaints from its users.
Is the Toyota Tacoma worth buying?
Toyota Tacoma models are great for off-roading and commuting. Each model has some unfavorable characteristics that limit performance and durability. We have highlighted the Toyota Tacoma years to avoid and have given full details of the problems associated with the models.
Most Tacoma models can boost road comfort and durability. As with any Toyota Tacoma model, there will be a period when your vehicle will have to visit a repair shop. We recommend that you protect your Toyota Tacoma with an extended warranty. Research and purchase a developed warranty solution for your truck with a trusted partner.
What year Tacomas be avoided?
The Tacoma model years you should avoid include 2006, 2008, 2009, 2011, 2012, 2016, and 2017. These models face paint peeling, sticking accelerators, and faulty transmission
What years of Tacoma are the most reliable?
The Tacoma model years that are the most reliable include; 1995-2005, 2010, 2013-2015, and 2018-2020.
What is the best year Toyota Tacoma?
The 2015 Toyota Tacoma is considered the best model year for Tacoma trucks. It is highly reliable, with very few reported complaints. It is also ranked highly in engine performance, resale value, and longevity. 
What year has Tacoma transmission problems?
Toyota Tacoma trucks built from 1995 – 2015 are known to have transmission problems.