Tire sidewall damage — causes and fixes
Prevent and repair tire sidewall damage with essential steps.

One of the essential components of the car is its tires. You cannot start or stop if your grip on the road is inadequate. A flat tire is a major inconvenience, and it's awful enough when you only get a small puncture. It becomes worse, though, if your tires have sidewall damage, and you'll need a new tire if the sidewall of your current one is damaged.
Incorrect wheel alignment or balancing, hitting a curb, encountering foreign objects like glass shards or nails, and more can all cause sidewall damage to your tire.
Sometimes the damage is hidden. Sometimes the inside of the tire breaks away even if everything seems good on the surface. Here, we look at the common causes of tire sidewall damage and what you should do.
What is tire sidewall damage?
If you're like most motorists, you probably don't think much about your car's tires unless there is an issue.
Sidewall wear or damage is one such form of damage. Consequently, what exactly is tire sidewall damage, and when should you change a tire due to it?
A sidewall tire damage is just what it sounds like; it is damage to the tire's sidewall, not the tread, so it is not a tread-related problem. Most sidewall injuries to tires cannot be repaired. A significant scrape or bubble on the tire's sidewall is frequently a sign of one. Minor accidents or driving too close to the road's curb can cause this.
A tire blowout or flat may be the most obvious sign that it's time for a new set of tires, but other sorts of damage may also indicate that it's time to replace them.
The car's point of contact with the road, which grips it, is a tire. It is typically constructed of rubber and filled with air, which is nothing new.
When a tire blows out (bursts), gets flat, or is overinflated (which can be just as dangerous), That's all lost. Without any time to react, the suspension and steering systems suffer damage due to your lack of grip.
You suddenly have a vehicle that is only connected to the road through the bare metal of the wheel if the tire explodes. Sparks would fly, it could be difficult for the car to move or stop, and you might lose control very quickly, as you imagine.
How do I check for tire sidewall damage?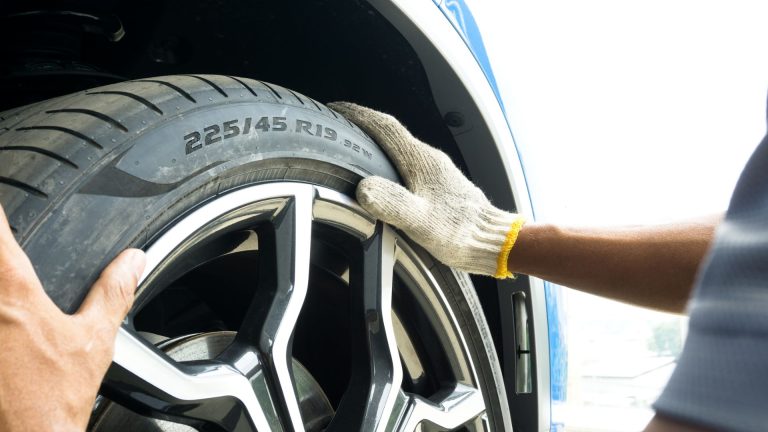 A tire has two primary components. The area that contacts the ground is called the tread. The sidewall is another component of the tire. The area of the tire between where it makes contact with the rim and the corner of the tread is referred to as the sidewall. When you look at a tire, the sidewall is where you can see the manufacturer's name and the size information.
Damage to the tire's sidewall includes punctures, scratches, rips, tears, bubbles, or cracks. It is relatively simple to identify sidewall damage because the sidewall is visible, unlike a large portion of the tread. Any problems can be seen with just a glance around your car. In many instances, a situation like this is not covered by warranty.
This is because the damage is seen as "caused" by the owner or driver rather than a product defect. Check the warranty details on your car or get confirmation from the dealer. Also, it's worth knowing that some SUV tires come with reinforced sidewalls to prevent this sort of damage, as you can see from the Kumho Crugen HP71 review.
However, remember that there is also an inner sidewall, which sadly is not as visible. You'd have to jack the car up to look behind the wheel and examine the inner sidewall. Sometimes, it might be possible to lay on the ground and feel for damage along the inner sidewall, but it's a rather tight fit in most automobiles. With trucks and SUVs, you'll be more successful.
What causes tire sidewall damage?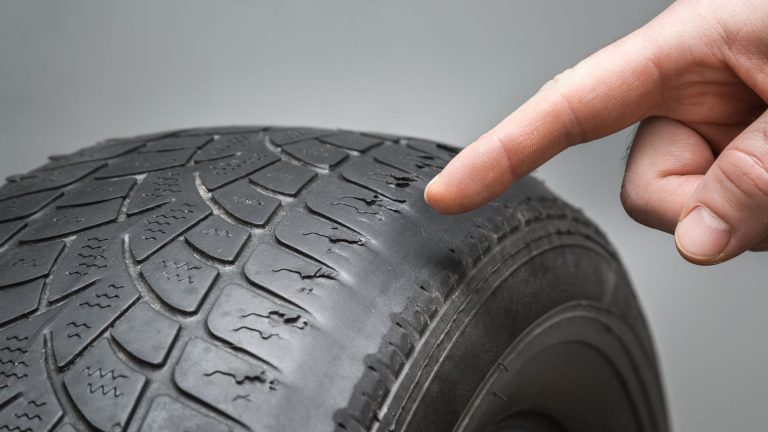 Tire sidewalls can be damaged in several ways. An accident or running into a curb while driving might cause tire sidewall damage, and the impact could leave a big hole in the rubber or cause scratching. After any collision, you should thoroughly check your tires.
It might be a roadside object or deliberate action. The following section goes over some more potential causes of sidewall tire damage.
Wear and tire age
Tires begin to degrade as they age, and tires deteriorate even within their predicted service life, typically ten years. Your tires will wear down more quickly the more you use them and the more miles you put on them. Therefore, you may need to replace your tires if you notice cracking on the sidewall surface.
Curbs and obstacles
The sidewall of your tire may bubble if you strike a curb or pothole hard enough. An indication that a tire's integrity has been compromised is the presence of a blister or bubble on the sidewall.
You may still be able to drive the vehicle, and the damage may be minimal, but the tire is unlikely to be able to withstand the next obstacle, and it may even blow out more readily.
Overloading your vehicle
If you frequently transfer heavy cargo or pack your car or truck full of gear, you risk harming the sidewalls. Ratings for the maximum weight capacity of tires and automobiles are available, and you risk damaging your side walls if you overload the car over that limit.
Manufacturing defect
It is uncommon, but it is possible that the tires that came with the car were poorly built. You can avoid these problems while shopping for new tires by not choosing inexpensive tires from low-quality manufacturers.
You might be trying to save money by buying the cheapest tires, but such products will likely break down quickly.
Tires with inadequate or excessive air pressure
If your tires are not correctly inflated, there is a great chance that sidewall damage or blowouts will occur.
The weight of your automobile or truck cannot be supported by underinflated tires, which lack the proper air pressure. Over-inflated tires have excessive sidewall pressure.
You can find information about the recommended air pressure for your tires on a label inside the driver-side door jamb. The vehicle owner's manual, VIN decoders, and asking your dealer are additional methods of obtaining the data.
If one of your tires has too little air pressure, the tire pressure warning light on your car will alert you to the problem. This is why you should always keep your TPMS (Tire Pressure Monitoring System) in good working order.
Is it safe to drive on a tire with sidewall damage?
After a tire's sidewall has been pierced, it is unsafe to operate your car. For good reasons, you will need to be cautious. First of all, tire sidewalls are far more sensitive than treads. The entire tire may be punctured, resulting in a blowout sooner or later.
The speed of the blowout depends on how much damage has been done. As long as tiny, really shallow scratches don't extend all the way to the threads, they shouldn't be a big deal.
How much tire sidewall damage is too much?
When figuring out how much damage you should consider significant, there are guidelines to follow. Check the threads closely to see if the damage has affected them. It might be a deep cut or a swelling (bubble).
Any damage to the sidewall's surface that is more severe than a minor scratch is excessive. Damage that has reached the tire's carcass renders it unsafe to drive on. The sidewall bears the car's weight, and deterioration makes it more likely to blow out (the catastrophic loss of air pressure).
Sequel to that, you'll have a flat tire if it occurs while you're motionless. If that happens when you're making a turn on the highway, you can quickly lose control of your car, increasing your chances of getting into an accident, including a rollover crash.
However, an expert inspection of the damaged tire is the only way to determine the extent of the damage. It is best to bring the car to an auto shop without tire sales on the premises.
This is because the person selling them may make an unnecessary recommendation for new tires.
Our take
Your tire's sidewall damage is irreparable if it penetrates far enough. Other than changing the tire, there is nothing else you can do.
Sometimes a tire's sidewall may be damaged, but the tire itself may still be intact and in excellent condition. It would be wisest in this situation to seek the advice of a reputable specialist.
Tires require maintenance, and it's crucial. Imperative. You risk endangering yourself and other people if they are permitted to get to the point where it is dangerous to drive.
A tire's sidewall can never be repaired, and I can assure you that anyone who tells you that you can is lying. The risk is never worthwhile.
Can the sidewall of a tire be repaired?
Unfortunately, sidewall damage is irreparable. A tire's integrity is destroyed by such damage, so it needs to be changed as soon as possible.
How do you know if your tire sidewall is damaged?
Damage to the tire's sidewall includes punctures, scratches, rips, tears, bubbles, or cracks. It is relatively simple to identify sidewall damage because the sidewall is visible, unlike a large portion of the tread. Any problems can be seen with just a glance around your car.u003cbru003eu003cbru003eA bulge or bubble on a tire's sidewall typically denotes damaged cables brought on by a severe collision. A visible break in the inner liner frequently coexists with damaged cords, and air has gotten into the plies through damaged wires, which can cause a bulge.