What to do when you have a flat tire
Gain essential knowledge for handling a flat tire situation with ease.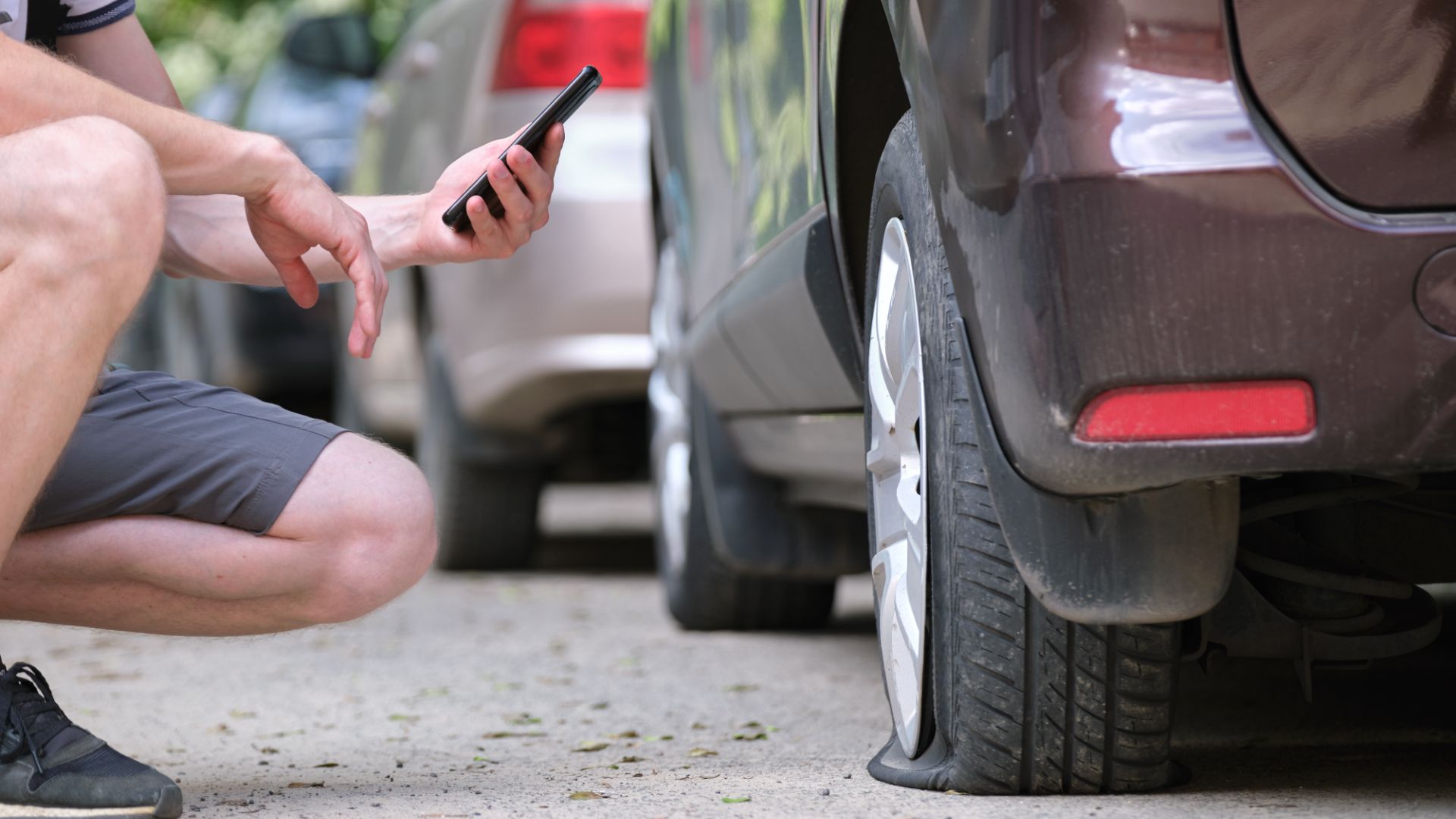 A flat tire usually occurs in one or two scenarios, either in the morning when you walk out to your car only to spot a sagging tire or when driving. Experiencing a flat tire — whenever it is — is a massive inconvenience for anyone. It is important to note that all flat tire situations are not equal; while some are easy to fix, others can lead to severe accidents. So, what do you do when you have a flat tire?
How you handle the situation is key in ensuring your safety and preventing the problem from escalating. Always having a spare tire in your trunk saves you time waiting for towing services. Even if you aren't a DIYer, a phone call to emergency road services can get you back on the road sooner. This article provides detailed information about flat tires and answers related questions.
Common causes of flat tires
Here are some of the most common causes of a flat tire:
Sharp Objects
It is a no-brainer that sharp objects are one of the most apparent reasons for flat tires. A puncture from things on the road, such as a screw, piece of glass, nail, or an industrial staple, is the fastest way to get a flat tire.
To avoid punctures and blowouts, you might want to drive around debris instead of straight into them. Also, you might want to approach construction zone and poorly-maintained roads carefully.
Some tires with reinforced sidewalls can endure sharp objects a bit better than regular tires, as you can see from the Nexen Aria AH7 review.
Valve stem leakage
If there is no sign of a puncture on your tire, you might want to check the valve stem for leakage. Your tire can go flat due to a damaged and leaky valve stem. To be on the safe end of things, you might want to have your valve stem inspected whenever you go for a maintenance check at your local tire shop. You should ask for a replacement if the valve stem is too old or dirty.
Improper inflation
Your vehicle must have the correct tire pressure level for a safe ride. Improper tire inflation can cause internal tire damage, which can potentially cause serious road accidents.
To avoid this, you should check tire pressure at least once a month and as part of your car maintenance plan. If you are a DIYer, you can check your tire pressure using a tire pressure gauge or have a professional mechanic do it.
Heat
Often, a flat tire's culprit isn't a sharp object, a pothole, or even normal wear and tear. It might go flat in the summertime due to the heat. The air in your tires expands due to a rise in mercury, increasing your risk of a leak or blowout.
Before going out on the road, check your tire pressure, as this will give you a more accurate reading than after driving in the sun. Avoiding over-inflated tires and maintaining proper tire pressure are imperative in the summer.
Signs of a flat tire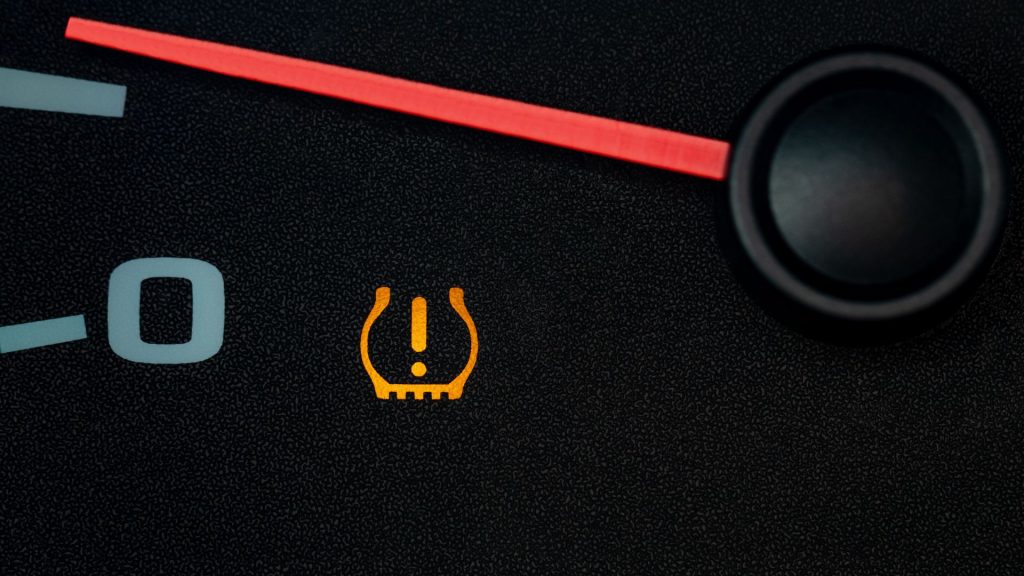 Before your tire goes flat, it might give away signs that, if you pay attention, could keep you on top of things. Common symptoms to look out for include:
Tire warning light
On a new car, you can monitor your tire pressure by being aware of your tire pressure indicator light. This light is connected to your Tire Pressure Monitoring System (TPMS). If the TPMS light activates, you must fill your tires to their specified capacity.
Low tire pressure
Even without a TPMS light, you can inspect your tires to see if they are low on air, as low air pressure places undue and uneven stress on the tire and wears out the tread outside faster than usual.
Worn tread
Due to the limited lifespan of tires, car owners should keep track of the metric used to assess tire tread depth. The Penny Test involves placing Lincoln's face upside down into the tire tread. There is more than 2/32 of an inch of depth if the tire covers his head, thus more tread life to your tires. However, it's time for tire replacement if his head is visible.
Cracked sidewalls
Like any other vehicle part, your tires are also prone to physical damage. If you have a cracked or cut tire, the weak spots around these areas can result in a blowout or flat tire. You might notice a cracked or cut tire after hitting a solid object, and may even be signs that your tire has already been leaking air.
Why shouldn't I drive on a flat tire?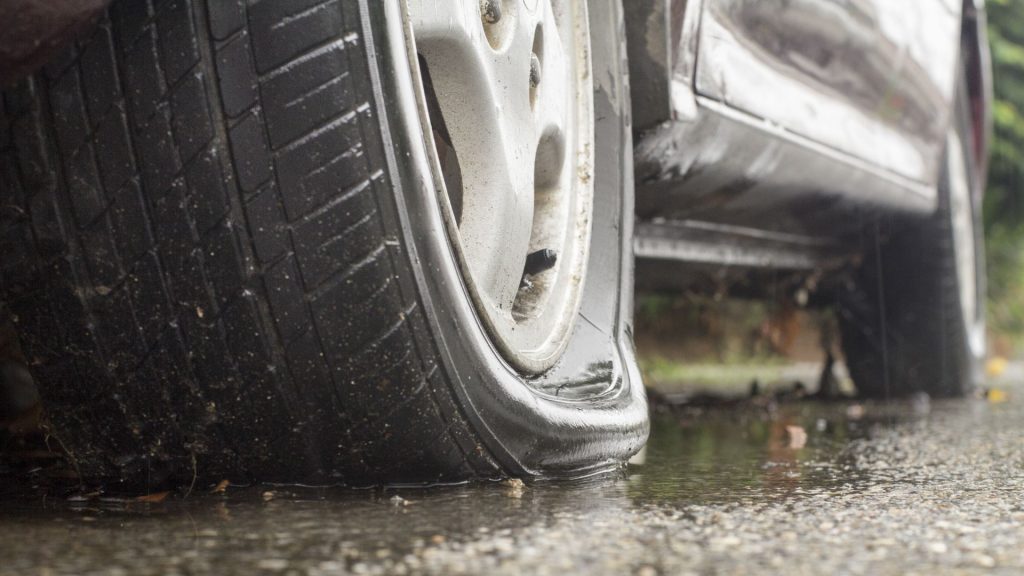 There are many consequences of driving on a flat tire, as it can pose a serious risk to you, your vehicle, and other road users. Here are some reasons why you should avoid driving on flat tires.
Irreversible tire damage
Suppose there is insufficient air in the tire (which is needed to support the weight of your vehicle). In that case, it can cause 'internal structural damage,' meaning the material inside the tire can get damaged beyond repair. This is because heat builds up inside the tire so intensely that the tire starts to disintegrate.
Vehicle damage
Driving on a flat tire for an extended period can cause a fair amount of damage to your vehicle. You risk damaging essential and expensive parts such as brake rotors, brake lines, suspensions, and fenders when the tire separates from the rims.
Accidents
If there are no run-flat tires on your car, you shouldn't drive on a flat tire, even for a short distance, as this makes it challenging to handle the vehicle leading to an accident. Driving on a flat tire could cause a fire in the wheel well, instantly spreading to the rest of the car.
Things to consider when driving on a spare tire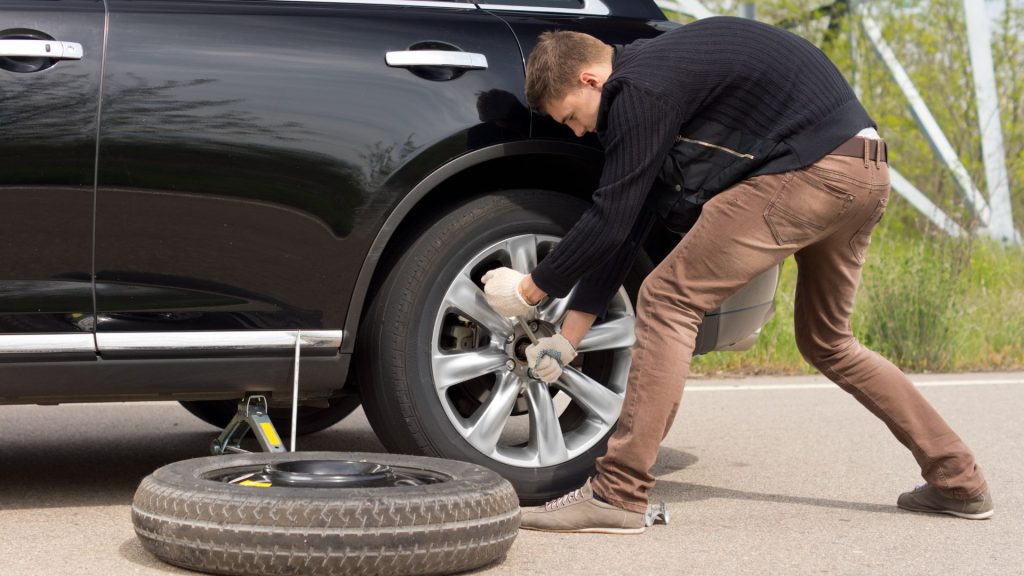 Spare tires can go the distance but not at the same speed as your main tire, as they have a suggested speed limit of 50 MPH. In some vehicles, the car is harder to control if you go faster than 60 MPH. Also, in these vehicles, not all the driver assist features work when the spare tire is in use.
The all-wheel drive, adaptive cruise, and lane-keep assist functions might not work because the system detects differences in wheel sizes. A spare tire, unless it is a full-size spare, should not be permanently left on your car, and you should only use it to get your vehicle safely to the nearest auto repair shop so that a mechanic can repair your flat tire.
How can I avoid flat tires?
There are various ways to reduce your chances of driving on a flat tire. A few ways to minimize driving on a blown-out tire include:
Check your tire pressure monthly
Checking your tire pressure regularly is the principal rule of tire maintenance. The National Highway Traffic Safety Administration (NHTSA) recommends checking all your tires and the spare at least once a month. Tire pressure gauges are affordable and can help you avoid tire troubles in the future.
Tire pressure checks are best done when the tires are "cold," meaning at least three hours after driving.
Inspect and rotate your tires regularly
It would help to consider visual inspection and tire rotation alongside your monthly tire pressure check. Tire rotations help spread the wear on your tires to last longer. Generally, it would be best to rotate your tires every 5,000 to 10,000 miles or plan to rotate your tires each time you change your oil.
Stick to your tire's road limit
In addition to the recommended tire pressure, there's a maximum load and rating pressure printed on the sidewall of your tires. When you overload your tires, you put more strain on them, and exceeding the load limit could cause a blowout.
You can increase your tire pressure to handle the increase in weight, but you might want to be careful to avoid exceeding the tire's maximum pressure.
Our take
A flat tire doesn't always mean the end of the journey. While it might be frustrating, you can get back on the road in no time. Whenever you experience a flat tire, you should avoid being tempted to drive your car too far.
This could result in severe damage to your tires and other vehicle components, accidents, or in extreme cases, could lead to a fire outbreak. However, if you get a flat tire on a highway, turn on your hazard lights and clear your vehicle safely. If you have one, you should consider replacing the tire with a spare or contact a road emergency service for assistance.
What to do with a flat tire in a driveway?
If you have a flat tire on your driveway, you should get a professional mechanic to fix it, or if you are a DIYer, you can fix it yourself. 
What to do if you have a flat tire with no spare?
If you have a flat tire without a spare to replace it with, consider contacting road emergency services for assistance. However, you can patch and refill a flat tire with the right tools.
Can you drive on a completely flat tire?
No, you cannot drive with a completely flat tire. You may be able to hobble your car to the repair shop, but this would be a bad idea.
How long can you drive on a flat tire?
You can drive for about 50-70 miles with a flat tire, and exceeding this range could irreparably destroy the tire.