How far can you drive on a flat tire? — explained
Find out how long you can drive on a flat tire.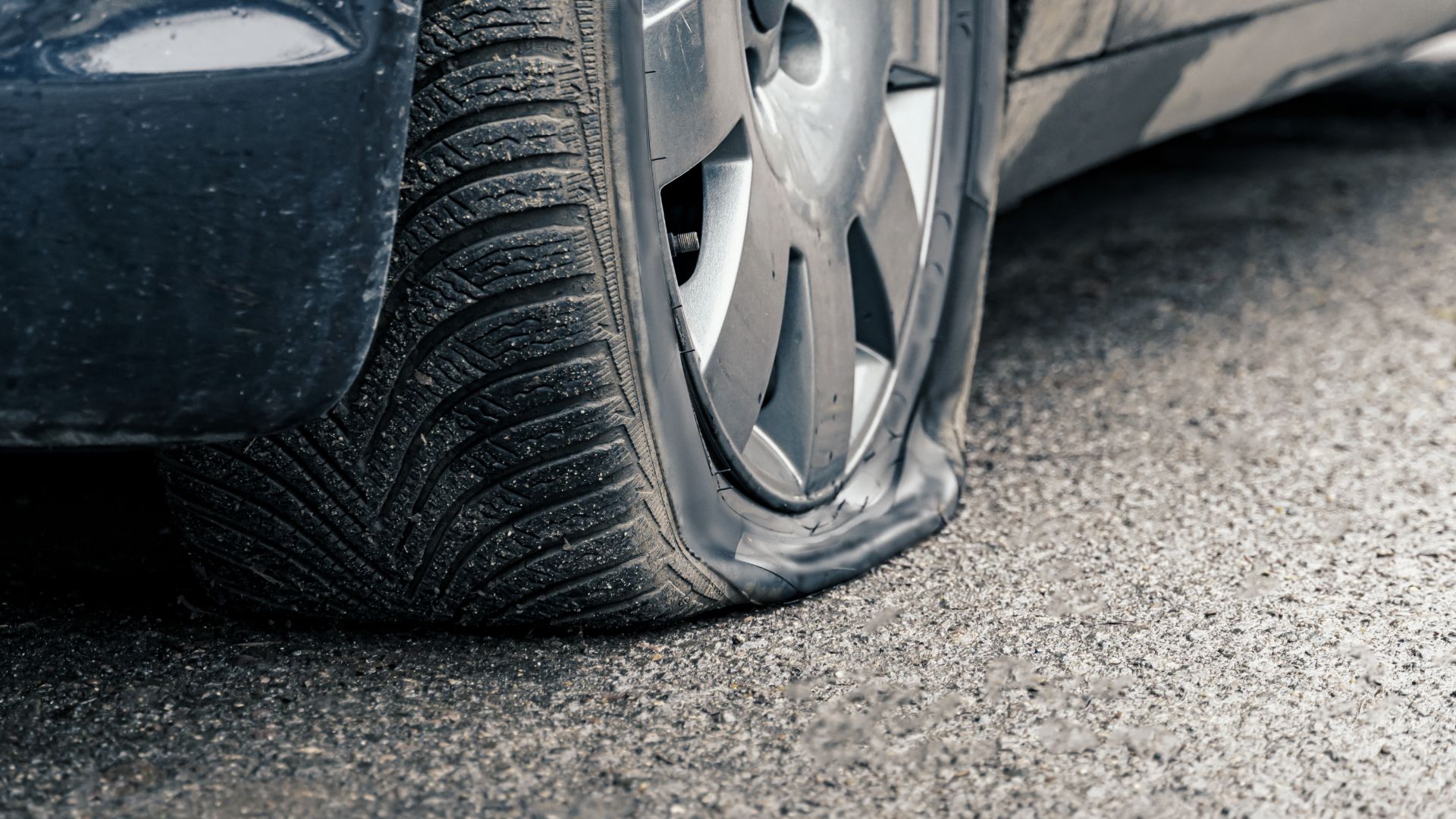 A flat tire is every traveler's nightmare, especially when you're out in the middle of nowhere. It is more disturbing when you don't have a spare or leave the tools for changing a tire back somewhere. These odd chances beg the question: how far can you drive on a flat tire?
The limit you can safely drive on a flat tire is 50 miles. Even at that, you should be prepared to entertain some unpleasant news from your mechanic later because riding on a flat tire can cause damage to your car. The longer you go on it, the more damage occurs.
This article determines how far you can drive on a flat tire and what damages you should look out for.
What are the common causes of flat tires?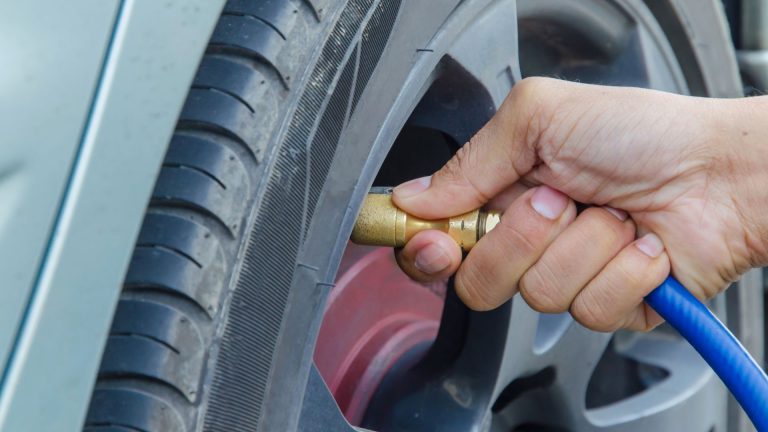 No one enjoys having a flat tire, which is why you should know what causes it so you can avoid it as much as possible. Below are six typical causes of flat tires.
Terrible road conditions
Potholes, debris, and uneven roads make driving a chore. They are annoying and can damage your vehicle's undercarriage, wheels and axles. The worse the road condition, the greater your chances of getting a flat tire.
The best way to meander past bad roads is to slow down and leave plenty of space between your car and the one in front. Going slow will give your vehicle enough time to react more favorably to the unwanted parts of the road. It will also give you enough time to notice the best path to take and the worse parts to avoid.
If you frequent bad roads, always ensure you have a spare tire and the right tools. A road that is bad enough can still puncture the tires of the most careful driver. It is better to go prepared.
Sharp objects on the road
The most common cause of flat tires are punctures from sharp objects. It could be shredded glass, a nail, a screw, industrial debris, etc. It is also a major cause of accidents as drivers who were speeding before getting a sudden flat tire often lose control if they are not careful and alert.
There are times when things pop out of nowhere on the road. To avoid getting a flat tire from sharp objects often, be more conscious of the road, especially when driving through areas with high daily human activity, like parking lots. Also, drive carefully when passing through poorly maintained roads and near construction sites.
Excess tire pressure
Your car's tires should have the proper pressure to function correctly. An improperly inflated tire can cause internal damage to the vehicle and lead to potential accidents, which can cause severe injuries on the road.
Always check your tire pressure at least once a month and as part of your maintenance plan. You can get a tire pressure gauge for this purpose.
Valve stem leakage
The valve stem is the key ingredient in tire inflation as it opens to receive the air and is sealed by a spring or pressure in the chamber to keep the air inside the tire. As such, a leaking valve stem can make your tires go flat. A dirty or old valve stem is more susceptible to leakage and can quickly become a problem if it is not noticed on time.
Have your mechanic check the state of the valve stem regularly during maintenance checks to ensure they are not the reason your tire is losing pressure.
Tire wear and tear
Wear is an integral part of a tire's life, and wear brings about the weakness of tire structure. Eventually, even with the best maintenance, your tire will get thin enough that it no longer holds air as apt as it did when you first purchased it. Also, the more you use a tire, the more susceptible it becomes to damage that would not leave a dent at the beginning of its journey.
There is little you can do to avoid getting a flat tire from an old tire. It is a normal thing at this stage of the tire's life. You can do a few things to extend your tires' lifetime and reduce the number of flat tires you get.
First, you should avoid hard and fast starts and stops when using an old tire. Ensure your tire pressure is correct, align your wheels regularly and rotate your tires often to help with wear distribution.
Hot weather
The summer is notorious for the high number of flat tires that usually occur within it. Most of the time, the cause of the flat tire is not any of the issues above but heat.
Heat causes mercury to rise, which in turn causes your tires to expand, increasing their internal pressure. At best, you get a leak to let out this excess pressure, causing you to have a flat tire. In worst-case scenarios, the tire can blow out due to the pressure exerted on it.
Keep regular tabs on your tire pressure to avoid this issue, especially after driving in the sun. It is essential to maintain the right tire pressure in the summer as overinflated tires increase the potential of a flat tire and increase your risk of serious accidents.
How far can I drive on a flat tire?
Driving a flat tire over a long distance is a risky venture. Not only do you damage the tire even more, but you also risk damaging the steering system, suspension system, wheels and brakes.
The limit you can drive with flat tires is 50 miles, and within this window, there is no assurance that the other parts of your vehicle are not getting damage of any sort. The longer you drive with a flat tire, the more you lose handling and increase what you would have to spend for repairs. Some tires have technologies like Continental's self-supporting reinforced sidewall (SSR) that, as the Continental PureContact LS review suggests, help you run a few miles longer.
Can I safely drive on a flat tire?
If you drive slowly, you can still ride on a flat tire till you reach the nearest place to get help. However, if the area in mind is more than 50 miles away, it is not recommended.
While you are driving carefully, your vehicle, particularly the wheels and suspension system, is under a lot of strain. You might get to your destination safely, but the damage to your car can cost you a lot in repairs. So, what do you do when you have a flat tire?
If you have a spare tire, do not hesitate to use it. It would save you money and remove the risk of having an accident due to the poor handling the flat tire provides.
How long can I drive with a spare tire?
You can drive for 50 miles with a spare tire and, at best, 70 miles.
As the name implies, spare tires are not meant to replace the main tire but to act as a substitute when something goes wrong. Though the mileage on a spare tire is close to that of a flat tire, they eliminate the damage your vehicle would have suffered from riding on the flat tire and save you money on repairs. They also remove the chances of an accident due to poor handling induced by a flat tire.
How do I change a flat tire on the road?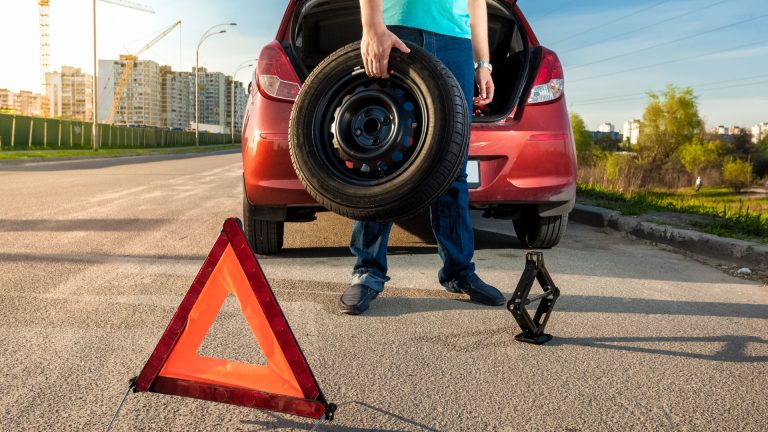 Changing a tire is not an arduous task. It may take a little time to execute, depending on your experience with tires and the entire procedure. Below are steps to replace your flat tire with a spare.
Pull over to safety
The first thing you need to do is to locate a safe spot and park as soon as possible. It should be where you can easily do what you need without obstruction from nature. What you should be looking for is solid-level ground.
Assemble your tools and the spare tire
Get your spare tire and the tools you will use out of the trunk. The essential tools include a jack and a tire iron. Having a flashlight is a plus for changing tires in the dark. Work gloves are optional in an emergency and will keep your hands safe and free from dirt if you have them.
A mat and tire pressure gauge are also handy to have stashed in your trunk in an emergency. Finally, having the owner's manual handy can do a lot of wonders for you and reduce the stress you might encounter when changing a flat tire on your own for the first time.
Loosen the lug nuts
Use the tire iron to loosen each lug nut in the wheels until you can turn them freely with your hands. A standard wheel on a personal vehicle has three to five lug nuts.
Use the jack to lift the vehicle
To remove the flat tire, you have to lift the vehicle. You can only do this using the jack, ensuring that it is placed beneath the metal part of the car and not the plastic part.
For this step, refer to your vehicle's manual to do the proper thing.
Pull out the tire
After lifting the vehicle, remove the lug nuts and keep them someplace safe where you will quickly retrieve them. Only after that should you pull out the tire towards you to remove it.
Mount the spare tire
Insert the spare tire and use your hands to screw the lug nuts into place. You are not to firmly secure the lug nuts at this point.
Remove the jack
After mounting the spare tire, lower the vehicle and remove the jack. Use the tire iron to tighten the lug nuts, and you're good to go.
It is best to use a full-sized spare instead of the inexpensive doughnut-sized one, as the latter can potentially cause harm to your drivetrain.
Our take
Most drivers have been in a situation where they have a flat tire with either no time to change it or the right environment to change to a spare. Nonetheless, when driving on a flat tire, remember that you should not go beyond 50 miles with it to protect yourself.
Can I drive 2 miles on a flat tire?
You can drive 2 miles on a flat tire, but you must remember that going on a flat tire is destructive to your vehicle. 2 miles on the wrong road may be enough to cause damage that will cost you a lot.
How far can you drive on a completely flat tire?
The limit to driving on a flat tire is 50 miles. If your tire gets completely flat, you will technically be going on your wheel, not the tire, which is dangerous and wrong.
Can you drive a short distance on a flat tire?
You can drive a short distance of 50 miles on a flat tire. The more you go on the tire, the more damage you cause to your vehicle's suspension, steering and braking systems.
What happens if you drive on a flat tire?
Driving on a flat tire causes damage to the suspension, brakes and steering system. Eventually, your ride's control is lowered, and safety is compromised.