Cadillac SRX years to avoid — most common problems
Learn about the crucial Cadillac SRX years to avoid for a smart car-buying decision.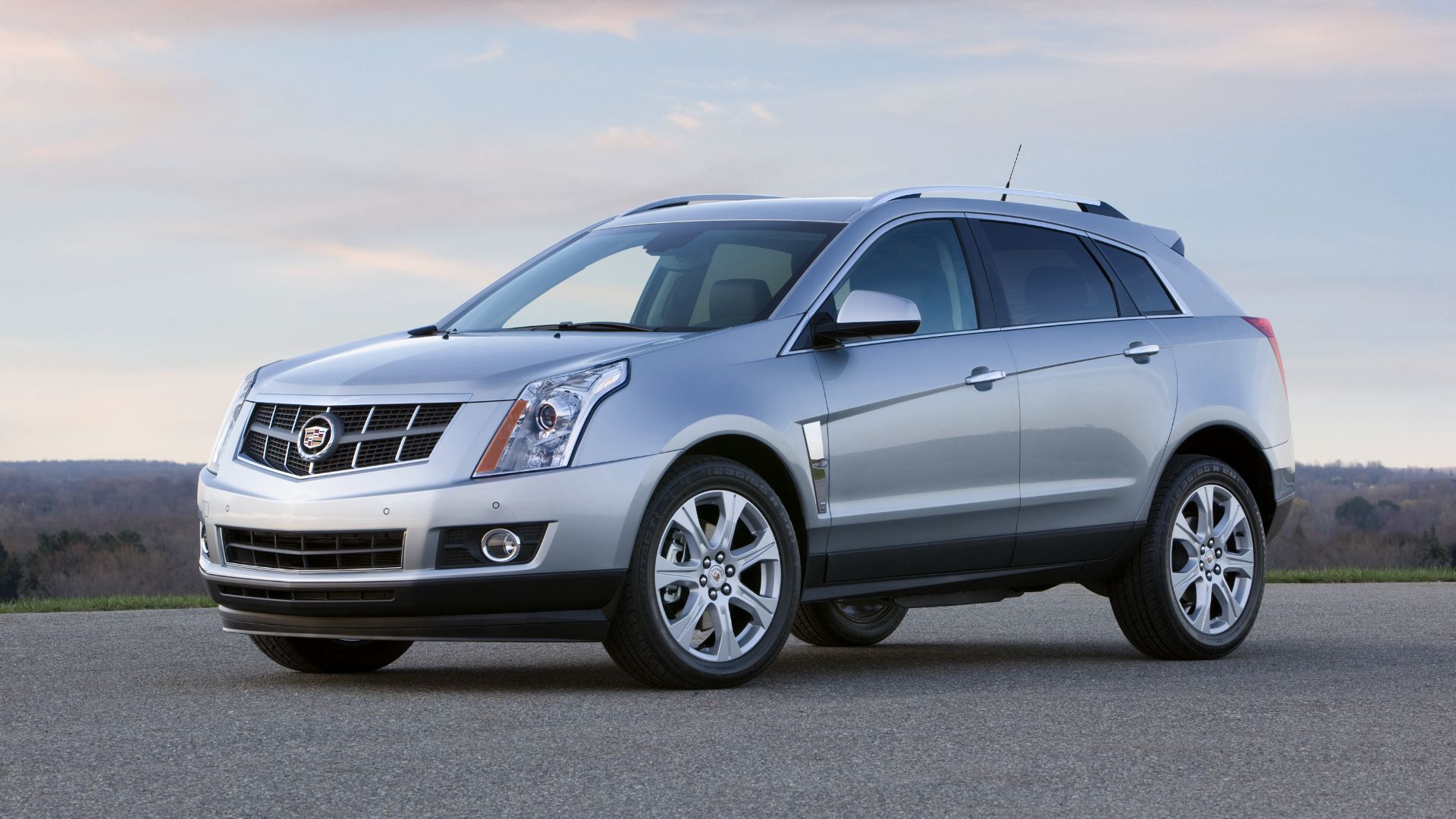 Driving a Cadillac has a certain allure. The product line is strong evidence of the manufacturer's popularity, and most Cadillac vehicles have low rates of complaints and decent reliability in their markets.
The Cadillac SRX, however, is a bit of an exception to the rule. The SRX has a less-than-impressive performance and several Cadillac SRX years to avoid.
Let's take a closer look at the SRX to determine what went wrong and which model years buyers should steer clear of.
Most common Cadillac problems
Despite being a good SUV, the Cadillac SRX is far from perfect. GM has received many complaints from disgruntled SRX owners, which has resulted in several recalls.
As with any vehicle, some issues are one-time occurrences caused by individual lemons in the production run, while others occur consistently throughout the model year.
This section will look at the trends and parts that failed the most frequently on the Cadillac SRX. These are some of the most typical issues with the Cadillac SRX.
Loose toe link
Cadillac has issued a recall for SRX models manufactured between 2010 and 2016 due to a faulty toe link. A defective toe link can cause the vehicle to lose control at high speeds, increasing the likelihood of a collision. What causes the toe link to become loosened? Road salts and other corrosive elements can cause thread damage and loosen your toe link. A jam nut in the toe link adjuster that is not correctly torqued can also cause the part to loosen.
You should pull over immediately if your steering feels sloppy and you hear clunking noises from your rear suspension. We recommend that you have your rear suspension inspected by your dealer.
Failure of the steering wheel position sensor
The steering wheel position sensors have been reported to fail by several SRX owners prematurely. The StabiliTrak Electronic Stability Assist system in your car relies heavily on the steering wheel position sensor. It keeps track of the steering input angle and modifies the power steering system as necessary to enhance the stability and steering of your car.
Symptoms of a bad or failing steering wheel position sensor include rough steering and the illumination of the check engine or traction control lights. A flashing service stability message is the most common symptom of faulty steering wheel position sensors in Cadillac SRXs. While driving, some owners have reported random stalling or idling.
One owner had to call the CAA to have their vehicle towed to a repair shop. Unfortunately, this issue affects all Cadillac SRX model years from 2004 to 2016. Given the safety risks associated with a faulty steering wheel position sensor, you should never forget to perform routine maintenance on your SRX's StabiliTrak Electronic Stability Assist system.
Malfunctioning sunroof
The Cadillac SRX has a sunroof that can be opened to allow fresh air into the cabin. Rain and snow can enter the vehicle if the sunroof becomes stuck or stops working, potentially damaging the interiors and electrical systems. Owners of the SRX have reported hearing grinding noises when operating the sunroof. This is a common symptom of sunroof motor failure. A faulty motor can cause loud grinding noises and prevent the sunroof from closing completely.
Several factors, such as extreme weather or dust deposits between the metal panel and the rubber seal, can cause the sunroof to fail. However, it is also possible that the factory part is defective, as is the case with many Cadillac SRXs manufactured between 2004 and 2016. (except the 2009 model year).
Replacing a faulty sunroof necessitates using specialized tools, which some owners may not have at home. If you are experiencing this issue, do not hesitate to contact your mechanic.
Lighting problems
The front turn signals and daytime running lights (DRL) on the SRX have received numerous complaints from owners. Many of them had to keep changing their bulbs. In some circumstances, you'll also need to swap out the bulb socket. The turn signal bulbs may overheat in the factory socket and fail prematurely.
The turn signal light is one of the most crucial safety features on any moving vehicle. It enables drivers to share information with others before turning, changing lanes, merging with traffic, park, and so much more. Without turn signals, collisions are inevitable. There is no justification for delaying replacing your turn signals and DRLs.
Engine problems
Owners of the 2010 SRX complained that the SUV had several engine issues. From timing belt failure to misfiring, idling noise, an engine light that won't go out, and quite a few other problems.
Although understandably, these scenarios can happen for various reasons, the 2010 model seemed to experience them more frequently, possibly because of defective engine parts.
Gear shifter problems
Some 2010–2011 Cadillac SRXs appear to have "gear shifter" issues, in which the shifter may disengage and change gears by itself, sending the vehicle rolling off the road.
According to reports, the cable connecting the transmission and the gear shifter was installed incorrectly, which is what is causing this issue.
Water in headlights
This issue was mainly reported for the 2010 model year. Owners claim that water always finds its way into the headlights and that, over time, the highlights fade due to excessive moisture, making it impossible to see even at high beams.
The seals on the headlights appear to be weak, allowing water to pass through and causing the headlights to fail. On average, fixing this problem costs $1,500. (as reported by 2010 SRX owners)
Which Cadillac SRX to avoid?
The Cadillac SRX has quite several years to avoid during its lifespan. One of the main reasons for the SRX's short production run was that it was plagued by persistent problems that the manufacturer couldn't solve between model years.
Although the Cadillac SRX is no longer in production, knowing which model years were the most successful is still essential if you want to buy a used SRX.
Second-generation SRX (2010-2015 model years)
The model years 2010 to 2015 received the most complaints from owners.
These are practically the most unreliable Cadillac SRX SUV model years. This is not to say that the SRX models produced in these years are undrivable or useless.
This simply means that many SRX owners (who owned models from these years) were dissatisfied with the car's performance and dependability.
While the 2016 model year, also the last year of production, did better than its direct predecessors, the Cadillac SRX's earlier run did not fare as well.
Yes, you're right; this is one of the uncommon car models that defied the norm. The SRX had its best performance right after launch, and in 2010 there was a significant increase in problems reported. The succeeding models all improved in dependability a little bit, but they shared many of the same issues that made the 2010 model year unreliable.
Best Cadillac SRX years
The early Cadillac SRX is an excellent used vehicle option. They're a little older now, so they're likely to have more miles on them and may have developed a few quirks over time, but they'll be consistent and long-lasting.
However, expect older models to have fewer technological features and lower fuel efficiency than modern vehicles. And if you are thinking of buying one, consider any of the following.
2005 Cadillac SRX
2006 Cadillac SRX
2007 Cadillac SRX
2008 Cadillac SRX
2009 Cadillac SRX
The SRX had only been in production for two model years before 2006, so changes were minimal. In this particular year, standard satellite radio was added, and the power tailgate was also made available as a standard option. The ride height was slightly lower than in previous years, and the interior center stack featured new wood trim.
In 2007, the V8 received a six-speed automatic transmission, a new console, and a switch to the Bose audio system with Bose surround sound. A theater package with rear seat entertainment and surround sound was added, as well as navigation capabilities.
Restraint that Inflates suspension on the passenger side was added, as was automatic odor filtration, and the SRX began to offer a sport package that included a limited-slip differential, 20-inch wheels, and all-wheel drive.
The rest stayed mostly the same, including the disappointingly low gas mileage, but that was easy to overlook for what you found yourself wrapped in while cruising up the road.
Each model year brought something new or improved over the previous year's model; for example, Cadillac added Adaptive Remote Start to the SRX line in 2009.
Buyers of the new SRX could choose between a V6 or V8 engine and a six-speed automatic transmission with a minimum of 255 hp and 254 lb-ft of torque (V6). However, the gas mileage received some criticism, as it only achieved 14mpg in the city and 22mpg on the highway (and even less with the V8).
Is the Cadillac SRX worth buying?
The Cadillac SRX provides smooth handling, excellent driver assistance features, and adequate towing power at a reasonable price, making it an ideal family vehicle for many drivers. This midsize luxury SUV has a high NHTSA safety rating. However, the SRX lagged behind the competition in terms of performance, mileage, and cabin space.
The SRX does not depreciate as quickly as other models, which keeps ownership costs in line. When problems arise, however, they tend to be more expensive to repair. The opinion on SRX is split. On the one hand, the SRX offers a refined V6 engine, comfortable handling, and luxurious interiors at a reasonable price. On the other hand, due to the severity of its most common problems, it can be expensive to maintain.
Why was SRX discontinued?
The Cadillac SRX was discontinued due to poor sales and safety concerns.
How many miles will a Cadillac SRX last?
Cadillac SRX vehicles typically have a lifespan of between 150,000 and 200,000 miles. This may not sound promising, but Cadillac SRXs are notorious for having problems, with 15% being severe.
Does Cadillac SRX have transmission problems?
The Cadillac SRX has transmission problems, and it's an obvious type of car problem. Shifting delays, grinding or jumping during acceleration, the car shaking at any speed, or a burning smell or whistling sounds coming from under the hood are all symptoms of a Cadillac SRX transmission problem.