Mitsubishi Outlander years to avoid — most common problems
Find out which Mitsubishi Outlander years to avoid for a smarter car purchase.
Back in 2001, Mistubishi wanted to tackle the industry with its model capable of becoming a strong competitor in the compact SUV market. After four generations, it seems clear that they managed to accomplish this goal, and Outlander became a widely-renowned model.
However, although this model was considered reliable, there are some Mitsubishi Outlander years to avoid that we'll go over in this guide. Don't worry, though – this model is pretty solid and we'll also go over the best model years after pointing to a few common troubles, so you don't have to do all the work.
Most common Mitsubishi Outlander problems
Being a Japanese car giant, Mitsubishi is known for having created some extraordinarily reliable cars in the past, and the first-generation Outlander was one of them. From the 2001 model year, it all looked great for Outlander, but later model years had a few issues regarding some important car systems.
One of the biggest issues for this model in general was a transmission fault that caused rough shifting and vibrations from under the gearbox. On top of that, we've seen a lot of braking system malfunctions that led to excessive wear of the brakes and caused drivers to urgently replace the components of the system.
There have been some reports of the issues associated with the suspension of the car, and that along with brakes and transmission may seem quite serious. However, the only remaining issues include a few exterior problems like poor paint quality and rust, as well as the problem with seatbelt retractors. The good thing is that there were only a few engine-related issues, and the rest of the problems can be solved by simply avoiding the problematic model years.
Problems with the transmission
We realize that you'll want to walk away from a car that has transmission issues in some model years, so it's crucial to explain exactly what it's all about. While going through a complete transmission rebuild is a bothersome and expensive process, not all the faults associated with this system require a rebuild.
Most notably, Outlander drivers have reported harsh shifting, noises, or vibrations coming from the gearbox and an issue with a faulty CVT transmission. When it comes to the CVT transmission problems, the biggest issue was the lack of acceleration power in certain situations. On top of that, drivers have reported shaking and vibrations during gear shifts, as well as slipping transmission in some situations.
Braking system malfunctions
Another crucial system that many model years of Mitsubishi Outlander have struggled with is the braking system. Driver complaints suggest that this model has problems with excessive wear of the vital braking systems components like brake pads and discs.
However, there's also the issue of bad brake boosters for the second-generation Outlander that resulted in increased stopping distance. Naturally, this is a matter of driving safety and requires immediate attention for the vehicle to provide proper braking force. Also, rear brake calipers on certain Outlander models were prone to rust due to rain and that led to corroded parking brake shafts.
So, even the parking brake actuators should be inspected when considering Mitsubishi Outlander as your next car.
Suspension problems
The second generation of Mitsubishi Outlander had sufficient problems regarding the suspension. Most notably, there was a problem with bad control arm bushings and the underframe of the car. The problem is – any damage done to the lower frame means that there's no stability for the car's suspension parts.
Because of that, drivers used to lose control after the front control arm breakage, and this problem was mostly caused by rust and corrosion. There was even an official recall for the 2003 to 2006 Outlander models by Mitsubishi, so that's a serious issue for older Outlander models.
Problems with the exterior and features
Finally, we are done with the mechanical problems that Mitsubishi Outlander models had over the years. Still, some owners have reported poor paint quality and even rust or corrosion marks on the exterior of the car's body. While these issues were mostly reported for the first and second generations of the Outlander, it's still an inconvenience you'll have to deal with as a new owner.
Besides the issues regarding the car's paint, there are also problems around the door latches and handles, so that's another thing to keep in mind when buying one of these.
Which Mitsubishi Outlander years to avoid?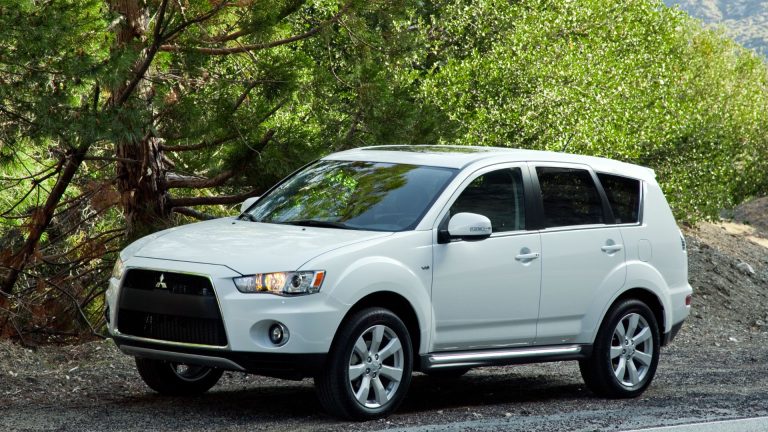 After going through all these problems that Outlander had over the years as a model, it's time to dig deeper into the most problematic model years. The good thing is – there weren't that many bad production years for the Outlander, considering that it's been in production for over two decades.
On the other hand, it's not that easy to deal with the faulty brakes and suspension, and the CVT transmission repair could cost up to $5000, so let's go over the worst production years:
First-generation Outlander (2003 model year)
The first generation of Mitsubishi Outlander was, well, excellent in terms of reliability and value for your hard-earned buck. Even so, there's one model year that faced a bit more complaints than the other first-gen model years – the 2003 Outlander.
Some of the main issues that the 2003 Outlander faced include the mentioned suspension issue with control arms and some issues concerning the A/C. On top of that, there's the issue with the vehicle not starting properly every time, and all these issues simply require attention before buying the car.
Second-generation Outlander (2007 and 2011 model years)
The second generation of the Outlander might not be as problematic as the third generation that's possibly the least reliable generation, but it had a fair share of issues. These mostly include 2007 as the year that faced a lot of complaints regarding the suspension problem and the control arms.
Also, this generation is known for its brake booster issues that ended up causing a recall. The 2007 and 2011 model year Outlanders received the most driver complaints when it comes to the second-gen Outlander, making them obvious models to avoid.
Third-generation Outlander (2014-2017 model years)
For the third generation of the model, the Outlander received a lot of exterior updates and it looked modernized when compared to the previous generation. However, it's perhaps the most widely criticized Outlander generation with the most driver complaints.
The reason for this is mostly in the introduction of the CVT transmission that proved to be unreliable and required costly repairs. Owners usually had to replace the entire CVT transmission system and that made it quite expensive, resulting in a recall for the 2015 and 2016 model years.
Besides the problems with CVT transmission, there are also some issues regarding the door latches and linkages, as well as reduced windshield wiper functionality.
Best Mitsubishi Outlander years
We got you – all these bad model years and listed problems could get you to step away from Outlander as a model. Our team just wanted to give you a heads-up about the production years you should simply steer away from, so now we'll go over the ones that proved to be reliable:
2001 Mitsubishi Outlander
2002 Mitsubishi Outlander
2004 Mitsubishi Outlander
2005 Mitsubishi Outlander
2006 Mitsubishi Outlander
2008 Mitsubishi Outlander
2009 Mitsubishi Outlander
2010 Mitsubishi Outlander
2012 Mitsubishi Outlander
2013 Mitsubishi Outlander
2018 Mitsubishi Outlander
2019 Mitsubishi Outlander
2020 Mitsubishi Outlander
2021 Mitsubishi Outlander
Although it's the initial production year, the 2001 Outlander has proven to be quite a reliable and solid compact SUV. There were just minor paint and rust issues, and the same goes for the other models except for the 2003 one. The second generation is also a great pick except for the models that had suspension and brake booster issues, so as long as you avoid the 2007 and 2011 model years, it's a solid pick.
Finally, the third-generation models including 2018 and 2019 are more reliable than the 2013 to 2017 ones, while the fourth generation is still too new to estimate.
Is Mitsubishi Outlander worth buying?
Well, we finally come to the point where it's time to debate the overall reliability and provide our judgment on Outlander as a model. Overall, it's exactly what you'd expect from an early 2000s Mitsubishi for older generations, and there are some quite reliable model years in the third generation as well.
However, some model years should be avoided at all costs as mentioned above, so that's where this guide should be able to help you.
What is the common problem with Mitsubishi Outlander?
The common problem with Mitsubishi Outlander is the faulty CVT transmission, as well as problems with control arms and brake boosters.
Is Mitsubishi Outlander worth buying?
Overall, Mitsubishi Outlander is worth buying, but you should avoid the model years that had CVT transmission issues which could lead to expensive repairs.
Is the Mitsubishi Outlander a good reliable car?
Yes, Mitsubishi Outlander is a good reliable car that requires just regular servicing as long as you avoid problematic model years.
Do Mitsubishi Outlanders last long?
On average, Mitsubishi Outlanders last from 250,000 to 300,000 miles with proper maintenance.