Chevy Traverse years to avoid — most common problems
Ensure a hassle-free ownership experience by identifying the crucial years to avoid for the Chevy Traverse.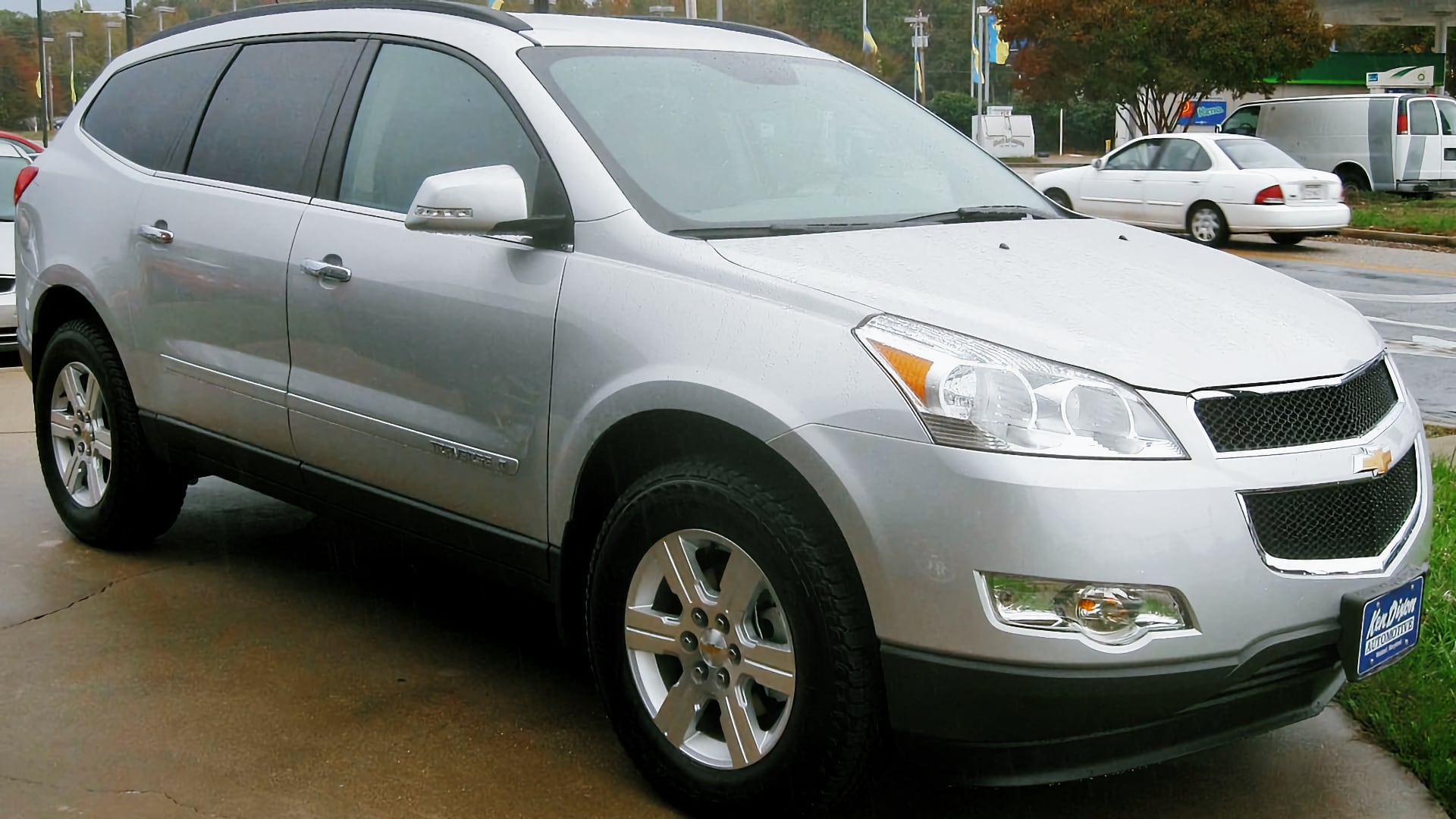 Chevrolet found a way to incorporate luxury, style, and class into its seven-seater, family-friendly SUV, the Chevy Traverse. For two generations, the Traverse has lived up to the competition and has become one of the more spacious, stylish, and reliable SUVs in its class. Chevy Traverse comes in different models and trim levels. Some have great features and deliver excellence the Chevy way, while others are flinch-worthy and should be avoided like a plague.
If you are reading this, you would like to know which Chevy Traverse years you should buy and which to avoid; this article shows you which Chevy Traverse years to avoid and why you should.
Most common Chevy Traverse problems
The Chevy Traverse comes with its fair share of flaws, either technical or non-technical. Some of these problems are not so awful, while others could result in catastrophic situations. The associated costs of repairs or replacements are enough to make Chevy lose a customer. Below are some of the most prevalent problems with the Chevy Traverse.
Engine Troubles
Nobody wants a car with a faulty engine, but sadly, that's one of the major problems with a Chevy traverse. Its traction control could turn off at will, or the entire engine could lose power in the middle of a journey. The result is a collision or severe damage to lives and properties.
Drivers have also experienced other engine troubles such as reduced engine power, check engine light on, and stalling engines while driving. To worsen it, fixing this engine problem doesn't come cheap. Customers spend a lot of money to get their engines running or replaced.
Although Chevy tries to update its engines and minimize these issues to the barest minimum, engine troubles remain a thing for many Chevy Traverse models.
Faulty brakes
As though the faulty engine is not enough trouble, some Chevy Traverse models come with every driver's nightmare, faulty brakes. Its drivers have their hearts in their mouths as to when the brakes will suddenly fail because it eventually will.
Other reports related to the brake failure include unintentional accelerating, failing during use, pulses while braking, hydraulic issues, and faulty electronic stability control. It is advisable to avoid models with extreme brake issues or get a brake line flaring tool to optimize your brake performance if you must drive a Traverse.
Steering problems
Some models of the Traverse tend to develop multiple steering problems once they attain about 110,000 miles. They could start gradually or suddenly pop up out of nowhere. The major complaints in this category were difficulty in turning and a sudden halt in the power steering. Other complaints included noisy steering, loose steering pump, and power steering fluid leak. Avoiding models with these steering issues could save you the stress of dealing with a defective steering system that could cost you an arm and foot to fix.
AC/heater issues
Chevy never got it right with the AC/heater system starting from Traverse's first model. From blowing the wrong temperature to failing components, there have been complaints about Chevy Traverse's AC/heater system.
Among these, signs of a bad A/C compressor, blower motors, evaporators, and condensers are defects to look out for in a Traverse. Thankfully, these are the easiest and most affordable issues to resolve. The big issue, however, arises when there is a failure in the pressure line, which will require a full replacement of the pressure line. That will surely cost you a lot of money.
Excessive oil consumption
When it comes to oil, the Traverse is a gourmand. Its excessive oil consumption could sometimes result in damage to some components or a complete breakdown of the vehicle. Although Chevy has curbed the damage substantially in newer models, it is better to steer off models that use oil excessively.
As a result of the excessive oil consumption, you may see the car overheating when idle, let alone while driving.
Unusual brake noises
Although there have been very few complaints about this problem, some Chevy Traverse drivers have reported unusual grinding noises in the braking system, particularly at a low mileage of 100 miles. To resolve the problem, Chevy has issued a technical service bulletin (TSB) that addresses the problem to owners of the 2018 to 2020 model years. 
Transmission issues
Transmission problems are common with most vehicles, and the Traverse is not an exception. The early models had several complaints of transmission failure and engine problems at around 80k+ miles. Drivers also encountered other symptoms such as low fluid levels, lack of response, dragging clutch, grinding or shaking, hard shifting, slipping gears, burning smell, etc.
The 2009 model had loads of complaints in this direction. Also, the 2016 model year had multiple reports of broken 35R clutch wave plates inside the transmission. Thankfully, with the introduction of the second-generation models, transmission issues are a thing of the past for Chevy Traverse.
Electrical system not working
While the older models had no issues with the electrical system, the newer models of Chevy Traverse are prone to issues like infotainment problems, engine light on, radio failure, and a few other problems which would require the services of an electrician to fix. Other common problems reported were seatbelt, airbag, and gas pedal problems.
Which Chevy traverse years to avoid?
Chevy has had several reports in the two generations of Traverse's existence. Some for commendation and others for complaints. While they work at it to make every vehicle impressive, here are some of Chevy Traverse models to avoid if you plan on buying a Chevy Traverse SUV.
First-generation Traverse (2009-2011 model years)
Chevy's first production of the Traverse wasn't an impressive one. Its first generation had lots of complaints and is, by far, the most troublesome model of the Traverse.
2009, 2010, and 2011 models had issues with excessive oil consumption, engine failure, and severe transmission failure, which cost about $3,200 to fix and, sometimes, blown engines. The 2010 model garnered the highest complaints, while the 2011 model was deemed the worst model year, considering its exorbitant repair costs, power-steering issues at 80k+ miles, and low mileage problems.
Second-generation Traverse (2018 model years)
The second-generation Chevy Traverse, with its new and rugged truck-like design, is a step forward in the right direction. Not only did the trim levels increase from four to eight, but there has also been a tremendous improvement and noteworthy facelifts on the SUV.
The model year to avoid in this class would be the 2018 version which brought in the redefined era and saw an uptick in complaints. Owners of the 2018 model complained of shudders and vibrations, loss of power, and a 'shift to park' message popping up in the instrument cluster. Other models in this category may have issues, but they are not enough to put them on the avoid list.
Best Chevy Traverse years
Chevy Traverse has made mistakes in the past, but do not be quick to conclude that they aren't good. Its shortcomings do not immediately put it in the class of vehicles you should never purchase, as some model years will make you cherish your experience with the Traverse for a very long time. If you want to buy a Chevy Traverse, here are some of the best model years worth every penny.
2013 Chevy Traverse
2014 Chevy Traverse
2016 Chevy Traverse
2017 Chevy Traverse
2019 Chevy Traverse
2021 Chevy Traverse
The first generation of Chevy Traverse came with too many troubles, but Chevy got their acts together after the 2012 model. These model years have the least complaints with the exception of the 2015 and 2018 model years, which saw an uptick in drawbacks. In fact, the 2017 model had little to no complaints, according to NHTSA.
Chevy took a big step forward in redesigning the second-generation models and solving the issues with the Traverse, making model years in the second generation incredible and exuding comfort and class. Plus, the 2020 and 2021 model years received a highly respectable 5-star safety rating from the NHTSA. When searching for a model that will serve you well, those after the 2012 model come in recommended, but it is better to opt for model years in the second generation.
Is the Chevy traverse worth buying?
Yes, the Chevy Traverse is absolutely worth buying, as long as you avoid those with the most problems, especially those in the first generation, and look out for models in the best category or, at least, stick to the newer generation.
You are probably careful about spending your hard-earned money on an imperfect vehicle. For the most part, the Chevy Traverse is a luxurious, family-friendly, and capable vehicle for both highway and off-road conditions. In addition, Chevy does good work with its service history. They update their systems and resolve previous issues, which means that with good maintenance, the new generation models should be worth every penny.
You can get a good driving experience, a spacious cabin, premium tech, and infotainment. However, some models have many problems that can ruin your day. When buying a Chevy Traverse, be wary of the kind of model you get and avoid model years with the most concerns.
Nonetheless, with proper maintenance also, any vehicle can serve its course, and that includes the Chevy Traverse.
What are the worst years for the Chevy Traverse?
The Chevy Traverse definitely had a hard start. Model years in the first generation have tons of cringe-worthy reports and low CR ratings. u003cbru003eu003cbru003eUnless you have lots of money to spend on car repairs or aspire to be a roadside technician, you should probably stay away from the Traverse's first-generation models. But if you must, at least ensure it isn't anything before the 2013 model year. 
What's the best year for a Chevy Traverse?
For a decent experience with the Chevy Traverse, anything before the 2013 model year shouldn't get your attention. u003cbru003eu003cbru003eBesides the 2015 model year, which had a lot of drawbacks, and the 2018 models, which saw a redesign and launch into a new generation, every other model year following the 2012 model wouldn't be a bad idea. If you do not want to take chances with the first-generation models, the second-generation model years will do just fine. 
What year Traverse has transmission problems?
The early models had a series of complaints relating to transmission failures and engine issues, particularly the 2009 and 2016 model years. This issue has been worked on in newer Traverse models, and transmission issues remain a thing of the past. 
Is the Chevy Traverse a reliable car?
The Chevy Traverse is one of the most reliable SUVs in its class. Although Chevy missed it with the early models, it still did not stop them from earning a good history in terms of reliability. u003cbru003eu003cbru003eModern Traverses are enhanced with plenty of tech and outstanding comfort features to help improve performance and functionality.