How far can you drive an overheating car?
Explore the surprising limits of an overheating car's endurance.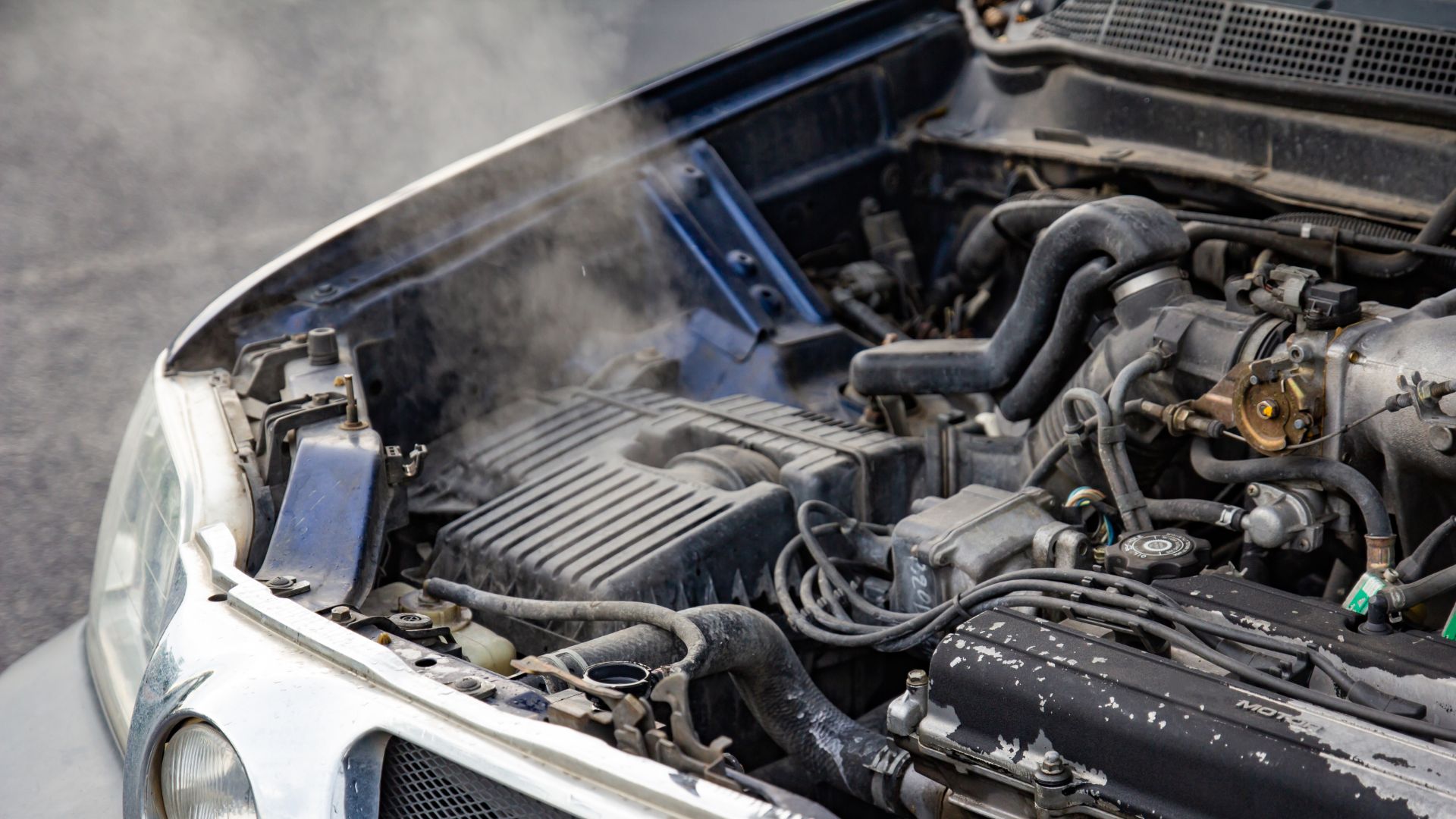 Getting stuck in the middle of a journey is not a delightful experience. One of the many reasons why this happens is car overheating. The temperature of a car at its best lies between 195 degrees and 220 degrees Fahrenheit, and when it goes beyond that, it results in car overheating.
If you notice that your car is overheating, you would like to know if it can still take you to your destination before the towing van or technician arrives. How far can you drive an overheating car? While it is not safe to drive an overheating car at all, you should only drive for a quarter at most if you need to. Let's take an in-depth look at the causes of overheating and how to deal with it.
Why do cars overheat?
When the engine goes beyond the normal temperature, it is a sign that all is not well with it, and there could be many reasons for that.
Too little or no coolant
The combustion chamber of an engine can get up to 4,500 degrees Fahrenheit, but the cooling system helps to cool it down. The cooling system, which works with the coolant, takes up the heat and pushes it to the radiator to reduce the engine's temperature.
If the coolant in your system is insufficient,  lower than the recommended amount, or contaminated, the system might malfunction, and the engine can overheat. Frequently checking for low coolant symptoms and maintaining the cooling system according to the OEM schedule can help reduce the chances of an overheated system.
Leaking, blocked or ruptured coolant hose, and worn-out belt
Many times, car overheating can be traced to leaking, clogged, or ruptured coolant hose and worn-out belt. If the hose is leaking, it empties the coolant before they get the chance to function. If it is blocked, the coolant would be incapable of circulating correctly in the cooling system.
Worn-out belts, too, can hamper the process of maintaining airflow and transmitting power to the accessories that need them. Regular checkups of the hose and belt are necessary. If you notice any fault with your cooling system, you should contact a qualified technician to fix it immediately.
Broken water pump
Coolants used to be simply water until it was changed to a mixture of water and antifreeze, but the water pump's function has not changed. The pump helps circulate the coolant through the cooling system to the radiator. A faulty or broken water pump will not have the proper pressure to pump coolant through your system effectively, leading to overheating of the engine.
To ensure that your water pump doesn't contribute to overheating, get it checked by a qualified technician and replace it immediately in case of any fault.
Radiator problems
The radiator is a significant component of the engine's cooling system because it is where the coolant is transferred to keep the engine cool. When the radiator receives the coolant, the fins collect the heat in it and send it out.
If the radiator, the radiator cap, or the radiator fan gets faulty, the coolant could become too hot, and the engine would overheat. Although you can repair the radiator, it is appropriate to get it replaced altogether to stop it from escalating.
Insufficient engine oil
Engine oil aids in lubricating the engine components to reduce friction, thereby controlling the car's temperature. Low oil in the engine will hinder the smooth movement of the components leading to friction and engine overheating. Engine overheating or, in the worst case, failure could be curtailed with as simple as checking the oil level or oil change.
Faulty thermostat
We know you may be wondering "what does a thermostat do in a car" and what does it have to do with the vehicle's cooling system, but bear with us on this one. The vehicle's thermostat regulates the system's temperature by controlling the coolant's flow. The thermostat's valve remains closed when the car is off and opens up when it reaches its operating temperature. It then releases more coolant into the system when the temperature is hot and less coolant when it is cold.
A damaged or faulty thermostat might not open when it should and may release less coolant, causing the engine to overheat. It would be best if you got a qualified technician to check your thermostat regularly and replace it as soon as you observe any fault.
Signs of an overheating car
Not paying attention to an overheating car can cost you your engine. Although overheating can sometimes be unpredictable, certain signs show that your vehicle is overheating.
Temperature gauge warning
The temperature gauge isn't placed on the dashboard for fun, and it doesn't display the outdoor temperature. The temperature gauge is there to indicate the temperature of the coolant in the engine. It reflects how hot or cold your engine is by moving the needle to show the state of your coolant.
If the needle stays in the black area, there's nothing to worry about, but if it moves towards the red area, it means your engine is beginning to overheat. There is also a red light on the gauge, which flashes on or reads 'near maximum' when there is excessive heat in the system. However, in the case of a leakage of the coolant, the gauge could be inactive as there would be nothing for it to measure.
Engine noise
One way to know that the engine is not in good condition is by the noise it makes. A bubbling noise could mean that coolant has gone into the overflow container instead of going into the radiator the way it should. It may also mean that there is air in the cooling system, which can also lead to overheating.
A ticking noise of metals making contact with each other can also be heard from the engine, which means the engine isn't properly lubricated as a result of the coolant not flowing properly, thereby overheating the engine oil.
Steam from the hood
When the hood of your car gets too hot to touch for more than ten seconds, it could be that your vehicle is overheating. Sometimes it could be accompanied by steam or smoke erupting from the engine or excess smoke coming from the exhaust pipe. This occurs when the coolant becomes too hot and boils in the radiator, emitting vapor, steam, or smoke through the passages it can find. The presence of steam or smoke is a clear indication that your engine is overheating.
Unusual engine smell
As the engine becomes too hot, some components of it begin to melt or react to the heat, giving an unusual smell.
It could be a burning plastic smell, a sickly sweet smell, or a burning oil smell caused by melted valves and plastics, leaking coolant, or overheated oil. Unusual smells from your hood, which shouldn't otherwise be there, are a sign that your engine is overheating and should be inspected.
Poor Performance
When your engine suddenly loses its ability to accelerate easily or get past a certain speed, it could be an indication of overheating.
In an overheated engine, the piston of the cylinder bore expands and impedes the crankshaft's rotation, making the engine become sluggish in response to acceleration and cannot perform well on the road.
Cool air is also needed for the combination process in the engine, but when such is not available, excess heat from the system can lead to poor engine performance. If you notice changes in your car's performance, you might want to inspect it properly so as not to lose the engine.
Coolant puddle on the ground
Since coolant is needed to cool the system, a coolant puddle on the ground means low coolant in the system. This could also mean that the coolant in your system is boiling and hence, the spill. The coolant could also escape from a damaged system part caused by the overheating engine.
Can I drive an overheating car?
It is not advisable to keep driving an overheating car as it could damage vital components or the engine.
If you are on the road, the first thing to do is to pull over and wait for the engine to cool down. It should take a minimum of 30 minutes for the engine to cool down to the temperature of its surrounding environment and several hours to cool to the ambient temperature.
The type of engine also determines the time taken to cool the engine. Engines with aluminum blocks can cool much faster than those with cast iron blocks, even though aluminum blocks are more prone to heat damage.
You can open the hood to fasten the cooling process and increase air circulation.
What should I do if my car is overheating?
The wisest thing to do in the case of an overheating car is to stop driving as soon as you notice that your vehicle is overheating. Pull over, call for help, and tow it away for repairs. However, if you're wondering how far the car can bear with you till you get to a safe zone or can call for help, the answer is there is no specific number of miles.
While some cars can go hundreds of miles more, others may stop just a few miles after. It is safe to say that you ensure not to drive more than a quarter mile to avoid wrecking your engine irreversibly.
Can my engine get damaged from overheating?
Yes, your car engine can get damaged from severe overheating. There are several ways to know if your engine is damaged from severe overheating. These include warped cylinders, head gasket failure, cracked engine block, cracked or shattered piston rings, engine detonation, melted cables, plugs, scoffed exhaust valves, and a total engine breakdown.
When this happens, the engine will stop working altogether, and you will need a new one to get your car working again. As we have already mentioned, always watch out for overheating signs and treat them with a sense of urgency. And do not overdrive the engine once it begins to overheat to prevent it from total meltdown.
You might think it would take many or long durations before the damage becomes catastrophic, but that is wrong. If driven in that state, an overheating engine can get damaged within a very short period, typically 30 seconds to 60 seconds.
Also, just one overheating at the maximum level is enough to park up the engine completely. However, if you stop soon after the red light starts flashing or every time the motor gets too hot, you may be lucky to minimize the damage and help the car withstand overheating a few times.
How long should I wait to drive after overheating?
You should wait at least 30 minutes after overheating before you begin to drive. If your engine rises above the normal temperature mark of 220 degrees, you should pull over and allow it to cool down for a minimum of 30 minutes before attempting to restart it again. For faster cooling, open the hood to allow air into the system.
How do I know if my engine is damaged from overheating?
When your car begins to show signs of overheating, it is an indication that all is not well with your engine. A damaged engine will suffer damaged or melted parts and a complete shutdown.
How many miles can you drive an overheating car?
Driving an overheating engine for more than a quarter mile is unsafe. Driving an overheating car is dangerous to the health of your vehicle's system, as more miles can lead to destructive damage to the engine. Although some engines can withstand overheating and go hundreds of miles before packing up
How many times can a car overheat before damage?
For most cars, one maximum overheating of about 30 seconds to one minute is all it takes to cause damage to the engine.
Our take
Overheating may not seem like a very critical issue, but it is. Since the engine is the powerhouse of the vehicle, a faulty engine is always proportional to a faulty car. As engines don't come cheap, it is noteworthy to give attention to what goes on in the engine to avoid issues that could lead to destructive damage.
When faced with an overheating situation, try not to panic; simply pull over, allow the system to cool down, and seek necessary help for the engine.