Bad motor mount symptoms — 5 signs that can save your engine
Identify the symptoms of bad motor mount symptoms.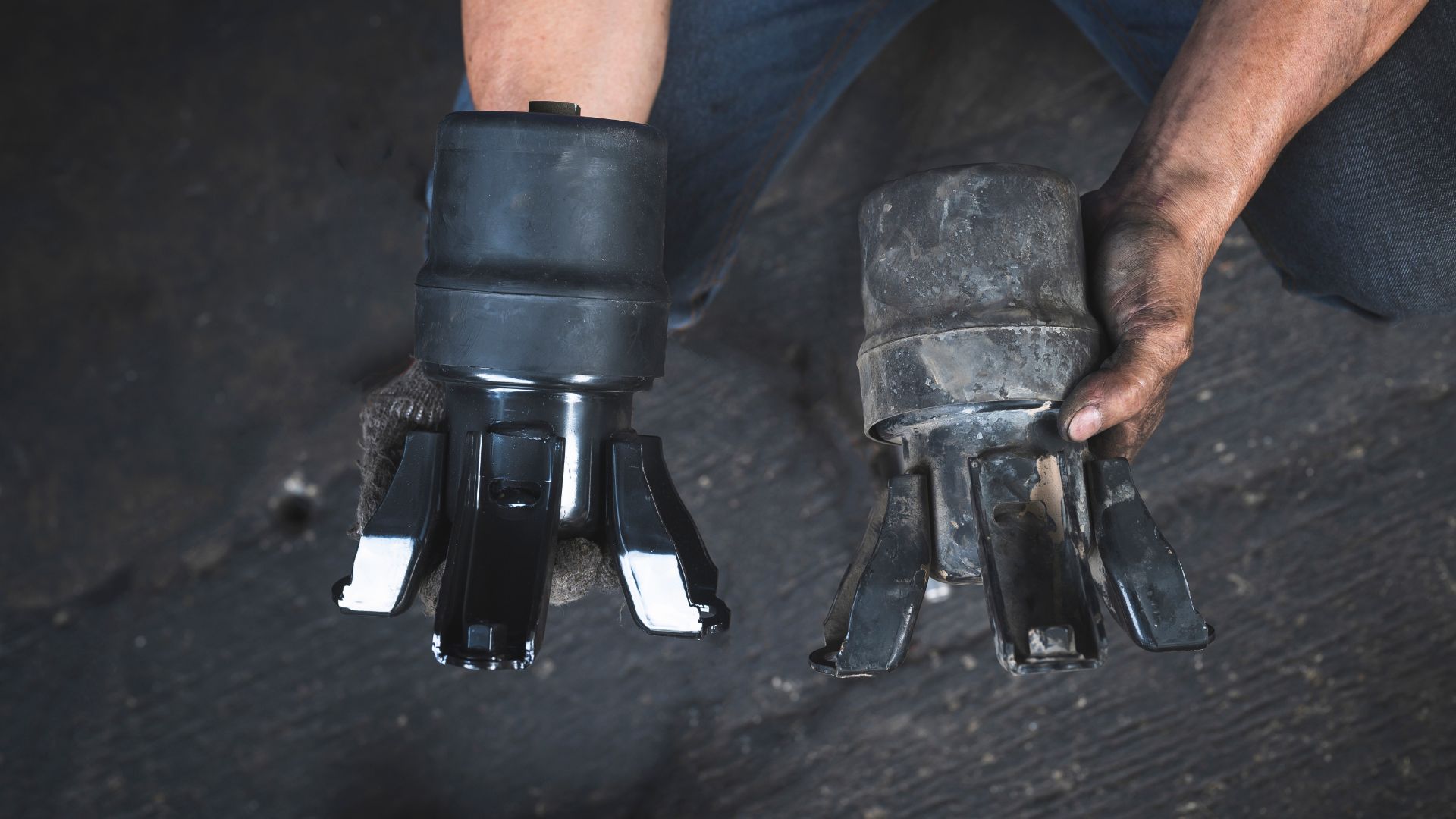 Driving around in your car gets considerably inconvenient if you start hearing any noises, especially those coming from the engine's bay. Of course, this is an instant red flag for every driver, but the noises could also be bad motor mount symptoms.
Bad motor mounts still represent a threat, but it's not as serious as an engine fault. So, what do motor mounts do, and how to recognize them going out? Our team made this guide to demonstrate the importance of motor mounts and the main signs of them wearing off.
The vital role of motor mounts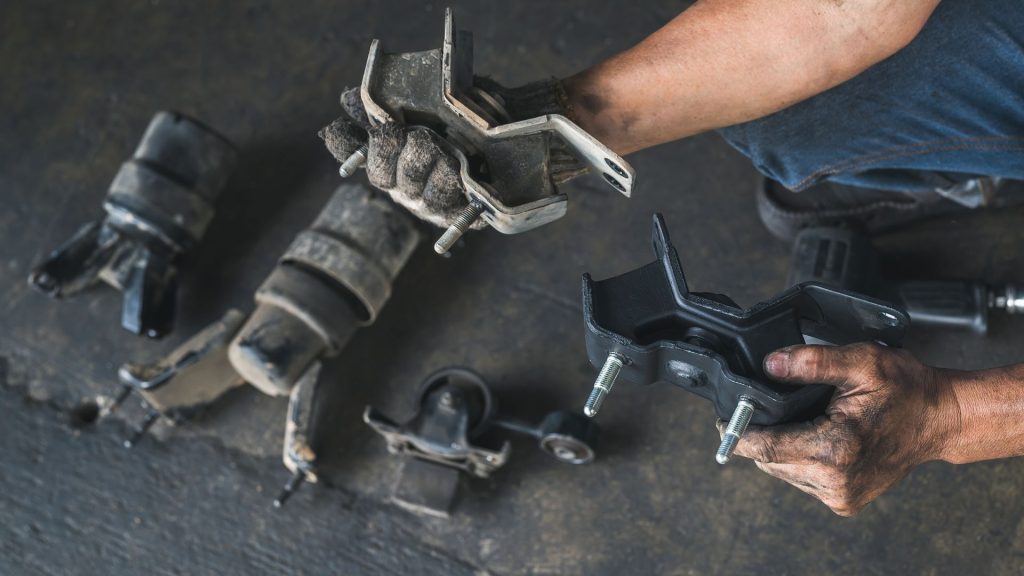 You could guess that these parts have something to do with your engine, but what's their true purpose? Well, motor mounts have a crucial role in holding your engine in place while also reducing the noise and vibrations coming from the engine's bay.
After all, there are many moving parts within your car's engine, and you rarely hear any of that noise unless you rev up your engine. Motor mounts enable you to have a pleasant experience while driving and help your engine last longer.
They consist of a metal connecting the engine with the chassis, and inner rubber layers that serve to reduce the vibrations and noise. However, the higher your mileage, the more excessive motor mount wear can be.
In most cases, the problem lies within those rubber and silicone layers that are located in the inner bolt of the motor mount. They tend to wear out over time and when they do, they release the noise generated by your engine.
It's not only in your driving pleasure either – the noise isn't good for the engine, since vibrations are caused by moving parts and torque output when shifting gears. Without the mounts to hold it in place, your engine can suffer damage from all that movement and vibrations. That's why it's crucial to recognize the symptoms of bad motor mounts on time.
Signs of worn motor mounts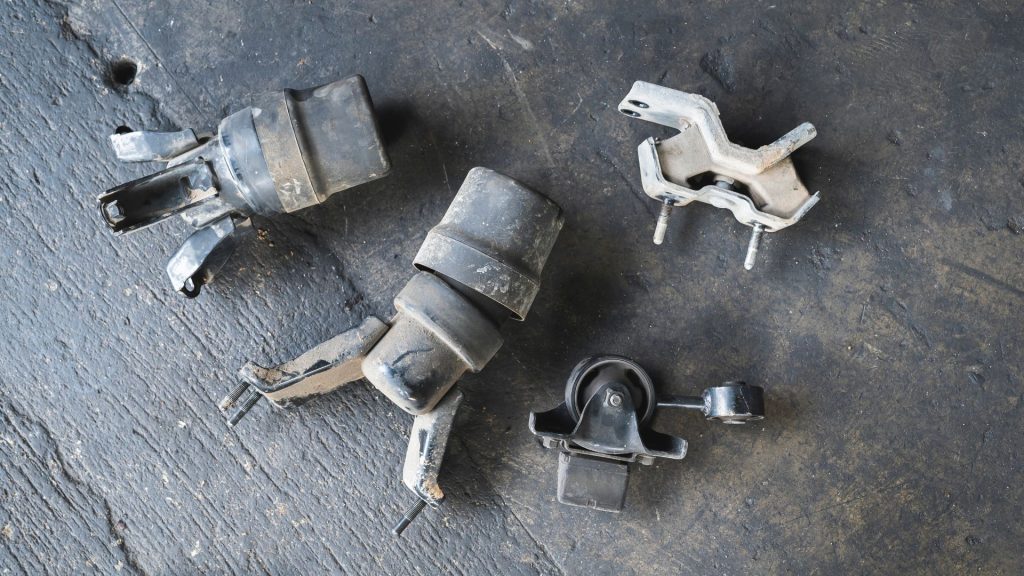 Given the purpose of motor mounts, the early symptoms of them going bad could be noises and vibrations coming from under the hood. Still, there are other symptoms you should pay attention to, and these are the most common ones:
Engine shaking when shifting gears
Vibrations when starting the engine
Visual engine movement
Clunking sounds when driving
If you notice any of these symptoms, you should replace motor mounts with new ones as soon as possible to avoid engine damage. If one mount goes bad, it doesn't necessarily mean the others are bad too.
Even so, it can be a wise move to replace all of them at once, since the others could go bad soon after the first one. There are four motor mounts in total, so you should at least have them all checked by a mechanic during the replacement of those that have worn off.
Engine compartment shaking during gear shifts
One of the most noticeable symptoms of bad motor mounts is if your engine shakes when you shift gears. It's due to instant torque output when downshifting since all that power triggers engine movement.
If the motor mounts can't hold it in place, the engine will move and cause vibrations. The same goes for shifting into a higher gear, only the lower RPM range will cause fewer vibrations. If you are driving an automatic car, even something as simple as shifting from neutral to drive can cause instant engine vibrations.
You'll feel extensive shaking in the front of your car, and it gets only worse over time if you don't act swiftly and replace motor mounts.
Engine vibrations on startup
Another symptom of bad motor mounts is engine vibration on startup. As you crank the engine, you might sense loud vibrations that stabilize as the revs stabilize as well. However, the vibrations start again as you apply the gas pedal and speed up.
While you should sense vibrations and shaking while shifting gears, loud vibrations from the startup often return as you shut down the engine. If this happens to you, it's a clear sign of worn-off motor mounts.
Visible engine movement
Not only will you sense the engine moving and vibrating in case the mounts go bad, but you'll also be able to see it. You can pop up the hood and observe what happens as someone revs up the car. If the engine moves too much, it can be due to bad motor mounts.
You can also look for visible damage on motor mounts with the hood popped open. These parts are on the bottom side of the engine, and if the rubber interior wears off, the metal can also crack under pressure from the engine.
They are relatively small parts, so you can refer to the owner's manual for the exact location if you can't spot them initially.
Clunking and banging noises
Finally, the clunking sound is one of the most frequent signs of bad motor mounts. The engine itself produces these noises by moving around the engine compartment as the torque kicks in. However, the noises are much quieter than rod knock, so it should be easy to differentiate between the two.
If you notice increasing driving vibrations on top of the clunking noise, it's a certain sign of a bad motor mount. The noise will likely get worse in case the engine movement causes another mount to crack.
Fixing bad motor mounts
The only way to fix worn-off motor mounts is by replacing them, and it's' best to replace all of them after passing considerable mileage. There are some things you can do to make the motor mounts of your engine last a bit longer.
Your driving habits play a significant role in the estimated lifespan of the motor mounts. If you over-rev the gears, chances are that these mounts will wear off faster. Also, if you don't use the clutch properly in manual transmission cars, it can result in overwhelming engine pressure, especially with downshifting.
If the revs jump too high in a short period, engine vibrations can cause the rubber components to wear off faster.
Our take
While ending up with damaged motor mounts isn't the best thing that could happen, at least the bad motor mount symptoms are clear. By using the information from our guide, you'll hopefully notice worn motor mounts on time.
Timely replacements guarantee that your engine will stay in good mechanical shape since its movement and collision with other metal components only damages it. So, make sure to inspect all four motor mounts as soon as possible upon witnessing any of the listed symptoms.
What happens when motor mounts go bad?
When motor mounts go bad, your engine will suffer from increased movement in the engine compartment. It won't be attached to the chassis tightly, which triggers driving noises, vibrations, and shaking.
What does a bad engine mount sound like?
A bad engine mount produces a clunking, banging, or even a rattling sound under the hood.
Can bad motor mounts cause a loss of power?
Motor mounts can't cause a loss of power, but the overall performance of your engine will be endangered by the constant movement.
Can bad engine mounts affect the transmission?
Bad engine mounts don't affect the transmission, but you might hear noises and vibrations during gear shifts caused by the torque output.