Ford F-250 years to avoid — most common problems
Know which Ford F-250 models to steer clear of.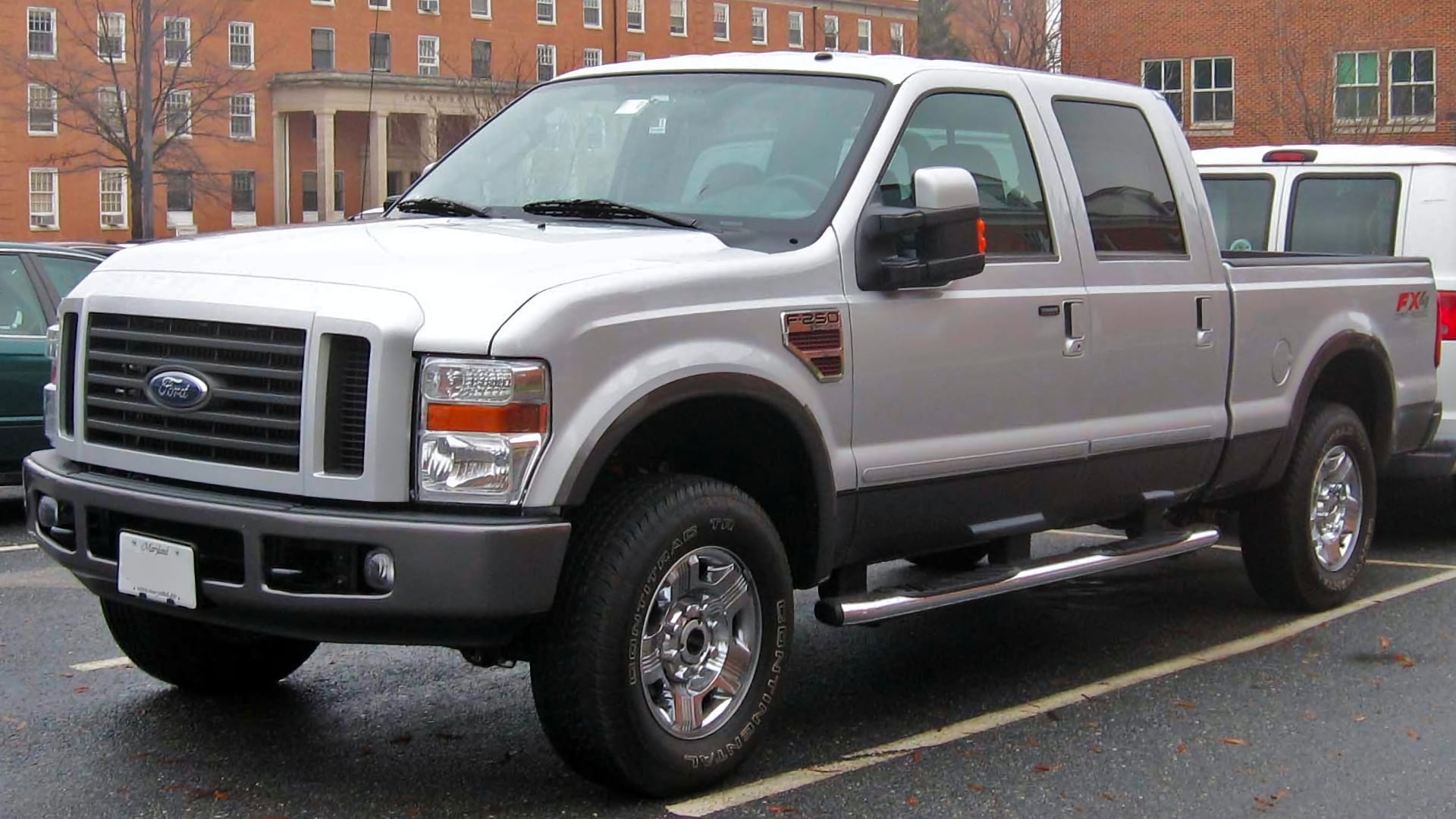 The Ford F-250 is a large truck for pickup. It has been a staple in Ford's lineup for over two decades. Since they started production in 1998, they're still doing well today. This car could be on your list if you're searching for a used pickup as your next vehicle.
Despite the strength and durability of the Ford F-250, some model years have issues that require lots of money to fix. Here, we discuss some Ford F-250 years to avoid if you want to get an F-250 truck. You should avoid the years that we're going to talk about in this article if you want to experience a smooth ride.
Why you can trust REREV's advice on which car model years to avoid: Our car experts look at official data, ask real drivers what they think, and talk to experienced mechanics to make sure our list is useful. This reliable info can make buying a car easier for you. Want to know how we do it? Find out more about our research methodology.
Most common Ford F-250 problems
The Ford F-250 is undoubtedly an iconic part of the Ford heavy-duty lineup. Yet it has some problems that are common in most of the years. These problems are so obvious in some years that those years need to be avoided.
Due to users' complaints and reports, several qualities make these Ford F-250 years stand out in a negative light. Some reasons common in these years that top the list are;
Engine troubles
All Ford F-250 models mentioned above had engine troubles to some degree, but the engine of the 2006 model had more difficulty, which made it stand out as the worst model to invest in as a driver.
Some specific engine issues that received the most user complaints among all the engine troubles are;
EGR failure
Stalling engine while driving
Sudden power loss
Suspension issues
Suspension issues can make it difficult for her driver to control the car which is very risky. It can also involve expensive repairs, which may not be durable as long as the suspension is prone to wear and tear. The suspension issue was very glaring in the 2006 and 2011 models.
Some of the suspension issues included:
Death wobble
Hyper shaking
Shaking and loss of control
Steering difficulties
Drivers of Ford F-250 trucks may experience wobbling while steering and locking up of the steering wheel, among other problems. These control problems are related to the already discussed suspension problems. To keep as safe as you can on the road, avoid 2017 models and those with suspension problems.
Broken drive shaft
A drive shaft is a long, rod-like component that runs the length of your car and transfers torque from the engine to the wheels.
Ford F-250s from 2017 to 2022 frequently experienced drive shaft fractures. This happened as a result of heat and noise insulators beneath the body that may come loose and come into contact with the aluminum driveshaft, cracking it.
Engine knocking
Many F-250 owners have complained about an engine knocking noise; this issue has primarily been reported on 2016 vehicles, however it has also been recorded on more current models.
A tiny stutter in the engine, as if it weren't getting enough fuel, has been noted by owners. Others have reported it feels like the engine is falling apart. Eventually, it all comes down to different symptoms of rod knock, which is a serious issue that could lead to a complete engine rebuild.
Coolant leak
Coolant leaking from the radiator of the F-250 is one of the most frequently reported issues. Models from as recently as 2018 and as far back as 2003 have both been subject to reports of this. Many owners have observed a radiator leak that has caused a puddle on their driveway.
Which Ford F-250 years to avoid?
Arguably, the Ford F-250 is one of the best vehicles on the road – a strong vehicle with thriving variants. However, some years have had profound setbacks. Although most Ford F-250 years are worth investing your money into for the long haul, there are some F-250 years to avoid.
Some Ford F-250 years to avoid include:
First-generation F-250 (2002-2006 model years)
The major problem with the 2002 F-250 is the spark plugs which tend to vibrate and blow out. When this happens, severe engine damage may occur. Also, since the plugs and cylinder heads were made of aluminum, they tend to erode and create failures.
Other mechanical issues like fuel injector leakage, sieve-like head gasket leakage, and symptoms of bad spark plugs have been associated with the truck.
The 2006 model year is considered the worst, and car users are advised to avoid it at all costs. The oil cooler tends to clog from dirt and debris, which is its major setback. The clogged oil cooler will create a surge that leads to EGR failure; when the EGR fails, the coolant starts leaking, so the truck's engine overheats and locks up.
The 2006 F-250 also has the issue of a smoking tailpipe due to EGR failure, the EGR valve opening, which makes the engine perform poorly. Full injector failure was also associated with this year.
Second-generation Ford F-250 (2008 model year)
One major issue of the 2008 F-250 truck is the radiator. The radiator on the 6.4 diesel powerstroke is nothing to write home about because it can fail anytime. The inability of the vehicle to cool itself can lead to overheating and total breakdown.
Apart from the radiator, it has other mechanical issues like transmission failure, fuel injector failure that sends metal shavings into the injector, exposed wiring on high-pressure fuel pump, and sensor failure.
Third-generation Ford F-250 (2011 model year)
This generation has received many criticisms, but the most significant one centered on a front-end vibration that abruptly reduces the truck's horsepower. The tremor was so common that car users named it the "death wobble."
The High-Pressure Oil Pump's malfunction constituted a different problem. The engine will stop abruptly and not restart if the oil pump malfunctions. The HPOP is responsible for lubricating the injectors; without it, the injectors would stop sprinkling fuel into the engine, which would explain the abrupt stop.
Best Ford F-250 years
Despite the setbacks that some model years had, other years did amazingly well. If you have a Ford F-250 in mind, then you should consider these model years:
2000 Ford F-250
2001 Ford F-250
2002 Ford F-250
2005 Ford F-250
2016 Ford F-250
When it comes to strength and durability, this truck is excellent. It can tow up to 10,000 pounds, which is impressive for a truck that is 21 years old. From 2000 to 2003, Ford performed a great job building trucks for their customers that would endure a very long time.
The 2001 F-250 was constructed to last, much like the 2002 F-250. Although filling the tank cost a lot, many owners said it was quite simple to maintain. If properly maintained, these trucks are said to be able to go over 300,000 miles. This is a fantastic choice if you're searching for a truck you can use for a long time.
Ford decided in 2005 to rebuild their Super Duty truck lineup. This led to a few small problems, but overall, the 2005 model is a very reliable truck. The 2005 model is quiet and does not shake or rattle excessively, despite these minor faults. That is always a positive truck indicator.
This truck has an incredible capacity for towing. Realistically, this truck is capable of towing up to 31,200 pounds. You are making the appropriate decision if you intend to use this truck to tow hefty goods. Despite the truck's enormous power, it might be incredibly expensive to drive if you only plan to use it in your neighborhood. Additionally, the F-250 received some fantastic technological upgrades in 2016, such as LED warning strobe lights and upgraded cabin heating elements.
Is the Ford F-250 worth buying?
Anyone who is frequently on the road needs a dependable car. The Ford F-250 is a great place to start if you're looking for a big pickup truck. There are some years of this vehicle, though, that you should be careful to avoid, while others you may pick with confidence.
Overall, if you're looking for a workhorse for hauling and you're on a budget, the Ford F-250 is a pretty good buy.
What year F-250 has the death wobble? 
The Death Wobble, as its name suggests, occurs when a car shakes so violently that it almost becomes impossible to control, making its owners worry for their life. u003cbru003eu003cbru003eAlthough it increased around the 2017, 2018, and 2019 model years, this issue appears to have started in 2005. This is the Ford F-250 issue that has received the most reports.
What year F-250 has the death wobble? 
The 2011 Ford F-250 has the death wobble resulting from the front-end vibration which reduces the truck's horsepower abruptly. 
What year F-250 is the most reliable? 
The first generation F-250 Super Duty produced between 2001 and 2002 is the most reliable model. This is as a result of the fact that newer trucks have superior suspension and a stronger frame than the earlier ones. Additionally, they had stronger engines, which improved their ability to tow huge loads.