Bridgestone Dueler H/L Alenza Plus review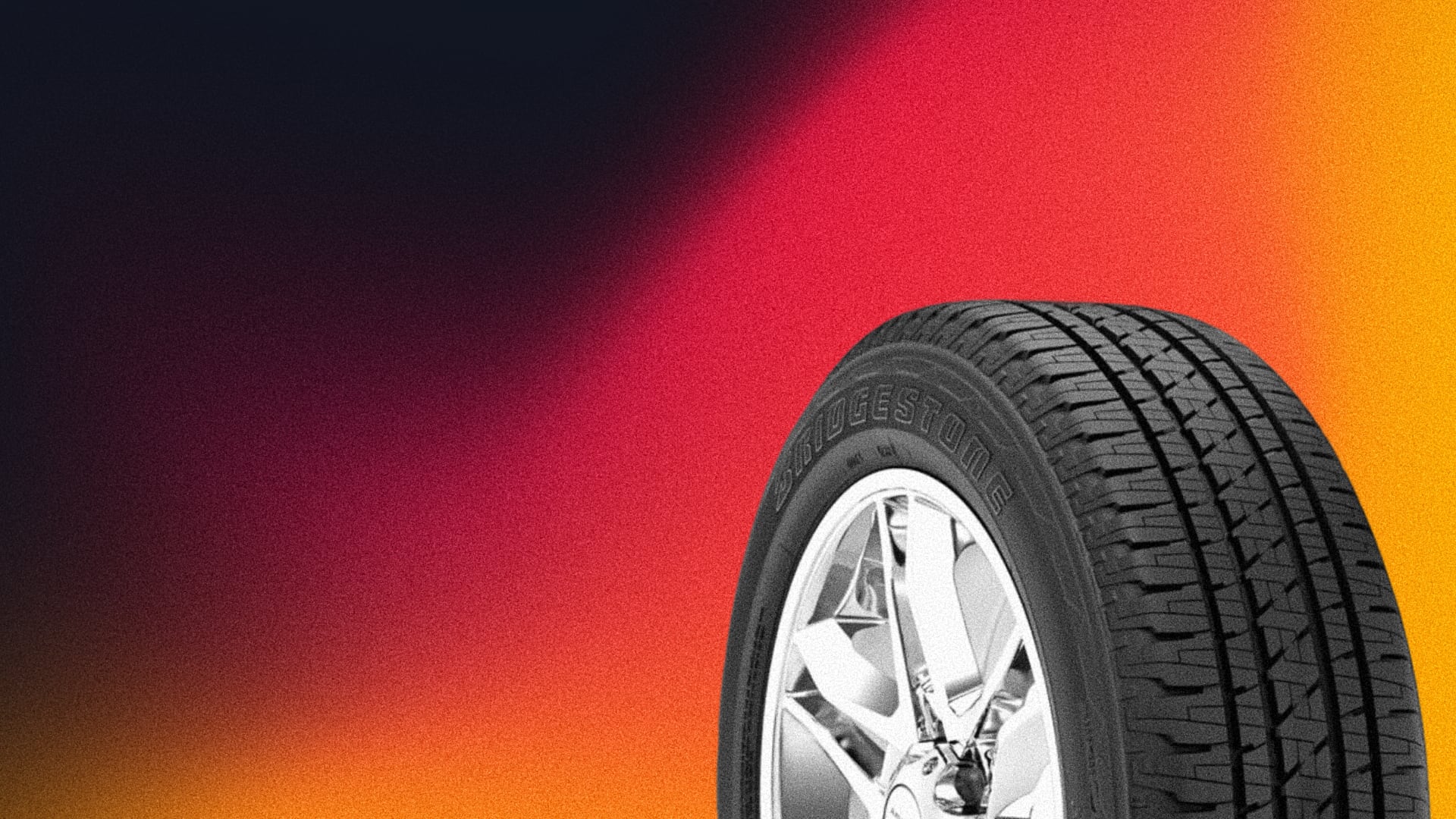 One of the largest tire brands out there, Bridgestone, decided to step up the game with Bridgestone Dueler H/L Alenza Plus tires. These tires are suited for SUVs and light trucks and provide all-season traction with a comfortable driving experience.
As proof of great quality, the same tread pattern is used as stock Cadillac Escalade tires, which speaks for itself. With a great 80,000-mile limited warranty and a massive array of trims from 16″ to 22″ sizes, this tire model is something special. You can rely on our Bridgestone Dueler H/L Alenza Plus review to learn the rest of the useful properties of this tire.
Recommended
Bridgestone Dueler H/L Alenza Plus
As an all-season SUV and truck tire with extended warranty, Bridgestone Dueler H/L Alenza Plus delivers optimal year-round traction with special tread design to reduce driving vibrations and noises to bare minimum.
Check Price
Purchases made through links on our site may earn us a commission.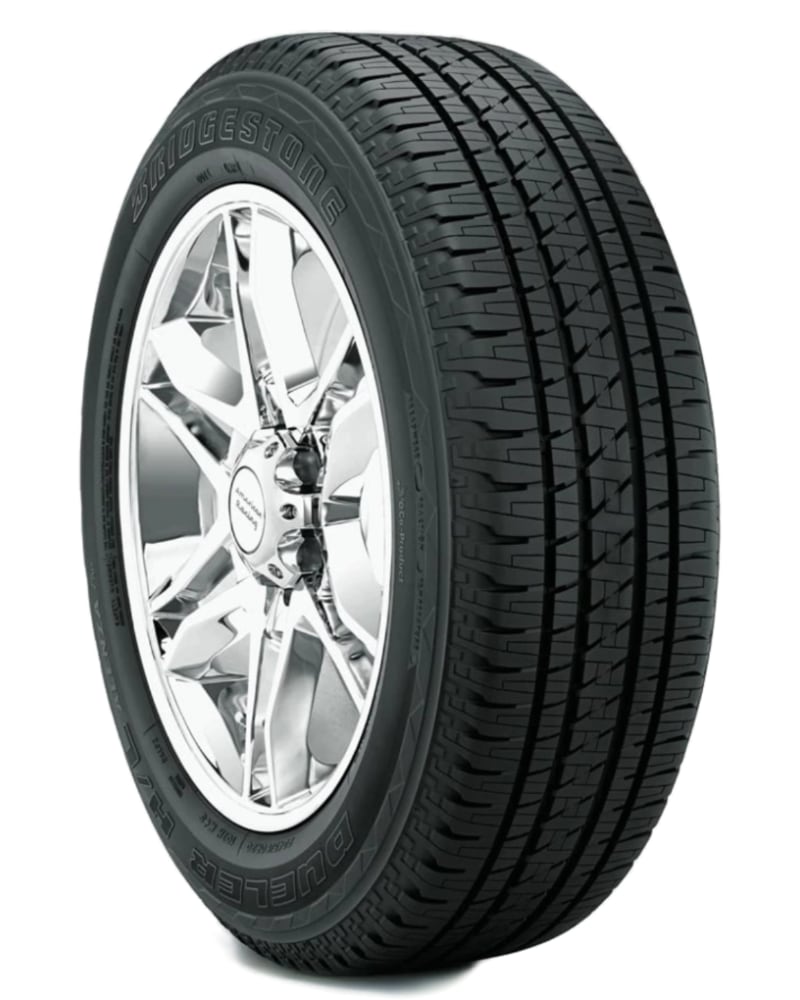 Key technologies
Bridgestone Dueler H/L Alenza Plus combines the best of both worlds – it gives you a comfortable ride along with high performance suitable for drivers of sport utility vehicles. Some of the key features and innovations made by Bridgestone include a unique variable tread pattern and reinforced center rib.
Variable tread pitch: Thanks to the unique variable tread pattern, the Bridgestone Dueler H/L Alenza Plus tire gives you a stable grip while also eliminating road noises and vibrations. The unique pattern consists of large tread blocks and lateral notches used to boost the grip in all weather conditions.
Reinforced tread: The center rib of this tire model is reinforced to give a sturdy structure and improve responsiveness. There are two steel belts with spirally bent nylon wrapping around them to increase the driving stability. Even the sidewall is equipped with polyester cords to generate more cornering stability and precise handling.
Safety features
When it comes to driving safety, these tires give you the safest possible experience even on wet roads. Bridgestone equipped the Dueler H/L Alenza Plus tires with lateral notches and circumferential grooves, which instantly removes water as you drive.
It's especially important for driving in wet conditions, as it prevents losing ground grip due to wet payment, also known as hydroplaning. The tires are also equipped with deep sipping spread all over the tread blocks, and variable sipes add up to the creation of biting edges for higher stability and eliminating road vibrations.
Speed ratings
Bridgestone Dueler H/L Alenza Plus comes in different trims with several speed rating marks. It's important for this model since it's a high-performing all-season tire for SUVs and light trucks. The speed rating tells you about the maximum speed that a tire can handle without losing its traction or handling properties.
For this particular tire, you can find trims with speed ratings ranging from "T" to "W". With a T-rated tire, you can safely drive up to 118 mph, while an H-rated tire will take slightly higher speeds up to 130 mph. Owners of sporty SUVs can pick a Dueler H/L Alenza Plus tire capable of reaching 149 mph with a "V" rated tire or up to 168 mph with a "W" rated tire.
Treadwear and durability
The Dueler H/L Alenza Plus tire has an optimized rubber footprint and strong casing to make it wear down evenly. With a new tread polymer compound, it should last around 80,000 miles. The Uniformity Treadwear Quality Grade (UTQG) rating of this tire varies from 540 AA to 800 AA based on tire size and trim.
It means that the tire was tested against a control tire in government-enforced testing ground, and it lasted 5 to 8 times more than the control tire. It's a great treadwear score meaning the tire will last considerably close to the estimated mileage.
Maintenance indicators
These tires also come with integrated treadwear indicators by Bridgestone (TWIs), and they help you determine the longevity of a tire. If the tread levels with the indicator, it means there's only 2/32″ of tread left and the tires should be replaced.
You can also measure tire tread depth with a penny by turning it upside down and placing it among the tread blocks. If you can see Lincoln's head, it means the tread is low and it's not safe to keep driving. You can find treadwear indicators inside the grooves between the tread blocks.
Wet traction performance
Bridgestone Dueler H/L Alenza Plus is a great wet performer, as there's no chance for hydroplaning to occur even at a slightly higher speed. The variable pitch of the tire's tread ensures total grip even on a wet road, while lateral and circumferential grooves work to eliminate the water.
As the tire rolls, water gets ejected and it results in an almost dry-like grip with these tires mounted. You can also count on biting edges to provide that extra grip in case of severe rain and extreme weather conditions.
Dry traction performance
When it comes to the performance of these tires in dry conditions, they handle the road more than just good. As a result, you can drive at high speed safely with a V-rated or a W-rated tire. The Dueler H/L Alenza Plus gives you the optimized rubber footprint necessary for great dry performance, regardless of all the lateral and circumferential grooves.
In return, the sipping isn't as deep as it seems, so it gives you maximized rubber compound of the tread blocks hitting the road. Even so, the number of variable sipes makes up for the dept, so all in all you get a perfect all-season tire that performs in all weather conditions.
Snow traction performance
In terms of snow traction, these tires will give you a good grip, nothing more and nothing less. They aren't as effective as dedicated winter or all-weather tires, but you'll get good handling and short braking distances.
Of course, this mostly relates to driving on a highway and city road while it's snowing, so the tires won't be as effective in deep snow. They can handle a couple of inches of snow quite well, and you won't struggle to park your car in the wintertime.
Off-road performance
In off-road terrain, these tires don't perform as well as on highways. They aren't meant to be all-terrain tires, so you can hurt the sidewall and damage the tread if you drive over a rocky surface. While it's possible to handle light road detours with these tires mounted, it might significantly reduce their tread life.
If you are driving on inaccessible terrains often, it's perhaps better to go with a dedicated off-road or at least an all-terrain tire instead of choosing this one.
Noise and comfort
Driving with a set of Dueler H/L Alenza Plus tires mounted will give you a refined and comfortable experience on the road. The variable pitch tread design simply absorbs any road vibrations and reduces excessive driving noises to a minimum.
The reinforced center rib gives you even load capacity and increased stability when going over road bumps. So, it's a perfect choice for those hoping to get a refined drive combined with decent performance and all-season traction.
Competitors and alternatives
Looking at the current market, there are not so many worthy rivals to Bridgestone Dueler H/L Alenza Plus tires. Here are some of the main competitors you can compare with these tires:
These competitors also combine decent all-season traction performance combined with a refined driving sensation for SUV and light truck owners.
Price range
The price of Dueler H/L Alenza Plus tires depends on various factors, such as the size and trim of the tire. You can expect to pay a starting price in the range of around $195 for a single 16″ tire, while the price for a single 22″ tire goes up to $290.
Overall, it's not such a bad price considering you get an 80,000-mile warranty, and you can use rebates and coupons to get them for an even lower price.
Warranty
The most important thing is Bridgestone has got you covered with an 80,000-mile warranty on these tires. However, you also get their premium 90-day trial to see the qualities of these tires for yourself. If it doesn't seem as attractive as the description sounds, you can always get a refund or swap them with another Bridgestone set.
As part of the warranty package, you also get a tire uniformity warranty valid for the first 2/32″of tread, and the workmanship and materials warranty for the first 3 years of using them.
Our take
In the humble opinion of our team, the Bridgestone Dueler H/L Alenza Plus represents a genuine treat for owners of sport utility vehicles and light trucks. Still, don't take our word for it when you can see for yourself – grab Bridgestone's trial offer to test the tires and if they suit your vehicle.
They are not the cheapest option out there, but they aren't the most expensive tire set either. Considering the high-performance attributes and unique tread features developed by the manufacturer, these make a true bargain.
Where are Bridgestone Dueler H/L Alenza Plus tires made?
Bridgestone Dueler H/L Alenza Plus tires are made in Japan and the US-based Bridgestone plants.
How good are Dueler H/L Alenza Plus tires?
Dueler H/L Alenza Plus tires are top-of-the-line Bridgestone tires for all-season SUV and light truck performance, so they are made with the highest build quality of the famous brand.
How long do Bridgestone Dueler H/L Alenza Plus tires last?
These tires are claimed to last at least about 80,000 miles by the manufacturer, and stories from drivers that already used them confirm it. The W-rated tires are said to last at least 55,000 miles.
What is the speed rating of Dueler H/L Alenza Plus tires?
Dueler H/L Alenza Plus tires come with four-speed ratings – T, H, V, and W. Their respective speed capability range from 118 mph, 130 mph, 149 mph, and 168 mph.
Where to buy these tires?
You can buy Bridgestone Dueler H/L Alenza Plus tires from the official Bridgestone dealership or tire retailer shops in the US, while you can also use coupons for online purchases.
What is the difference between Bridgestone Alenza and Alenza Plus?
The difference between these two models is that Bridgestone Alenza Plus comes with eco-friendly material with 5% fewer emissions and offers higher fuel efficiency.
Which is better – Bridgestone Dueler H/L Alenza Plus vs Michelin Premier LTX
Bridgestone Dueler H/L Alenza Plus tires are rated better than Michelin Premier LTX in all-season performance and steering response.
Which is better – Bridgestone Dueler H/L Alenza Plus vs Firestone Destination LE3
Bridgestone Dueler H/L Alenza Plus tires are rated as a more quality option than the Firestone Destination LE3.
Bridgestone Dueler H/L Alenza Plus vs Cooper Discoverer SRX
Bridgestone Dueler H/L Alenza Plus is rated as a better tire than Cooper Discoverer SRX in driving comfort and overall traction, while the Discoverer SRX beats it in the wet traction category.