Radiator leak — causes and fixes
Recognize common signs and solutions for a radiator leak.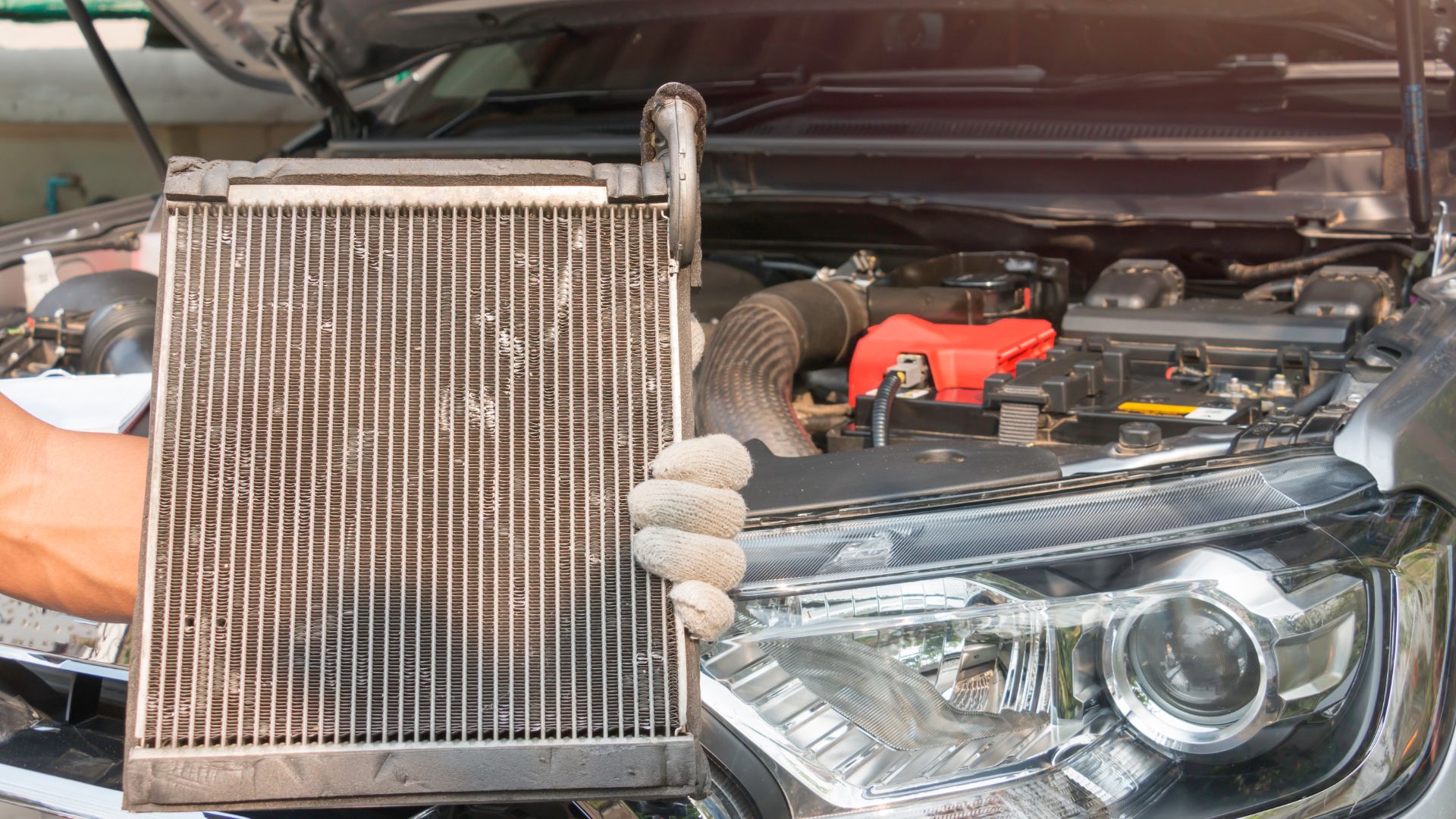 Your engine stays cool thanks to the radiator. The engine can overheat if your radiator is losing coolant. To control engine temperature and avoid overheating, the radiator's primary function is to transfer heat from the engine to the air. The cooled air is forced back into the engine to keep the engine from overheating.
Despite being a very frequent issue, a leaking radiator can leave you stranded if your car overheats. Understanding the symptoms of a leaking radiator will help you safeguard your investment and keep you and your passengers safe.
Take it a step further and keep up with your vehicle maintenance to avoid the significant hazards that arise when automotive problems are disregarded.
What causes a radiator leak?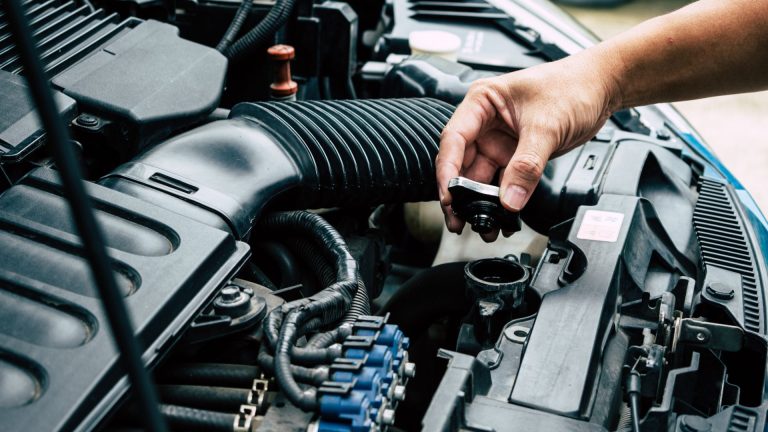 To function, an engine must burn fuel, a process that, by its very nature, generates a tremendous quantity of heat. The engine must be cooled as much as possible to prevent the pistons from disintegrating and destroying the entire system.
One could count on one hand the possible causes of a car radiator leak. Corrosion in the radiator is the primary and most typical cause. As rust and sediment build up over time in hoses, radiators, and hose connections, the radiator may eventually develop holes. Always get the radiator system flushed when you need to refill your radiator fluid.
A plug might develop from rust and silt built up in the hoses and passageways. The engine would overheat, as a result, leading to radiator leakage. Rust literally eats holes in the radiator. The plastic tank that delivers coolant to the radiator via hoses is also prone to wear and damage. The container, its cover, or the hose connection point might all crack and begin to leak.
Additionally, radiator leaks can be caused by excessive heat and temperature fluctuations. As the temperature fluctuates, metal components in the cooling system contract and expand. A broken or malfunctioning radiator fan is one common reason for too much heat.
Another significant reason for a radiator leak is an accident that damages components of the cooling system. After an accident, your car should always be checked by a qualified mechanic.
Poor service procedures also damage the radiator, though this should not be a concern if serviced by an expert. For instance, higher water pressure from overfilling the radiator may result in leaks, and an inefficient heater core or thermostat might put too much strain and heat on the radiator.
A radiator leak can also result from any of the following;
Loose radiator cap
This is the one to hope for. Radiator caps function under high pressure and heat, so the engine should always be allowed to cool before removing the radiator cap. Even so, it would be best if you used a rag to shield your hand from any steam that may be emitted.
Coolant heated to a gaseous state can seep out behind the radiator cap if the radiator cap does not maintain a tight seal. If the breach develops large enough, liquid coolant can escape. This is the simplest and least expensive problem to resolve: buy a new radiator cap for $10 and easily change it yourself.
Failed water pump
The coolant is pushed via the pipes to the engine and returned to the radiator by the water pump. The fluid will not circulate to cool the engine and discharge heat through the radiator if the pump is not present.
The water pump is attached to the radiator's lower pipe and is powered by a belt that hangs near the ground. If the hose connection loosens, the pump corrodes, or it is damaged by road debris, a hole can form, allowing coolant to leak. If you notice the radiator leaking from the bottom, it is usually due to a faulty water pump.
Debris can also clog the water pump and prevent coolant from flowing smoothly through it, increasing pressure inside the pump and triggering a breach. Even if this does not result in a leak, a bad water pump will prevent coolant from circulating, causing the engine to overheat.
What are the warning signs of a radiator leak?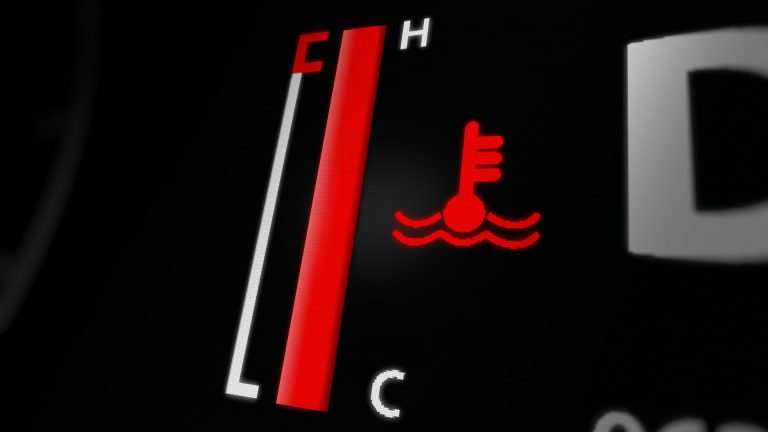 The radiator is a crucial part of your cooling system. If your radiator isn't working correctly, your engine could overheat and stop working. Learn to recognize the warning signs of a radiator leak;
Rising temperature gauge and dropping coolant level
A sudden decline in the coolant reservoir level of your car is typically a sign that the radiator is leaking. Small fluctuations or reductions in the reservoir level are common because the coolant level in the radiator regularly rises and falls with engine temperature; however, a sharp decline is usually an indication of leakage.
Fill the coolant reservoir and check the level after a few days of regular driving if you suspect there may be a leak. If you frequently suffer engine overheating or observe your temperature gauge rising, it's time to take action to prevent severe damage.
Component discoloration
It's also possible that your radiator leaks if there is rust and discoloration on the radiator and the adjacent engine parts. Washing and inspecting radiator hoses and clamps to check for potential leaks and cracks is a good idea because they are also vulnerable to normal wear and corrosion.
Puddles of coolant
A pool of antifreeze beneath the automobile is the most evident indication of a radiator leak. Naturally, not all puddles are a sign of a coolant issue, and a radiator leak is not the only cause of coolant pooling.
Examine the puddle closely. It's coolant if it has a green, yellow, or blue tint, but you may double-check by feeling it with your fingertips to see whether it feels greasy. Another clear sign that you're not dealing with ordinary water condensation from your air conditioning system is the common sweet fragrance of the coolant.
Check for drips
Your vehicle's cooling system comprises numerous hoses and clamps that might all be the source of the puddle on the ground, so the next step is to try to pinpoint where the drip is coming from.
A radiator leak typically begins within the cooling fins, along any plastic or welded seam, at the filler neck/spout, or the bottom near the drain petcock. Check each of these areas with the engine turned off and cool to determine whether they are wet, dripping, or show any signs of having been wet in the past.
Check with the engine running
You may occasionally see a leak that only occurs while the engine is hot and the system is pressured. In this scenario, perform the same inspection as described above, but with the vehicle warmed up to operating temperature.
Take the required precautions and wear safety glasses, as a pressured leak can abruptly squirt or spray out of the radiator. Avoid coming into contact with any heated parts of your vehicle.
How do you avoid radiator leaks?
These issues are readily avoided with regular cooling system examination and maintenance. Old coolant should be cleaned and replaced every 100,000 miles because it can become acidic and wear away metal in the radiator. Inspect the hoses and connectors for cracking and degradation, and apply a sealant to fix any damaged gaskets before you begin to experience any issues.
Many problems that cause a radiator to leak coolant may be avoided with regular maintenance, but not all of them. All cooling system parts are subjected to extreme pressure and temperature gradients and will eventually fail.
Bring it to your local car repair professional if the leak cannot be stopped with a sealant or if the vehicle continues to run hot. They have the diagnostic equipment and knowledge to detect why your radiator is leaking and propose a remedy.
Allowing an engine to run hot for an extended period can result in the need for a completely new engine, which can cost several thousands of dollars.
What are some temporary fixes for a radiator leak?
Several leak repair products may be found on the shelves of your local car parts store. Depending on the cause of the leak, these products may or may not work.
Depending on your situation, you can utilize either emergency fixes or commercial products. It protects your vehicle from further damage. While this sealant isn't as effective as a professional repair solution, it will get you to your local car parts store or mechanic with a dependable seal by following the steps:
Pour your sealant directly into your cooling system once your engine has cooled.
Fill your radiator with coolant and water, then seal the system.
Start your engine for about 10 minutes, then let it sit overnight.
Restart your engine to determine if it has been properly sealed.
If the radiator causes the leak, the leak repair product may be effective. If the leak comes from a hose or clamp, this is another issue that demands prompt attention and car maintenance.
Is it safe to drive with a radiator leak?
The radiator aids in keeping your engine cool. If your radiator leaks, coolant will be lost, and the engine may overheat. The coolant removes heat from the engine by passing it through a series of coils. The cooled air returns to the engine to keep it from overheating.
You should not drive the vehicle anywhere and should have a mobile mechanic inspect and repair your radiator, as the automobile will be prone to overheating.
Our take
A radiator leak may appear minor at first, but it can quickly impair performance in other engine components. The radiator's purpose is to transfer heat from the engine to the air to regulate engine temperature and prevent overheating. If the engine overheats, it will stop running and will need to be replaced, which can be expensive!
That is why it is vital to understand how your vehicle's radiator works so that you can quickly recognize any common radiator leak signs.