Clogged fuel filter symptoms — causes and fixes
Recognize the signs of clogged fuel filter symptoms in your vehicle.

Everyone enjoys driving a decent car that starts and runs smoothly. However, what if you discover that your vehicle isn't running smoothly, the check engine light is on, or the engine is misfiring? You most likely have a bad or blocked filter.
Engine repairs can be expensive and put your car in the shop for a long time. Wouldn't it be wonderful if there was something simple and cheap you could do to maintain your engine safe and operating smoothly? But there is. Focus a little more on the fuel filter.
All vehicles have fuel filters that clean the oil before it enters the engine, regardless of the engine type (conventional or diesel). This messy work makes filters particularly susceptible to debris buildup, so it's essential to recognize clogged fuel filter symptoms and deal with it as soon as possible.
What does a fuel filter do?
Fuel filters are maintenance items that require regular replacement, and failure to do so may result in issues that impact your car's dependability and overall performance.
Any gasoline you put in your vehicle, regardless of where it was produced, is likely to include pollutants, contaminants, and deposits naturally occurring in the environment that settle in the fuel tank and may endanger components like the fuel injectors. As you might expect, a fuel filter serves as a barrier, preventing potentially hazardous substances from wreaking havoc on the rest of your car.
Since it is subjected to intensive use regularly throughout the lifespan of your vehicle, it gradually collects and holds those impurities. If left unattended, the flow will eventually be restricted, and the system will block up.
Several factors can affect how frequently a fuel filter needs to be replaced. Older cars often have fuel filters that last one and a half to two years, while some can last longer. Some more recent vehicles come equipped with "lifetime" filters, which may be built into the fuel pump and do not require regular replacement. Consult your owner's manual to find out exactly how long your fuel filter is functional. If you end up with a tank of dirty fuel or begin to have symptoms that suggest the fuel you're using is no longer adequately filtered, you might need to replace it sooner than you anticipated.
How long does a fuel filter last?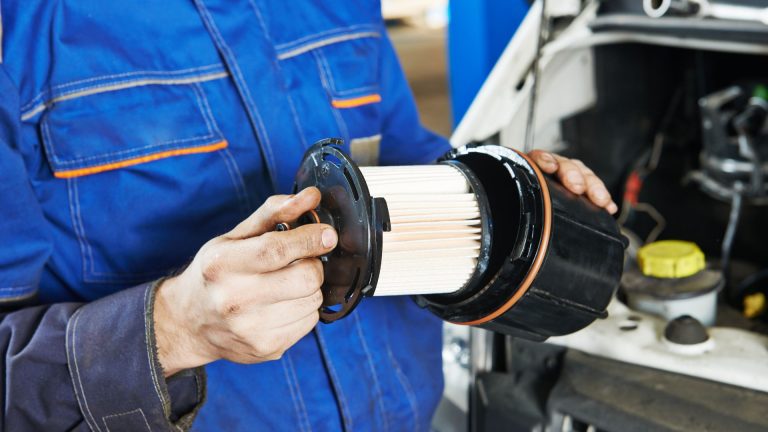 Some cars, although not all, feature a replaceable gasoline filter element. It's often beneath gas-powered vehicles, fastened with clips or bolts to the frame rail. On the other hand, it is typically found in the engine compartment of diesel vehicles and resembles an oil filter.
While diesel engines frequently require slightly shorter intervals, the fuel filter must be replaced every 20,000 to 30,000 miles in most situations. Checking the maintenance schedule included in your owner's manual is the best approach to determining your vehicle's maintenance schedule.
Symptoms of a bad fuel filter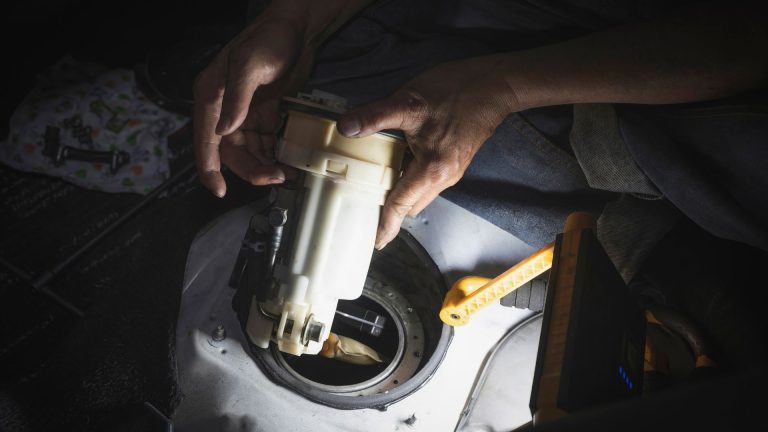 Pleated material filters out any impurities in the fuel as it travels to the engine through the filter. When the gas station receives a delivery, it can kick dirt, moisture, or debris into the enormous tank. This substance inhibits fuel flow to the engine when it fills the fuel filter. Eventually, symptoms are sure to appear. Which includes the following:
The fuel pump stops
Reduced fuel efficiency
Loss of power when under load
Engine stalls or runs rough
The check engine light is on
Your engine misfires
Your car won't start
Fuel pump stops
The fuel pump may get overworked in cases of excessive fuel demand, and it continuously operates at maximum efficiency while attempting to push gasoline into a constrained supply line. It may result in the fuse blowing, the fuel pump relay turning off, or the fuel pump ceasing to function.
Reduced fuel efficiency
Contrary to popular belief, a clogged gasoline filter can increase fuel usage. To achieve the amount of power you're asking from your car, the PCM directs more fuel to mix with the air being pulled into the engine since it thinks the air-fuel combination is lean. Even though it isn't operating as well, you are consuming more fuel than you would if it were moving at the proper volume.
Loss of power when under load
While the engine is idling, a restricted fuel flow to the engine may enable proper fuel pressure. The demand for fuel is substantially higher while you're accelerating or pulling a load, though. A clogged fuel filter limits your engine's ability to produce more power, which inhibits the fuel rail from staying topped off with fuel.
Engine stalls or runs rough
Lack of fuel, power, or air is the three leading causes of engine stalling. Given this information, it should be no surprise that your engine may sputter or stall when moving or idling if there is insufficient fuel flowing through. Imagine trying to drink your Coke through a straw while pinching it. The flow of fluid is stopped when you close up the straw.
The check engine light is on
The "check engine" light is undoubtedly something that most vehicle owners either love or detest. Sure, it probably implies a repair cost is close at hand, but it also assures that things don't get so bad that significant damage happens.
However, there are countless reasons why a check engine light might come on. In this case, there might not be enough fuel sprayed into the cylinders to be burned if the injectors don't receive enough pressured fuel. The powertrain control module may have a "P0171 System Too Lean" code, which would cause the Check Engine Light to come on.
Your engine misfires
Wearing spark plugs, a malfunctioning ignition coil, or a broken camshaft sensor are a few of the many potential causes of engine misfiring.
However, since the fuel must travel through the fuel filter before reaching the fuel injector, any disruption in its path could result in an engine misfire. This is particularly true when you are demanding more from your car, such as when you accelerate quickly, pull a cargo, or climb a steep hill.
This usually causes the engine to skip a beat, cause a minor jolt, and lag in the power delivery.
Your car won't start
There are a variety of causes for an engine to have trouble starting, including faulty spark plugs, a dead battery, and alternator problems.
However, It might also indicate insufficient gasoline getting to the combustion chambers.
The fuel pump pressurizes fuel entering the supply line when the ignition is turned on. The part of fuel between the filter and the engine may not be able to pressurize due to a clogged fuel filter. Due to a lack of fuel, your engine may not start or start briefly before sputtering out.
Can a clogged fuel filter unclog itself?
Over time, a fuel filter will automatically clear itself of clogs. The fuel filter prevents anything other than fuel from getting to your engine, implying that rust and other impurities will be filtered away.
The fuel filter may occasionally become naturally unclogged if anything it has been capturing is knocked loose. Nevertheless, it would be best if you didn't depend on it in any way.
Our take
Fuel filters don't clog up quickly and endure the duration of their service life without lowering the fuel pressure. Only when the filter is extremely blocked may you notice a considerable drop in fuel pressure.
The simplest approach to prevent your fuel filter from becoming clogged is to label the unit with the mileage at which you had it replaced. This will help you better assess its condition and schedule the next replacement at the appropriate time.
In general, nobody likes driving a car that is having trouble keeping up. Instead of ignoring it, confront it.
Have a shop run a fuel pressure test if you notice your car stalling, having difficulties starting, or if an engine light comes on.
What happens when the fuel filter is clogged?
A clogged fuel filter lowers fuel pressure, which leads to a lean fuel condition and engine misfire. This may lead to poor fuel economy, rough idling, and the check engine light turning on. When the light comes on, it's time to take it to the shop for repairs.
How do you unclog your fuel filter?
Since the literal filtering membrane of the most prevalent fuel filter types is made of inexpensive materials like paper, replacing them is preferable rather than trying to clean them. If you use a metal filter that can be reused, you should clean it.
Can you drive with a clogged fuel filter?
The amount of fuel that may pass through the filter is lowered by particles and other junk. You will only be able to advance a little once completely blocked. Even starting your car won't be possible.
Without the required gasoline, the engine may suffer damage or stop working.