How old you need to be to sit in the front seat? — explained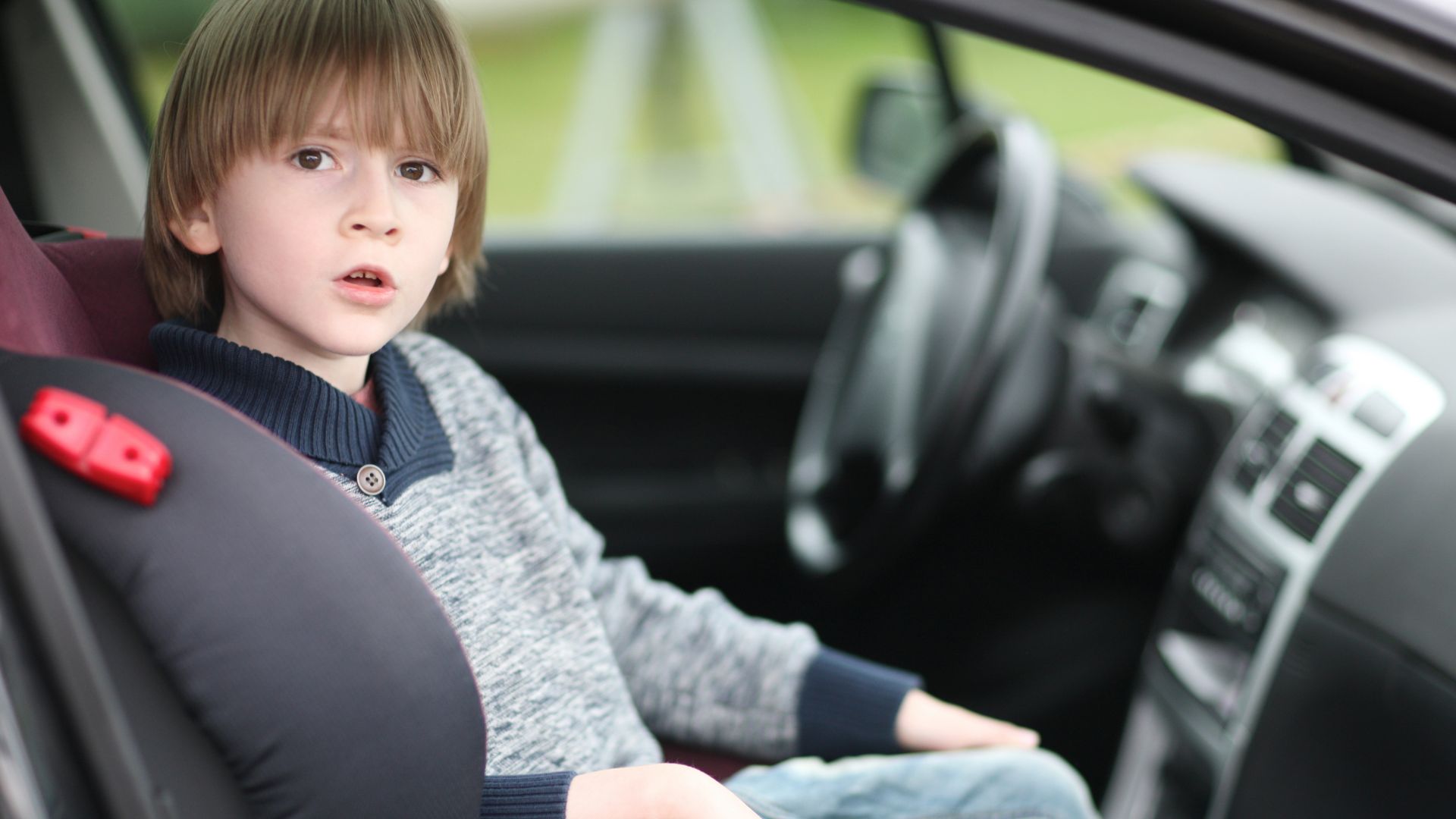 Many kids want to ride in the front seat of the car at an early age, and it seems there's no actual danger in letting them do so as long as they're wearing a seat belt. Before considering whether to let a child ride in the front seat, some legal requirements and safety procedures must be followed. So, at what age can a kid sit in the front seat?
According to conventional opinion, children are usually prepared to travel in the front seat once they reach their teenage years. Still, the Centers for Disease Control and Prevention (CDC) recommends that all children 12 years of age and less should ride in the rear.
A booster seat is required for occupying the front seat, but many states also have rules that specify when a child is permitted to travel without one. Before transferring your child from the back seat to the front, make sure to verify the regulations in your state.
How safe is the back seat for kids?
The safest approach to making the choice of letting your kids ride in the front seat or back seat isn't necessarily to adhere to a specific age restriction. Making a thoughtful decision about when to let your child travel in the front seat is crucial because, no matter what, riding in the front seat is always riskier than riding in the rear.
It's crucial to remember that the back seat is still the safest option even after a child has reached the appropriate age or size to sit in the front seat securely. The risk of being hurt by objects that crash-injure into the car from the front seat is increased. The best practice is to use the front seat only sometimes when all other seats are taken.
Restraint safety is a top priority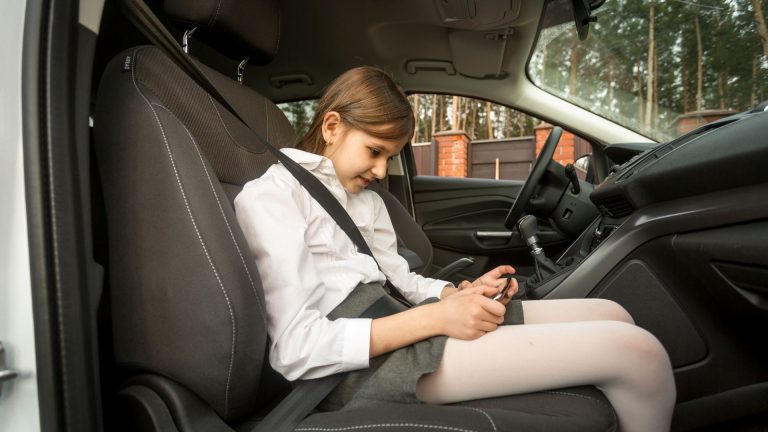 Children must be able to properly use an adult shoulder-strapped seat belt before they can sit in the front passenger seat. Instead of crossing the child's throat, the shoulder belt should sit flush against the child's collarbone. Of course, maintaining a safe speed to drive your car is also essential to maximize the safety of your children.
Instead of crossing the child's abdomen, the lap belt should fit tightly across the child's hips and upper thighs. The front seat should not be used for kids who need a car seat or booster seat.
However, if you do find yourself driving with a child in the front seat, deactivate the airbag or take the car to the dealer to have it done. Smart airbags are available in some cars, which can detect the weight in the front seat and turn it off automatically if it is not enough to trigger the airbag. If you can't switch off the airbag, you should push the front seat back as far as possible.
Why should kids ride in the back seat?
A child in the front seat might be thrown onto the dashboard or through your car's glass in a head-on collision, the most frequent and dangerous collision. Riding at the front puts them at a higher risk of injury from objects entering the vehicle, even if they are properly belted in.
Another important reason to keep your child out of the front seat has to do with front airbags. A deflated airbag can crush a child, causing fatal or severe injuries. Children have been killed in slow-speed collisions that would have been minor without airbags.
Adults are used in the design of airbags, which are intended to deploy with force between 90 and 210 miles per hour. Children are more prone to damage because their developing skeletal system, which includes their hip, sternum, and breastbones, makes them more brittle.
Children are also shorter than adults, which increases the danger of head injuries if the airbag opens. Hence, many vehicles now feature sensors that disable the airbag if the passenger weighs less than a particular amount.
In the end, you are the parent. You can decide to tell your kid that safety comes before being "cool."
Is a five-year-old allowed to sit in front of a car?
Every state has a different set of laws. Only a few states do not mandate which seat a youngster must sit in, whether front or back. However, the majority of them do. For instance, in Georgia and California, Children must be securely strapped and travel in the back seat until they are eight. However, Wisconsin law requires children under the age of 4 to ride in the backseat, while in Washington, children must ride in the backseat until they are 13 years old. There's also the dilemma of a convertible car seat vs infant seat for responsibly driving your children at the backseat of your car.
Some states do consider seat availability. For instance, Georgia says, "If other passengers occupy the rear seat, your child may travel in the front seat, provided he or she is fastened in a booster or child safety seat." At the same time, California stipulates "when available."
State laws are only sometimes the safest course of action, though. Your child will be much safer in the rear seat, regardless of age. However, there are some circumstances in which it is simply impossible. For instance, you can find yourself in a case where a kid needs to sit up front if:
There is no back seat (a small sports car or a truck, for example)
Other kids are seated in each of the back seats.
Your kid rides in a booster, and the back seat has lap-only straps with no shoulder restraints.
Your child needs ongoing supervision (because of a medical condition, for example)
Can you put a child seat in the front of a car?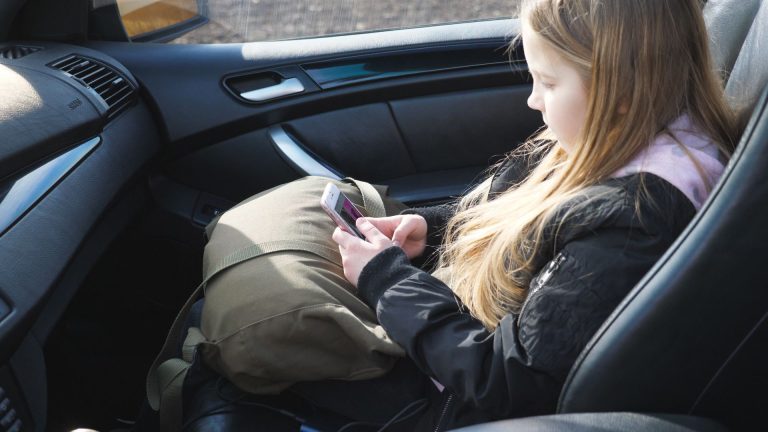 No. Never put a car seat that faces the back in the front seat. When seated in the front seat, infants and toddlers in rear-facing car seats are highly vulnerable to airbags (because the back of their car seat is so close to the dashboard). Children have been killed by airbags while riding in rear-facing seats.
Your child's safety will be lower in the front seat if they are in a forward-facing car seat than in the back. A deployed airbag can strike the car seat or booster with enough power to pull it out of place or break it, which can cause injuries to children particularly prone to them.
Most booster seats and forward-facing car seats can be used in the front seat if riding in it is unavoidable. However, consult the vehicle and car seat manuals. (Some people advise against putting seats in front of airbags. In this situation, it would be safer to fasten your child using just the seat belt.)
Guidelines for safety while your child rides in the front seat
The middle of the rear seat, provided there is a seat belt (lap and shoulder belts) to use in that position, is the safest spot for young people to sit after they have graduated from a car seat.
Parents can further safeguard their 13-year-old children from harm by taking the following steps.
Reposition the front seat as far back as it will go, away from the area where the airbag would inflate.
Always insist that your child use a seat belt.
Please have your child wear their seat belt correctly with their back against the seat so they are further away from the dashboard. Instead of crossing the neck, the seatbelt should go across the upper chest.
Our take
Children are significantly in danger from car crashes. Using the proper car seats and seat belts will assist parents, and other caregivers keep them safe. Under-13-year-olds should ride in the back seat of a vehicle.
Parents and other adults can model good passenger and driver habits by ensuring their children always buckle up and drive defensively.
Why are booster seats important?
Even though more people than ever are wearing seat belts, car accidents still kill more children between the ages of 1 and 13 than any other single factor. You must avoid leaving car seats behind too soon, even though you or your child might be ready to do so.u003cbru003eu003cbru003eAdults should be able to fit into and use an automobile safety belt. Booster seats really "boost" your child so that the seat belt fits them more comfortably. Without a booster, your child won't be protected by their seat belt in a crash and may even suffer harm.
What type of restraint should my child use when riding in the car?
Ensure your kid wears a lap and shoulder belt rather than just a lap belt. In a collision, a child wearing only a lap belt may be flung forward until being stopped by an object inside the car, such as the dashboard, front seats, consoles, door frames, or even the child's knees or the vehicle's floor. u003cbru003eu003cbru003eSevere head, neck, or spine injuries may result from this. It is not recommended to use the lap-only belt if it touches the child's stomach. In the event of a collision, the spine and vital organs may suffer severe injury. The young person should wear a lap and shoulder belted booster set.
What can I do if my child does not want to buckle up?
Inform your child that wearing a seatbelt is required by law and is not an option. Express your concern for your child's safety while highlighting the advantages of wearing a safety belt. Tell them there are no exceptions, and you may only start driving once everyone is buckled up.