Buick Encore years to avoid — most common problems
Avoid potential issues by knowing the crucial Buick Encore years to avoid.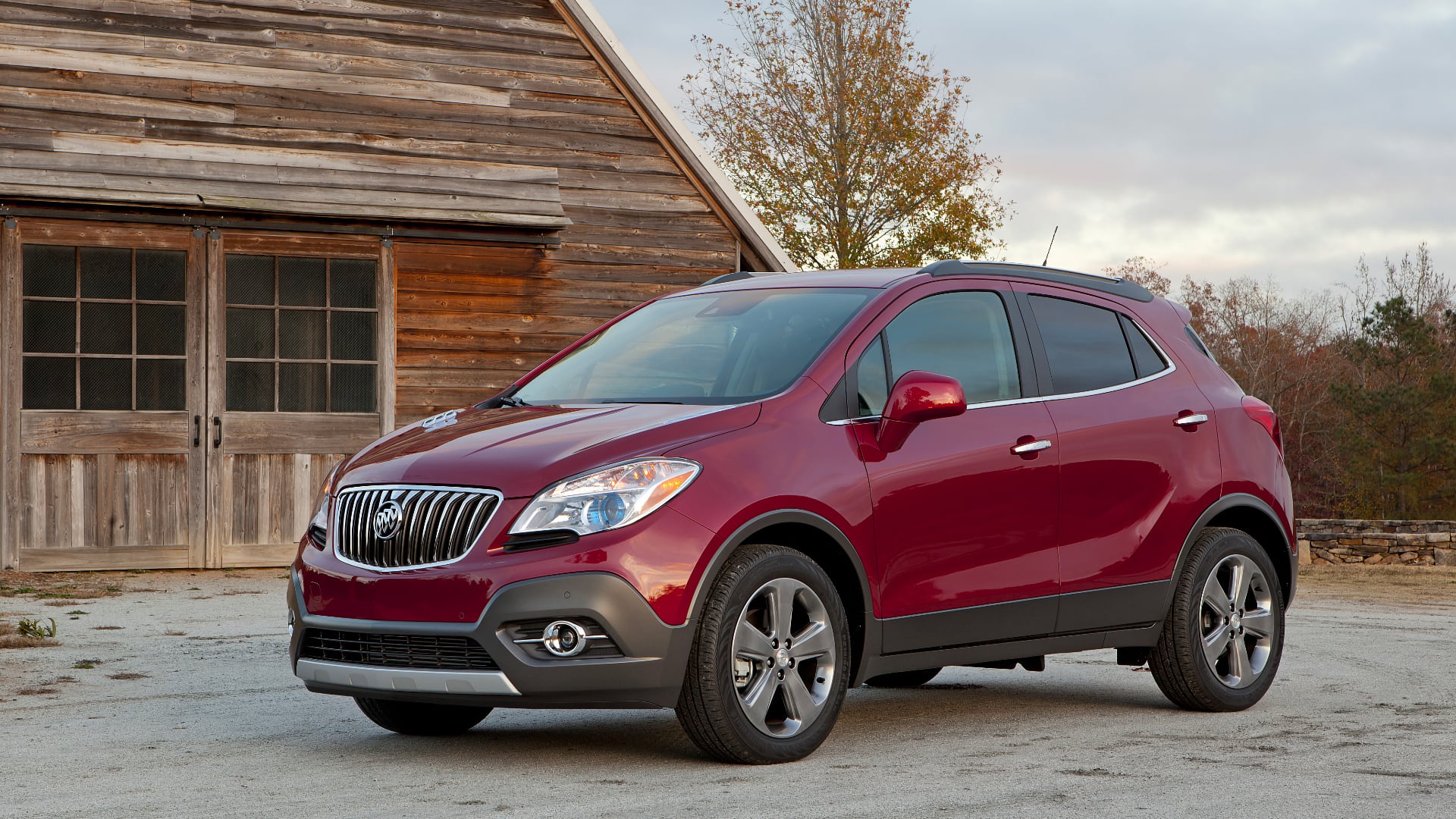 The Buick Encore is a luxurious mid-priced subcompact SUV and could be an excellent choice if you enjoy smaller but comfortable vehicles.
That doesn't mean this little Buick hasn't had its fair share of issues. Most Buick Encore problems are expensive and can pose serious safety risks. As a result, you must be aware of some of the problematic model years to make an informed decision. Continue reading to find out which Buick Encore years to avoid and why.
Most common Buick Encore problems
The Buick Encore SUV is one of the brand's finest SUVs and has been around for a while, offering a variety of engines and transmission options.
Although it is a tough SUV, some Buick Encore models have issues. The following are the most common problems with various Encore models.
Engine problems
The engine problems in the 2017 Buick Encore can be severe. Some owners have reported that their SUVs would exhibit various problems, including poor acceleration, excessive smoke, and stalling. They've also revealed that one of their Encores caught fire unexpectedly near the front of the vehicle. Many owners have expressed dissatisfaction as a result of these issues. They usually happen to Encores that are under 11,400 miles.
According to reports, these engine problems have resulted in confirmed injuries and accidents. Some owners took their vehicles to dealerships, but technicians could not find anything wrong with them. If you notice any signs of engine trouble with your Encore, have it checked right away to avoid any serious complications.
Defective airbags and seatbelts
One of the most noticeable issues with the 2015-2017 Buick Encore is its faulty airbags and seatbelts. As a result, General Motors LLC (GM) was forced to recall over 3.6 million vehicles of various makes and models.
A faulty airbag sensing and diagnostic module (SDM) software may activate its diagnostic test mode. In the event of a collision, it can prevent the frontal airbags and seat belt tensioners from deploying. GM has advised that owners of affected Encores can have their SDMs replaced for free at their dealerships. If your SUV is subject to this recall, contact Buick as soon as possible for more information.
Brake problems
One of the most common 2015 Buick Encore issues is severe brake problems, which can increase the risk of an accident. Owners have reported hearing abnormal noises while driving or braking. Some people have complained that their brakes did not provide enough force, resulting in a longer braking distance.
Others have reported excessive brake pedal vibrations and vehicle control loss due to brake malfunction. They have reported that these brake problems typically occur in relatively new Encores with around 13,000 miles. Some people have taken their vehicles to dealerships, but mechanics have yet to pinpoint the source of the problem. If you encounter a Buick Encore with brakes squeaking or pedal vibration issues, it could be a good idea to do some more checking before making the purchase.
Faulty battery
The 2014 Buick Encore was reported to have problems starting, usually caused by a faulty battery or battery discharge warning. Some owners reported that the battery in their SUV died every four to six weeks. According to reports, some owners discovered that their Encores could not start due to a dead battery, even if they had been working fine the day before. They were disappointed because their SUVs were relatively new, with only about 12,000 miles on them.
Some have reported that their batteries were replaced, but the problem persisted. Issues in your electrical system could cause this problem, so contact your mechanic immediately if you're having this problem with your Encore.
Faulty radio
Buick Encore radio issues are relatively common, particularly with the 2015 model year. These issues may not impact vehicle performance, but they can be inconvenient if you need to use your radio and its display. Some owners have reported various problems, including a malfunctioning radio display and volume settings that change on their own.
Some owners have stated that they took their Encores to dealerships, but mechanics could not determine the exact cause. These complications could be related to electrical issues, so it's best to consult a professional as soon as you notice radio issues.
Poor acceleration
Bad turbochargers cause the 2013 Buick Encore to lose acceleration. Some owners reported that other symptoms, such as an illuminated check engine light, unusual noises, and excessive rattling, accompanied the loss of acceleration. According to reports, the turbochargers usually give out at around 94,000 miles.
Some owners have reported that getting their turbochargers replaced solved the problem. In such cases, the part must be replaced immediately to prevent further damage to other components. Repairs are costly, usually costing around $1,650.
Which Buick Encore years to avoid?
Like any car, some Buick Encores were less desirable than others. Most of these models cost their owners a lot of money because they had issues with electrical and engine systems, which are vital parts and systems.
The quick review will go over the Buick Encore years to avoid.
First-generation Encore (2013-2015 and 2017 model years)
The 2013 Buick Encore is the ideal illustration of why purchasing a lineup's base model is never a good idea. Drivers have lost a lot of money because this one entered the market with significant engine problems. Six recalls have been issued for the car, making it one of the worst Encores.
While less than 500,000 units were typically affected by recalls, the largest recall involved front seats that could move around during collisions, increasing the risk of injuries, other recalls involved flaws that could potentially result in engine failure.
The 2014 Buick Encore has the most problems and complaints in the entire series. These issues necessitate high repair costs, resulting in lower mileage and increased depreciation. Four recalls were issued for the model, affecting over 3 million vehicles.
The recalls were for front seats that were not stable. Another issue was the malfunctioning airbags, which prevented them from deploying in the event of a car accident.
The seats had a more serious problem in that they would not stay anchored in the event of a collision. The battery also had issues, going out and dying too quickly. The door locks received numerous complaints for not working properly. While Buick was able to address various issues raised by car owners in the two previous models, they now faced new problems, some of which persisted.
Electrical, air conditioning, and brake problems plagued the 2015 Buick Encore. Similarly, four different recalls were issued, including one for one of the airbags not deploying.
The main problem with the brakes was that they made loud grinding noises that interfered with the driving experience. Another issue carried over from the 2014 model was the battery dying too quickly. The engine's turbocharger was also not repaired and lacked power.
2017 was another bad year for Buick because the problem with the airbag deployment had not been fixed, the check engine light would frequently come on, and the engine would suffer.
The back brakes were subpar, and some drivers experienced engine failure. Buick, though, took the criticism seriously and had been getting better with each passing year.
Best Buick Encore years
The Buick Encore is a newer vehicle, having been produced since 2012 and going through two generations. As with any car, some model years have a better track record in terms of reliability and the absence of major mechanical issues than others.
The Encore models listed below have been relatively safe and reliable, with only a few owner complaints. So, if you're looking for an Encore, these model years are the most reliable:
2016 Buick Encore
2018 Buick Encore
2019 Buick Encore
2020 Buick Encore
2021 Buick Encore
2022 Buick Encore
After receiving a redesign in 2017, the Buick Encore's second generation of the vehicle entered into production in 2020. Although some model years are preferable to others, most Encore models are renowned for being reliable and excellent for a secondhand car.
The Buick Encore has a definite tendency to get better with each new model year. Every year has seen a decrease in customer complaints, except for a little increase in negative reviews in 2017. In reality, after 2018 and beyond, there have been essentially no complaints. The Buick brand has pledged to find and fix any problems with its car models.
Is the Buick Encore worth buying?
The subcompact Buick Encore has been manufactured by General Motors since 2012. Like its larger cousins, the Enclave and Envision, the Encore features a sleek appearance.
It also has a lot of high-tech equipment and a few extra elements that add to its opulent appearance. Effective, comfortable, and responsive.
The Buick Encore is a reasonably wise investment, and its engine has few lemon problems. Still, the essential thing is to thoroughly analyze the vehicle before you buy it to avoid becoming stuck with a model year that will ultimately drain your finances.
What is the best year for Buick Encores?
The best Buick Encore years include 2018, 2019, 2020, 2021, and 2022.
Is the Buick Encore a dependable car?
The Buick Encore is a reliable subcompact SUV, offering good engine power, agile handling, and a notably quiet cabin.
Do Buick Encores have transmission problems?
Buick Encore has transmission problems that can be frustrating, with reports of grinding, delayed shifting, slipping, and other unusual noises. Transmission fluid may need to be replaced as frequently as every 30,000 miles, as failure to do so increases the risk of damage.
How long will Buick Encore last?
The Buick Encore could last for 200,000 miles or more if properly maintained. This SUV has won an award for dependability, so you can expect it to serve you well for many years.