GMC Acadia years to avoid — most common problems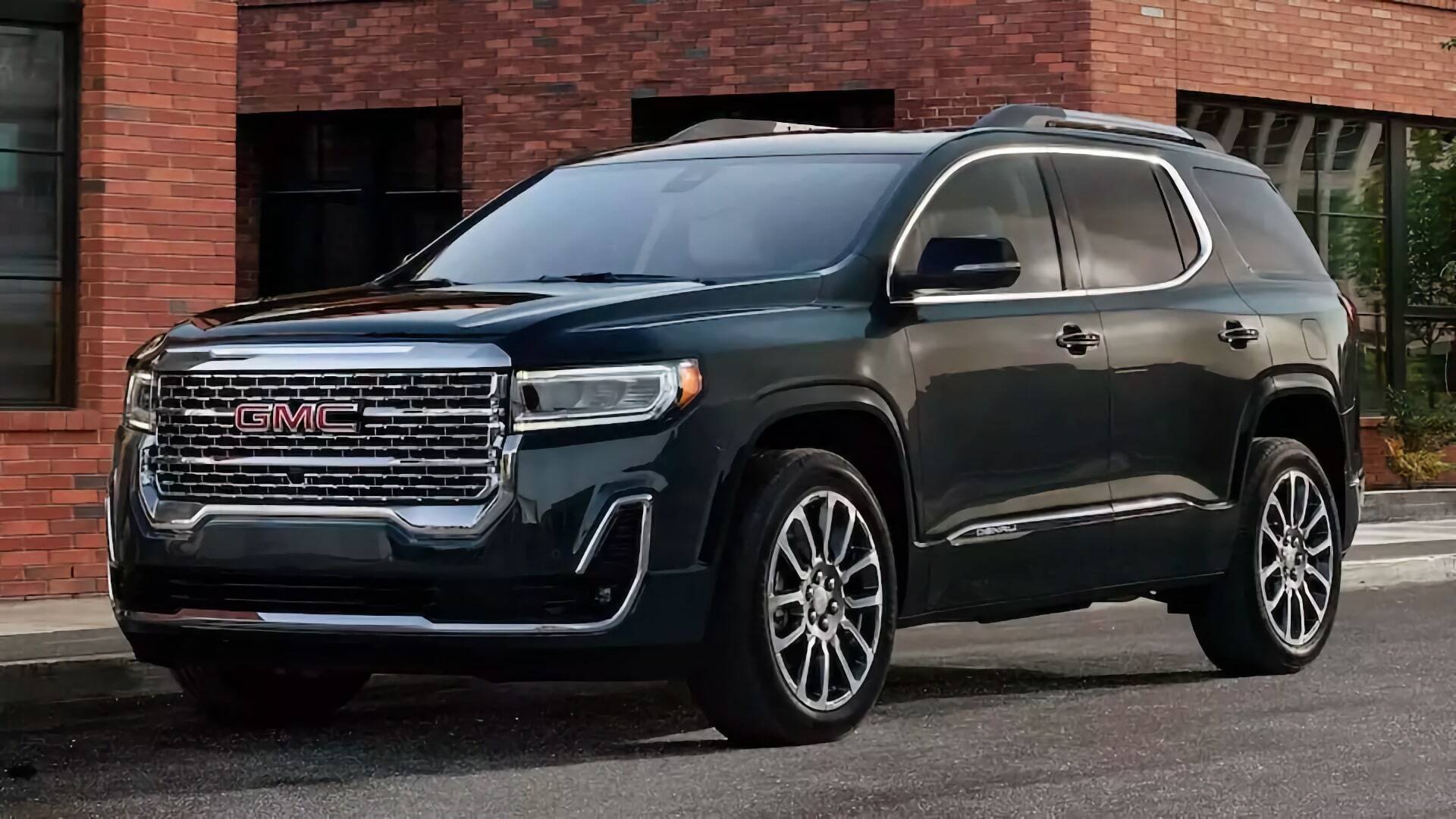 Back in 2006, GM was looking to add a convenient SUV-like crossover vehicle to the lineup that had over 5000 pounds of towing capacity and space for up to 7 passengers. That resulted in the birth of the GMC Acadia, a vehicle that many drivers still swear by today.
After two generations and 15 years of production, we can now properly evaluate this car as a used vehicle, as well as a new one with the latest second-gen models. So, this guide will lead you through the GMC Acadia years to avoid to help you pick problem-free model years.
Most common GMC Acadia problems
The GMC Acadia is one of the best options for drivers looking to get a used mid-size SUV or crossover with a lot of room and solid reliability. Over the years, some common issues have popped up, but the Acadia is overall a pretty good vehicle.
Still, it's worth noting that some model years faced problems that could set you back for quite a few bucks. The first such problem is transmission failure which was mostly related to the first-generation Acadia. On top of that, there were reported problems concerning the airbag system and an issue with dim headlights.
Some Acadia owners have also faced issues of a more serious nature, and it's mostly related to a couple of engine problems that the car reportedly has.
Transmission faults and shifting difficulties
It all started back in 2008 when it comes to GMC Acadia's transmission issues. Drivers have reported numerous problems with the 6T75 6-speed automatic transmission. Some of the most common complaints were associated with transmission completely failing.
On top of that, there have been complaints about the transmission not shifting above the second gear, and activating the limp home mode for no apparent reason. It's, either way, a dangerous issue if you are driving on a Highway. This problem often leads to a transmission rebuild that costs up to $3500 for this model.
Airbag system problems
Another issue that some Acadia models have had concerning driving safety is the airbag system fault. It tends to manifest a bit differently from one driver to another driver, and one of the most common signs is the SRS light that turns on.
The airbag problem was mostly associated with the seatbelt sensor malfunction or the failure of airbag sensors in the car altogether. There's been a recall of the 2012 model Acadia due to faulty side airbags, so it's worth checking if the car has gone through a recall before buying one.
Dim headlights
This is one of the problems that could make a driver wonder about the number of lumens in car headlights since the lights on second-generation Acadia seemed dim. Drivers have reported this issue posing a real safety threat, especially when driving at night.
If the road wasn't properly enlightened, most drivers with this problem relied on their fog lights to add a bit of visibility. The headlights issue persisted for the second-generation Acadia, most notably with the 2017 model year. However, these issues were also reported for 2008, 2010, and 2011 model years.
Engine problems
Besides the transmission issue, engine problems were the highlighted downside of some GMC Acadia model years. These posed red flags for most drivers looking to buy a first-generation Acadia. While the 3.6-liter V6 provided sufficient torque and power, it had a few flaws.
Some standout disadvantages included oil and coolant leaks, as well as head gasket cracks that sometimes turned out to be fatal for the engine. The engine itself is robust and well-designed, but it's sensitive to the slightest decrease in engine oil or coolant leaks, and if not checked regularly, it could lead to expensive repairs.
Which GMC Acadia years to avoid?
The biggest problems that drivers have faced with GMC Acadia included troubles with the automatic transmission and 3.6-liter V6 engine overheating. These issues were later solved with the second generation that introduced a new 2.0-liter turbocharged engine also featured in Cadillac CT6 and Chevy Malibu XL.
The 3.6-liter remained an option for the second generation, but this time it came vastly improved. Along with the engine, the transmission also got updated with a 6-speed 6T50 and a 9-speed 9T50 featured in later model years. Based on this, buying a newer GMC Acadia model is much safer than a first-generation one.
First-generation GMC Acadia (2008 and 2012-2013 model years)
The first generation of GMC Acadia was in production from 2007 to 2017, and while it had some problematic years, not all of them were so bad. Starting with the 2008 model year, the Acadia faced some serious issues with the automatic transmission.
These issues continued for the 2012 and 2013 model year, and to make things worse, there were oil leak and coolant leak issues with the 3.6-liter engine. These were solved with the final years of the first generation and the introduction of the second generation Acadia.
The 2012 model year Acadia also suffered from side curtain airbag issues and this resulted in a recall, so that's another thing to keep in mind.
Second-generation GMC Acadia (2020 model year)
While the second-generation GMC Acadia is still ongoing and it's difficult to assess the recent models with low mileage, there has been just one reported problem. Namely, it's the issue with a rearview camera and it mostly has to do with the way that the cable connectors are set.
Because of this, GM scheduled a recall to prevent the rear camera from completely failing, since it's used in the parking assistance system. If you are looking to get a second-generation Acadia, you might want to avoid this year, although recalled models are just as safe to get with a fixed camera.
The inline four-cylinder 2.0-liter turbo engine also proved to be quite reliable and it makes a better choice than the 3.6-liter V6. While the power output is slightly smaller, the 2.0-liter turbo engine has just enough torque and considerable performance coupled with low fuel consumption.
Best GMC Acadia years
Now that we've spent so much time analyzing the faults noticed in GMC Acadia models, it's time to go through the best model years. Having in mind the severity of the mentioned issues, the Acadia is overall a reliable and well-rounded SUV for family purposes. As long as you avoid the problematic model years like 2008, 2012, and 2013, you'll get quite a bang for your buck.
Our team wants to make sure that you do, so here's a list of the best model years to go for:
2014 GMC Acadia
2015 GMC Acadia
2016 GMC Acadia
2017 GMC Acadia
2018 GMC Acadia
2019 GMC Acadia
2020 GMC Acadia
2021 GMC Acadia
2022 GMC Acadia
The most important thing is that the later model years from the first-generation Acadia had significant transmission improvements. While it's not as reliable as the 6-speed automatic and 9-speed automatic from the second generation, it's still a much better option to go with the 2014 and later models.
When it comes to other issues that the early Acadia models had like airbag faults and coolant leaks, the turbo engine type in the second generation solved it. The problem concerning dim headlights remained, though, and it was only solved by legally replacing the light bulbs.
Aftermarket parts aren't allowed in most US states, so the only solution is to reach out to the GM parts dealership for recommendations regarding more powerful bulbs. Other than that, the Acadia is overall a pretty solid SUV and it comes with quite affordable maintenance given the space it offers.
Is the GMC Acadia worth buying?
When the time comes to make a final verdict on the reliability of GMC Acadia, it's worth looking back at its main faults. It's known that you might have some struggles with engine and transmission maintenance for 2008, 2012, and 2013 models.
However, outside of these model years, GMC Acadia rates more than well when compared to vehicles like Hyundai Santa Fe, Ford Bronco, and Kia Telluride. It's a worthy buy, especially for the second-generation models with low mileage on the used cars market.
What are the worst years for GMC Acadia?
The worst years for GMC Acadia were 2008, 2012, and 2013 model years, and it's best to go with later models from the first-generation or second-generation models that are more reliable.
How many miles does a GMC Acadia last?
If properly maintained, GMC Acadia can last around 250,000 miles with original engine parts and regular servicing.
Does GMC Acadia have transmission problems?
Yes, GMC Acadia has transmission problems concerning the first-generation models and the 6-speed automatic transmission in particular, which was sorted out for the later Acadia models.