Chevy Sonic years to avoid — most common problems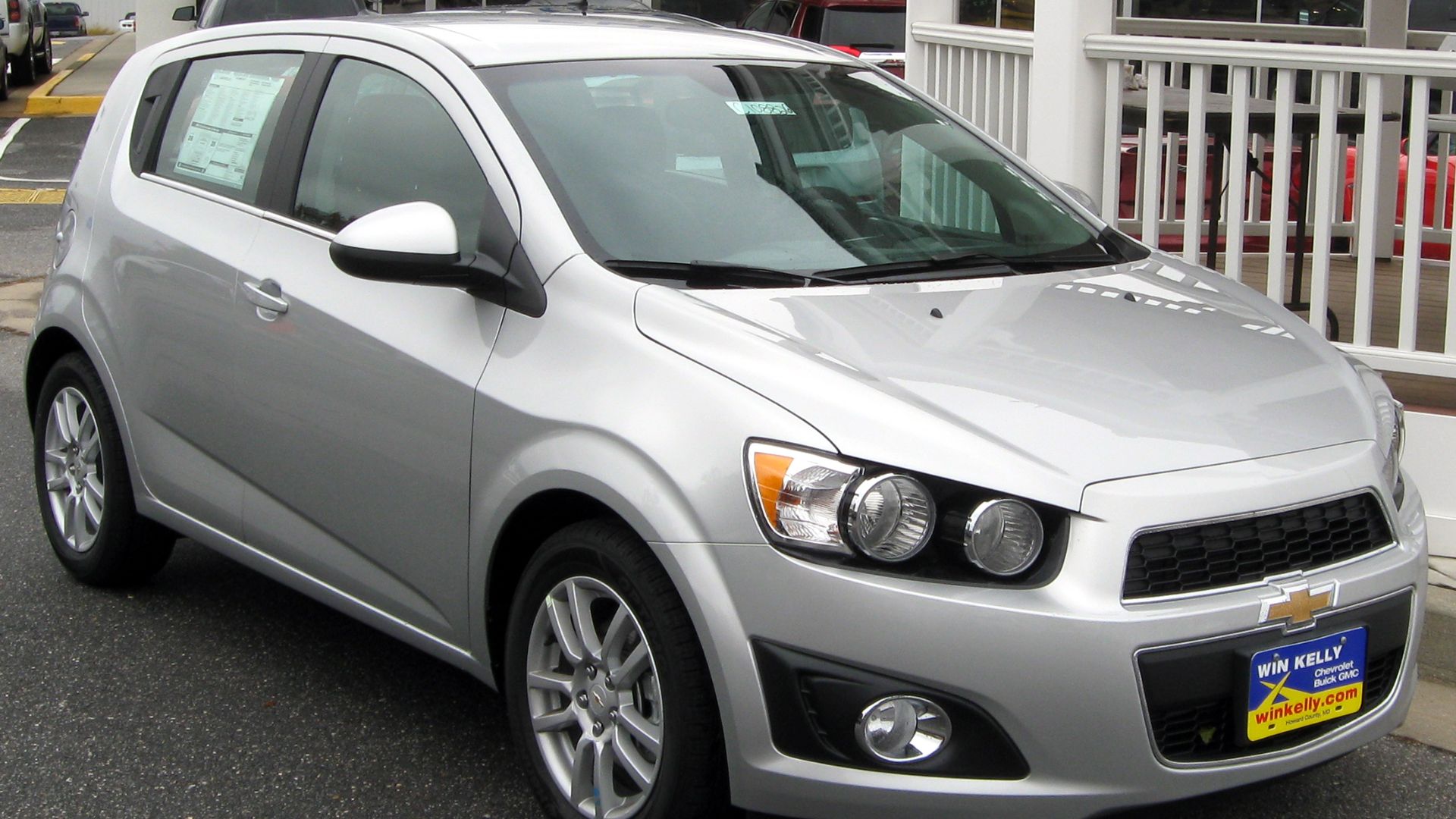 The Chevy Sonic replaced the Aveo as Chevrolet's compact, affordable vehicle for the 2012 model year. It offers outstanding fuel economy and responsive handling for a low starting price, but its age is noticeable compared to more recent subcompact cars from Chevrolet and other manufacturers.
The Sonic still has flaws despite coming from a reputable automaker, and transmission issues are the most common problem with this model. In this article, we will look at the Chevy Sonic years to avoid problems common to this model, and the Sonic's best and worst years.
Most common Chevy Sonic problems
The problems with certain model years could ultimately cost you thousands of dollars in maintenance and replacement costs. These problems are:
Reluctant gear shifting
Shift reluctance is the most frequent Sonic transmission issue. Although there is a Sonic model with a manual transmission, this issue only occurs with the automatic model. After 30,000 miles of driving, the problem becomes apparent.
To indicate that the computer in charge of shifting the gears is not functioning correctly and at the appropriate time, the vehicle will appear to be working harder than it should, either by accelerating up or slowing down.
Transmission failure from turbine shaft fracture
The turbine shaft is crucial for transmitting power from the engine to the wheels; if it breaks, the car can no longer function. Depending on whether the vehicle is in first through second gear or third through sixth gear, the Chevy Sonic's turbine shaft fracture has two possible results. The first scenario is the less hazardous of the two since the automobile can no longer shift above the second gear, which causes it to slow down considerably and give the driver more time and engine power to avoid oncoming traffic.
If the turbine shaft fails when you are shifting between the third and sixth gear, the car quickly comes to a complete stop. After 70,000 miles of use, this issue usually manifests itself. Since the entire transmission must be replaced if this occurs, the repair costs between $3,000 and $4,000.
The shifter button becomes impossible or difficult to press
According to Sonic owners, the shifter button on the stickshift becomes stickier and more difficult to press with time, finally becoming unusable. This problem can result in the frustrating position of being unable to enter or exit reverse. This annoying issue is inexpensive to correct since the car's more intricate and delicate mechanisms are not at fault. However, in severe circumstances, it might still make Sonic useless.
The sticky shifter button had the potential to be exceedingly dangerous in some situations since it would catch the stickshift mid-gear, which would allow the lever to be accidentally and quickly flung into reverse while the vehicle was traveling swiftly. This issue typically arises after 54,000 miles of driving and may be fixed for only $40. The 2012 Sonic exhibits it the most frequently.
Check engine light issues
There aren't many immediate repercussions that could result from this issue, but if the check engine light loses its usefulness, many long-term problems could go undetected. When your automobile has been operating smoothly for some time, it can be tempting to ignore the check engine light, which is dangerous.
The check engine light on the 2012 Chevy Sonic frequently illuminates without apparent reason. This issue typically arises at 52,000 miles and may be fixed for only $100 to $200. In case the warning shows up for no obvious reason, it can be sorted out even for less with a trick to turn off the check engine light.
Engine stalling at random or not starting
Some 2014 Sonic owners have noted a pattern of stalling and power loss that isn't related to the transmission. Drivers either encountered this issue when they tried to start their parked automobiles or were on the road and discovered that everything that needed power had abruptly shut off.
Some Sonic drivers discovered that the issue vanished temporarily or entirely, while others experienced a harsh awakening when it reappeared. The average cost to repair the Chevy Sonic's stalling problem was $1,350, which often cropped up after 70,000 miles of driving.
Radiator leaking
A malfunctioning water pump, thermostat, hose, or coolant might cause a Chevy Sonic radiator leak. The radiator leak will cause your engine to run hot or overheat, and a cracked head or a faulty head gasket is just two long-term severe effects of overheating.
Which Chevy Sonic years to avoid?
Despite being reasonably priced and simple to operate, some Sonic models had more issues than others. Below is a list of the worst years:
First-generation Sonic (2012-2015 model years)
The 2015 Chevy Sonic is the least problematic vehicle on the list of the worst years, but it received several complaints. Electrical issues with the car, including lights turning on and off, doors locking and unlocking, dash lights turning on and off, and loss of power steering, were common complaints. Numerous owners also complained of engine stalling, connected to antifreeze leaks.
The 2014 model had common issues like the passenger seat light coming on and off on its own, the vehicle starting on its own with no manual input, the car sporadically not responding to the fob, and the inability to get the key fob out of the ignition.
Engine issues were well-known to exist with the 2013 Chevy Sonic. A variety of problems, including coolant leaks, radiator fan failure, catalytic converter troubles, and thermostat failure, were reported by owners. There have been numerous reports of odometer problems, with owners claiming that the dashes on their Sonic's odometer suddenly replaced the mileage reading. Also, owners frequently complained that their automobiles would blow hot air instead of cold due to air conditioning issues.
It should not be surprising that the 2012 model is the most problematic statistically because it was the first cheap car generation. Unintentional acceleration, abrupt jerking or shifting, and jammed gears were all reported by owners (unable to shift gears). This model was infamous for having a poor transmission prone to failing early.
Best Chevy Sonic years
The Sonic years listed below are the best options when purchasing a Sonic vehicle;
2020 Chevy Sonic
2019 Chevy Sonic
2018 Chevy Sonic
2017 Chevy Sonic
2016 Chevy Sonic
The 2020 Sonic is undoubtedly the best model because it has the fewest issues and is also the most technologically sophisticated in terms of features and safety gear. It is compatible with Android Auto and Apple CarPlay and has a built-in 4G LTE hotspot. Despite being a small vehicle, it has a roomy interior for its class and a powerful engine. In addition to removing the six-speed manual transmission, two new paint colors were added for 2020.
Another safe option is the 2019 Chevrolet Sonic. This model received very few complaints, partly attributed to its simplicity but also because many of the issues with earlier models had been fixed by the company. According to auto reviewers, this model has stylish aesthetics, a fast engine, and generous storage. The base 1.8-liter engine was dropped for 2019 in favor of the turbocharged 1.4-liter engine as standard.
Additionally, Chevrolet discontinued the Fun and Sun package (17-inch alloy wheels, 1.4-liter turbo engine, sunroof), and the remote start was added as an option to the LT Convenience Package. The MyLink infotainment system was improved, and a second USB connection was added to the 2018 Sonic. Furthermore, it received high marks for crash test safety.
The 2017 Sonic is moderately priced and features a nice interior. Anyone looking for basic transportation should take a look at it. For 2017, the Sonic underwent a significant facelift that included new headlights, an enhanced rear fascia, a redesigned bonnet, front fascia, a significantly smaller grille, and updated taillights.
New wheel designs and package choices with features like heated seats, a heated steering wheel, keyless entry, and remote starting were launched. The 2016 Chevy Sonic is an excellent choice if you're on a tight budget and don't care about the latest updates. This model has fun driving nature and a relatively roomy interior.
Is the Chevy Sonic worth buying?
Considering the cost of purchasing and maintaining a Sonic, the model is worth buying if you're on a low budget.
Are Chevy Sonics reliable cars?
Chevy Sonics are not the most reliable cars in the market and this is evident in their poor reliability ratings over the years.
How many miles is a Chevy Sonic good for?
According to various mileage figures, a Chevy Sonic may travel between 150,000 and 200,000 miles. Even high-mileage Sonics with around 400,000 kilometers were discovered. 
Which is better, Chevy Sonic or Spark?
The Spark is an excellent option if you only want to use your compact car for commuting and don't require more passenger or baggage capacity. The Sonic is a better choice for those who frequently plan to transport both passengers and freight. Both vehicles are inexpensive for their class and offer the same level of dependability and quality as the Chevrolet brand.
Why did Chevy stop making Sonic?
Chevrolet sold 13,971 units in 2019, down significantly from 55,255 in 2016, highlighting the segment's overall decline over the past ten years and the model's year-to-year sales decline. This sales decline prompted the company to discontinue production.