Car shakes when braking — causes and fixes
Address the common causes and straightforward solutions for a car that shakes when braking.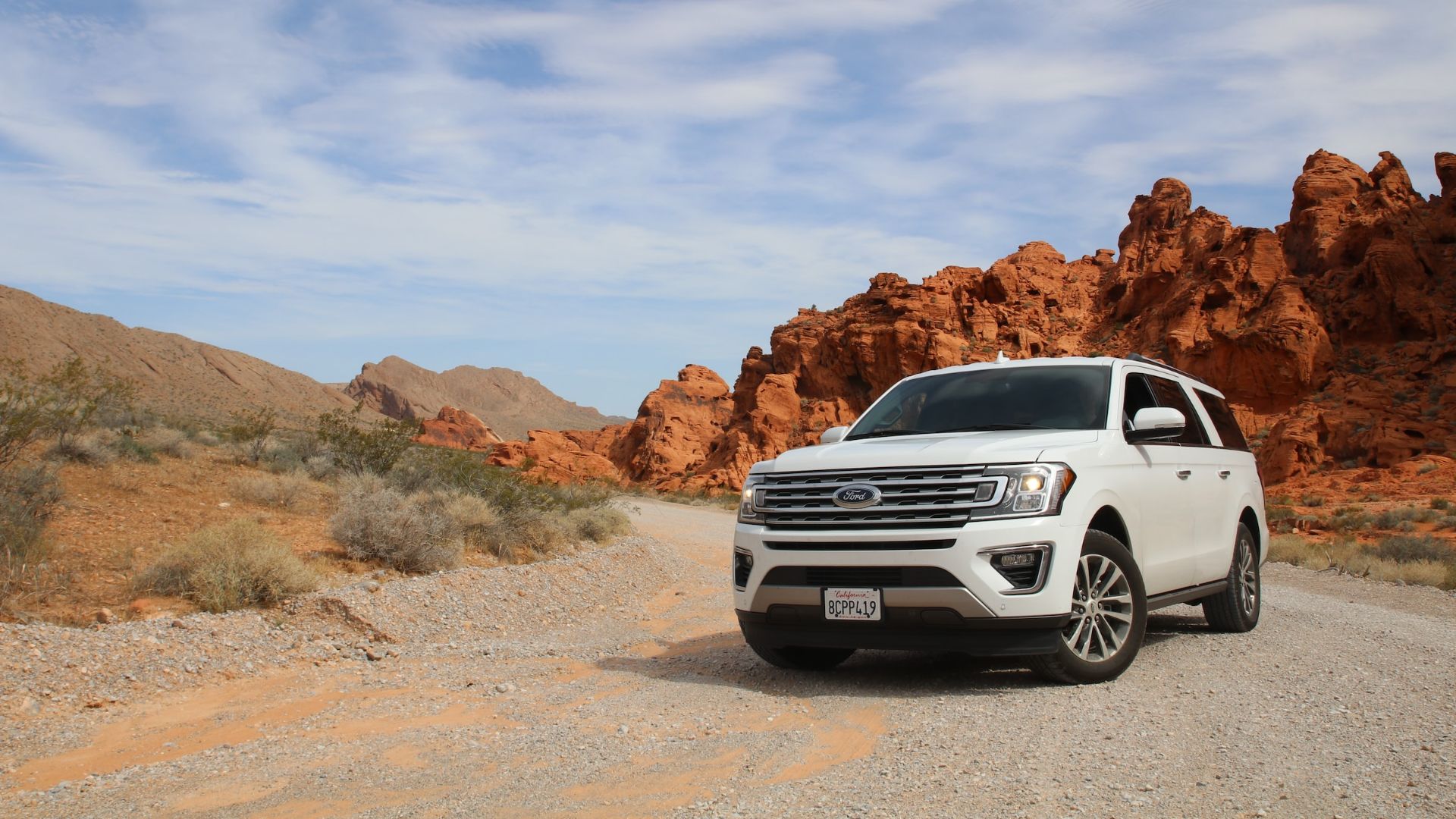 Your car's brakes are the most important safety feature, so it doesn't help boost your confidence behind the wheel if you sense shaking or vibrations. If your car shakes when braking, it could be an alert telling you that something's wrong with the braking system.
However, it doesn't have to do with your brakes alone, since it could also be a matter of suspension. We know that hearing even the slightest sound or feeling vibrations as you drive is a huge mood breaker. That's why we'll help you get through it with this guide that's all about breaking the myth behind a shaking sensation as you brake.
Reasons behind a shaking sensation while braking
As a driver, you know how your car acts with sudden brakes better than anyone. So, if you sense vibration or shaking as you suddenly step on the braking pedal, the most important thing is to pay attention to the source. Some of the most common reasons behind the shaking feeling when braking are as follows:
Damaged suspension parts
Worn-off braking system components
Tires
The first thing you can do is observe if the shaking noise only appears when you step on the braking pedal. If it does, chances are that you have worn-off brake pads or other braking system components. Because of this, your car's braking distance won't be as short as you might be used to, and it's a clear sign that the braking system needs some repairs.
Still, it's also possible that the treadwear of your tires is worn-off, and they are ready to be replaced with a new set. Other tire issues might excessively show up as you step on the brake since this is when the friction between tires and the road generates the most heat.
The suspension could also need some adjustments, especially if you sense shaking as you brake right after you hit a deep hole or road bump. That's why it's worth checking into it all to figure out the source of the problem.
First things first – check your brakes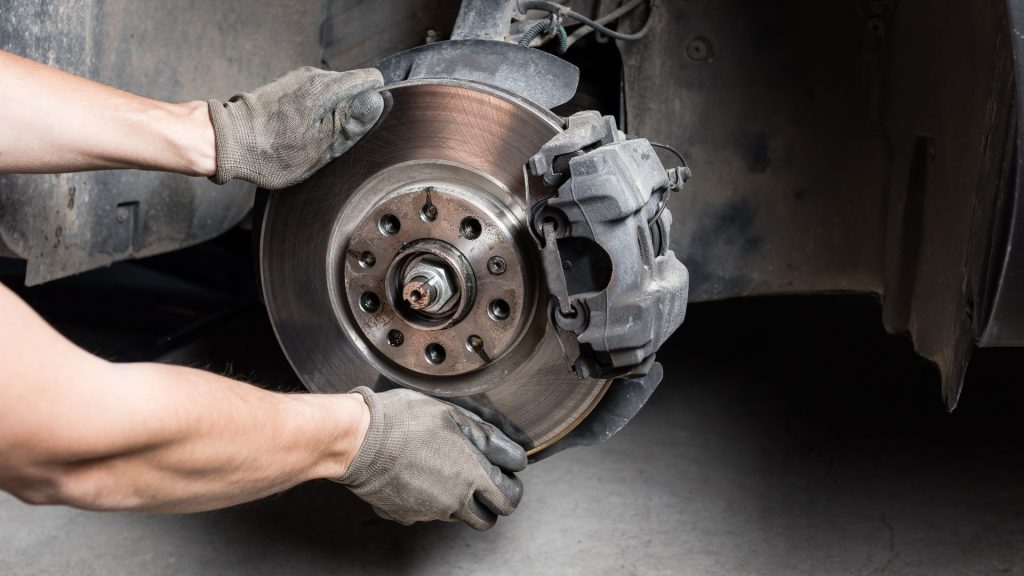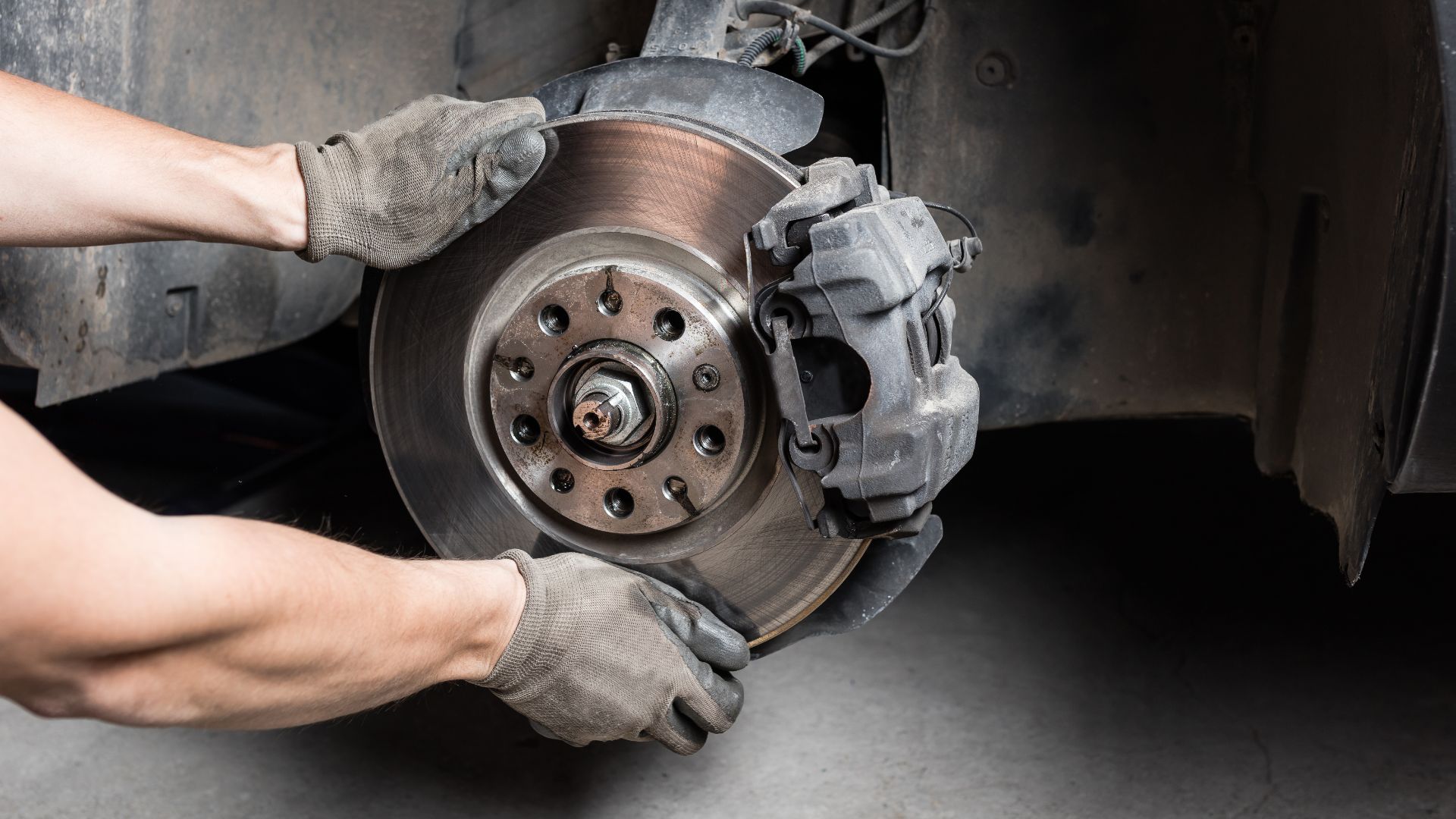 It's a logical first step to check your brakes first in case you sense shaking when you brake. Especially if our theory on worn-out brake pads is correct, your car might be suffering from warped brake discs. It often happens when your car stands still for too long, or once the contact material from your brake pads wears off.
At this point, only a metal frame remains, and it can warp the discs due to constant friction while braking. Braking discs also need to be replaced along with your brake pads, and a signal of excessive wear could be a creaking noise when braking.
It could also be due to caliper guide pins that need lubrication since these pins guide your brake pad to hit the disc at the right angle. If they aren't, certain areas of your discs will be worn off more than others, which causes distortion and those deep vibrations as you step on the braking pedal.
If you have a car with alloy wheels, you can easily see through and inspect the disc yourself. If it's nearing the replacement time, you'll notice rust and signs of braking friction in terms of round "cuts". Not only would a worn-off or warped disc trigger shaking sensations while braking, but it would also lower the brake power. So, you truly endanger your safety by keeping on driving with your brakes being in that condition.
Why does it feel like my tires are shaking when I brake?
It could feel like your tires are shaking when you brake if they are under-inflated, or if there's a difference in treadwear between the tires. The best way to put this statement to a test is to visit the nearest gas station and adjust the tire pressure with a tire pressure gauge.
If you keep feeling like your tires are shaking as you brake afterward, it could be due to unbalanced tires. In this case, you'll also feel steering wheel vibrations and shaking, and you'll notice uneven treadwear. Unbalanced tires feature unequal weight distribution, so the braking pressure on some tires could be greater than on others.
Not only will you risk experiencing frequent shaking by driving with unbalanced tires, but you would also risk wasting a tire much faster than usual.
Shaking caused by a damaged suspension component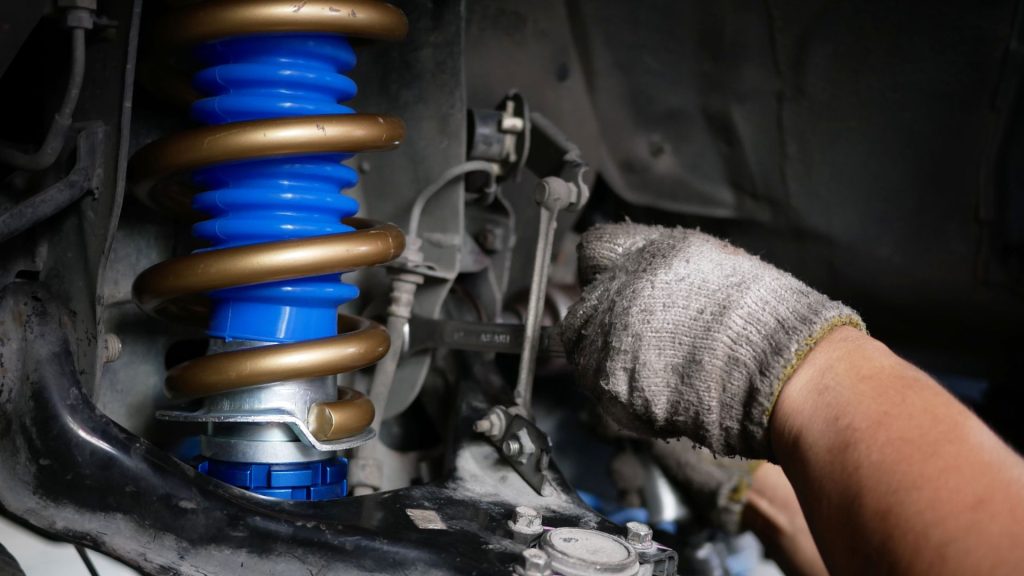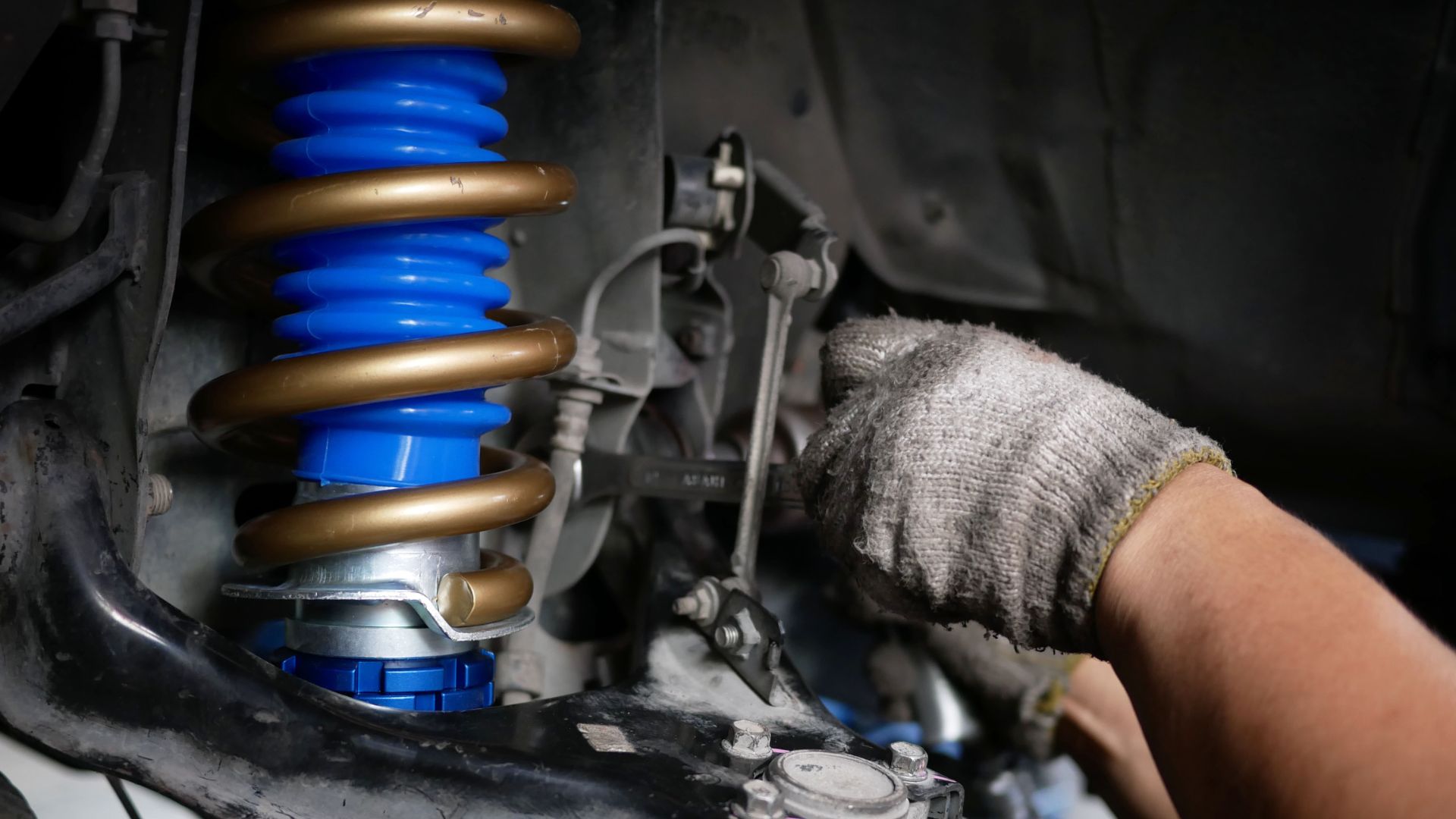 If it's not your tires or braking system that's causing those vibrations and shaking, look no further than your wheel bearings. These could easily result in a shaking sensation when you brake since wheel bearings connect the wheels with the axle.
They let your wheels rotate without friction issues, and hold your tire's firmly attached to the wheel. In case of a bad wheel bearing, you'll feel that your car pulls to the side when you hit the brakes. On top of that, you might need to inspect the wheel alignment issues, since pulling to the side is also a sign of that.
This isn't something that should be taken lightly, since your car's suspension ensures a safe and smooth ride while going over bumps and holes. If the suspension parts can't absorb the energy properly, you'll experience excessive vibrations and shaking while driving.
Why does my front end shake when I brake?
Your car's front end might shake when you brake due to warped, rusted, or worn-off brake discs. In this case, you should immediately replace the rotors and check your brake pads as well, since excessive wear of the rotors is often caused by worn-off brake pads.
If you have warped brake discs, you'll feel as if your car's front end vibrates as you press the brake. Having your brake discs replaced will restore proper braking distance and braking power.
Is it bad if my car shakes when I brake?
Yes, it's bad if your car shakes when you brake since you either have worn-off tires or damaged braking or suspension parts. Don't worry though – if you get your car inspected as soon as you notice the shaking, you won't risk your safety, or greater damage done to your vehicle.
Make sure to check your tire pressure, since even changes in weather conditions can result in under-inflated tires, so that would be the best option. On the other hand, you might have to do some braking system repairs, but still, safety comes first when driving.
Why does my car shake when I brake with new brakes?
Your car shakes when you have new brakes since sometimes is needed for brake pads to bed in with the discs. You might also hear some braking noises even though the brakes are new until the pads adjust to the shape of brake discs that hadn't been replaced.
Once the braking components adjust, you won't feel any vibrations or grinding noises when braking. On the other hand, you can have your brake discs skimmed or restored to make them adjust to new brake pads faster. In this case, it's similar to having completely new brakes, so you won't hear any noise or shaking when you brake.
Our take
In the end, if your car shakes when braking, it can be anything from worn-out tires to braking and suspension components. Still, this guide holds useful pieces of info that will, hopefully, help you determine the real cause of the problem.
This way, you can save yourself the trouble of inspecting brakes if you just have under-inflated tires or need tire rotation or balancing. If it's not the tires, don't postpone braking system inspection – it's worth it to ensure both a pleasant drive and a safe driving experience.