What are bushings on a car? — explained
Understand the role of car bushings in vehicle performance.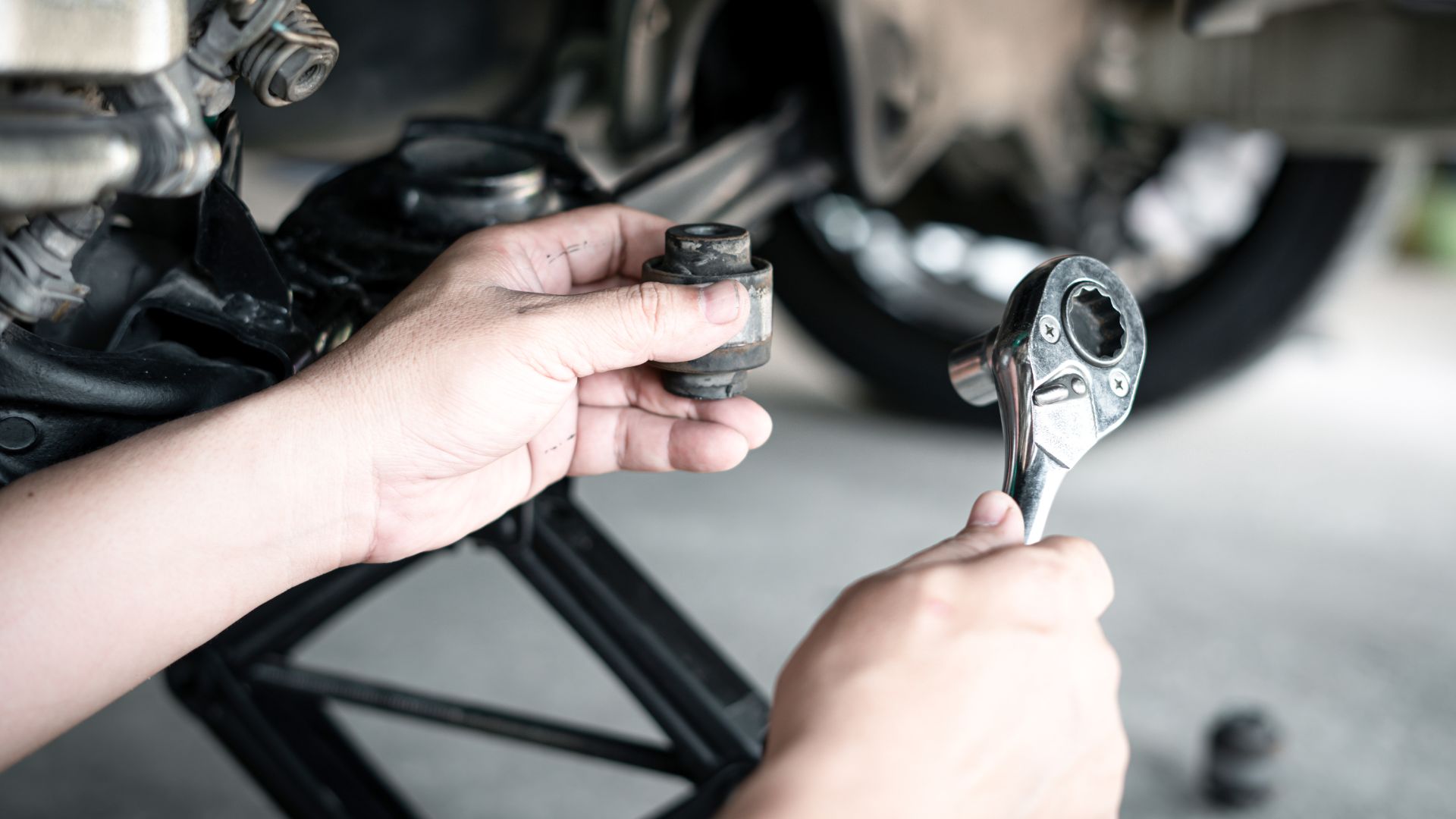 Bushings are small rubber suspension components that isolate vibrations and support and decrease friction between metal parts on a vehicle.
Although bushings may look small, they play significant roles in your driving comfort and the longevity of your steering system.
Bushings became common in the 1930s owing to their longevity, practicality, usefulness, and lack of deterioration. In most cases, bushings end up outlasting the vehicle's service; however, this could change if the driver is unskilled or rough while driving.
When a bushing is worn out, it shows symptoms like excessive vibration and road noise, clunking or rattling sounds, or even wobble steerings, leading to poor handling conditions.
When worn bushing symptoms arise, a simple bushing replacement could be quick and low-cost, which would help prevent expensive replacements or even physical injuries.
This article explains car bushings, provides a guide on replacing suspension bushings, and answers related questions.
What are car bushings?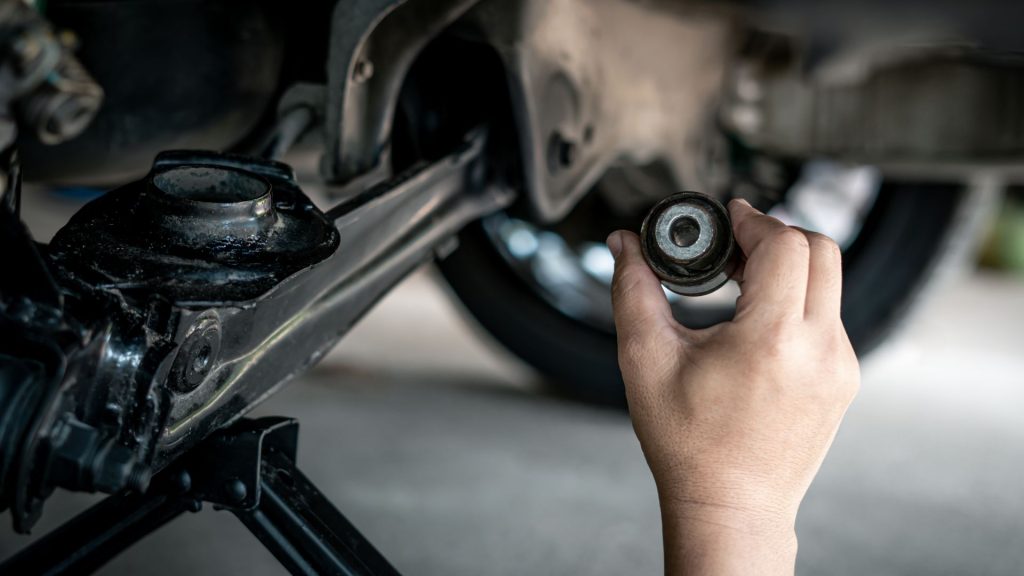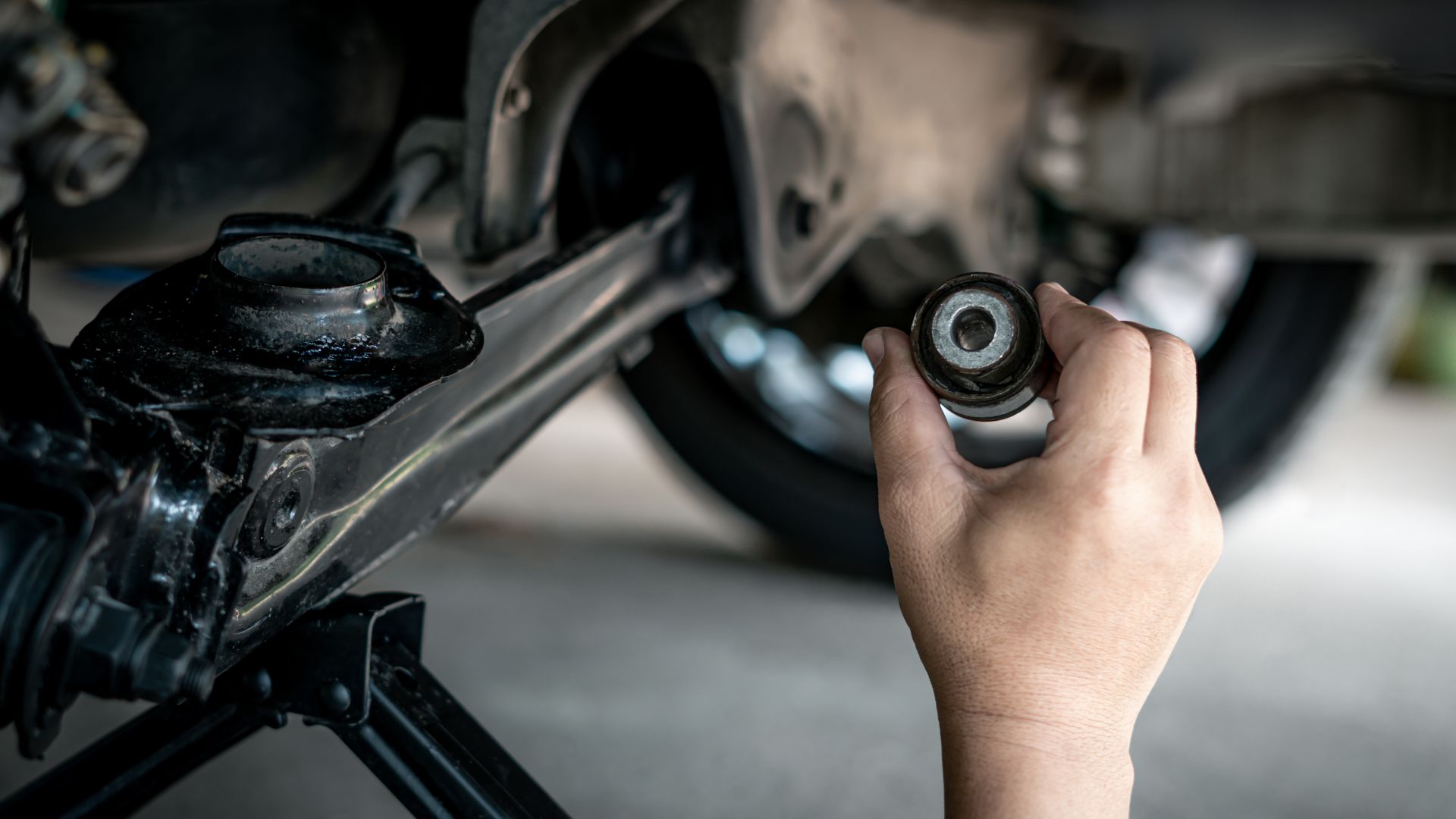 Bushings, also known as anti-vibration mountings, allow vehicle parts to move without sending vibration to the cabin. Like sway bar links and control arms, limited-motion joints usually use bushings. While you may be able to fit some bushings with oil, others need to be molded, allowing them to be softer or harder in any direction.
What are the types of bushings on a car?
Many types of bushings are used in a car, like control arm bushing, leaf spring bushings, shock absorber bushings, steering rack bushings, and suspension bushings. Below, we briefly explain a few types of these bushings:
Control arm bushings
These are found between your vehicle's frame and the control arm, and they play a critical role in tire alignment and directly affect your tire wear, vehicle control, and handling. Most vehicles use up to two control arms per wheel, on the front and rear suspension, with two bushings on each arm. If you notice any bad control arm bushing symptoms, it's crucial to have it checked as soon as possible to avoid problems controlling your ride while on the road.
Stabilizer bar bushings
These bushings are mounted on anti-roll bars underneath the car to prevent excessive vehicle roll (side to side) that typically happens during cornering. They wear more rapidly as a result of their constant flexing and twisting. There are usually two stabilizer bars on a vehicle (front and rear) with two bushings to each stabilizer.
Leaf spring bushings
This type of bushing is located in the 'eyes' of the leaf spring. Leaf springs are often used in the rear suspension of heavy-load-bearing vehicles.
Suspension bushings
These are critical parts of your vehicle's suspension system. They are plastic parts that are fitted between suspension parts to prevent erosion that would have occurred from metal contact in the suspension system.
How long do car bushings last?
Bushing life differs by manufacturer, type, and driving conditions. Generally, new bushings should last between 40 to 100,000 miles with a life expectancy of 80,000. Considering how long bushings last, expecting them to wear out slowly is okay.
Tips for replacing bushings
In case you are a DIYer and would like to replace your bushings personally, we've got a list of a few things you should keep in mind when carrying out the operation:
Use the correct suspension for your vehicle -while bushings may look the same, certain internal features are designed for different operations.
You'd always want to replace sway bar bushings in pairs.
Carry out dimensional checks of the part before fitting the bushing.
Tighten the fitting with your vehicle on the ground before taking it out for a test drive. Failure to do this could put unnecessary stress on the bushing in the incorrect position, leading to early failure.
How to replace suspension bushing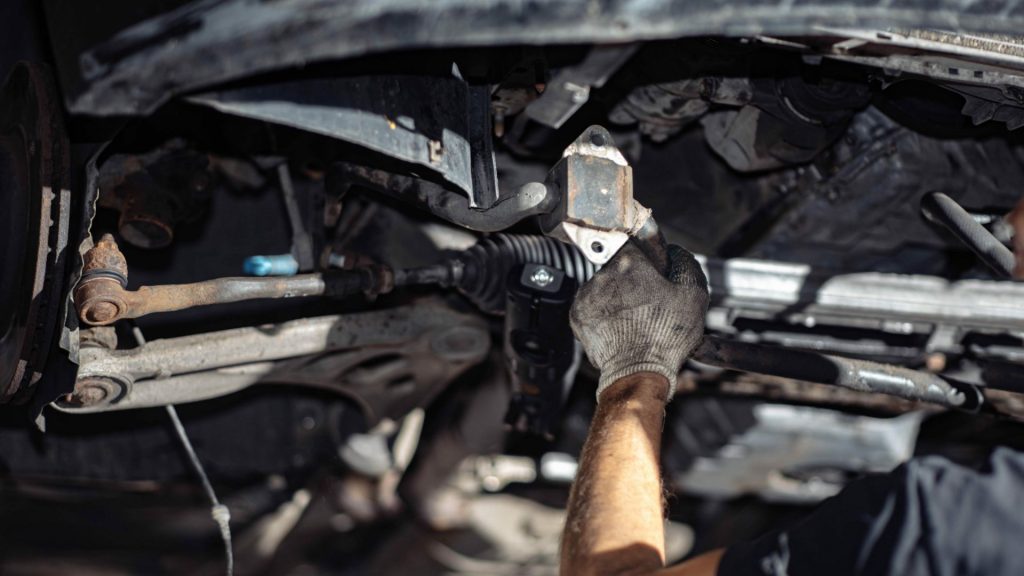 For this guide, we'd focus specifically on suspension bushings. The steps involved in replacing a vehicle's bushing are comparatively easy to grasp and can usually be achieved in about an hour or less once you get the hang of it.
However, your first attempt at replacing your vehicle's bushing may take several hours. Hence, it is best to do this task during a free afternoon.
Bushing replacement tools
Before you begin the process, put aside all the parts and tools required to complete the task:
To accomplish a bushing replacement, you will need the following tools:
A flat-head screwdriver
Torque wrench
Floor jack
Clamps
Two jack stands
Open-end wrench
Using a receptacle to protect against the chances of fluid loss from your vehicle might be necessary.
Lower the suspension
You must remove the rear suspension assembly to access the suspension bushing. You can take off the two sides if the rear suspension on your vehicle is independent. To elevate the car, raise the rear with a jack and suspend the vehicle with jack stands.
At the rear suspension, remove the rubber shock absorbers and bolts. This allows you to lower the rear suspension. You could also disconnect the rear brake lines if need be.
Disengage the rear bushing assembly
Now that we've got the suspension out of the way remove the part of the assembly containing the suspension bushing. Each side of the vehicle will have one or more of these parts. Slacken and take off the center bolt to remove the assembly.
Clamp the bushing assembly
With your vehicle's suspension bushing assembly taken off, bring it to your garage and place it on a table. Use a vice or two clamps to hold the assembly together as you remove the bushing.
Remove the old suspension bushing
With the bushing assembly firmly fastened to the workbench or table, force the old bushing from the assembly with a screwdriver.
Lubricate the suspension parts
Lubricate the suspension part before applying a new suspension bushing. You should ensure coating all parts that would rub against one another in the assembly. The lubrication is essential to prevent friction when the assembly parts come in contact with each other.
Additionally, the metal and rubber parts will only be in good condition if there is good lubrication.
Reassemble the suspension bushing assembly
After applying lubrication to the moving part, get all the assembly pieces together. Install the new bushing and retighten the nuts and washers.
Reattach the bushing assembly to your vehicle's rear suspension
To reattach the bushing assembly to the car's rear suspension, reverse the steps you took in disassembling it. As you do this, ensure everything is done in the correct order. With all the parts secured tightly, torque the bolts according to your vehicle's specs.
Take off the jack stands and lower your vehicle to the ground. Go for a test drive to confirm everything is fixed. You deserve a pat on the back if the noises and tremors are gone.
How do I choose the correct bushing replacement?
For a DIYer driver, if your vehicle's suspension is stiff and maximizes tire adhesion to the road, you should use a hard rubber bushing with very little give. However, there is a downside to this. Although it improves handling, it has a potential increase in noise and offers less comfort.
Conversely, you would get less noise from a soft bushing with low shore hardness, but this comes at the expense of your vehicle's handling. Therefore, it is critical to get the right balance; this is where a professional should come into play.
How do I know if my bushings are worn?
Bushings do not have specific replacement intervals; however, they get worn with time, owing to their continual contact with other vehicle components. Below are the signs to look out for:
Steering issues
When your suspension bushes begin to fail, steering challenges are one of the first indicators to pop up. This bushing failure causes your steering to become less responsive, especially when driving at high speeds. You may even feel your steering wheel vibrate in motion or braking.
Unstable braking
A sudden deterioration in the efficiency of your brakes may result from faulty suspension bushing. Other signs may include a clunking noise from the control arm following a braking, bump, or a hard turn.
Low performance and comfort
Bad bushings compromise the driving performance and comfort your vehicle provides. Since suspension bushings primarily act as cushions against minor knocks, a faulty one will be ineffective, thus leading to vibrations throughout the drive.
Uneven tire wear
Worn bushings also affect your tire's wear rate, so you should check your tire tread regularly for signs of uneven treadwear. Uneven wears usually point to alignment issues primarily caused by worn bushings. Not only does it lead to expensive repairs, but it also affects your traction and driving performance with lower tire tread depth.
Is it safe to drive with broken bushings?
No, driving a vehicle with wholly damaged bushings is unsafe. Since bushings act as cushions to the critical front end or steering components, their failure could cause these components to snap, resulting in severe vehicle damage. Still, most critically, it will cause an extreme safety hazard for you and every other person in the vehicle.
We recommend replacing those bushings as soon as possible to avoid critical mechanical part failure or injury.
Our take
While bushings may look small and insignificant, they play a critical role in ensuring your vehicle's moving components run smoothly. It would help if you visited a professional mechanic to diagnose and replace your bushings once you notice signs like wobbling, clunking, or rattling noises. Failure to attend to this at its early stage may result in mechanical components failure and, in worse case scenarios, may even lead to accidents.
How much does it cost to replace bushings on a car?
Generally, a complete car bushing replacement costs between $100 to $500 for parts and labor.
Can you drive with broken bushings?
Yes. However, while you may be able to drive with broken bushings, it is unsafe to do so, and you can run the risk of severe accidents or injuries.
How do I know if my bushings are worn?
Worn bushings allow more movement. The front of the vehicle may feel wobbly, and you may hear rattling or clunking noises on rough roads when hard braking or turning the wheel.
How important are bushings on your car?
Bushings are important car parts because they act as cushions between vehicle parts, controlling the amount of movement in the joints. They provide comfortable rides by reducing vibration, harshness, and road noise.