Toyota FJ Cruiser years to avoid — most common problems
Understand the crucial years to steer clear of when considering a Toyota FJ Cruiser.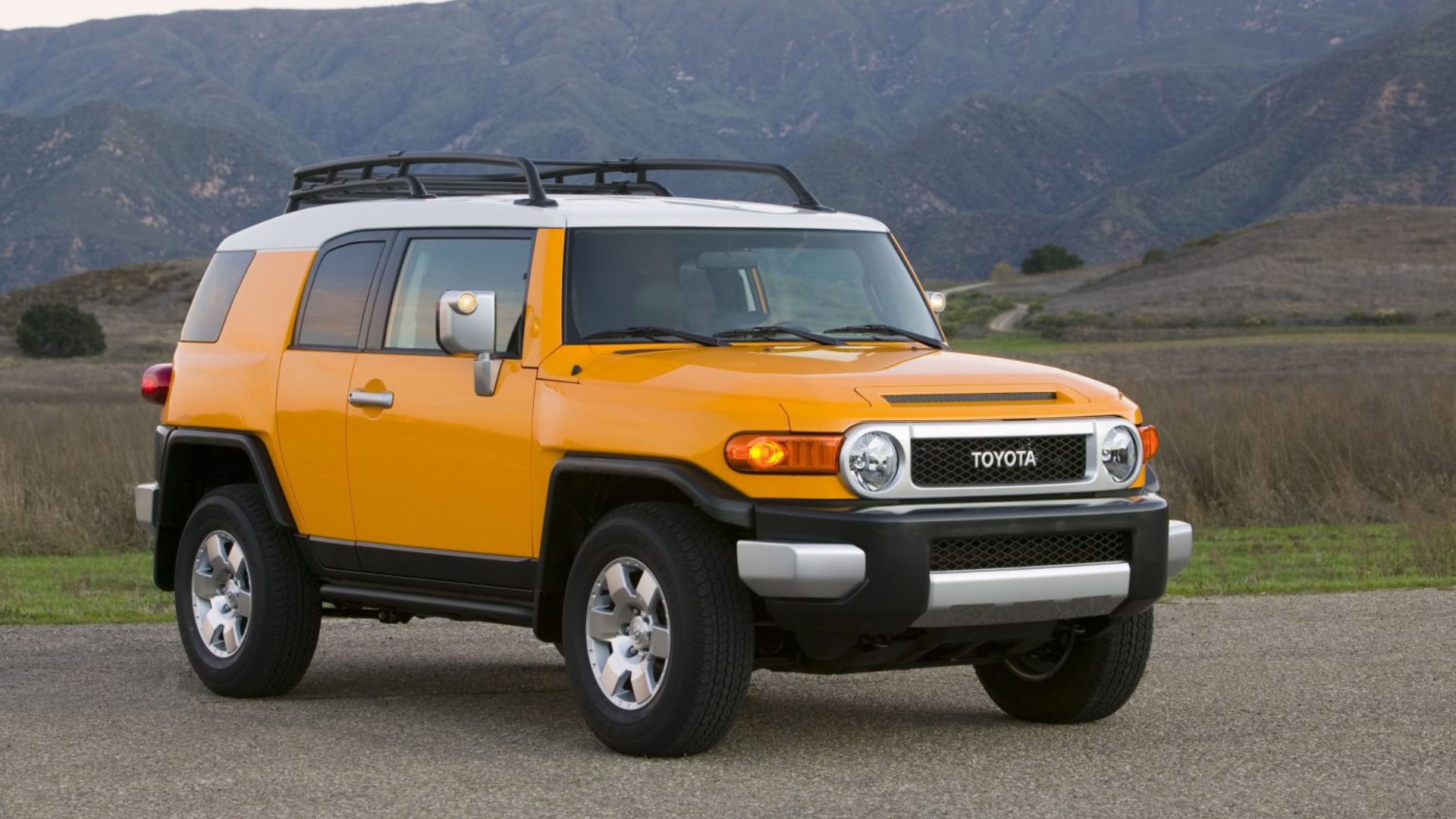 Toyota is a car brand known for its production of reliable cars and SUVs like the Land Cruiser and 4Runner, and their FJ Cruiser model has been subject to a lot of controversies. it's a model with a rather retro styling and a unique appearance for the era. It may not be the most modern-looking car of that time, but it surely has its benefits with an all-terrain drive and a spacious interior.
However, there are some FJ Cruiser years to avoid and we'll tell you all about them in this guide so you can come at it prepared when shopping for a used FJ Cruiser.
Most common FJ Cruiser problems
Over the years, the FJ Cruiser had a fair share of problems that almost make it seem like it's one of the worst vehicles that Toyota has made. However, these are mostly light issues that can easily be handled, and there weren't many reported engine problems. All the vehicles are equipped with Toyota's 4.0-liter V6 engine which proved to be as sturdy as it gets.
However, the 5-speed automatic transmission wasn't as reliable as the engine itself. So, drivers have experienced shuddering and noises followed by transmission fluid leaks, and that often led to a $2000 rebuild. It's truly a problem that can set you back for quite a bit, so it's worth inspecting the transmission when buying a used FJ Cruiser.
On top of that, drivers have reported some issues associated with faulty drivetrain components, tire pressure monitoring systems, as well as fuel pump stalling. Of course, not all the problems were as serious as transmission faults, and there were some issues with door linkages, equipment labeling, and tire beads.
Transmission faults
No driver wants to walk up to a car only to see the transmission fluid leak when parked. In this case, chances are that the transmission is affected by problems that lead to it eventually stalling. Transmission faults that FJ Cruiser drivers have experienced over the years include excessive noises during gear shifts, shuddering, and sluggish gear changes.
In some cases, this can turn out to be dangerous if you can't get peak torque from the appropriate gear, it can be difficult to properly overtake cars and drive at higher speeds on a highway. Because of all this, you should either inspect the transmission before the purchase or go with a 6-speed manual transmission instead.
Faulty drivetrain components
Besides the transmission problems that drivers have reported for an FJ Cruiser with an automatic gearbox, there are also some drivetrain problems specific to this car. Drivers have reported symptoms of bad CV joints, rattling noises caused by bad bearings, and driveshaft issues.
Because of all this, it becomes impossible to properly drive the car without stability issues or noises and that makes every ride a drag. Transmission shudder sometimes occurs along with these problems, so it makes it difficult for drivers to keep control over their vehicles.
Tire pressure monitoring system faults
One problem that might not be as severe as transmission and drivetrain problems, but still makes you wonder is the TPMS fault. The tire pressure monitoring system is supposed to warn you about insufficient tire pressure, but it can't do its job when it's inoperable.
Because of that, TPMS malfunctions should be addressed so you can drive safely and get the low-pressure warning when needed. It's a minor issue that can be solved by sorting out the wiring, but it's still something you should pay attention to when buying a used FJ Cruiser.
Low-pressure fuel pump issues
The FJ Cruiser uses a low-pressure fuel pump to deliver fuel from the tank toward the combustion chambers. This pump is known to have stalling issues, and if the fuel pump stalls while driving, it can also cause the engine to stall. This is especially dangerous when driving at higher speeds, so make sure to check the fuel pump before buying a used Cruiser.
Replacing a faulty low-pressure fuel pump can be an expensive fix, so it's always better to inspect the purchase.
Which FJ Cruiser years to avoid?
The FJ Cruiser was produced only in a single generation and it's an SUV that didn't stick for too long on the US market. It was discontinued in 2014, and there were some pretty solid model years along with truly bad production years that you should avoid.
First-generation FJ Cruiser (2007-2008 and 2013 model years)
The two initial production years were also the worst for the FJ Cruiser since the 2007 and 2008 models received the most complaints. The 2007 model in particular was rated the worst FJ Cruiser production year with several standout problems that caused expensive repairs.
So, there's the matter of faulty transmission, bad CV joints, slipping gears, and even some fan belt problems. On top of that, Toyota issued a recall regarding seat belt anchorages which couldn't be properly used to secure the passengers.
There's also the matter of bad brake rotors that required frequent changes and this issue was mostly present in the 2008 model. The airbag sensor module also caused problems for the 2013 model year, as well as the faulty seat heaters. Because of all the transmission and drivetrain problems along with minor issues, it's best if you avoid the 2007, 2008, and 2013 model years.
Best FJ Cruiser years
The FJ Cruiser didn't stop production because of the poor reliability, but rather due to low interest in the US market. So, the listed problems may seem like a big deal, but some solid model years turned out to be reliable and worth your consideration in a long run. Especially given the decent market value of these models, it's handy to know the best FJ Cruiser years so here's our list:
2009 FJ Cruiser
2010 FJ Cruiser
2011 FJ Cruiser
2012 FJ Cruiser
2014 FJ Cruiser
The 2014 model year is the one to go for if you wish to have the least trouble with your used FJ Cruiser. By this time, Toyota has settled all the major issues including transmission shudders and rough shifting, drivetrain issues, and suspension problems.
Also, the seat belt problems have been solved along with bad airbag sensors, so that's a relief for those that don't want to deal with the SRS light being constantly visible on the dashboard. If you aim for the early production years, it's best to settle with a 2010 FJ Cruiser since this model received the least complaints over the years.
Is the FJ Cruiser worth buying?
Having in mind that this is a Toyota SUV after all, our team had a surprisingly difficult job of going through all the reported problems of the car. Luckily, the overall impression stays the same – Toyota FJ Cruiser is a reliable car except for a few bad production years.
So, as long as you use this guide to avoid those, you should be fine when shopping for a used FJ Cruiser. You should still pay attention to the drivetrain and transmission problems since the condition of a particular unit may vary and also depend on prior maintenance done by the previous owner.
What year is the most reliable FJ Cruiser?
The most reliable FJ Cruiser is the 2010 model, while the 2014 model is also quite reliable and it comes without all the problems of the pre-facelift Cruisers.
What is the best year to buy a used FJ Cruiser?
The best year to buy a used FJ Cruiser is 2014 since it comes without the problems that were frequent for the early model years.
What is the rarest FJ Cruiser?
The rarest FJ Cruiser is the Trail Teams Ultimate Edition with only 2500 units ever made.
What is the life expectancy of an FJ Cruiser?
The life expectancy of an FJ Cruiser is around 200,000 miles, while there are reports of these cars going over 300,000 miles.