Bad CV joint symptoms — causes and fixes
Recognize the signs of bad CV joint symptoms and ensure your vehicle's optimal performance.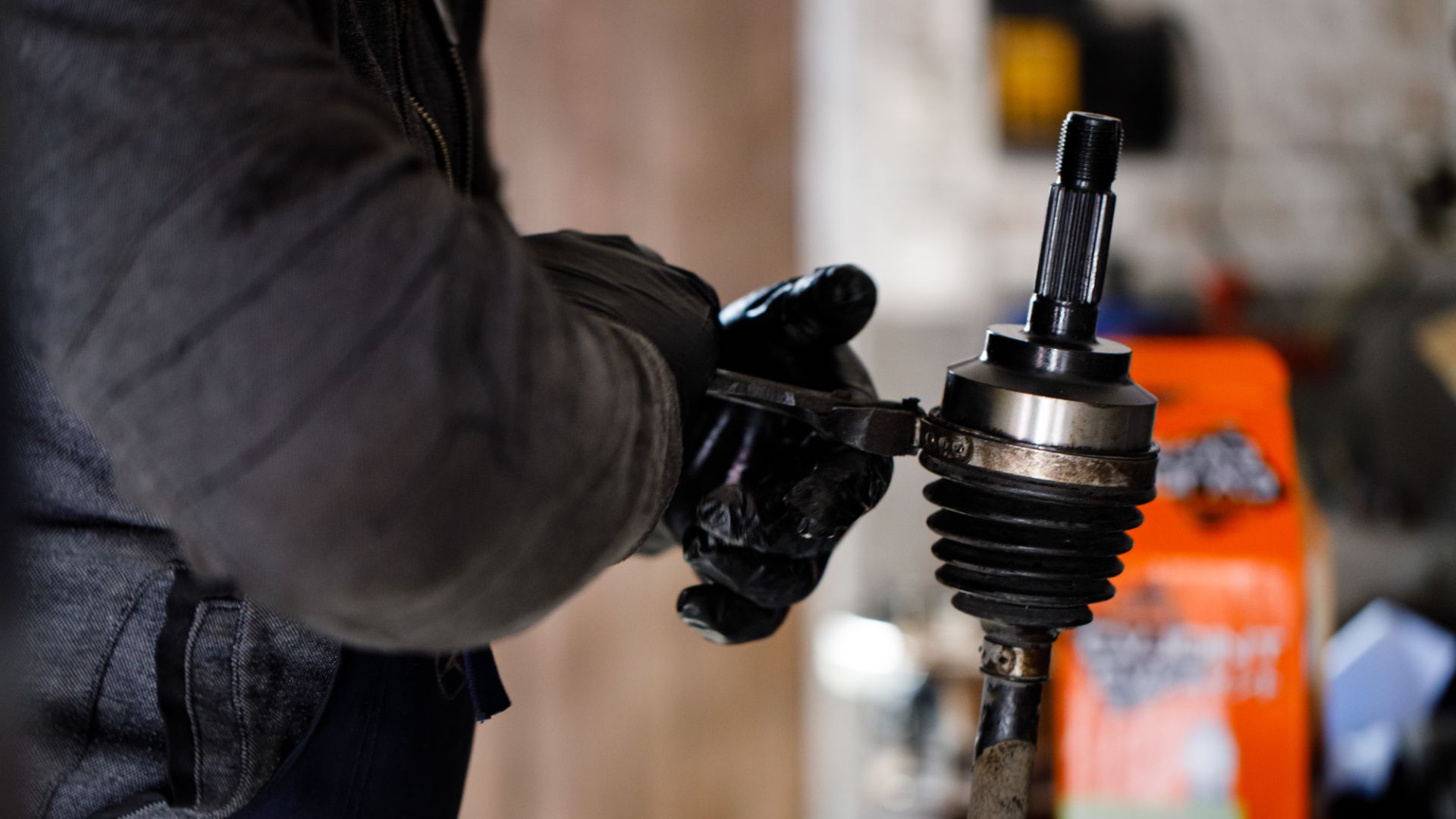 One of the biggest mood-breakers for drivers is driving noise that seems to come from the front of the car. While you might instantly think it's a problem with your brakes or even a mechanical issue under the hood, it can be just one of the CV joint symptoms.
Of course, if you aren't a mechanic yourself, chances are that you rarely get under your vehicle to take a look at the axle. After reading this guide, you just might start to do so occasionally, especially in case of such weird noises. Don't worry though – our team is there for you to help understand the CV joint issues better.
Importance of the CV axle and joints in your car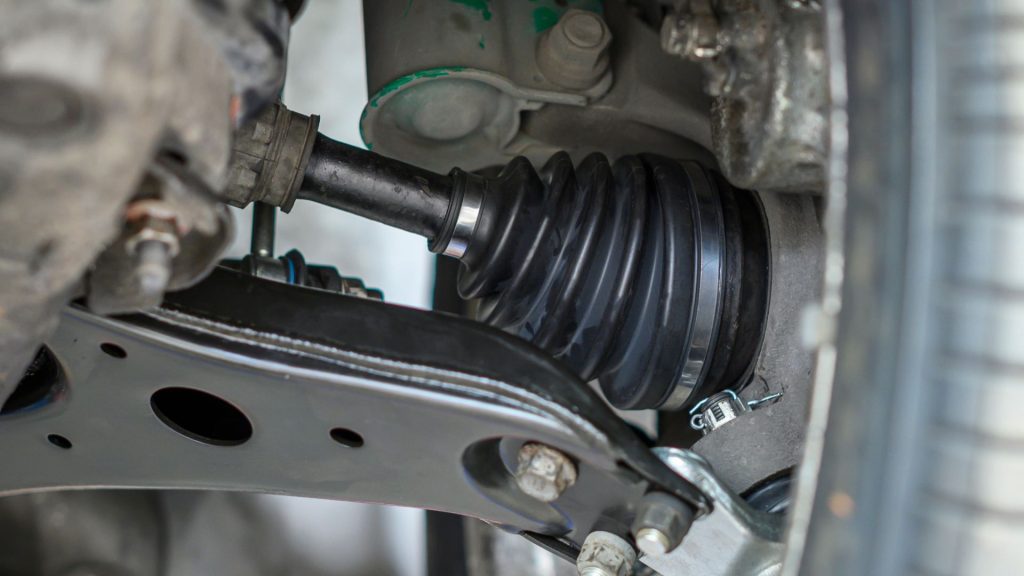 Suspension is the integral driving system that often gets overlooked as the transmission and the engine power translation get more focus. However, all that power needs to reach your car's wheels somehow and that's where the CV axle and its joints come in useful.
Essentially, the axle spreads from the transmission to the wheels of your vehicle. It's a shaft that spins and transfers the power from the transmission onto the wheels, but that's not its only purpose.
CV joints enable your wheels to rotate as you steer the car, and maintain the axle spinning as you go over the road bumps. As the suspension goes up and down over road obstacles, the axle keeps spinning and transferring power to the wheels.
It's not that much of a common problem, but CV axles sometimes get damaged or even broken. It's a serious issue since you won't have the connection to the wheels, so it gets impossible to drive and steer. While the axle itself lasts longer, CV joints fail more frequently.
You might need to replace both the joints and the axle at this point since the joints are mounted on the shaft. If you don't address the issue of bad CV joints on time, you compromise your vehicle's steering ability, so let's get into the main symptoms.
Signs of a bad CV joint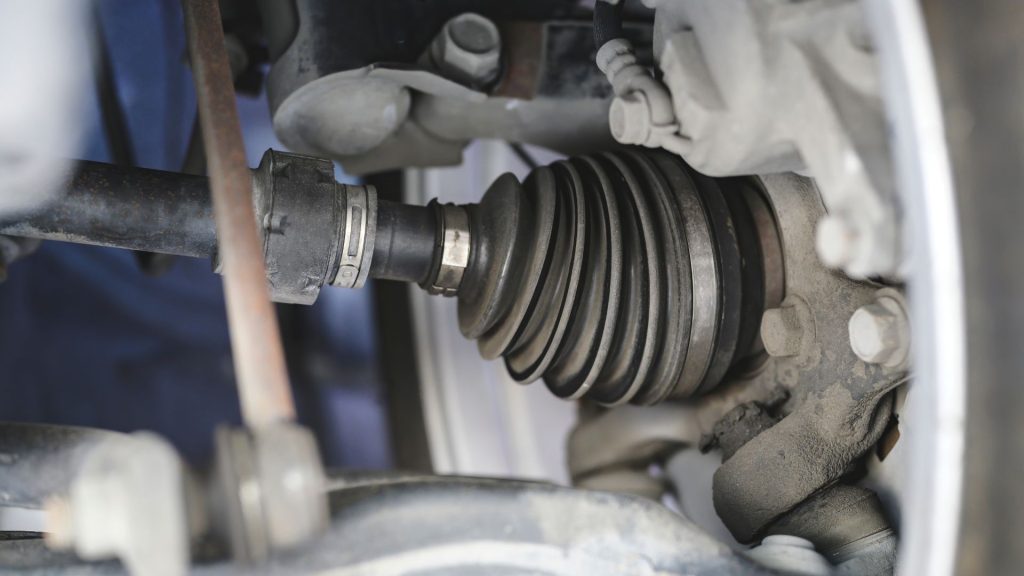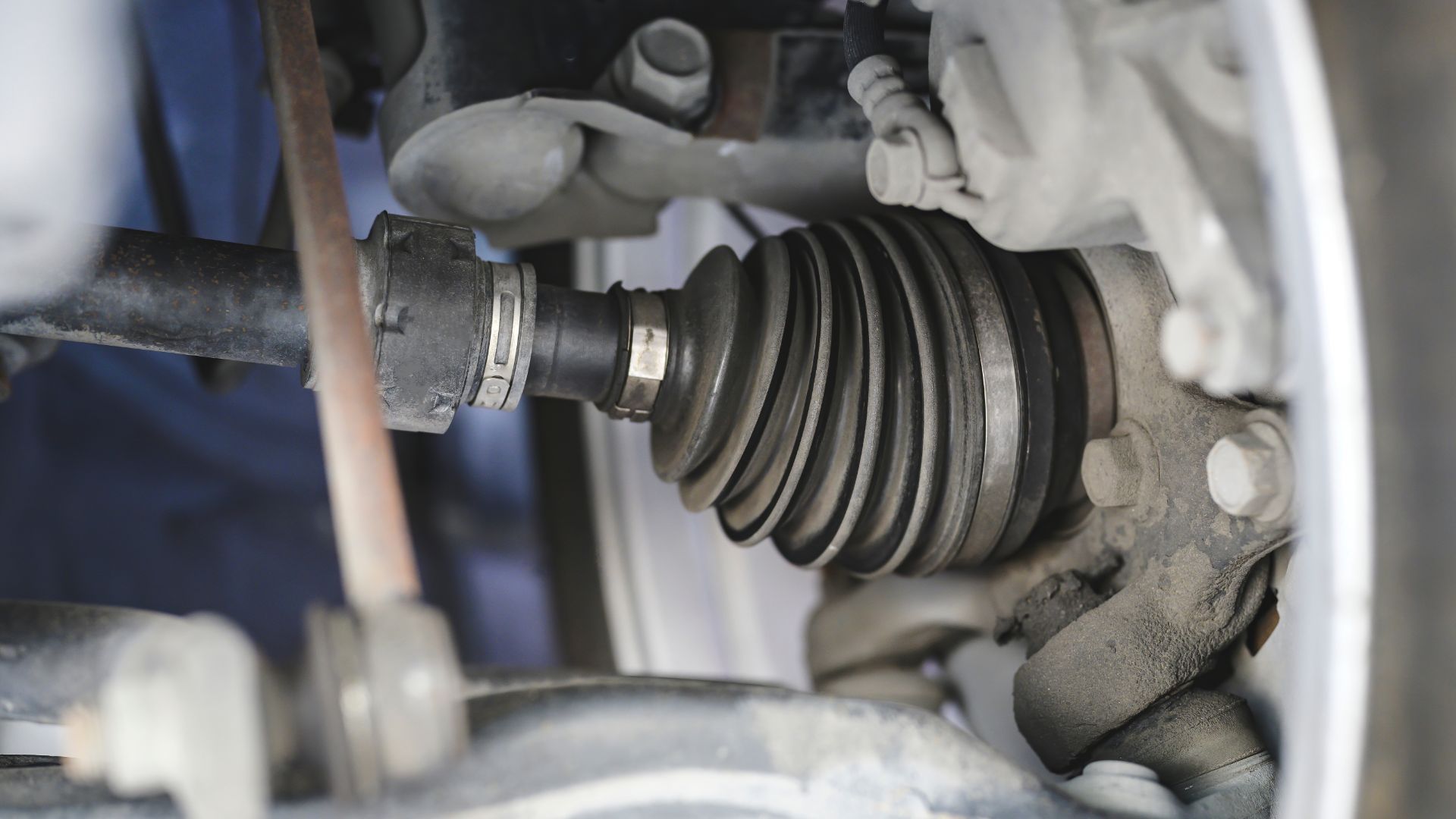 There are two CV joints on each axle – the inner joint and the outer joint. The inner joint is connected with the transmission, while the outer one connects with your wheels. So, if you experience any noise when turning, it can be a sign that your outer joints have worn off.
If there's a problem with your car's CV joints, these are the most common symptoms:
Driving vibrations at a higher speed
Clicking or crunching noise when turning
Grease leaks on the wheel or under your car
Ripped joint boots
Once the joints get worn, you can get under your car in the garage to inspect the axle and joints. On the other hand, driving symptoms will get clear at this point, and you might have to replace the axle with the joints.
If you have been working on your car, and accidentally damaged the joints, it's enough to only replace the axle on that side of the wheel. However, if the joints degrade on their own, chances are that those on the other wheel will go bad soon too. So, it's a safe bet to replace both shafts while you are at it.
Vibrations caused by inner joints
If you notice increasing vibrations as you speed up on the highway, it can be a consequence of a bad inner joint. As mentioned, there are two joints on each shaft, and the inner joints transfer the torque from the transmission.
These joints feature less movement than outer joints, so they also wear off less frequently. However, it's not that uncommon for them to go bad. If they do, it might seem like you need tire balancing but the vibrations come from the joint.
You'll feel increasing vibrations when stepping on the gas, before stopping, and if you press hard on the brakes. Noticing these symptoms on time will save you trouble since you'll know it's a bad inner CV joint.
Turning noises
This is one of the main symptoms of a bad CV joint, precisely the outer joint in this case. Outer joints are connected with the wheels, and they take frequent pressure caused by turning and steering. You will hear a loud clicking noise that can sometimes grow into a crunching noise when turning.
The noise gets particularly loud if you try to accelerate while slightly turning the wheel. You can test this in a controlled environment by driving in a circle. If the clicking is present while turning, but not while driving straight, it's a safe guess you have a problem with outer joints.
Grease leaks on the wheels or tires
If you notice dark grease leaks on the wheel rims or tires, or even under your car, it can be a sign of damaged CV joints. Grease is used to lubricate the joints and it's stored within the CV joint boots. These rubber boots allow proper joint movement and prevent their wear and tear due to damaged bearings.
So, if the rubber boot gets torn and grease leaks out, chances are that the joint will go bad quite soon. If you notice grease leaks on the wheels or tires, your outer joint boots are leaking. If there's a leak under your car towards the center of the shaft, you are dealing with an inner joint leak.
Torn CV joint boots
This is a common symptom for outer CV joints, but it could also happen with the inner joints. Boots are made from rubber material and as you drive and put pressure on the joint, especially in city driving, they wear off.
If the boots get torn, the grease will leak out and they will eventually get dry and completely crack. The joints inside them won't get proper lubrication and they will wear off quickly as well. As the boot cracks, dirt and debris can reach the inside of the joint and even cause corrosion.
This is dangerous since it could lead to a cracked joint and you could lose control of the wheel. It's a good thing that it never happens so suddenly, so you should hear a fair share of clicking and crunching noises before it goes bad. You can observe the joint boots from under the vehicle and it's not safe to drive with cracked boots since it causes further joint damage.
Fixing a bad CV joint
If the problem persists and grows into a damaged joint boot and the bad joint itself, the only thing you can do is replace it. You can't repair the joint otherwise, and you might have to replace the whole axle as well.
While it's possible for the outer joint on one wheel to go bad and the other one still is fine, it's best to replace both. Unless the joint degraded due to bad repairs around the wheel hub, the other joint will probably go out soon after the first one.
It's recommended that you replace the whole axle in case a joint goes bad. Due to poor functioning and grease leaks, the axle itself could degrade and crack, which would result in losing control over your car.
Our take
Recognizing CV joint symptoms can be straightforward since grease leaks and driving noises or vibrations are all clear signs. Of course, the vibrations can also be produced by unbalanced tires, but you should still inspect the joints to figure out for sure.
You'll mostly notice cracked joint boots in case the joints produce noises, so you'll be able to replace them on time. You can test the joints by doing a full U-turn in the parking lot, but don't push your luck by driving for too long with bad CV joints.
How do I know if I have a bad CV joint?
You can know if you have a bad CV joint by clicking and crunching noises while turning. You should also pay attention to grease leaks and driving vibrations in case it's the inner joint that causes the trouble.
Can you drive with a damaged CV joint?
You can drive with a damaged CV joint for a while longer, but it's not safe to do it since you might lose control over the wheels if it completely fails.
What happens when a CV joint is bad?
When a CV joint is bad, it can make it hard for you to turn the wheels, while the worst-case scenario involves a broken axle and the inability to drive or control your vehicle.
How long can you drive with a damaged CV joint?
It's impossible to tell how long you can drive with a damaged CV joint since it can damage the axle at any point. It's not safe to drive with bad joints, and you should get them replaced as soon as possible.