Jeep TJ years to avoid — most common problems
Learn about the Jeep TJ years to avoid for your next off-road adventure.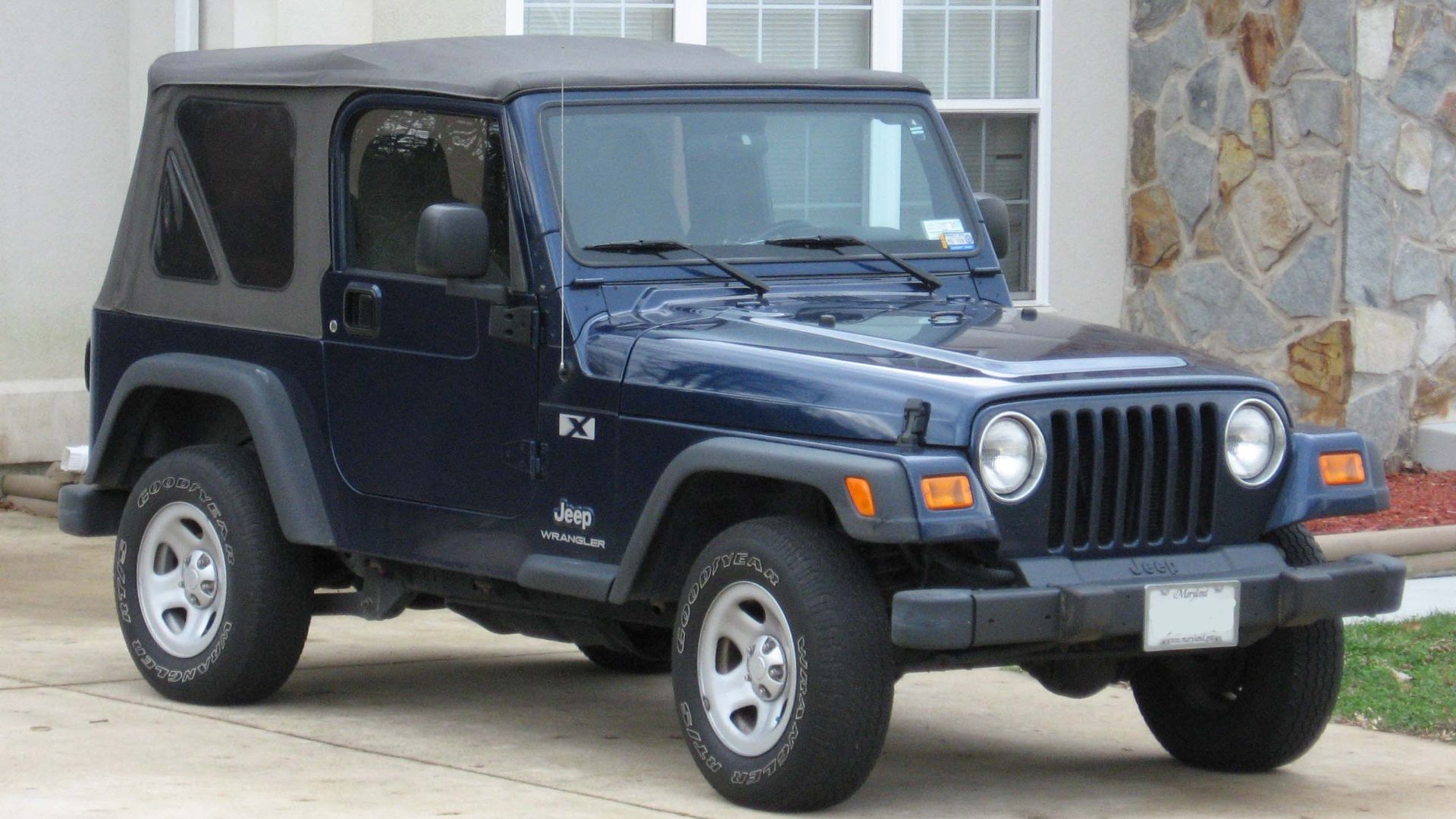 If you ask any American SUV enthusiast about the best off-road capable rides made in the US, chances are that you'll be hearing lots of appraisals for the Jeep Wrangler. It's one of the most popular models produced by Jeep, and the second TJ generation marked a significant sales boost.
Both the regular and the long-wheelbase models were at their peak of popularity during this generation, but not all of the model years offer equal reliability. Since this car is a fairly popular option for car enthusiasts on the used car market, we'll go through Jeep TJ years to avoid in this guide. That should be enough to help you steer away from pitfalls awaiting the owners of problematic model-year Wranglers.
Most common Jeep TJ problems
Generally speaking, Jeep Wrangler TJ didn't have many problems and it was overall a reliable ride. Still, some model years had the main flaws of the model more expressed than others. One of the issues was caused by a stripped bolt which was one of the problems leading to seal leaks on certain Wrangler models.
While oil leaks can cause serious engine damage, there are a few other issues that Jeep TJ owners have complained about. Another notable issue was related to the automatic transmission and it sometimes prevented the drivers from properly engaging the park mode.
Other problems that were common for this Jeep Wrangler generation include fuel delivery system faults and electrical issues that sometimes even caused engine stalling while driving. Well, as much as all these sound troubling, it's possible to avoid having to deal with expensive repairs by simply avoiding the problematic model years. Learning more about these potential problems could be a great first step to take.
Oil leak problems
One of the greatest issues that Jeep TJ owners have faced based on their reports is the oil leak situation. It's mostly caused by the leaking seals and if not treated right, this issue could lead to complete engine stalling. While it's a big and common problem for this generation and the 2002 model year in particular, Jeep never issued an official recall regarding this.
One of the ways of dealing with the situation is to conduct frequent oil level checks and have a trusted mechanic inspect the bolts and seals before buying a Jeep TJ.
Transmission problems
You can be relieved if you thought that Jeep TJ had problems with the transmission system in terms of losing fluid and causing rough shifting. However, although it may seem like a minor problem, this generation of Wrangler had problems with the park pawl anchor shaft.
In other words, the shaft that's used to hold the gearbox in park mode could move out of its place, causing the shifter not to engage in park mode. The aftermath is – your vehicle may roll over while parked and cause a chaotic situation on the parking lot or even the street.
Fuel delivery system faults
The air and fuel ratio needs to be precisely calculated by the car's engine control unit (ECU) for proper combustion, and the same goes for the Jeep TJ. However, this sometimes becomes impossible due to faulty fuel delivery system components and it's not just a one-time occurrence.
There have been numerous reports about drivers complaining about how the fuel pump goes out while driving and similar situations. Also, there have been instances of increased fuel pressure that negatively reflect the engine's timing and combustion cycles, therefore shortening the life span of the engine.
Electrical problems
Finally, we've seen a fair share of NHTSA complaints about Jeep TJ's electrical issues. There was even an official recall in 2007 about the faulty totally integrated power module (TIPM) that's Jeep's equivalent of ECU. Upon the first symptoms of a bad ECU, these vehicles should be checked since this problem sometimes even caused engine stalling while driving.
On top of that, there were several other electrical system faults including malfunctioning dashboard gauges and fuel level readings.
Which Jeep TJ years to avoid?
While some of the mentioned issues may seem quite troublesome, at least now you know that most of them can be easily fixed. However, it's even better to simply avoid having to deal with such problems by going for one of the Jeep TJ model years that are considered more reliable than the others.
Here's our hint on the Jeep Wrangler TJ generation years to avoid so you can go and skip those while focusing on more reliable model years:
Second-generation Jeep TJ (1997-2002 model years)
Some of the worst TJ generation model years of the Wrangler include 1997, 1998, and 2001 model years. While the 2000 model year is a bit better, it's still safer to avoid those model years and go for a 2003 or 2004 Jeep TJ model.
The biggest problems concerning these models started in 1997 with the poor labeling for recommended tire pressure and inflation labels. However, it continued with more serious problems including the fuel delivery system and the malfunction of the ECU. Electrical issues were most prominent for the 2001 model year, while the situation with leaking seals and oil leaks was mostly around for the 2002 model year.
Best Jeep TJ years
There's a bit of good news for all those that wish to buy a used Jeep TJ generation Wrangler since not all the model years were so bad. Moreover, a few model years are excellent in terms of reliability, especially when compared to those problematic model years we've mentioned before.
So, here's a list of the most desirable model years that won't disappoint in overall reliability and build quality:
2003 Jeep Wrangler TJ
2004 Jeep Wrangler TJ
2005 Jeep Wrangler TJ
2006 Jeep Wrangler TJ
Out of all the Jeep Wrangler TJ model years, the 2003 and 2004 models received the least driver complaints. It's safe to say that 2004 is the best Jeep Wrangler TJ model year so far, and it's the most reliable option for those on the used car market.
It had far fewer electric issues than the early-generation models, and the ECU issue was sorted out with the recall. Also, the problematic situation with an automatic gearbox falling out of the park mode is fixed for later model years, and drivers even got a long-wheelbase model for the 2006 production year.
The 2005 and 2006 model years are also quite reliable and they don't have as many reported issues as 1997 or 2001. So, if you are looking to invest the least servicing efforts, you should go for a 2004-2006 Jeep TJ.
Is the Jeep TJ worth buying?
As the time comes for the final verdict – yes, Jeep TJ is a model worth buying for its exceptional off-road capability and more than decent reliability. Even though there are some model years that drivers should avoid, it's still a solid SUV. The most important thing is that complete engine and transmission faults are extremely rare, and the only thing worth examining in that sense are the seals and TIPM.
So, hopefully, our guide will help you out when it comes to finding the best Jeep TJ model years and avoiding the ones that are not so well received by owners and the general public.
What is the best year of Jeep?
The best model year of Jeep TJ is 2004 with the least driver complaints about reliability issues.
Is Jeep TJ reliable?
Yes, Jeep TJ is a reliable SUV for the most part, except for the 1997-2001 model years with a few issues that could set you back for the amount spent on repairs.
What year Jeep is the most sought-after?
The 2006 Jeep is the most sought-after when it comes to the TJ generation, both due to sorted mechanical issues and the introduction of the long-wheelbase model.