Pontiac G6 years to avoid — most common problems
Identify the crucial Pontiac G6 years to avoid for a smart car-buying decision.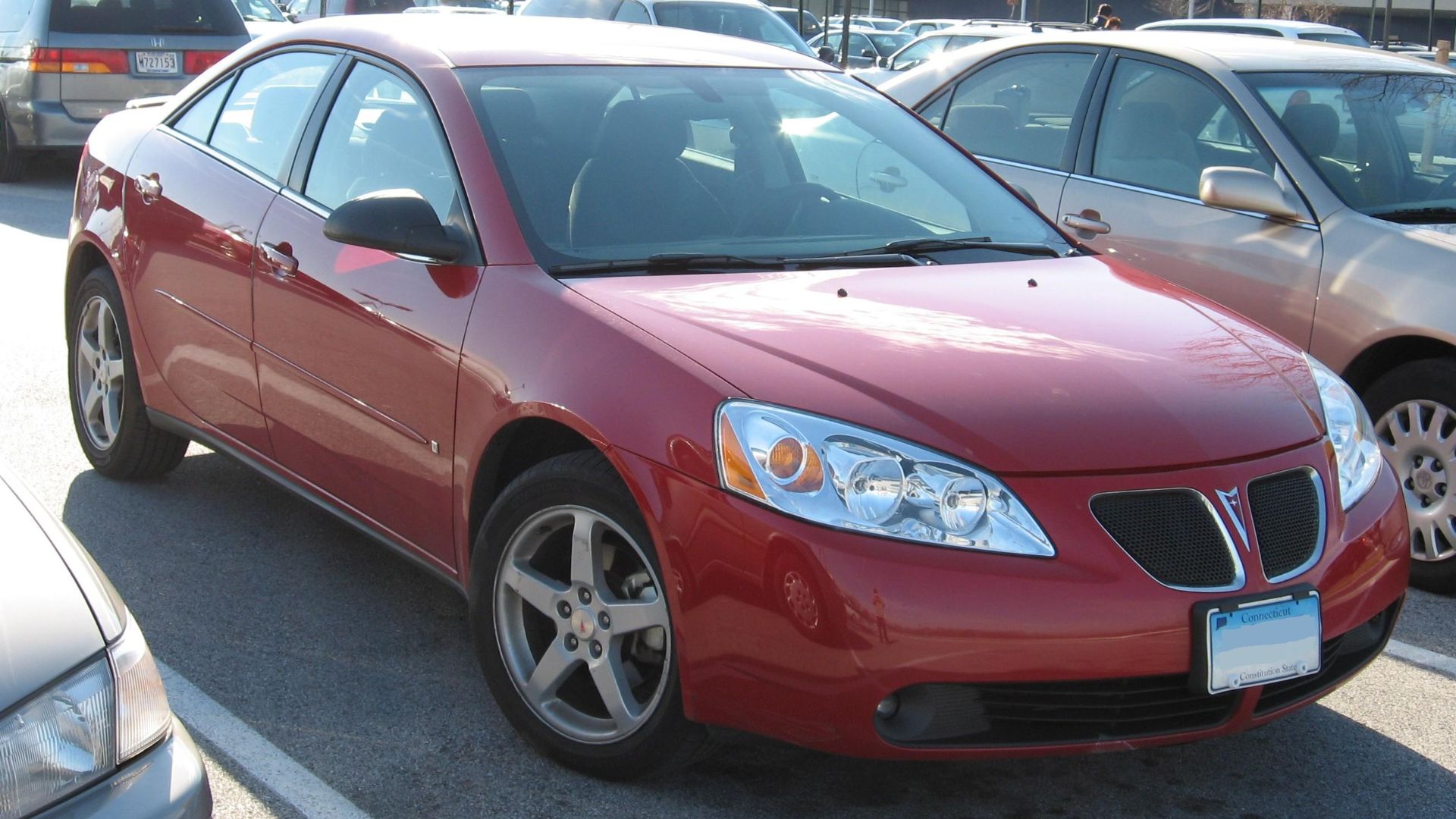 When talking about the discontinued car brands that didn't receive enough love while in production, you can't overlook Pontiac. It's one of the US favorites, but it simply didn't match the sales figures that other GM subsidiary brands got. So, in 2010, the brand was shut down even though they've made some of the most iconic cars on American soil.
The perfect example is the Pontiac GTO, especially with the final edition that had a 6.0-liter high-output V8 under the hood. Still, there are some less-known models like the Pontiac G6 that perhaps didn't deliver such power, but still proved to be great daily drivers. In this guide, we'll go over all the Pontiac G6 years to avoid and the issues encountered by previous owners to give you an idea of this car's reliability.
Most common Pontiac G6 problems
Pontiac G6 was produced in just six model years, with the final 2010 model marking quite bad sales results due to the discontinuation of the brand. Even so, the car managed to grab everyone's attention with a sporty design in its coupe and convertible versions.
It has also proven to be quite reliable, but there are some issues that deserve taking a closer look. One of the main such issues is the problem with the power steering assist system which was prone to failure. We also have to mention the issues with malfunctioning interior accessories, as well as the short circuits of the brake apply sensor.
On top of all these problems, there's also the matter of the gear shift cable which was prone to damage and this led to vehicles rolling away even though drivers left the gearbox in park mode. Overall, these were the only problems reported for the Pontiac G6, and before you deem it unreliable, take some time with us to explore the issues in further detail. That should give you a clear picture of the reliability so you can make the best buying decision.
Power steering issues
This one may be the most dangerous one when it comes to your driving safety, so it's crucial to inspect the power steering assist system before buying a used G6. The thing is – the power steering assist system on these cars is prone to suddenly failing, which may put you in an awkward position while driving.
If you are on a highway, it may be a bit easier to control your ride, but this issue makes a real problem in case you need to take frequent turns. The problem was mostly present in the 2006 Pontiac G6 and GM issued an official recall in 2014 to fix this issue on affected models.
Some drivers have also reported seeing a power steering fluid leak but this issue wasn't as commonly reported as a failure of the steering assist system. So, at least you know which of the car's systems you should thoroughly inspect before buying a used G6.
Problems with malfunctioning interior accessories
This one wasn't as bad as the malfunction of the power steering system, but it wasn't harmless for drivers either. Having all of your car's interior accessories at your disposal is important for keeping control over the car's features, and sadly that wasn't so easy on all used G6 models.
To name a few of these issues, there's the situation with improperly attached mirror hinges, failed dashboard lights, and an inoperable cruise control feature. Drivers also reported having struggled with the A/C and CD player switches, and this can grow into a much bigger issue if this leads to keeping your focus out of the road.
Brake apply sensor fault
The short circuit of the brake apply sensor made it a drag for G6 drivers to properly use the cruise control feature. The system simply didn't recognize the usage of a braking pedal, and not only is this bad for the cruise control system but also for your driving safety.
Namely, some drivers reported issues like brake lights glowing even though the brake pedal hasn't been pressed. As you can probably guess, this is a bad thing for driving safety. To make things even worse, brake lights sometimes didn't glow up even if the pedal was pressed which led to driving confusion and even potential accidents.
Gear shift cable damage
The gear shift cable is responsible for gear position indication, and it can lead to several problems if it malfunctions. This happened on a few G6 models where the position of the gear shift lever didn't match the actual position of the transmission gear.
We know this may sound confusing but think of it this way – you may think you've turned the gear shifter into the park mode, while it wasn't really the case. Because of this issue, the rollaway risk was created as yet another problem that G6 owners had to deal with. That's why many of the drivers resorted to parking uphill with a curb, and while it can be a practical way of tackling the issue, the root cause of the problem was still there.
Fortunately, GM issued a recall in 2012 to fix this problem for 2008 to 2010 G6 vehicles affected by the issue.
Which Pontiac G6 years to avoid?
Our team recommends you go through all these issues before even considering buying a used G6, but we know that you mostly want to hear about one thing – G6 years to avoid. Don't worry, we've got you covered there since our team members used the reliability reports to create a list of all the model years you should steer away from.
Things are even easier here since there's only one generation of the G6, so here's what it looks like in terms of reliability:
First-generation Pontiac G6 (2006-2008 model years)
Out of six production models of the G6 released by Pontiac, three models are best avoided due to their reliability problems. The worst model year by far is the 2006 G6 due to all the steering system problems and issues with faulty interior accessories.
There have also been some reports of engine problems such as the no-start condition and engine cranking without starting. There's also the reported problem of the V6 engine losing power, so it's worth checking the spark plugs and the condition of the throttle body before buying one.
Besides the 2006 model, the 2007 G6 was also pretty bad, and the biggest issues with this model are steering problems and issues with the lights.
Best Pontiac G6 years
While there have been quite a few problematic G6 models, not all of these were so unreliable. Some model years only had a few issues or no problems reported at all, making it a shame that this model was canceled. Still, you can make use of that fact and the lower market value of the car to get a reliable daily driver as long as you go for one of these models:
2005 Pontiac G6
2009 Pontiac G6
2010 Pontiac G6
While some of these had slight issues with the lights and steering like the 2009 model, there weren't any critical issues that could set you back for large sums. We recommend getting the 2010 model since it was a facelift edition and a lot of the issues of previous models were sorted out.
That's a safe bet if you don't want to spend too much time visiting your mechanic and it will probably be the most sought-after version of the G6. So, you may be able to save some cash thanks to the car keeping its market value, but one thing is for sure – you won't have to deal with the power assist loss if you get this model.
Is the Pontiac G6 worth buying?
Overall, Pontiac G6 is worth buying if you pick one of the reliable model years, especially when it comes to coupe models with a sporty exterior design. The choice of engines offers something for everyone's taste and it's a car that's not so common on US roads, making it a great pick if you wish to stay unique.
We only had to warn you about some common problems and the infamous power steering loss, so hopefully, this guide answers your questions and points toward the best G6 models you can buy.
What are the most common problems with a Pontiac G6?
The most common problems with a Pontiac G6 include power steering assist loss, gear shift cable malfunction, and electrical issues with interior accessories.
Is Pontiac G6 a reliable car?
Pontiac G6 is a reliable car overall, but you should avoid the 2006 and 2007 models which received plenty of complaints, making them the worst models.
How long does a G6 transmission last?
The G6's transmission should last around 150,000 miles on average, but some drivers reported rough shifting and slipping symptoms even before that mark.
How long does a Pontiac G6 engine last?
The expected lifespan of a Pontiac G6's engine is around 200,000 miles for a model equipped with a 3.6-liter or a 3.9-liter V6.