Nissan Armada years to avoid — most common problems
Discover the crucial Nissan Armada years to avoid for a smarter car-buying decision.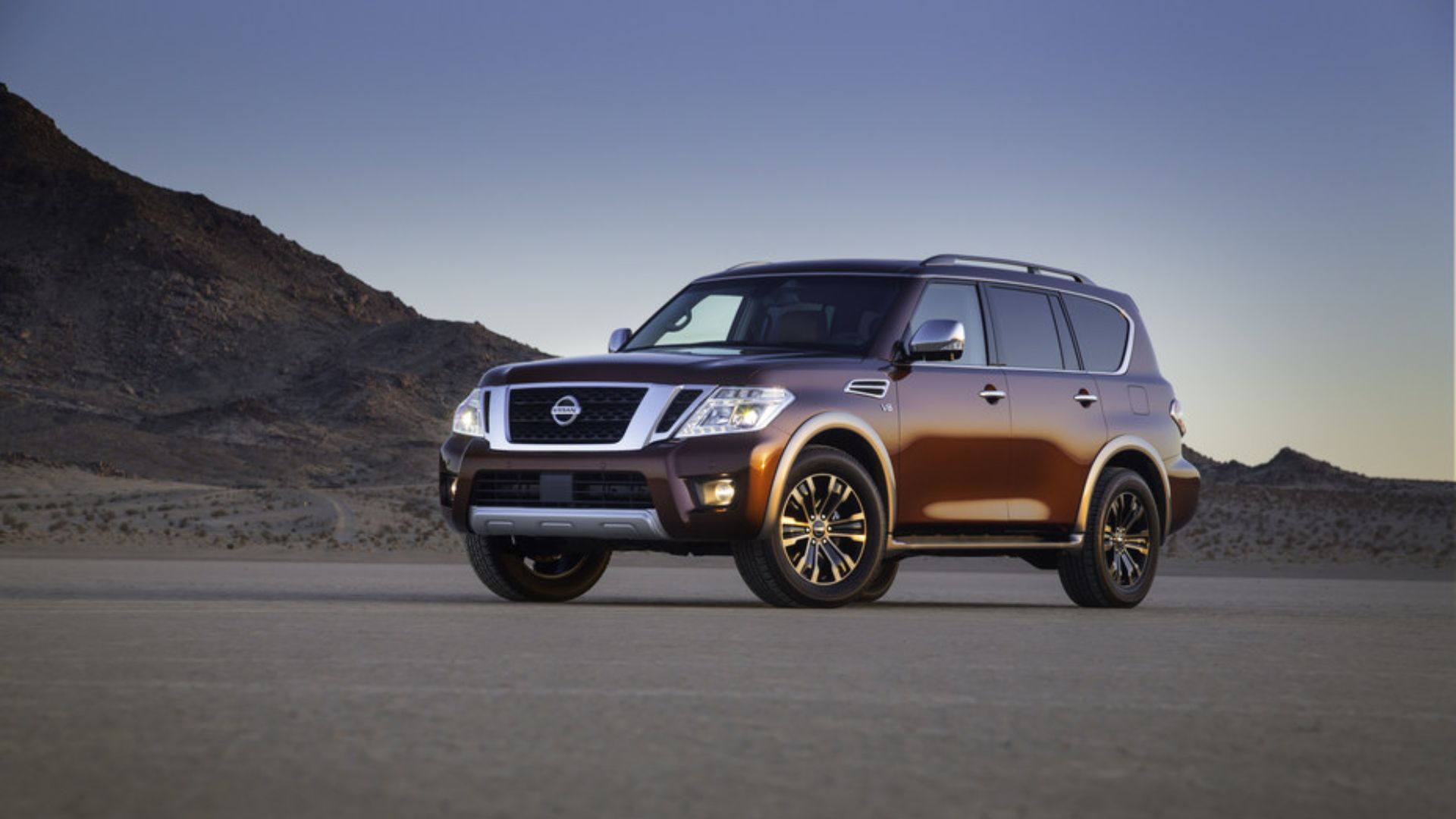 The one feature that makes the Nissan Armada beloved by drivers is its smooth seven-speed automatic transmission. It makes rides more pleasurable and comfortable with its refined performance and silence, even at highway speeds. You get a high-value SUV for a good bargain when you pair this with its standard tech, interior, and driver-assist features.
Despite its overall success, there are some Nissan Armadas years to avoid. They do not give the level of satisfaction Nissan promises with the Armada. Here, we look at the best years of the Armada, and the models you should only touch with a ten-foot pole
Most common Nissan Armada problems
Like other vehicles, the Nissan Armada has some common problems. Knowing these common problems and applying the proper preventive measures for some will help you maintain your Armada to a ripe old age. Below are the common Nissan Armada problems you can expect.
Rusty engine harness
Armada's engine design has a loophole that heavily impacts its performance. The design allows water to accumulate between the transmission wiring harness and the engine. Water getting in these parts encourages corrosion, making starting the engine difficult.
It is either the engine stalls after starting or cranks without starting. Other times, the transmission may be affected, not allowing it to shift correctly. The rusty engine harness would have to be replaced to resolve the issue.
Failed catalytic converter
The role of the catalytic converter is to reduce harmful emissions by filtering toxic byproducts from the exhaust gases and burning them. It also improves your car's efficiency. When it's down, the check engine warning light will illuminate to bring the fault to your attention.
Many 2005 to 2014 Armada drivers reported the check engine light coming up due to this issue. In most cases, a faulty fuel pump was the reason for the converter's failure as it lowered fuel pressure causing leaner air to fuel mix. Others report that a faulty oxygen sensor which also causes a disparity in the air-to-fuel mixture, is the reason for their catalytic converter failure.
Replacing the fuel pump or oxygen sensor with the failed catalytic converter should fix the issue.
Pulsating brake pads
Some Nissan Armada drivers complained of the brakes pulsating during moderate and light braking. The pulsating vibration is often felt in the pedals or steering wheel and, in some severe cases, the entire car's body.
2005, 2006, 2008, and 2011 Armada models are the most notorious for developing this issue. All four brake rotors must be resurfaced or replaced to resolve the problem. Updating the brake pads and some other brake components is also required for the fix to be complete, especially when the problem has been allowed to linger.
Overhead console falls
The overhead consoles on a vehicle are not supposed to wear out at any point. Many drivers speculate that Nissan made the Armada less expensive to produce by reducing the quality of the material used to make the overhead console.
It may not look overly severe since it does not directly affect drivability, but it is dangerous all the same. Since drivers never expected the console to fall, they were startled whenever it did fall, sometimes to the extent of causing an accident due to the sudden shock and loss of concentration.
For the more fortunate drivers, the wear happened in visible stages. It starts with the plastic becoming brittle, with bits of the plastic falling from the ceiling at some point. The entire process usually ended with the overhead console falling or hanging from the cabin's roof.
The 2008 Armada model was most afflicted with this issue, making it one model you should avoid if you don'tdon't want your car's interior to age prematurely because of this defect.
Brake issues
Most early Armada models, especially those of 2004 to 2008, have problems with their brakes. Whenever the ABS warning light illuminates, the brakes grind and stop working moments later.
The sudden way this issue happened put drivers in difficult situations as they mostly did not notice the problem until they tried the brakes. Some narrowly avoided accidents using their manual handbrake, while others were lucky to have enough space to slow down.
Upon inspection, the cause of the problem is a malfunctioning delta stroke sensor or an issue with the electrical system. The brake fluid, which was thought to be the culprit, had no leaks or problems.
Drivers had to file a lawsuit against Nissan as the problem became a widespread nuisance. In 2014, they won the case, with Nissan reimbursing drivers between $20 to $800 for their troubles.
Which Nissan Armada years to avoid?
Some Nissan Armada models prove to be a good bargain. However, there are some you should avoid entirely despite any offer you may get for them. These Nissan Armada years you should avoid are given below.
First-generation Armada (2004-2006 and 2008 model years)
The first generation of Nissan Armadas began with many problems, making its early models Armadas you should avoid at all costs if you want to get value with use. The first two models have the most serious reported problems among all Armada models. And the primary problem they had was brake issues.
After 90,000 miles or less, the brakes on the first two models ceased to work, and this could happen anytime. Because of this issue, some drivers were unfortunate enough to get into accidents or crash their cars. They also had many cases of engine failure and other engine-related problems.
The 2006 Armada inherited most of the problems of the 2005 model, especially the brake problem. It is relatively safer than the 2004 and 2005 models with fewer problems, but it is best to avoid it, too, as the brake issue can be life-threatening in the wrong places and time.
Nissan attempted a facelift for their first generation Armadas, of which the 2008 model is included. Though the model did not have many life-threatening issues that impacted drivability, the problem it had was also an ingredient for accidents. It had a design problem that caused the overhead console to fall.
Many drivers reported that the overhead console fell right on them. For those who were deep in a ride when the console fell, it was startling and shocking enough to make them lose concentration on the road for a bit, putting them at risk of getting involved in an accident.
Fixing this issue of a falling overheat console cost about $2,000, making it an expensive fix and defeating the purpose of the vehicle's relatively low price.
Second-generation Armada (2017 model year)
Nissan improved a lot on the second generation of Armadas. However, you should avoid the 2017 Armada model year.
It does not have too many problems, but one major complaint is severe. Transmission problems are not ones to be taken lightly. Drivers reported that the 2017 transmission malfunctions and does not shift correctly.
In the wrong situation, such a problem is a clear recipe for disaster. It is best to avoid buying the 2017 Nissan Armada to prevent danger.
Best Nissan Armada years
The Nissan Armada compares favorably with other competitors in the market. Some models give good value for your money, whether you buy it factory fresh or from the used market. These models are:
2007 Nissan Armada
2009 Nissan Armada
2010 Nissan Armada
2011 Nissan Armada
2012 Nissan Armada
2013 Nissan Armada
2014 Nissan Armada
2015 Nissan Armada
2016 Nissan Armada
2018 Nissan Armada
2019 Nissan Armada
2020 Nissan Armada
These models are dependable and fare above average on the reliability scale. They have fewer complaints and are safer.
The more modern models come with recent innovations designed to improve the driving experience, making it safer and more fun. You can get any of these models from the used market and get excellent service, provided the previous owner did a good job maintaining it.
Is the Nissan Armada worth buying?
The Nissan Armada is one of the least expensive large SUVs in the market. It is not the best, but it is a good purchase if you are tight on budget. It delivers incredible performance with a high-end interior, standard tech, and driver-assist features.
If you see cars as investments, the Nissan Armada'sArmada's resale value is just about average. There are other better and more popular options available in the market. It is best for personal use as it is reliable, costs little to maintain, and lasts between 250,000 to 300,000 miles on average.
What year Nissan Armada has transmission problems?
The 2017 Nissan Armada is most plagued with transmission problems. It would be best if you avoided this model so you don'tdon't get into an uncomfortable situation.
What are the common problems with Nissan Armadas?
The common problems Nissan Armadas develop are brake problems, catalytic converter failure, brake pad issues, and a falling overhead console. The early models of the first generation are most plagued with these problems, making them models you should endeavor to avoid so you can enjoy your use of the Armada.
What is the life expectancy of a Nissan Armada?
On average, the Nissan Armada is expected to last between 250,000 and 300,000 miles. With proper care and maintenance, it can be made to last longer.
How reliable are Nissan Armadas?
Nissan Armadas have reliability scores that are above average. It is a dependable vehicle and inexpensive to maintain.