Cooper Discoverer Rugged Trek review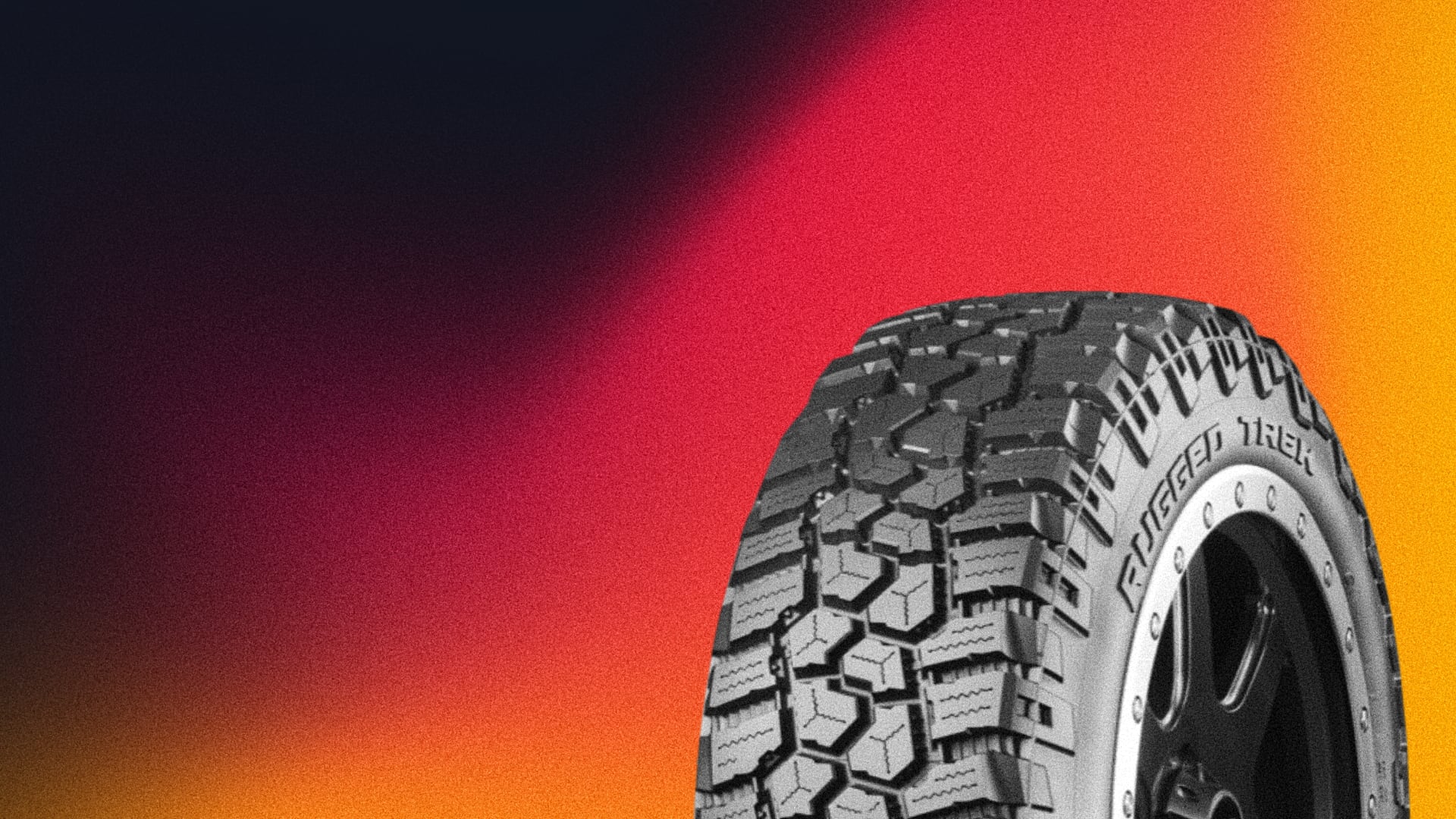 How far off the road do you want to go? Do you have what it takes to make the complete journey to that remote area or through a series of rocky shortcuts and back?
An all-terrain tire would be your best bet in this situation. But which one will make sure you do not worry about getting stuck?
Cooper Discoverer Rugged Trek answers these questions and more. To shed more light on its capabilities, our Cooper Discoverer Rugged Trek review will provide an in-depth look at its performance across diverse conditions.
Read through this review and see how far the Discoverer Rugged Trek can go for you on any road in the rain, dry weather, and snow.
Recommended
Cooper Discoverer Rugged Trek
For a driver looking for the classic American tire to fit on an SUV and go off-road, Cooper offers a solution with the Discoverer Rugged Trek – a tire with stellar off-road performance provided without a compromise on the dry traction and excessive driving noise.
REREV may receive a commission for purchases made through links on our site. Learn more.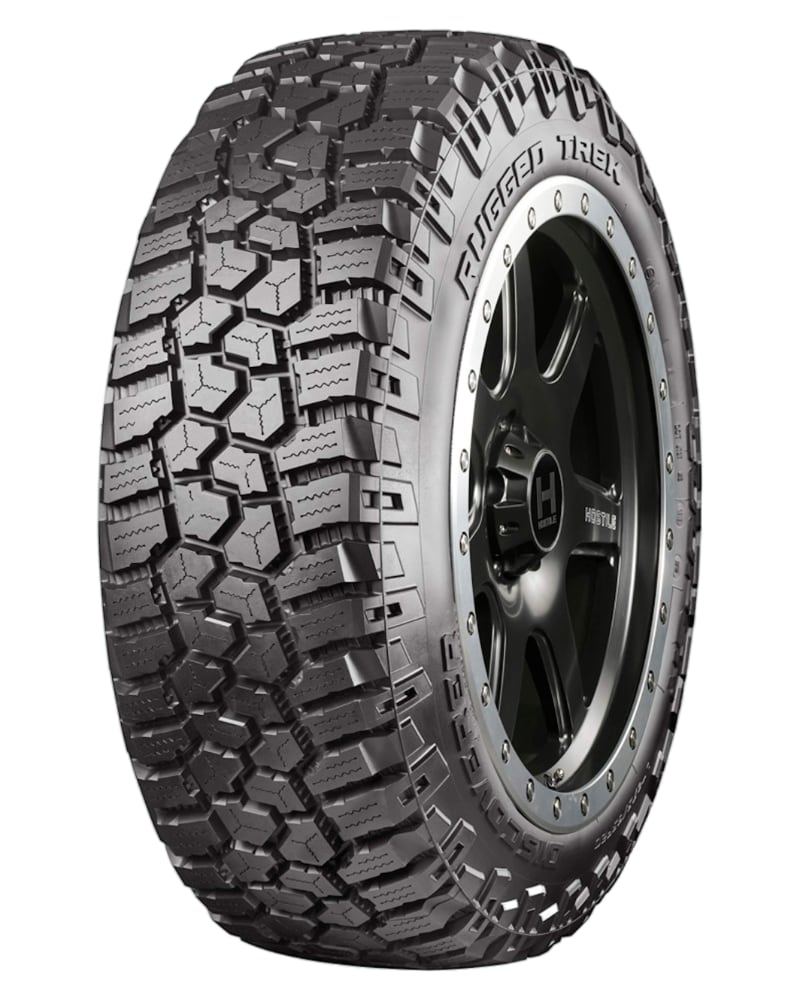 Why you can trust REREV's tire reviews: Our automotive expert researchers analyze tire specs, customer feedbacks and reviews from credible sources. This thorough analysis provides accurate information about tire performance, helping you make the best choice. Find out more about how we evaluate tires.
Key features and technologies
Apart from sporting an aggressive look, the Discoverer Rugged Trek delivers well on quality. The technologies and features are pretty remarkable and include:
Aggressive stone blockades
Earth Diggers Technology
High void tread pattern
Outer block sipes
Stable Trac Technology
Whisper Grooves Technology
The aggressive stone blockades are built into the edges of the tread grooves. They remove lodged rocks and, as a result, protect the tire from damage by stone drilling. You do not have to worry about a likely puncture when riding on a stony track.
Earth Diggers Technology provides traction for challenging terrain. They are molded into each shoulder of the tire and take you through loose surfaces.
The high void tread pattern of the Cooper Discoverer Rugged Trek increases hydroplaning resistance, and the outer block sipes give strong grips on wet roads. These two technologies will keep you covered on rainy days.
Stable Trac technology is made of an omnidirectional micro-gauge siping built into the inboard tread blocks. It gives you extra grip for rough surfaces. So, while driving on pavement or jagged terrain, you will always be in stable control of your vehicle.
The Whisper Grooves technology reduces noise to a whisper. It is positioned between the center and outboard treat elements. Whisper Grooves works by blocking airflow. Unlike other all-terrain tires, noise is not a big problem on the Discoverer Rugged Trek.
Safety features
Safety even at high speeds is guaranteed on the Discoverer Rugged Trek. The technologies Cooper uses on this all-terrain tire make it one of the safest options you have got for movement. Its internal mechanism ensures being in control for a very long time. Feel free to run over shallow mud, debris, rocks, and pavement.
Speed ratings
The speed rating for the Discoverer Rugged Trek is just two – the T and Q ratings. A tire set with a T rating implies that your vehicle would move comfortably and safely at speeds of 118 mph, while Q is set at 100 mph.
Treadwear and durability
A robust two-ply casing supporting two high-strength steel belts sits at the helm of internal affairs of Cooper Discoverer Rugged Trek. This arrangement focuses on providing durability and comfort all at once. The single-ply nylon reinforcement added delivers high-speed control and stability.
As a result, it is very reliable. You can take it as a long-term option as you need not worry about damage to the casing. Also, control of high speed will not be a cause for worry. Feel free to go on that long trip/vacation with Discoverer Rugged Trek mounted underneath.
Maintenance indicators
Knowing when your tires are due for maintenance and replacement is essential. Cooper uses industry-standard tread wear indicators for the Discoverer Rugged Trek. This indicator shows you when the tread depth reaches 2/32 inches. Most legal constitutions require you to replace your tires when they reach the 2/32 inches mark as they may pose a risk to personal and public safety.
Traction and performance
As an all-terrain vehicle, Cooper's Discoverer Rugged Trek is exceptional in terms of traction. Compared with all-terrain vehicles, it is a confident driver's choice. Let us look at its traction and performance on different surfaces.
Off-road Traction
Cooper's Discoverer Rugged Trek is not made explicitly for rough terrain. Nevertheless, it does perform well on some parts of the wild road. It will take you past mild mud and small rocks without a murmur. Its traction is just enough to help you through a little camping trip. All this is thanks to Cooper's unique pattern on the Discoverer Rugged Trek, which keeps rocks and stones out of the tire.
Discoverer Rugged Trek will not perform optimally on deep mud, clay, and more enormous rocks. You will need to avoid such terrains unless you want to get stuck!
Dry traction
Thanks to Stable Trac technology, Discoverer Rugged Trek has very high road stability and cornering grip. This technology is an omnidirectional micro-gauge siping. It enhances performance on dry roads and off-road too. As an extra advantage, the braking distance is relatively short, and traction is strong enough to allow brisk acceleration. You can always take the Discoverer Rugged Trek for a relaxing spin in the summer.
Wet traction
The grooves on the Discoverer Rugged Trek are broad and deep. This allows for the dissipation of vast volumes of water. As a result, its hydroplaning resistance is excellent.
In contrast to this incredible hydroplaning resistance, the tread grip on the road is not at its best. This setback is redeemed by its easy-to-drive nature and balanced handling. With this, you would always be in control and be able to make quick maneuvers as the need arises.
Snow and ice traction
Cooper uses a deep tread technology for the Discoverer Rugged Trek. This technology sets its snow traction over the bar. The deep tread and earth diggers make you move comfortsbly through the snow. They keep your vehicle balanced in the winter and still return an enticing response while driving.
Some tire sizes are branded with the Severe Snow Rated badge meaning they passed tests for longitudinal traction.
Noise and comfort
All-terrain tires are notorious for making noise. Only a few try to be a bit quiet. Thanks to Cooper's Whisper Grooves technology, Cooper's Discoverer Rugged Trek is in this category. Its works by blocking the rush of air through the tire. This technology lowers tread noise on Discoverer Rugged Trek to a slight pleasant hum even at high speed. However, you will hear high-pitched noise on longer journeys. This is not a problem because many all-terrain tires make the same noise on long journeys.
In terms of comfort, Discoverer Rugged Trek fares well. Its soft nature will take you through the most arduous journeys without stress. But, it would be best if you took care when riding over sharp ridges and potholes. Driving over such can make your ride less comfortable as Discoverer Rugged Trek does not handle them so well.
Alternative for Cooper Discoverer Rugged Trek
While Cooper's Discoverer Rugged Trek is a preferred option for most drivers, a few listen too well to the hum of the tire on long journeys. For more money, Goodyear Wrangler Duratrac is a worthy alternative. It emits less noise and still provides quality rides like Discoverer Rugged Trek.
Price range
You can get a set of the Discoverer Rugged Trek for an asking price of $249.74. Compared with other tires which meet its specifications, it is relatively a good bargain. You get a lot more for your money.
Also, considering the tread life of a set of the Discoverer Rugged Trek, you can see that you get to save a good deal of money.
Warranty
Cooper has you covered with their pacifying warranty package. Their treadwear warranty lasts for six years. In terms of mileage, it is for 60,000 miles. However, LT sizes have a warranty for 55,000 miles.
Cooper also offers a uniformity warranty for the first 2/32 inch of wear. Their quality and materials warranty lasts for six years. This ensures you get a free replacement after the first 2/32 inches of wear. Also, you get your tires prorated for free till 2/32 inch remaining depth or the expiration of the warranty. They also have a manufacturer's unique warranty that allows you to test the tires for 45 days. During these 45 days, you can make up your mind to fully commit to the Cooper Discoverer Rugged Trek as they do not disappoint.
Our take
After taking your time to read to the end, we believe you have reached a decision.
Cooper Discoverer Rugged Trek is perfect for your on and off-road driving expeditions. Whether a short spin on the snow or a long journey on pavement, it has got you covered. And you do not need to worry about being stuck in the mud anytime—all for a low price.
Moreover, Cooper offers the Discoverer Rugged Trek customized for every driver's taste. So, if you love riding far off into the mountains or on the level plain road, the sharp edge styling or mountain's pass design Cooper puts on your Discoverer Rugged Trek will remind you of what you love.