Do diesel cars have catalytic converters?
Explore the surprising role of catalytic converters in diesel-powered cars.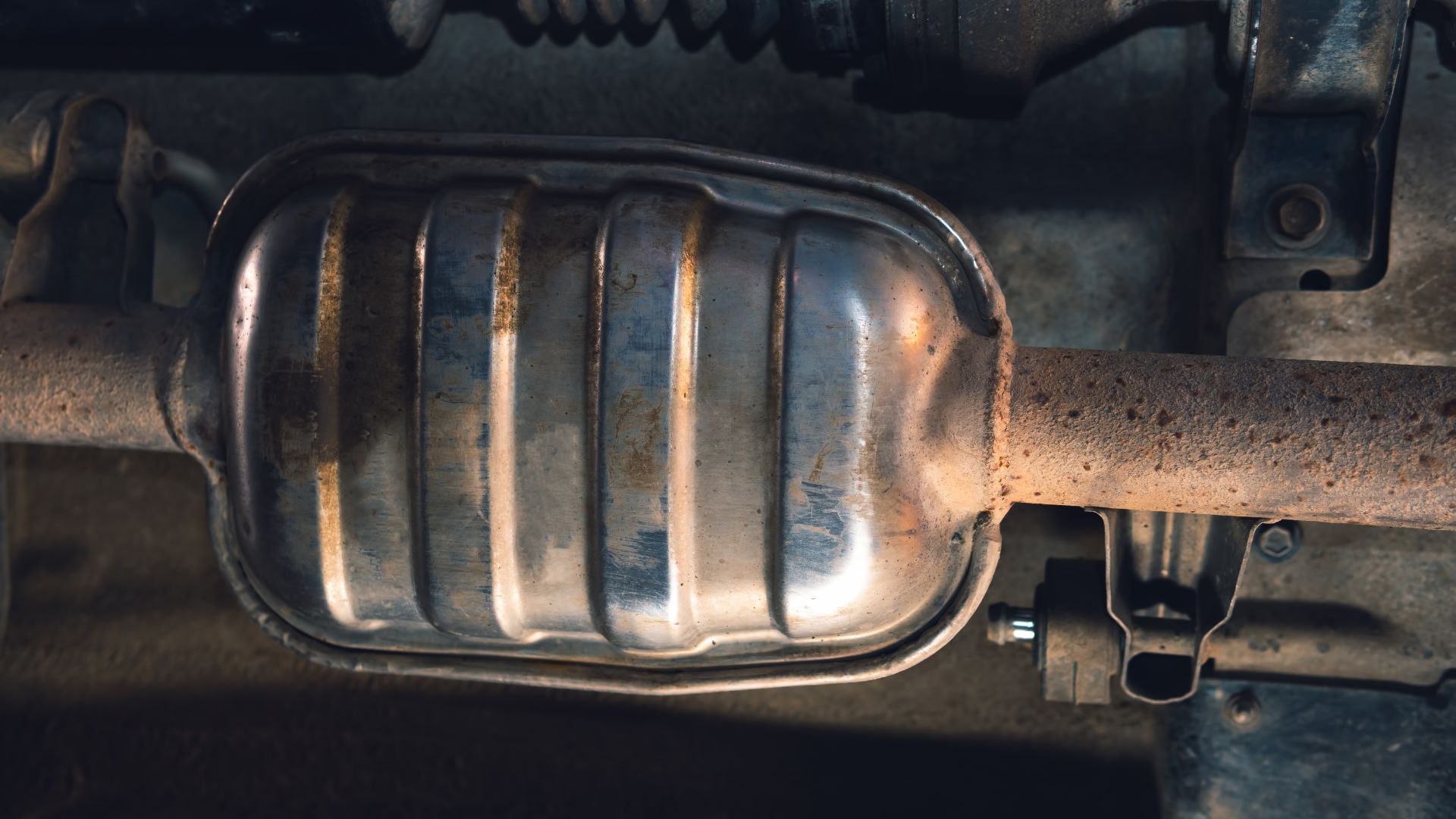 Over the years, environmental organizations have tightened emission regulations for auto manufacturers. According to a statement released by the Environmental Protection Agency (EPA) in 2021, vehicles are responsible for almost 75% of carbon monoxide pollution in the US. As a solution, manufacturers introduced catalytic converters to reduce toxic gases from the exhaust system.
Although diesel engines have a reputation as the more eco-friendly option, they can still cause pollution. Diesel engines also need help to reduce emissions. If you own a diesel vehicle, you might wonder: do diesels have catalytic converters?
Most modern diesel vehicles have catalytic converters. While the catalytic converters in diesel and gas vehicles have the same function, they work differently. Now, let's dive into everything about catalytic converters in diesel vehicles.
Do diesel trucks use catalytic converters?
Like regular cars, most new diesel trucks have catalytic converters. Most older trucks only have a Diesel Particulate Filter (DPF). Manufacturers did not start actively using converters in all their cars till 1975.
After the Clean Air Act of 1970, the US government mandated carmakers to use converters in all their cars from 1975. The Ford F-250 and Ram 2500 trucks have some of the most expensive catalytic converters at $2,804 and $3,460, respectively.
Ford trucks also have diesel converters with the best scrap value. Scrap catalytic converters from Ford diesel trucks can fetch $600. It is simply confusing sometimes when comparing diesel and petrol cars, and it's often a matter of debate as to how many spark plugs a diesel has.
Are catalytic converters expensive?
Catalytic converters, whether diesel or gas, are costly. Most cars have varying prices for their catalytic converters. The exact price depends on the car model and the engine size.
In most vehicles, catalytic converters are the most costly parts. That's how expensive they can be. Some cars even require two converters for their exhaust system.
Ford's F430 has ratings as the vehicle with the most expensive catalytic converter replacement. The F430 requires two converters, and they cost $3,770 each. In total, that's about $7,540 for two catalytic converters.
The Lamborghini Aventador has a similar price range, with its two converters costing $6,240. Ford's F-250 truck and the Mustang have converters that cost $2,804 and $1,500, respectively. On average, diesel catalytic converters have a price range of $800 – $1,200.
Why are catalytic converters expensive?
The main factor that contributes to catalytic converter price is the precious metals. All catalytic converters have a honeycomb mesh with precious metals like platinum, palladium, and rhodium.
These metals are both rare and expensive. Platinum has a price of $1,135 per ounce, palladium costs $2,332 per ounce, and rhodium costs a staggering $10,000 per ounce. Rhodium is quite unstable, and its price can reach $20,000 at times.
What shortens the lifespan of a catalytic converter?
Faulty catalytic converters can cause engine damage, and defective engines can cause converter damage. When an engine fails, it can start performing some engine functions wrongly. If functions like air/fuel mixtures are incorrect, it can adversely affect the catalytic converter.
Some of the factors that wear catalytic converters and cause them to degrade prematurely include;
Short trips
After starting a car, the catalytic converter needs some time to reach the appropriate temperature to catalyze gases. When drivers take short trips, the converter doesn't get the proper temperature before the car shuts down.
If you're wondering how much time is enough to heat the catalytic converter, the answer is 20 minutes. A drive of 15 – 20 minutes can heat the catalytic converter enough to burn hydrocarbons.
Contaminated exhaust system
When there are leaks in the car, coolant or oil can enter the exhaust system. Car fluids in the exhaust system can cause serious problems. The first thing coolant or oil does is block the air passages in the converter's honeycomb structure.
Once the catalytic converter's air passages are blocked, it can't do its job correctly. If you don't replace the catalytic converter immediately, it can cause damage to the engine.
External impact
Some roads can be hard on cars. The catalytic converter's honeycomb mesh is quite fragile. Manufacturers use ceramic to make catalytic converter mesh. When the vehicle's rear side hits obstacles hard, the mesh can get broken.
Of course, a broken catalytic converter honeycomb mesh isn't helpful to the exhaust system. As the car drives, the mesh can break into smaller pieces.
What should I do if my catalytic converter stops working?
Typically, catalytic converters should last up to 100,000 miles. However, there are situations where they stop working before reaching the 100,000 miles mark. When the catalytic converter stops working, you might get signs like hard starts, poor fuel economy, and loss of power.
Sometimes the check engine light comes on to warn about the catalytic converter. If you get signs that your converter isn't working, the first step should be to investigate why it stopped working. The main issues that can cause a faulty converter include damaged internal parts, clogged mesh, and oil overconsumption.
If the issue with your catalytic converter is damaged internal parts, cleaning it won't do any good. Supposing your converter is clogged with carbon deposits, you can clean it out.
Manufacturers recommend that you replace the catalytic converter instead of cleaning it out. However, catalytic converter replacements are pretty expensive. If you can't replace your converter, your next option might be to clean it out.
How to clean a catalytic converter
Some drivers put lacquer thinner in their tank and run it to clean their converter. We do not advise using this extreme method. Lacquer thinner can degrade your engine. Taking out the catalytic converter and cleaning it with lacquer thinner is harmful. Also, you can't wash your converter with soap and water.
Some fuel additive products like cataclean are the easiest way to clean the catalytic converter. Cataclean is EPA-approved, and it works. However, fuel additive products that claim to clean the converter are only temporary solutions.
What happens if my car has no catalytic converter?
Catalytic converters are essential parts of the exhaust system. If you remove your converter, don't expect your car to run as usual. Converters help to muffle exhaust noise, so expect a louder exhaust if you remove your converter.
Replacing the catalytic converter with an exhaust pipe can help lower the noise a bit. Your car starts producing more hydrocarbons and carbon monoxide when you remove the converter. There's also the problem of poor fuel economy and engine performance.
Of course, tampering with the catalytic converter will make your vehicle fail emissions testing. That's not so great if you live in states where emissions testing is required, and drivers can get fined up to $250 for driving without a catalytic converter.
Catalytic converter theft
Thieves have been stealing catalytic converters because of their high prices and the precious metals. According to the National Insurance Crime Bureau (NICB), drivers reported 280 catalytic converter thefts in 2021. Because of this, many drivers ask themselves – does insurance cover catalytic converter theft?
On the black market, converters go for between $50 – $1,600. Recyclers sometimes pay $50 – $250 for stolen converters. Some car models are big targets for catalytic converter theft. These models are the Toyota Prius, Toyota Tacoma, Honda Accord, and Lexus SUVs. Hybrid vehicles, SUVs, and trucks are also prime targets.
How do I protect my catalytic converter from theft?
To prevent theft, you can take the following precautions;
Install an anti-theft device to discourage thieves.
Always park your car in secure areas.
Use insurance services to protect your catalytic converter from theft.
Use paints to mark the converter and make it undesirable to buyers.
Install a catalytic converter cage. There are similar products like straps and shields that cover the converter and hide it from view.
Mark your catalytic converter with the etchings of your car's VIN or license number.
Install a catalytic converter alarm. You can get one for about $25 – $179.
Our take
Diesel engines have a catalytic converter, but they are different from the converters in gas-powered cars. With proper care and maintenance, your diesel catalytic converter will last 100,000 miles or ten years. Drivers can clean their clogged converters, but manufacturers recommend replacing failing converters.
How much do diesel catalytic converters cost?
Diesel catalytic converters cost anywhere between $800 and $4,000. The price of a catalytic converter largely depends on the make of the car and the engine size. 
How long will a diesel catalytic converter last?
A catalytic converter can last for up to 10 years. Manufacturers usually build catalytic converters to last for about 100,000 miles or 10 years. The plan is that the converter lasts for the car's lifespan.
Can my car run without a catalytic converter?
Yes, your car can run without a catalytic converter, but that doesn't mean it's ok. Converters are in the exhaust system for an important reason, and in some states, it's illegal to drive without one.u003cbru003eu003cbru003eMost cars can drive for miles with disabled catalytic converters. Removing your converter won't cause engine damage, but it is not advisable.
Can a catalytic converter be cleaned?
Yes, a catalytic converter can be cleaned. However, manufacturers do not recommend cleaning the converter.