P0304 code — how to fix error fast
The P0304 code can be crucial for your car's longevity. Discover its relevance and act timely.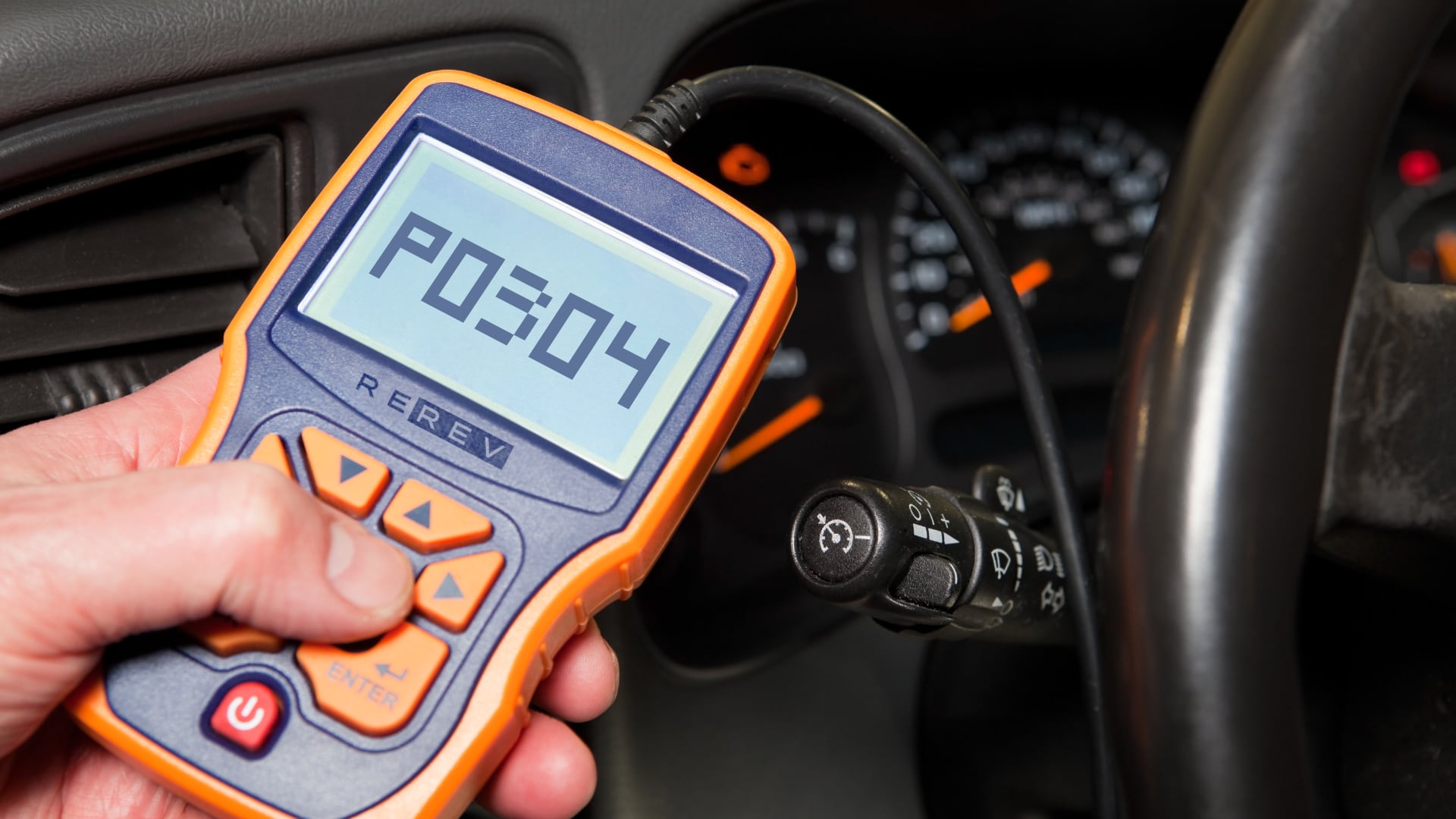 If you face a sudden reduction in your engine's performance, using a diagnostic scanner will likely show the code P0304. It's one of the most common codes related to poor engine operation and lack of proper acceleration, but what's the P0304 code meaning at its core?
Car owners must understand what this code means, what causes it, and how to fix and prevent it. That's why we'll address all these things in this article with essential information regarding the P0304 code to provide a comprehensive guide for car owners.
Why you can trust REREV's OBD2 code advice: Our automotive expert researchers with experienced mechanics undertakes a thorough research methodology to deliver precise insights on OBD codes. Find out more about OBD2 codes research process..
What does code P0304 mean?
The P0304 code is a diagnostic trouble code that indicates a misfire in the engine's cylinder. It's usually related to the misfire which occurs within the fourth cylinder, meaning that the cylinder remains unfired and that could disrupt the engine's combustion cycle. As you might imagine, this may lead to some serious issues including reduced power, poor fuel efficiency, and potential damage to the engine. The "P" in the code stands for "Powertrain," which means the code is related to the engine, transmission, or emissions system.
If you decide to simply drive on and ignore the code, it could lead to more severe engine problems, such as piston damage, catalytic converter failure, or even a blown engine. Another consequence that directly reflects on your driving is that cylinder four misfires will contribute to the engine not operating as smoothly and efficiently as it did before. So, you may experience a sudden power loss which is especially dangerous when overtaking and driving at highway speeds.
What causes the P0304 code?
While it's easy to diagnose the aftermath and the consequence that this code leaves behind in terms of a cylinder four misfire, finding the direct cause of it may require a bit more diagnostic work. Still, you don't have to be a mechanic with profound equipment to find a potential cause, so our team wanted to give you a few pointers in terms of the most common culprits behind the misfire:
Faulty spark plugs or ignition coils
In our humble opinion, you should even be partially happy in case faulty spark plugs or ignition coils result in a misfire. Sure, it can cost up to $200 or slightly more to replace these based on your car's engine type, but it's still much more affordable than dealing with costly engine repairs.
Spark plugs are the most common reason behind a cylinder four misfire since if they get worn off, the cylinder won't fire due to inefficient combustion triggering activity.
Clogged fuel injectors
Clogged fuel injectors can restrict fuel flow to the engine, leading to a lean air-fuel mixture that can cause a misfire. In other words, there will be much more air than fuel within the cylinder and the combustion ratio will be disrupted.
This can affect the cylinder's misfire as well as the fuel efficiency and the operation of your engine as a whole.
Vacuum leaks
Just like the lack of fuel can directly affect the combustion ratio within the engine for the worse, vacuum leaks could cause restricted airflow into the engine. A vacuum leak can cause an imbalance in the air-fuel mixture, so it's easy to see why it's one of the main reasons behind the scanner tool displaying code P0304.
Low compression
Low compression in the engine's cylinder can cause a misfire, which typically happens in older cars with high mileage. It can simply happen as the engine gets older and its vital components begin to wear and tear. Some of the main signs of poor compression within a cylinder include worse performance than usual and the hesitation motion when you step on the throttle.
Wiring issues
Faulty wiring connections or damaged wires can cause a misfire in the engine's cylinder. This one is at least a bit easier for a mechanic to inspect, and here's our overall list of the symptoms that may occur once the P0304 code is triggered:
Rough idling or accelerating
Reduced power and acceleration
Engine shaking or vibrating
Poor fuel efficiency
Check engine Light on
Which car models does the P0304 code affect the most?
The problem with figuring out this code is that it can happen with any car powered by a petrol engine, especially since it has spark plugs that require frequent check-ups, unlike diesel ones. Still, we managed to generate a list of the most commonly affected car models and these include the following:
Ford F-150: The Ford F-150 often suffers from faulty spark plugs and ignition coils that lead to a P0304 code.
Chevrolet Silverado: Chevy Silverado also has similar vulnerabilities as the F-150 including failing spark plugs that require frequent changes.
Honda Accord: HIgh-performance versions of the Accord often suffer from vacuum leaks that lead to a misfire.
Toyota Camry: This model is known to have issues with the wiring that may cause the code P0304.
As for engine types, this time we can't give you a distinct pattern since every petrol engine can be vulnerable to misfires, but you should pay even more attention if you are driving a slightly older vehicle.
How to diagnose the P0304 code?
Now that you know a bit more about why the code even appears in the first place, it's time we get to business by explaining how you can diagnose the code yourself. Of course, relying on the help of a trusted mechanic is always recommended by our team if you face a problem like this and similar issues related to the engine, but let's see what exactly you can do:
Use a diagnostic scanner tool
You can grab one of these for as little as 20 bucks and it still does almost the same job as a more professional scanner used by your mechanic. The scanner tool will help diagnose the code P0304 and confirm which cylinder is misfiring, which can be a great help when deciding on your next move.
Inspect the spark plugs and ignition coils for damage or wear
Another simple check you can do is inspect the spark plugs and ignition coils for wear and replace them if necessary. Oftentimes, you'll only need to replace the plugs related to the fourth cylinder, but sometimes your mechanic will advise you to do a more thorough job and replace all of them in a specified interval to prevent further engine damage and misfires.
Check for clogged fuel injectors by conducting a fuel pressure test
We've already briefly discussed how this one could lead to a misfire in your engine's fourth cylinder and we recommend you do a quick fuel injector cleaning if you face this problem. Of course, you should first consult your mechanic who will also likely do a fuel pressure test to figure out if the lack of proper fuel pressure is what caused the misfire.
Inspect for vacuum leaks
Since your engine operates on a specified combustion cycle, it's always required to check for vacuum leaks in case everything is well with the injectors. Perhaps the lack of proper air intake led to this problem in such a situation, and it could likely lead to a code P0304.
Perform a compression test
A trustworthy mechanic will likely have the right equipment to perform a compression test of your engine. This way, you can see if low compression is what caused the code and if so, you'll get the pointers on what needs to be fixed to restore the original compression of the engine.
Check for faulty wiring connections or damaged wires
Finally, we recommend you take some time to inspect the wiring related to the engine's crucial systems since sometimes the problem is as simple to fix as replacing a few faulty wires.
How to fix the P0304 code?
Fixing the P0304 code depends on the cause of the misfire, and now you know a bit more about diagnosing the exact cause, you can use one of the following recommended solutions to hopefully remove the code:
Replacing the spark plugs or ignition coils
If the spark plugs or ignition coils are faulty or worn out, replacing them can solve the issue. The cost of replacement can range from $100 to $500.
Cleaning or replacing clogged fuel injectors
If the fuel injectors are clogged, cleaning or replacing them can improve fuel flow to the engine. The cost of cleaning or replacing fuel injectors can range from $50 to $500. You can also use a fuel injector cleaning solution to remove the clog yourself and this one is a bit more cost-efficient solution.
Fixing vacuum leaks
Fixing vacuum leaks involves identifying the leak's location and repairing or replacing the damaged component. The cost of repair can range from $50 to $200.
Rebuilding the Engine
If the engine has low compression, it may require rebuilding. The cost of rebuilding an engine can range from $1,500 to $4,000.
Still, this is the worst-case scenario and only a highly experienced mechanic can be entrusted with such a serious task. in this case, you can also consider getting a remanufactured engine which has sometimes proved to be a better long-term solution and a more affordable one than rebuilding your old engine.
How to prevent the P0304 code?
Preventing the P0304 code is easier said than done since you never know when a misfire could occur in your engine. However, some of the best pointers you can use are to simply frequently replace the spark plugs and make use of a proper maintenance schedule proposed by the manufacturer for your vehicle type. Here are some of the main preventative measures:
Follow the manufacturer's recommended maintenance schedule.
Regularly change the oil and oil filter.
Replace the air filter when needed.
Use high-quality fuel.
Check the spark plugs and ignition coils regularly.
Our take
As it turns out, the P0304 code is a common issue that can cause significant damage to your car's engine if not addressed promptly. Understanding the code, its causes, and how to diagnose and fix it can help car owners avoid costly repairs and ensure their vehicle's longevity.
We hope to have given you some more perspective on this common code and why it occurs, as well as provided proper preventive measures so you can avoid ever having to deal with it.
How does the P0304 code affect my car's engine?
If left unaddressed, code P0304 can cause significant damage to the engine. The misfire can cause internal engine components to overheat and fail, potentially leading to costly repairs or even engine replacement.
How can I avoid encountering P0304 code?
You can avoid and prevent encountering the code P0304 by regular vehicle maintenance, including replacing spark plugs and ignition coils at recommended intervals, using high-quality fuel and additives to keep injectors clean, and monitoring engine performance
How serious is P0304 code?
The code P0304 could point to a serious issue with your car's engine and we wouldn't advise you to simply keep driving with it unless you get proper help and repair the issue at its core.