Where does antifreeze go? — explained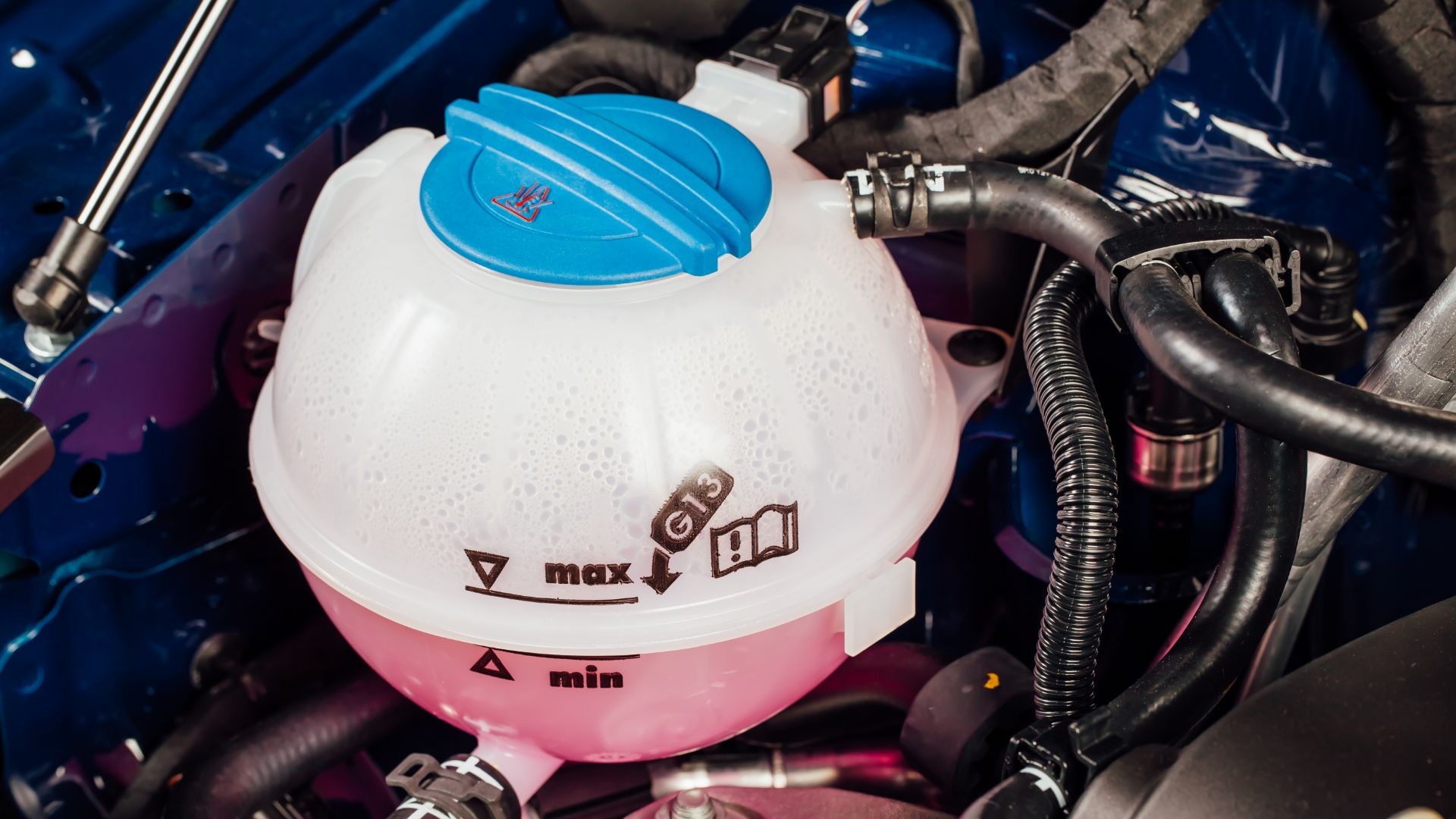 Antifreeze is essential for the running of a car. All those moving parts giving off heat due to friction need to be cooled somehow, and that's where antifreeze comes in.
Nowadays, drivers sometimes need clarification about where the antifreeze should go due to the difference in collection points for new and old vehicles. Older vehicles require it to be put in the radiator, while newer ones have a coolant reservoir.
This article clarifies where antifreeze should go, how to use it, and its benefit to your car. We also include when and how to replace antifreeze in your vehicle.
What is antifreeze?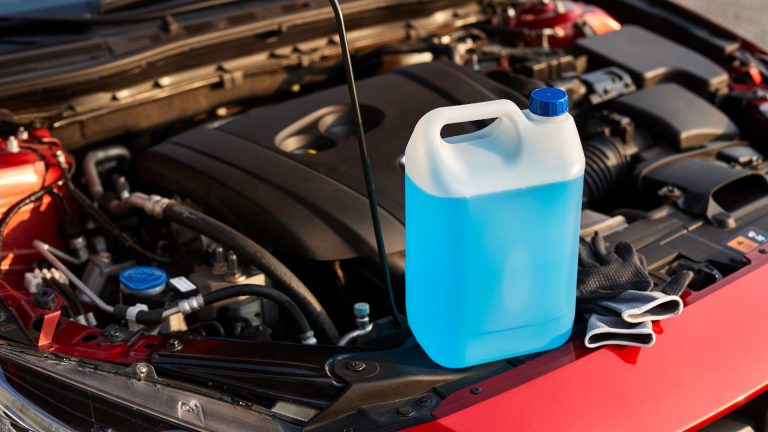 Antifreeze is a mixture of either propylene glycol or ethylene glycol with additives that prevent corrosion and oxidation, such as azoles, nitrates, and borates. The additives make up less than ten percent of the product.
Some manufacturers pre-mix their antifreeze, selling it with the necessary amount of water to function adequately in a car. Others sell just the antifreeze solution. You must read the label carefully to know what you are working with.
If you purchased just antifreeze with no water, you must mix it with water at a 50/50 ratio before use. Pre-mixed antifreeze needs no further mixing and can be used directly.
It is important to note that antifreeze is toxic. Its bright colors of green, yellow, orange, pink or red make it a target for children and pets. Therefore, when using it, ensure you clean every spill and keep it out of the reach of children.
Where does antifreeze go in a car?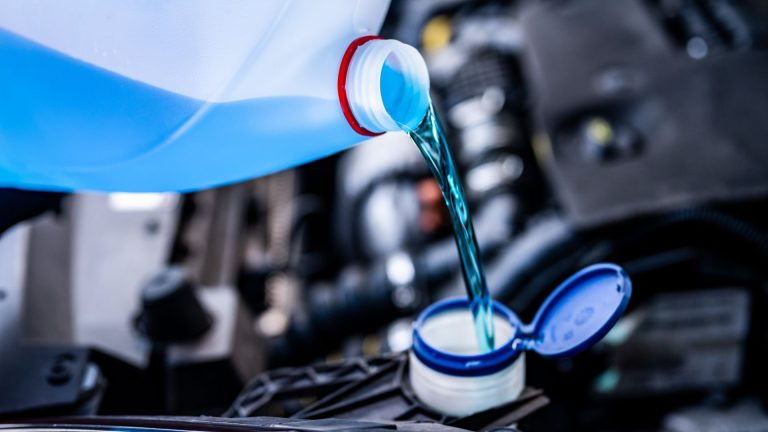 Older vehicles do not have the antifreeze reservoir that modern cars have. For these kinds of vehicles, you put the antifreeze in the radiator.
You can find both the antifreeze reservoir tank and radiator under the hood. Their placement varies with the kind of vehicle. You will need to consult your vehicle's owner's manual to find and identify the reservoir or radiator where you put your antifreeze.
How often do I need to top up my antifreeze levels?
Most manufacturers recommend you flush your antifreeze every two years or after every 30,000 miles to keep your engine running optimally.
However, some faults and malfunctioning may cause your coolant to become too small or unusable. As such, it is advised that you check your coolant levels twice a year, during the fall before it gets too cold and in spring before the weather gets too hot. If you have a history of coolant problems, check your coolant regularly to ensure your vehicle is safe.
What are the signs that I need to change the antifreeze?
The common way most drivers tell when they need to change antifreeze is by studying their vehicle's temperature. When the temperature gets warmer than it usually is, and the car has problems starting in the winter, it indicates that the antifreeze needs replacing.
Aside from the temperature rise, other signs inform you of the need to change your antifreeze.
For starters, you should not smell antifreeze during or after a ride. If you perceive the sweet-smelling substance, it is an indicator that the antifreeze is leaking somewhere. The leak could be either from the radiator hose, cylinder head, leaky radiator or radiator cap, or a failed manifold gasket.
The smell of antifreeze is toxic and irritates the lungs and eyes. It is best to arrest the situation as soon as possible to avoid the issues its toxicity can cause.
Sometimes, the smell would be of burning rubber. You can only perceive this smell when you stop the engine. The smell implies that the antifreeze is leaking directly onto the engine.
Antifreeze leakage is a severe problem, as insufficient antifreeze levels could cause your vehicle to freeze during the winter or overheat in hot weather. The damage overheating causes is terrible and can cost you your engine. That is why you should perform routine checks to ensure that your antifreeze levels are in the proper proportions.
When checking your antifreeze levels, also observe their color and viscosity. Fresh antifreeze has bright clear colors which gradually darken with usage. It consequently becomes an oxidized shade of brown with a small amount of debris which can be carbon or rust, floating in it.
You must change your coolant when antifreeze gets dark in color and acquires a thick texture. At this point, the antifreeze is old, with a lot of dirt, and will not do its job correctly.
If you find traces of oil in your old coolant or notice leaks under your car that are not oil, you need to check where the antifreeze is leaking. You also have to ensure that your antifreeze is not leaking into the engine oil sump, which can be fatal for your engine. It's essential to check for places where leakage is possible, such as radiator leaks to prevent your engine from running too hot.
How do I put antifreeze in my car?
Replenishing antifreeze levels is not an arduous task. Nonetheless, if you need more confidence in your abilities, you should leave it to a professional.
Before you can put in new antifreeze, you have to flush out the old coolant thoroughly. These are the steps for flushing coolant:
Park the vehicle and activate the handbrakes. Wait until the engine is cold before doing anything else.
Lift the front of the vehicle.
Place jack stands beneath the vehicle and lower it into position with chocks on the back wheels.
Remove any underbody shield that may be present.
Keep a container under the radiator before undoing the drain valve. Please consult your owner's manual to know where the drain valve is and how to undo it. Ensure you follow national and local guidelines when disposing of the old coolant.
Use a quality cooling system flush additive to flush the system many times until traces of the old coolant are gone.
Find and remove the reserve tank to drain any remaining coolant, then put it back in its holder.
Return the drain valve to its position.
When the coolant reservoir is clean, you can fill the system with pre-mixed antifreeze or a 50/50 antifreeze-to-water ratio. Ensure you shake the mixture well to prevent the additives from settling before pouring the coolant into its reservoir.
How much does it cost to change the coolant?
The amount you have to pay to get a professional to flush and replace your antifreeze depends on the size and type of vehicle—a standard coolant change costs between $100 to $200.
However, if you decide to do it yourself, you can save up to $50 on your first change and %100 for subsequent ones. Antifreeze is inexpensive, with some stores selling them at a low estimate of $25 for approximately four liters. You will only have to get a few tools on your first change.
Are antifreeze and coolant the same thing?
Antifreeze and coolant are different things. Antifreeze only becomes a coolant when water is added to it in the proper ratio.
Using antifreeze on its own in the cooling system could damage the engine. The heat-transfer ability of the cooling system would be 35% less than when a proper coolant is used. Furthermore, the value of the additives in it will be null since they need water to be suspended and valuable.
Likewise, using only water as coolant will damage your engine since engine temperatures get high enough for water to boil and evaporate. The risk of engine overheating is greater with water as a coolant. Aside from overheating, the corrosion water increases the risk of your engine failing.
However, by combining the two – antifreeze and water – you get the perfect combination that efficiently manages your engine's temperature. The resulting coolant will regulate your engine's temperature, improve its performance, and reduce wear due to corrosion and oxidation.
Our take
You put antifreeze into a coolant reservoir tank made for that purpose. If your vehicle is an old model, you will put it in the radiator as they do not have a reservoir tank.
Antifreeze is always used in conjunction with water for its temperature-managing ability to be at its peak. It is referred to as a coolant when mixed and is crucial for the longevity of a car's engine. Check your coolant's levels and texture regularly and perform a flush and replacement every two years.
Where do I put antifreeze in my car?
You put antifreeze in the coolant reservoir. If your car is old and does not have a coolant reservoir, you set the antifreeze in your radiator.
Does antifreeze go where the water goes?
Yes, antifreeze goes where the water goes. They need to be in a 50/50 ratio to be very effective as coolant.
Do you need to put antifreeze in your car?
Antifreeze is an essential fluid for your vehicle. When combined with water, it regulates your engine's temperature, preventing it from overheating.
Do you put antifreeze in the radiator?
The antifreeze is put in the radiator for old models without coolant reservoirs or expansion tanks. It is mixed with water to serve as a proper coolant for the engine.