How to change a tire – a step-by-step guide
Acquire the essential steps to change a tire effortlessly and avoid being stranded.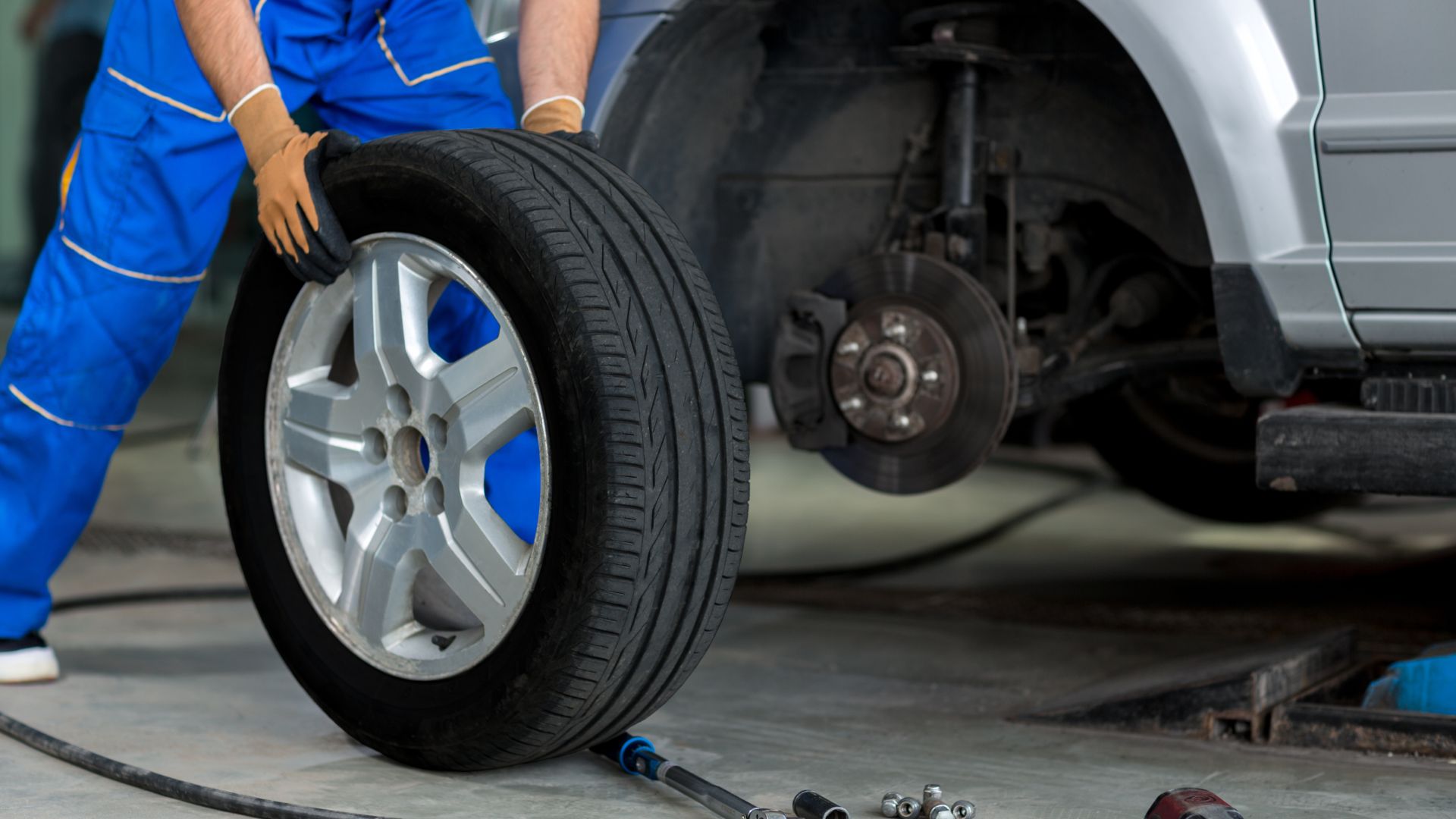 If you tend to spend a lot of time driving in your car, you'll inevitably drive over a sharp rock or deep road bruise. While it's best if you never have to deal with a punctured tire, every driver should know the answer to a troubling question – how to change a tire?
If you are unfamiliar with the procedure, our team will help you with some pointers on changing the tire yourself. Keep reading to learn all the necessary steps for dealing with a flat tire swiftly and safely.
Key points of changing a flat tire
Let's be honest – you are never prepared for changing a flat tire since punctures rarely happen near your garage and tools. What's more, it often happens on busy roads, so you'll have to consider some key points besides the whole tire exchange procedure:
Finding a safe place to stop is crucial
Use a flasher jacket and warning triangle
Check on your driver's manual
Make sure that there's a flat surface beneath your car
Your safety comes first, so it's of utmost importance that you find a safe place to park the car. You'll need to have enough space around the vehicle to change a tire without interfering with the traffic and putting yourself in danger.
Once you stop, make sure to wear a flasher and place a warning triangle that's usually found in your trunk. You should place the triangle 147 feet behind your vehicle, so other drivers can spot you and your car on time.
Another important safety recommendation is to always use a parking brake. If you drive a car with a manual gearbox, it's not enough to leave it in first gear as you'll want to lock the car completely in place. This is because you don't want to risk your car rolling once you apply the jack.
To maintain the utmost stability, you should also take a look at your driver's manual. Every car has a different slot in the chassis frame where it's best to apply the jack to ensure complete stability while changing a tire.
Sometimes it's good to have a tire with run-flat technology so you can do the drill someplace safe and out of the road. You can see through Yokohama tires review how innovative tire technologies ensure reinforced tread to help you get a mile or two more even with damaged tread.
Is it hard to change a tire yourself?
No, it's not hard at all to change a tire by yourself, you just need a safe place to stop and knowledge of the drill. You can practice in your garage or a parking slot just for precaution, so you'll be able to change a tire quickly and easily near the road in case you ever need to. It's important to have all the tools needed in your car and to know how long tires last in general so you can come at it prepared.
It's a one-man's job since you can handle all the steps of changing a flat tire without any help.
What tools do you need to change a tire?
You'll need tools like the car jack, lug wrench, spare tire, and wheel wedges to change a tire. Most of these are found under the floor of your trunk among the car tools, while you can use large rocks or bricks instead of wheel wedges to prevent the tire from rolling.
Additional pieces of equipment could also include a portable inflator if you have the time and space to pump the tire fully inflated.
Getting started with tire replacement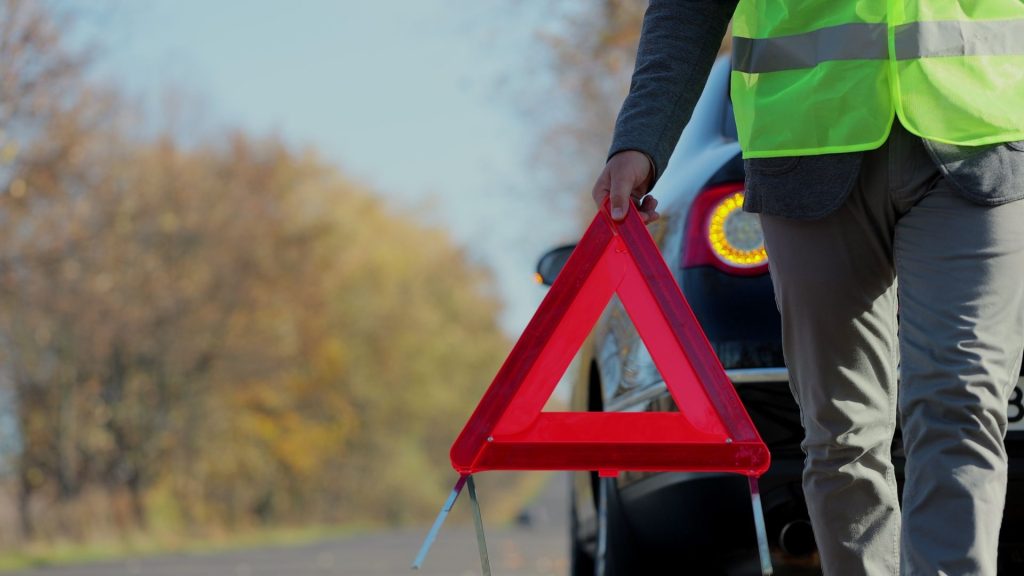 As mentioned, your first goal will be to find a spot to safely stop and pull the hand brake of your vehicle. Once the stability of your car is secured, it's time to set up the warning triangle and pull on your flasher jacket for safety purposes.
After that, you can go ahead and pull the spare tire out of your trunk. You can place it just outside of your trunk since you'll need to do this to reach the needed tools. Now's the perfect time to set up the wheel wedges or rocks to secure your tire from rolling as you change it. The first inquiry that some drivers have at this point is – how long can you drive on a spare tire?
Taking the old tire off
Next, it's time to take the flat tire off, and you'll first need to apply the car jack to do so. The tricky part is to find the perfect spot to apply the wrench. Namely, you might end up mounting the jack under a plastic component on your chassis, and this could result in the plastic breaking.
To make sure you are doing it right, read the driver's manual. Every car has a specific section of the metal frame near the wheels where it's best to apply the jack. Most cars have a notch that specifies the exact spot where the jack should be applied, so look for it near the wheels.
Use the jack to slightly raise the side of the vehicle you are working on. Next, use the lug wrench to loosen up the nuts. Remember, you'll have to rotate the wrench counterclockwise to loosen up the nuts, and turn it clockwise to tighten the nuts once you mount a spare tire. As you take off all the nuts, the only thing left to do is to pull the tire off the car.
Mounting a spare tire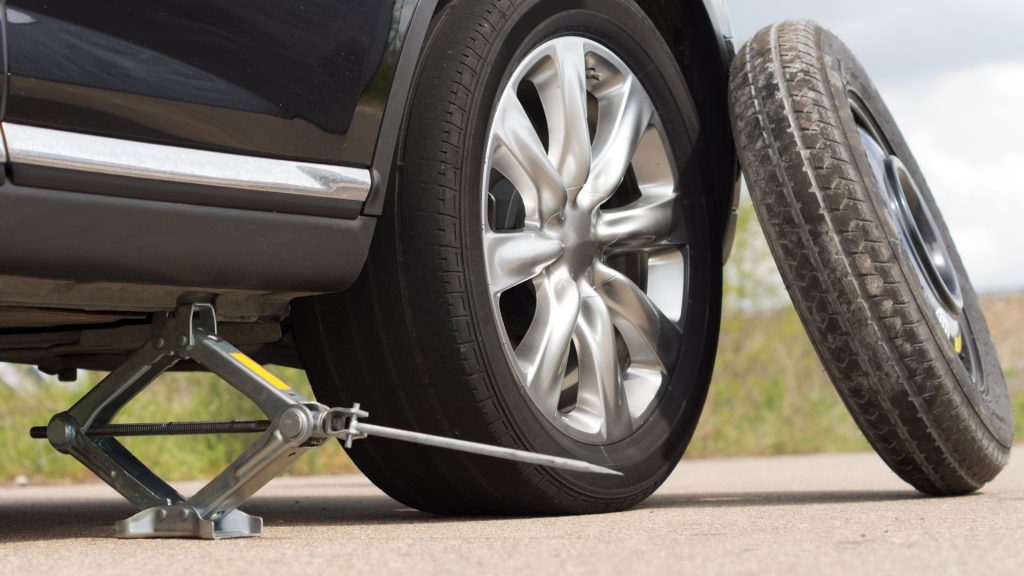 The simplest thing to do once you take your old tire off is to place a new tire in its place. However, you'll need to be careful with what comes next to make sure that your new tire doesn't fall off from the vehicle due to improper adjustment.
Once you place a spare tire on your car, place the lug nuts back and slightly rotate them with a lug wrench in a clockwise direction. The next step is crucial since you want to make sure that the nuts are tightened evenly to support your tire.
Tighten the spare tire properly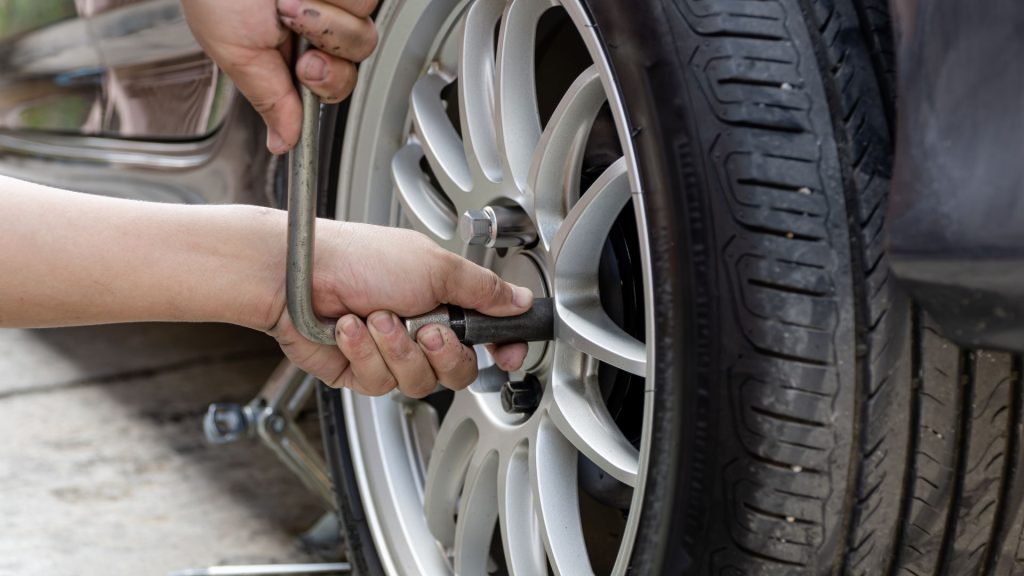 Tightening the nuts on your spare tire with the jack still applied is just the first step. You'll have to make sure that the nuts are tightened enough, but not completely. To completely tighten the nuts, slowly lower the jack until the tire touches the ground.
At this point, you can apply the wheel wedges and finish tightening the nuts. The crucial thing is to always randomly tighten the nuts. Don't just go around the clock with the nuts tightening one by one in a sequence – try to randomly tighten one nut from each side.
By doing this, your tire will be properly mounted and you won't risk it falling off while driving. You can apply pressure by stepping onto the lug wrench and pushing it down with your foot. It will turn the nut clockwise until you hear a sort of click designating that it's as far as the nut goes.
How long does it take to change a tire?
It takes about 15 minutes to change a tire if you know what you are doing. It's a much more challenging task to change all tires since you would be placing the jack around the vehicle.
With a single tire, the most it can take for a replacement is up to an hour, even if it's your first time changing a tire.
Our take
Hopefully, these steps will serve as your lead on the matter of how to change a tire. After all, it's not that much of a complex task, and you can even replace a tire by yourself within 15 minutes. Just make sure that you have all the tools needed in your car at any moment, and find the right spot for using the jack.
It's also wise to tighten the nuts randomly to make sure that the spare tire is evenly supported on all sides.