What happens when the timing belt breaks?
Understand the consequences of a broken timing belt on your vehicle's performance.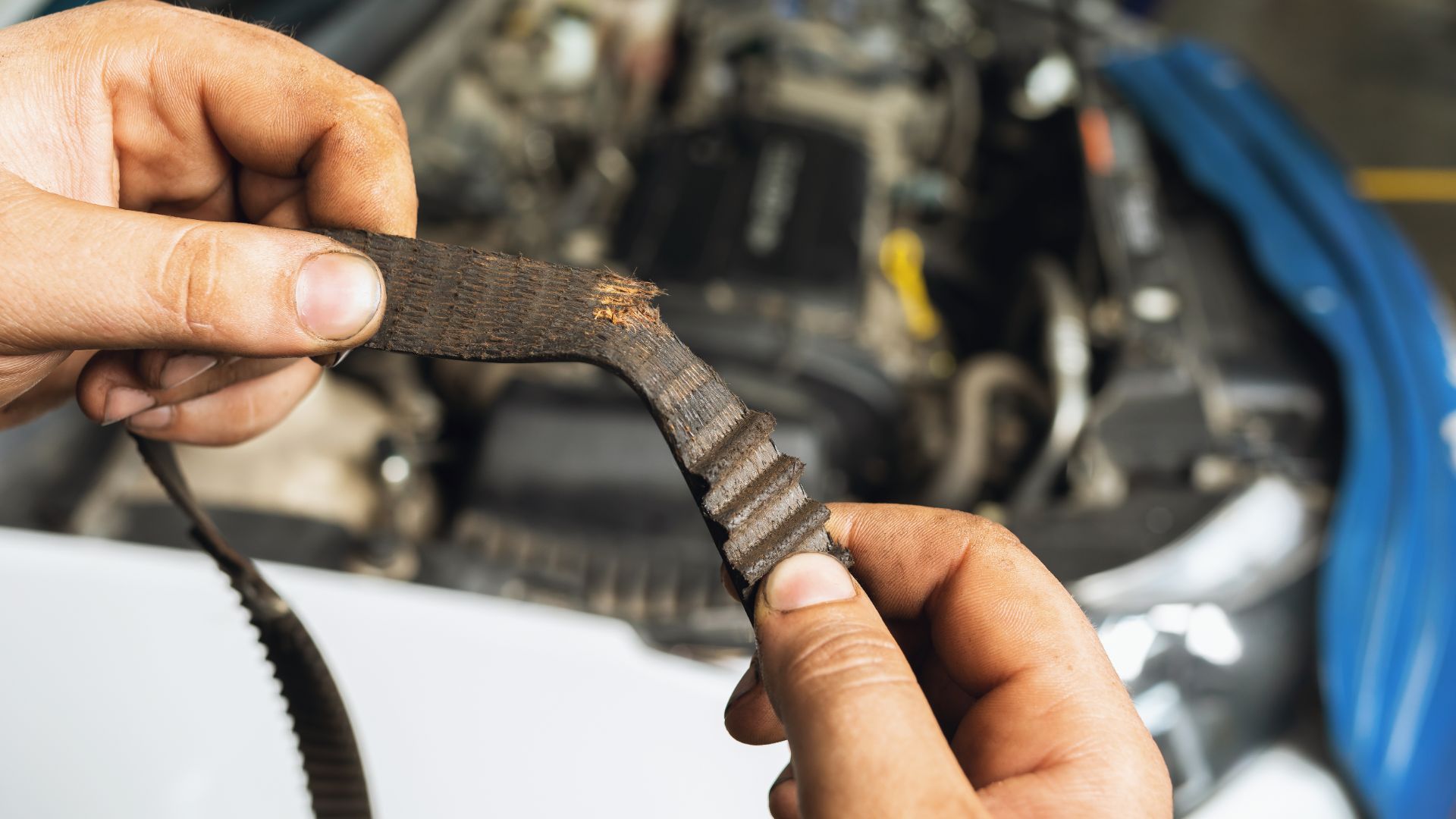 A functional timing belt is essential when it comes to the safe operation of a vehicle. The cars with timing belts need to be in proper condition to operate the engine and keep it running smoothly. Without a fully functional timing belt, you could experience many issues, including total engine failure.
While some minor car repairs might need urgent repairs, if you notice any early signs of a failing timing belt, you should have a professional diagnose the problem and repair it as soon as possible.
It may be nothing, a minor fix, or a sign of trouble, possibly leading up to that dreadful moment when the timing belt breaks while driving. Here, we look at the signs, causes, and what happens when the timing belt breaks.
What causes a timing belt to break?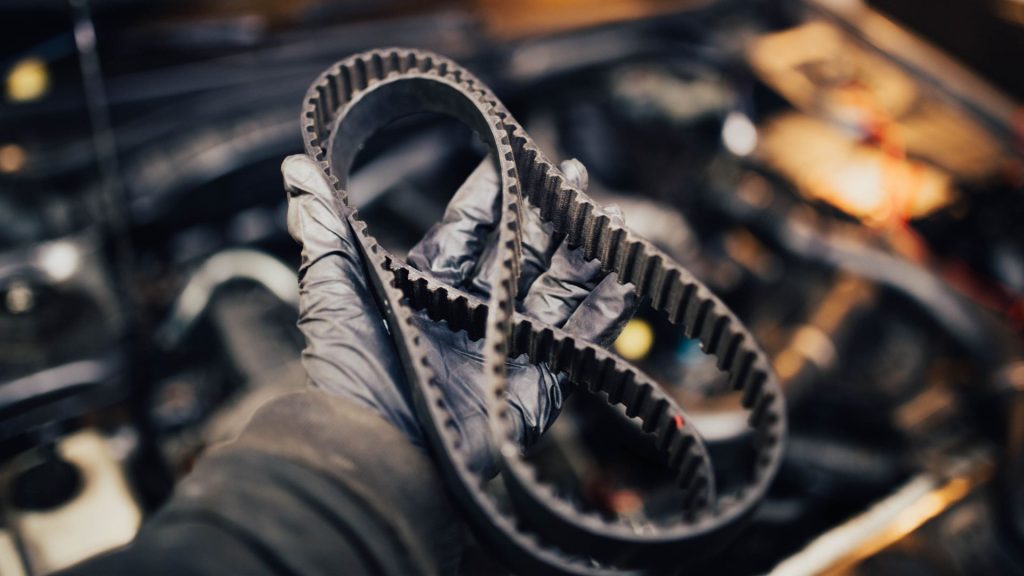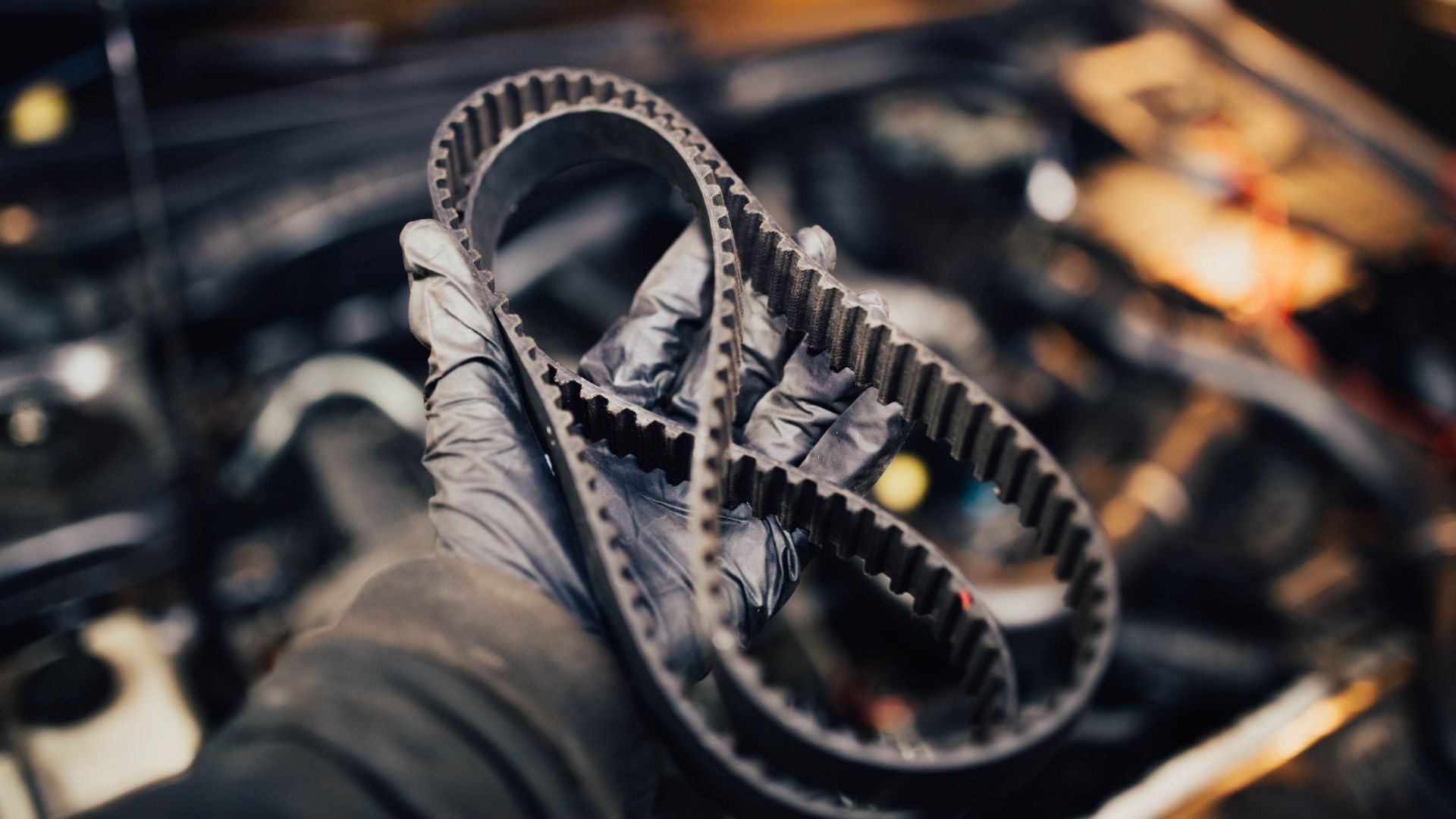 Misalignment
Misalignment is one of the leading factors of timing belt drive failure. Misalignment can be associated with tensile failure, belt tracking, and excessive or uneven tooth wear. You can save yourself many downtimes and increase your timing belts' lifespan by occasionally checking and aligning your shafts and timing pulleys.
Excessive load
Excessive load on your vehicle causes shearing timing belt teeth. Tensile failure and excessive tooth wear can also be caused by extreme or shock loads, although the latter is less likely. To cure this problem, you will have to redesign the drive.
Weak drive structure
You could have a weak drive structure if your timing belt vibrates excessively or suffers from belt stretch. You could stop the problem if you reinforce the drive structure.
Damaged or worn pulleys
Your timing belts' lifespan could substantially be reduced due to damaged or worn timing pulleys. Worn teeth cause wear and damage. Also, nicks or gouges can cut the belt. You should inspect and replace pulleys that show signs of wear.
Debris in the timing pulley or drive
Although it's the most overlooked, debris can cause many problems for your timing belt & pulley. While dirt on the teeth can scrape the belt, oil can attack the belt materials leading to damage. You should use a stiff brush to clean rust and clean off oil and grease. Since debris can account for any of the above reasons for timing belt failure, you should clean those pulleys and fit a shield to that drive.
A timing belt will eventually fail by losing teeth in what's considered normal wear, but you should regard any other failure reason as abnormal.
Symptoms of a failing timing belt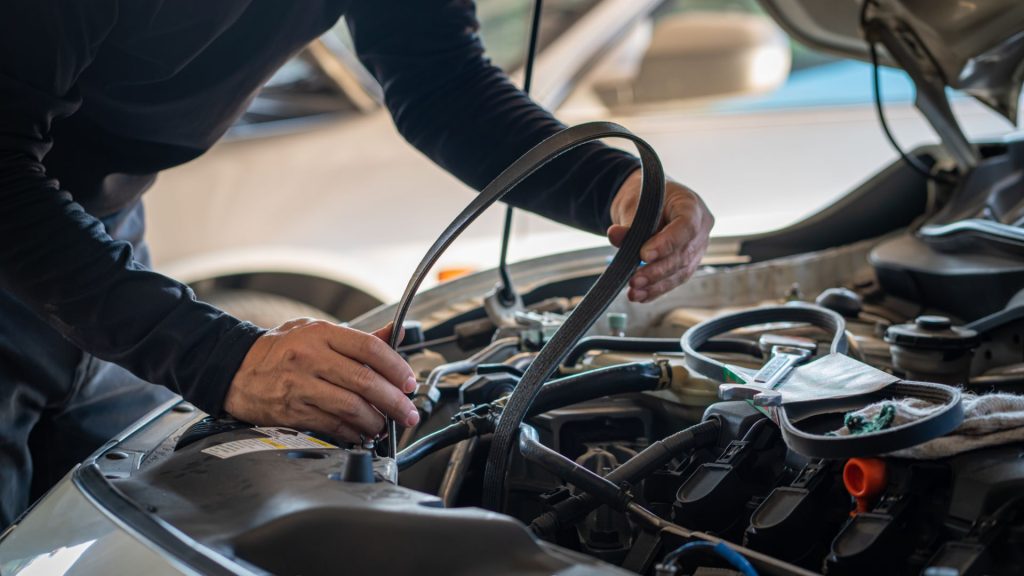 Some surefire warning signs indicate that your timing belt is about to fail. You might want to take your vehicle to the mechanic once you notice the bad timing belt symptoms. 
Ticking noises
A system of pulleys is responsible for holding the timing belt in place. When your timing belt starts to wear, you might hear a ticking noise from the motor. The ticking noise could indicate low oil pressure or poor lubrication. A visit to your mechanic would help diagnose the problem.
Car refusing to start
If the timing belt has broken, your vehicle's engine won't turn over. You might probably hear a click when you turn the key, but other than that, nothing else will happen. You might also notice the starter motor engages, but the engine will not turn over since you have a broken belt.
Misfiring pistons are less noticeable to the average driver but can result in excess smoke and engine damage. The engine won't fire appropriately if a timing belt is too worn, and this could result in severe damage to valves, push rods, rocker's arms, and other engine parts that could lead to expensive and complicated repairs.
Exhaust smoke
If smoke comes from your tailpipe, the engine isn't burning fuel properly. This could result from the valves not opening and closing as they should due to a stretched or worn timing belt. Whether it requires a timing adjustment or a complete replacement, you should treat it as urgent.
Excess vibrations
If your engine's timing is off, there could be an increased amount of shaking or vibration coming from the engine. However, this vibration can result from having lousy spark plugs; nonetheless, it can also be a sign of a timing belt issue. If your spark plugs are fully operational, check your timing belt as soon as possible.
Oil leaks
If oil leaks on the front of the motor, it could come from the timing belt cover or the gasket between the timing cover and the engine block. This could be a sign of a wearing belt, or the leaking could cause engine overheating and premature wear to the belt. Either way, it needs repair immediately.
What happens when your timing belt breaks?
What happens depends on your type of engine. On non-interference engines, when the timing belt breaks, the valves and pistons are no longer synchronized, so they move freely, although the engine stops immediately. With this engine type, there is room for the pistons, valves, and push rods to all clear, even when they are not synchronizing. All you have to do is tow your car to a shop, replace the timing belt, and you can keep driving.
In contrast, if you are driving an interference engine, the pistons smash into the valves when the timing belt breaks. At a minimum, it bends the push rods and could damage valves or pistons. In extreme cases, it could send part of a piston into the cylinder wall and damage the block. You would then face a complete engine rebuild or an engine swap to get the car running again.
How much does it cost to replace timing belts?
Timing belt service could become a big deal and be costly, depending on your type of vehicle. Replacing a timing belt will cost between $500 and $1,000 on average; however, waiting for it to break before replacing it can cost upward of $2,000 or more. Also, when it comes to timing belt vs timing chain, the belt itself is much cheaper than a replacement timing chain.
The timing belt itself isn't expensive; however, the time and labor make it so expensive because the engine needs to be disassembled to get to the timing belt. Doing so takes significant time and effort.
What happens if the timing belt breaks while driving?
Your vehicle's crankshaft will continue to spin at 1000 rotations per minute, even with a broken timing belt; however, the camshaft will stop rotating. As the piston rises and falls in their cylinders, they might strike and damage the valves.
How often should you replace your timing belt?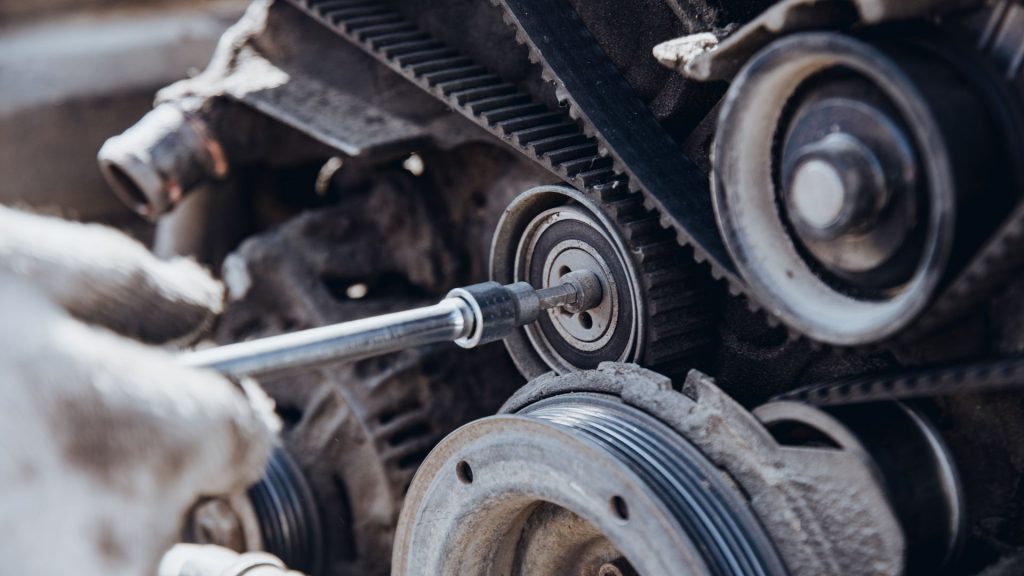 As a general maintenance rule, you should consider replacing your timing belt between every 60,000 – 100,000-mile range to avoid costly repairs resulting from a timing belt breaking while driving the vehicle. Although most manufacturers recommend replacing the belt at 60,000 miles or 72 months, more recently, the straps are a bit sturdier, and some cars don't need them changed before 160,000 miles.
This guideline does not mean that the belt will snap at 60,000 miles, and a margin of safety is built-in; however, you should change belts periodically. On some engines, if the belt snaps or jumps or the teeth wear out, nothing much happens as far as damage is concerned, and the engine will suddenly quit. But the damage can be substantial on most engines, referred to as "interference" engines.
An interference engine does not have sufficient clearance between valves and pistons. So if the belt lets go, the engine is out of time, and the momentum of the running engine can cause the pistons to come in contact with the valves, and then you are looking at a major repair bill, often exceeding the value of the car.
Our take
The belt drive is the most overlooked yet essential component of your vehicle. Without it, your vehicle would lack mobility. Therefore, you must turn your attention to this part immediately after noticing any of the signs discussed in this article. Paying rapt attention will help you avert the catastrophe that could ensue if left unchecked.
However, if ignored, a broken timing belt while driving could lead to significant damage to your vehicle's engine; hence, you should contact a professional mechanic that would diagnose and salvage the situation before it escalates.
Will a broken timing belt destroy my engine?
A broken timing belt can severely damage your engine if left unchecked. When the belt snaps, it prevents the valves from closing in time, causing the piston to hit against them, leading to immediate engine damage.
Is there any warning before the timing belt breaks?
Yes, there are warning signs to indicate a failing timing belt. These warning signs include exhaust smoke, ticking noise, misfiring pistons, oil leaks, etc.
Is it worth fixing a broken timing belt?
No, it's not worth fixing a broken timing belt, and buying and installing a new one is best.
What are the symptoms of a timing belt breaking?
You might experience ticking noise from the engine, oil leak near the motor, revs acting up and your vehicle might also refuse to turn over.