Tire plug vs patch — best way to repair a punctured tire
Learn the most effective solution for fixing a punctured tire using a tire plug or patch.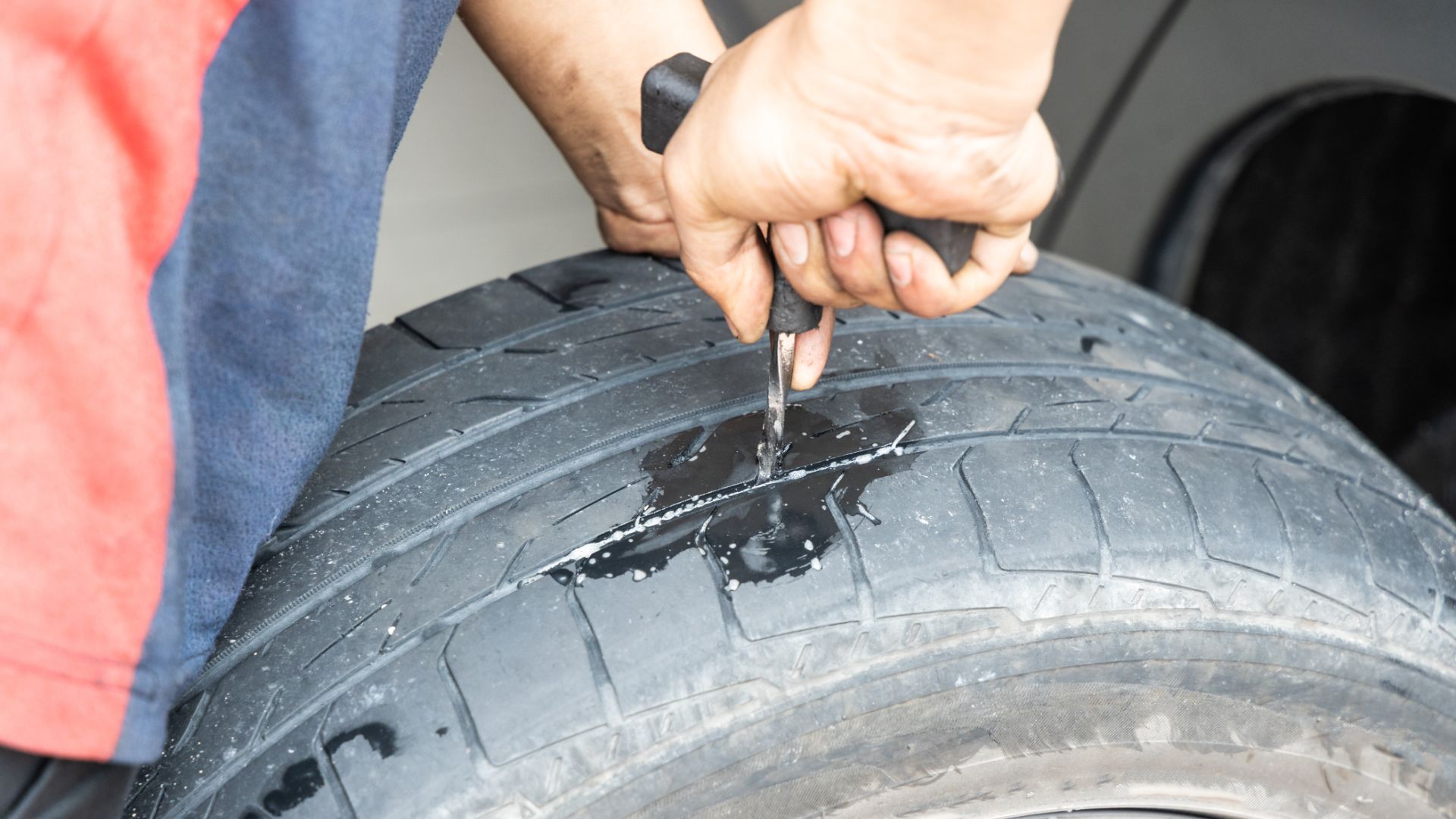 If you just bought a new set of tires for your ride, the worst thing that could happen is to drive over a sharp object that punctures one of them. Luckily, buying a replacement tire isn't the only solution, since you can repair the existing tire and have it rolling again.
There's one problem, though, and that's the debate on tire plug vs tire patch that many drivers take part in. Some say patches are better, while others prefer the easiness of using a plug without having to take off the tire. So, our team decided to give you a clear overview of both methods and pass the final judgment to make tire repairs easier for you.
What do tire plugs and patches do?
Both tire plugs and patches help in tire repairs by sealing the holes and punctures. While they can't be used for wide sidewall punctures, small holes are easy to repair with those products. They seal the hole from the inside and prevent water and debris from entering it.
Tire plugs and patches prevent the inner tire belts from rusting due to water entering the interior. They also help you maintain the recommended tire pressure and your tire won't lose any pressure due to the puncture. So, it's a quick fix that almost lets your car run as if you had a completely new tire mounted as a replacement.
The main difference between the two is the endurance, while the mounting procedure is also a bit different. Using a plug takes much less time and it can even be done with the tire still mounted on the wheel. However, tire patches require taking off the tire and they consume more time, but they also last considerably longer. From the Firestone Destination XT review, it's clear that some tires have staggered shoulder lugs and rugged tread, making them less likely to need a repair.
Tire repairs using a plug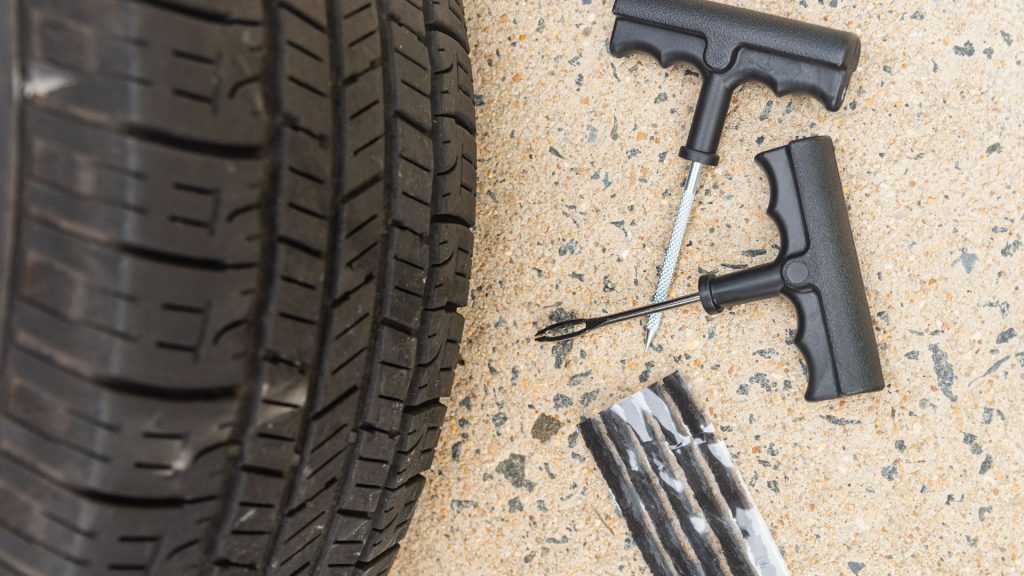 Tire plugs are best used for smaller and regular-shaped holes and punctures. You can repair a tire using a plug without any help, and without even taking the tire off. You get everything you need in a tire plug kit, and these are quite inexpensive.
You can find them in most tire shops and even gas stations, so it's the quickest way of repairing a tire. Within the kit, you'll get a reamer, vulcanizing tire solution, and the plug with the inserter. The procedure is simpler than it sounds, but you should first limit yourself in terms of situations where tire plugs are effective.
If you have a nail or a screw that went in the tire tread, it's the perfect case for a tire plug. However, if there are any irregular-shaped holes, sidewall damages, or if the hole is considerably larger than a nail hole, the plug won't suffice.
There are several types of tire plugs – a rope plug, a spear plug, or a mushroom plug. They all work similarly, the only difference is in the way a vulcanized mass is pressed into the hole. Spear plugs are most commonly used, and they just require placing the spear onto the inserter and penetrating the puncture.
As you pull the inserter out, the spear remains in the tire and seals the hole, and it's similar to rope plugs, as you have to cut off the extra material in the end.
Benefits and flaws of tire plugs
We already mentioned that tire plugs can only be used for smaller holes, and these aren't permanent solutions when compared to tire patches. However, let's observe the efficiency of tire plugs through their main pros and cons. Here are some of the main positive sides to using a tire plug:
Rope plugs re-seal themselves under pressure in case of puncture
Fast road-side solutions for emergency tire punctures
If used correctly, tire plugs can last almost as much as a tire patch
Still, there are some limits to these solutions, and these might make you still turn to a tire patch instead. For instance, a mushroom tire plug is a bit complicated as it requires piercing through the whole to make it wider. Then, you'll need to place the probe and load the plugger which goes onto the probe.
You'll also have to use a hex key to push the mushroom through, and all that effort can be in vain. Not only do mushroom plugs fail under the pressure, but the tire's pressure drastically reduces in this case. So, if you go over a rock, your hole might pop open again and you'll end up with a flat tire soon.
Rope and spear plugs do tend to last longer and they won't leave you on the road in case a seal gets damaged. Still, it's best to use a tire plug as roadside assistance, and patch it up afterward as you reach a tire shop.
Fixing a tire with a patch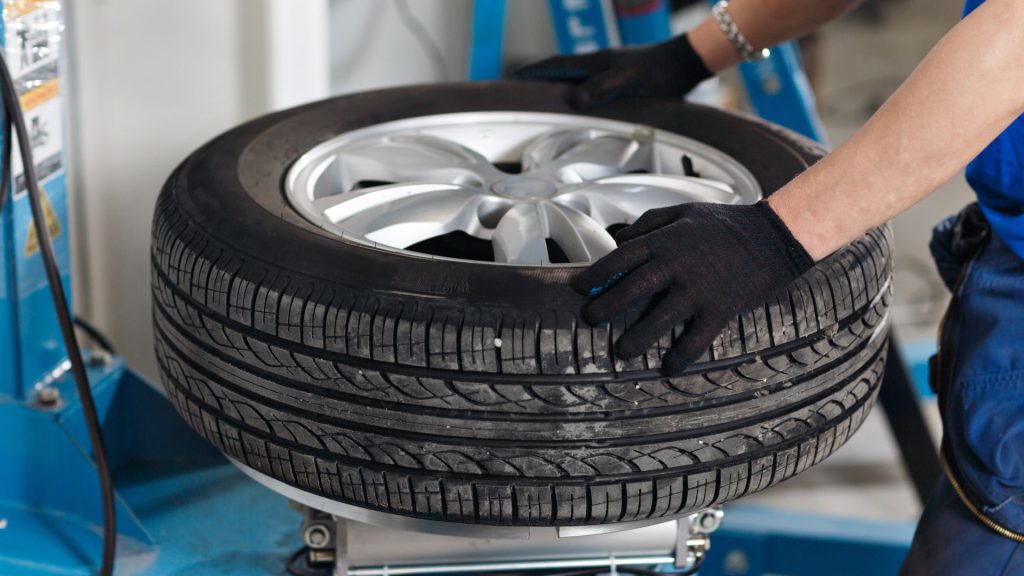 Unlike tire plugs, patches are a permanent solution, and these are the only legal tire repair options in some states. It's due to their double seal created by both the patch itself and the plug that goes into the tire hole.
Both elements are air-tight, and the driving friction produces heat which strengthens the vulcanized material. It then blends in with the tire tread, making it a more permanent solution. So, a tire patch provides the ultimate level of safety when repairing a tire. You can use a plug instead for smaller holes caused by screw or nail punctures.
However, the tire patch can be applied even on those smaller holes, especially for repairing larger and irregular-shaped punctures. It requires taking the tire off from the wheel, marking the spot with the hole, and drilling through it so the plug can go through. On top of it, the patch strengthens due to heat and completely seals the hole.
Pros and cons of tire patching
Overall, tire patches are a more complete and durable solution than tire plugs. Their seal won't break even under immense pressure, so you won't have to worry about the hole opening again. Here are some of the main benefits of a tire patch:
Longer lasting solution than tire plugs
Can seal even larger punctures
Give you a sensation of driving on a new tire
There are some limits even to tire patches, so you sadly won't be able to use them for sidewall punctures that are too wide. Also, if you drove on a flat tire for too long, the sidewall damage that causes a puncture can't be repaired by the patch. In these situations, you'll have to replace a tire since patches and plugs won't be able to seal the punctures.
Our take
Our final verdict on the matter of the tire plug vs patch dilemma is that tire patches take the win. These are the tire repair options you'll want to use to completely seal the puncture. You won't have to take any chances of the hole opening again, while tire plugs are more of a quick solution.
You can apply both methods and always carry a tire plug set with you in case of a road hazard. Still, try to patch up the tire as soon as you get a chance to avoid risking your driving safety.
Is a plug or patch better for a tire?
A tire patch is better for a tire as it provides more thorough protection and a more durable seal.
How long can you drive on a plugged tire?
You can drive on a plugged tire for about 10 miles, as these aren't permanent fixes. However, a tire plug could last even longer if it only covers a small hole, but it's impossible to tell for sure how long you'll be able to drive on it.
Is plugging a tire a permanent fix?
No, plugging a tire isn't a permanent fix and you should still get the tire patches as soon as possible. A tire plug is more of a road assistance kit that can save you from earning a flat while driving.