Firestone Destination XT review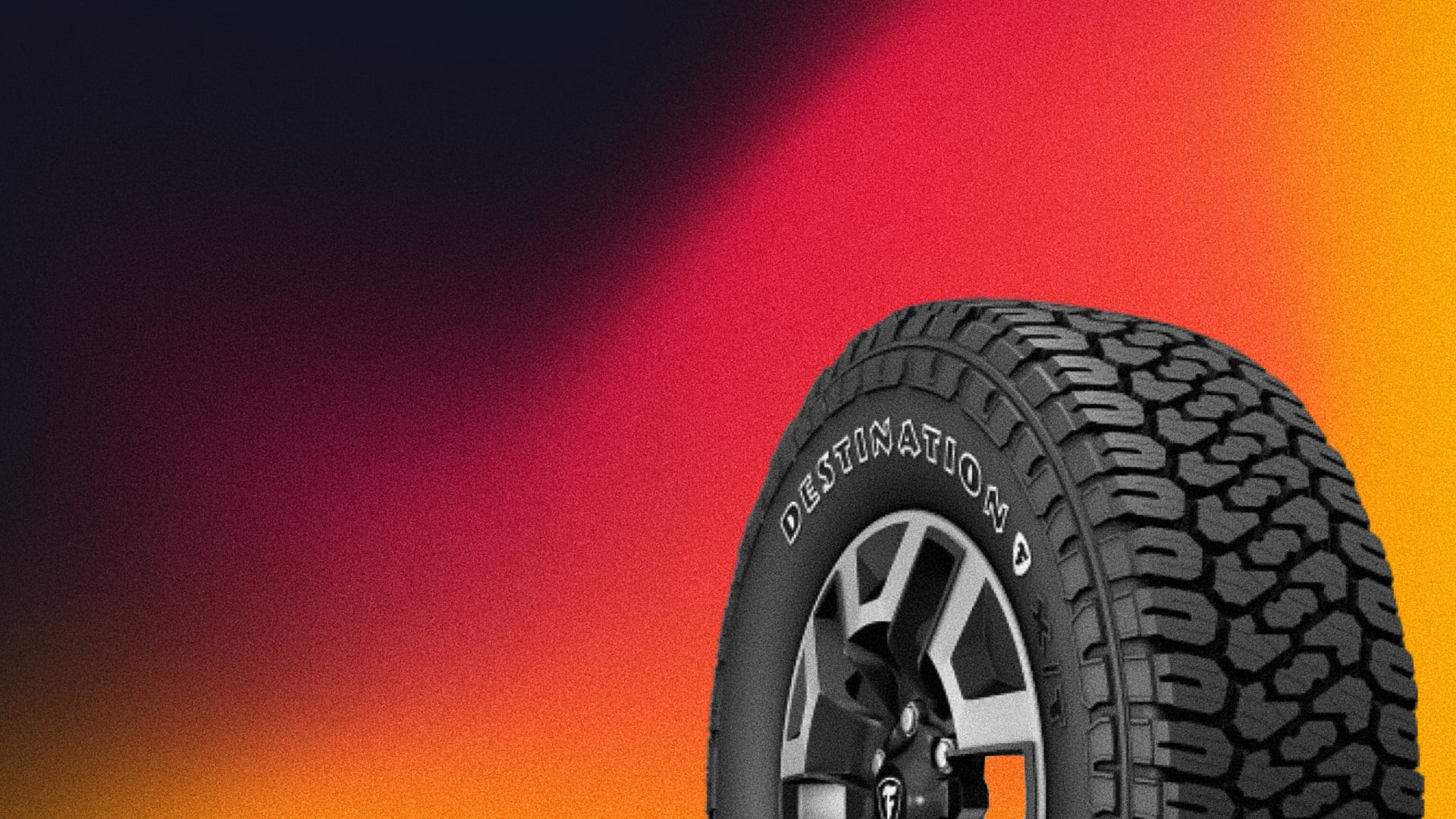 REREV may receive a commission for purchases made through links on our site. Learn more.
The SUV and truck vehicle segments have gained immense popularity over the last few years. And if you own one of these, you have an advantage over people who drive sedans or hatchbacks, as you can go off the beaten track without worries. One of the reasons why pickups and SUVs receive so much attention is because of their versatile and practical nature. Tires can go a long way to determine how versatile your vehicle is. Whether you drive off-road regularly or your route mainly consists of city roads, you need a competent tire.
Get ready to explore the exceptional capabilities of the Firestone Destination XT as we delve into our in-depth Firestone Destination XT review. The Destination XT is an all-terrain, all-weather tire designed specifically for 3/4 ton and 1-ton pickup trucks. It is engineered to offer impressive performance, durability, and excellent tread life. Join us as we take a deeper dive into the features and capabilities of the Firestone Destination XT to see how it truly holds up in different driving conditions.
Recommended
Firestone Destination XT
Our recommended tire for owners of heavy-duty trucks and off-road capable SUVs is the Firestone Destination XT – a tire with aggressive pattern that easily runs over rocks and sharp surfaces, while still offering all-season traction.
Purchases made through links on our site may earn us a commission.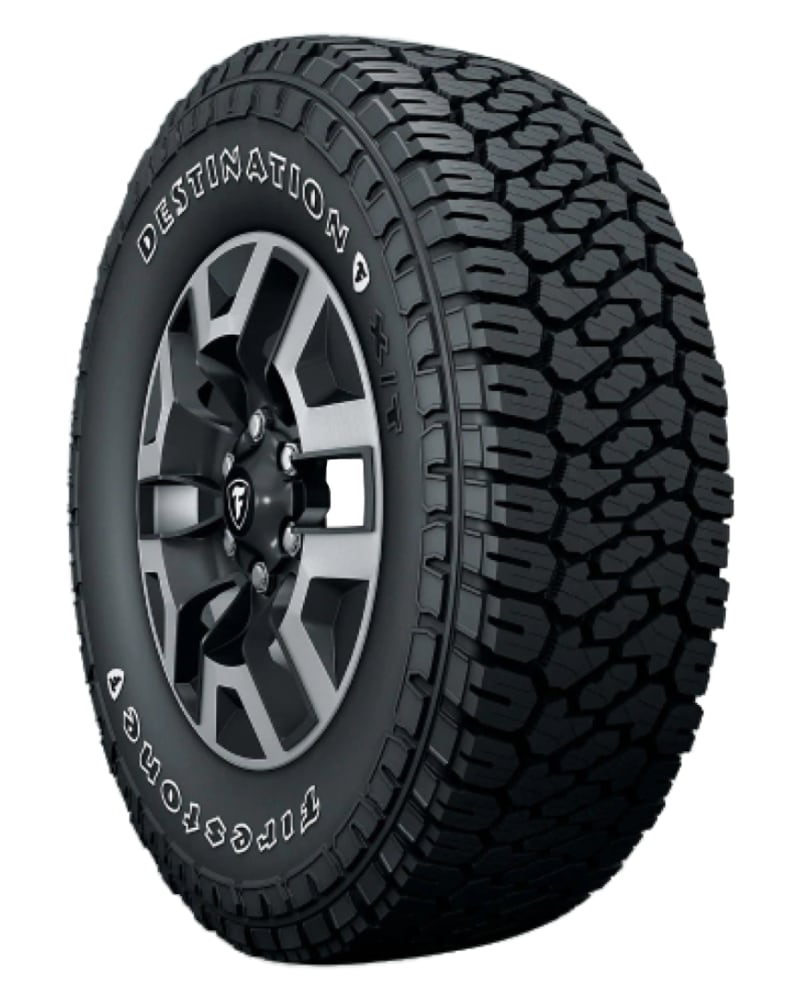 Key technologies and features
The Firestone Destination XT is an all-terrain tire that was built with SUV and light truck vehicles in mind. The tire is dependable and can take heavy-duty workloads in addition to its off-roading prowess. So what are the key technologies used by Firestone to design this tire? There are three major features of the Destination XT, and they include:
Staggered Shoulder Lugs
Full-Depth Interlocking 3D Sipe Technology
Open Shoulder Slots.
The off-road tread design and staggered shoulder lugs make this tire stand out as they offer extra biting edges off the beaten path. On the other hand, the full-depth interlocking 3D sipe technology is designed to help the tire wear out evenly, providing consistent performance throughout the warranty period. Finally, the open shoulder slots assist in evacuating water and providing off-road traction.
Firestone Destination XT safety features
If we are honest with ourselves, regardless of the style and brand names we choose, we all want to feel protected inside our cars. And safety is exactly what the Firestone Destination X/T represents.
The Destination X/T tire is a blend of mud-terrain and all-terrain tires. In other words, it is a more radical all-terrain option that offers improved traction on loose surfaces and superb grip without losing its road manners and durability.
Furthermore, the Destination XT is built to handle the heavy workloads that come with one-ton and 3/4 trucks. Firestone built the internal casing with two steel belts covered in two-ply polyester cord with nylon reinforcements. All of this helps to ensure that the tire can withstand heavy workloads.
It is also important to note that the tire does not keep water inside the tread due to its tread pattern (2 circumferential grooves), which means you may confidently drive this tire at high speeds in the rain.
Speed ratings
Here is why Firestone Destination X/T is truly unique and impressive: the tire comes with two different speed rating marks; "S" and "R."
With the S rating, you can safely drive at a top speed of 112 mph. The R rating allows you to cruise safely at speeds up to 106mph. It is essential to stay within the specified speed rating in order to enjoy comfort and stability.
Treadwear and durability
Fortunately, the Destination X/T comes with a 50,000-mile treadwear warranty, which is exceptional in this class. This tire can serve you for at least three years (of course, this measurement depends on your usage frequency). The carcass of this tire is very sturdy and allows it to handle cuts and chips well.
Maintenance Indicators
Tire maintenance indicators are signs on the tire that show the minimum tread depth that can be driven on. The Destination X/T, like most hybrid all-season tires, is equipped with the industry-standard TWIs (tread wear indicators). These can only state when the tread depth reaches 2/32-inch, which means they aren't allowed to drive due to poor hydroplaning resistance.
If you intend to use these tires during the winter, we recommend replacing them considerably sooner, with at least 5/32-inch tread depth, and the same goes for off-roading.
Firestone Destination XT traction performance
One look at the symmetric tread pattern on the Firestone Destination XT, and you'll realize that it is a hybrid between all-terrain and mud-terrain tires. Notwithstanding, hybrid tires also spend a lot of time on highways; therefore, high grip and traction are also essential. Let's look at how the tire performs in different conditions.
Snow traction performance
The Destination XT is at home on snow due to its 3PMSF rating. The Destination XT is a beast compared to other M+S (mud and snow) tires. It can be used in hardpacked or loose snow and every other inconvenience that winter throws up. However, it is important to remember that it is not a winter tire and should not be used as such. So if you live in an area that experiences extreme winter conditions, your best bet is a proper winter tire.
Wet traction performance
One of the features of the Firestone Destination XT is its high void area with open shoulders and tread grooves. This feature helps the tire resist hydroplaning, so your tire maintains contact with the ground even when you drive through deep water puddles.
On the other hand, Firestone fitted the Destination with a specially-formulated all-season tread compound that helps to enhance grip and traction. The tread compound is somewhat limited, though. While it offers enough braking and acceleration at regular speeds, it is not as competent at very high speeds.
Off-road performance
Even though most heavy-duty tires can only perform in mild off-road applications, the Destination XT stands out and performs admirably in the most off-road conditions. The tire is at home on rocks, sand, mud, dirt, and gravel.
Firestone fitted the tire with an aggressive off-shoulder tread design that creates the needed biting edges for loose terrain driving. On mud, the Destination XT performs impressively due to the open shoulders and high-void ratio that improves off-road traction.
What is most impressive about the tire is that it works well across all surfaces and has very few limitations. The tire also excels on rocky surfaces when deflated to lesser pressures.
Dry traction performance
The Firestone Destination XT performs superbly on dry tarmac. While accelerating too hard will definitely cause the tire to spin, traction is excellent. The tire also tackles corners really well; if you're that type of driver, you can have a little fun with your truck. Steering wheel feedback is average at most, but it more than makes up for that with steering sharpness.
Noise and comfort
The Firestone Destination X/sidewall T's are harder than most normal highway tires, yet this does not affect your driving experience. Cushioning was given extra consideration by the company in order to lessen the quantity of loudness and shocks.
Firestone did little to lessen noise, we must concede. On the Destination X/T, the tread noise is distinct and obvious, and it easily penetrates the cabin. We also found that it has a high-pitched sound that quickly drowns out engine and wind noise and can be exhausting on long journeys.
The slight noise you will notice when driving this vehicle is a trade-off for its exceptional durability, all-terrain traction, and pleasant ride.
Competitors and alternatives
There are few alternatives to the Destination XT in terms of driving comfort, speed ratings, and technology utilized to improve all-weather traction. Here are some additional options to consider:
Cooper Discoverer Rugged Trek
Bridgestone Dueler A/T Revo 3
Falken Wildpeak AT3W
Firestone Destination XT price range
Prices are specific to size. Firestone Destination XT comes in the following sizes; 15, 16, 17, 18, and 20 inches. Prices for Destination X/T range from $211.99 to $377.99. Its price is on the higher end of the price spectrum when compared to other tires in this class due to its high quality.
Firestone Destination XT warranty
Many offroad tires do not come with a treadwear warranty as they are used on very tough terrains. However, the Destination XT comes with a 50,000-mile tread life warranty. That's not on par with modern all-terrain tires, but it's outstanding given the Destination XT's capabilities and the fact that it's meant for heavy work on huge trucks. In a nutshell, it demonstrates Firestone's faith in this product.
The manufacturer also offers a 90-day trial period where you can use the tire for 90 days before deciding on keeping them.
Our take on Firestone Destination XT
We highly recommend the Firestone Destination XT for truck drivers and those who go on 0ff-road trips often. You will have no regrets when you consider all of its perks, upgrades, warranty, and even pricing range. It is worth every cent of the price, especially considering the performance levels.
After reading this evaluation, we hope you can confidently purchase a Firestone Destination XT (any size of your choice).
REREV may receive a commission for purchases made through links on our site. Learn more.