RPM going up and down — causes and fix
Investigate the reasons behind fluctuating RPM levels and how to rectify them.

Sometimes, as you are just chilling at the traffic light waiting to hit the throttle, you might notice an odd problem with the revs per minute (RPM) gauge. You might spot the RPM going up and down, and it's certainly a situation of unrest.
Whether it's rough idling, or RPM fluctuations while you are driving, many car owners have expressed their worries about a potential engine issue. That's why our team made this guide to deal with the subject once and for all. We'll tell you about the most frequent reasons for the RPM gauge going up and down, so you can overcome this unsettling problem.
What does it mean when your RPM goes up and down?
Before we get into the possible problems behind RPM fluctuations, let's stop for a moment to deal with the relevance of the revs. Your car's revolutions per minute tell you exactly how many spins your engine makes in a minute.
In other words, fuel and air injected into the combustion chamber are lit by the spark plug, and the explosion is transferred to the crankshaft via the tensile force of the pistons. The crankshaft keeps rotating and the RPM gauge signifies the number of revolutions it makes in a minute.
So, when you rev your car, you press the gas throttle with a certain force, and it causes combustion and power translation into the engine. While it's certainly fun to rev your car while idle, especially if it's a powerful V8 engine, the entertainment stops when your revs start fluctuating.
This is called rough idling, and the revs shouldn't change if you aren't pressing the throttle. Your revs could also suddenly drop and raise even while you are driving. This shouldn't be happening, especially if you are driving at a constant speed.
Because the revs signify the number of spins your engine makes in a certain period, you can easily assume it has something to do with the engine. While in some cases it is a symptom of something going bad in the fuel delivery system, transmission, or combustion, it isn't necessarily the case.
Possible reasons behind RPM fluctuations
Sadly, there are numerous reasons behind a fluctuating RPM gauge, but it's a good thing that you should be able to fix most of them without a serious threat to the engine. Let's take a look at the most frequent causes why your revs might jump and drop suddenly:
Vacuum leaks
Bad spark plugs
Clogged fuel injectors
Bad mass airflow sensor
Damaged idle air control valve
These are the most common triggers for the issue and we'll closely examine them in a bit. Let's now take the opportunity to discuss a few other things that might also cause RPM fluctuations, but are a bit rarer. For instance, this can also be a transmission problem, especially if you are driving an automatic car.
if the transmission system goes bad, you might experience gear slippage as you accelerate. This could be caused by a faulty torque converter, so the power distribution won't give you an even "kick". If you happen to experience this as you speed up, you'll feel a sudden loss of power.
Then, as the gearbox switches to a higher gear, the slippage can cause a sudden raise after the previous drop. So, that's another thing to pay attention to, and it can all be caused by a transmission fluid leak. Sometimes, the RPM gauge might also fluctuate due to a clogged air filter. Your car needs a perfect mixture of air and fuel to trigger combustion, so if the filter is clogged, debris can get into the cylinder.
How does a vacuum leak cause the revs to jump and drop?
The vacuum leak is one of the most probable causes of RPM fluctuations, especially in the case of rough idling. If the problem mostly occurs when you stop at a traffic light, or when parked, it could be the main reason.
The thing is – it's relatively cheap to fix, but it might cause some serious engine troubles and "hiccups". Usually, a vacuum leak is caused by worn-off hoses or tubes that are related to the intake. It's a common thing since most of these tubes are rubbery and are known to crack or degrade over time.
This leads to an increased air supply to the combustion chambers, and it leads to improper combustion. That's why your engine will raise the revs well over 1000, while the expected idle rev range is 800 for naturally aspirated engines.
Worn spark plugs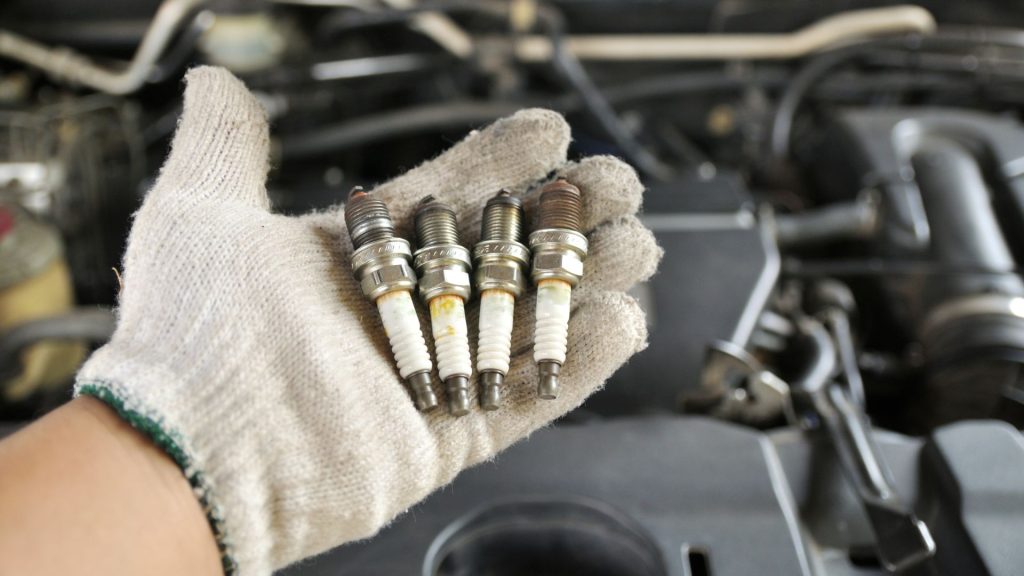 If you are driving a car with a petrol engine, spark plugs could also be the root cause of your problem. We say this because diesel cars don't have spark plugs, but glow plugs. As the plugs get older, they are unable to produce the powerful spark needed to light up the mixture of fuel and air.
So even if there's no issue with air intake or the fuel delivery system, improper combustion will cause rough idling and RPM fluctuations. Replacing the spark plugs, in this case, should solve the problem.
Clogged fuel injectors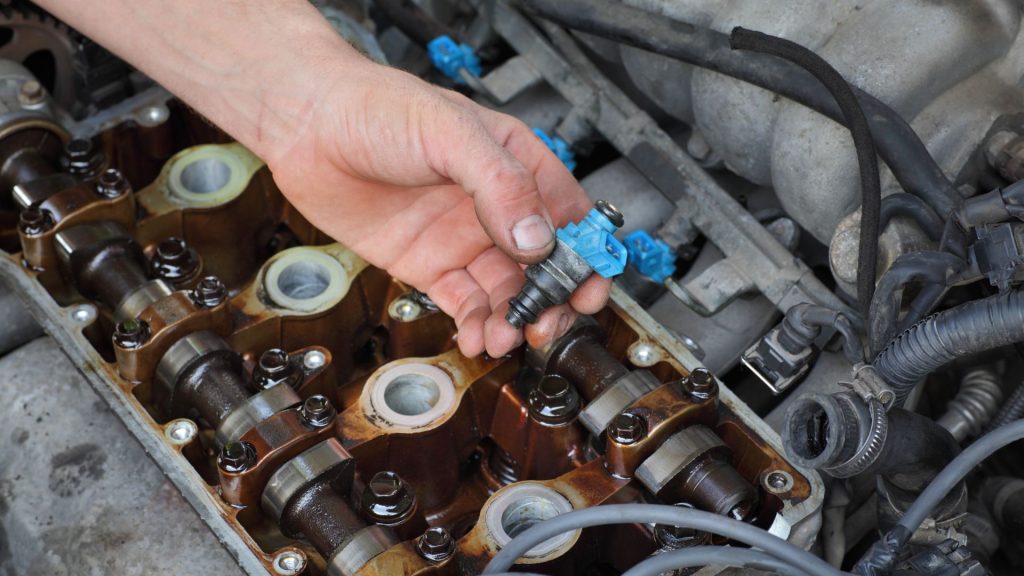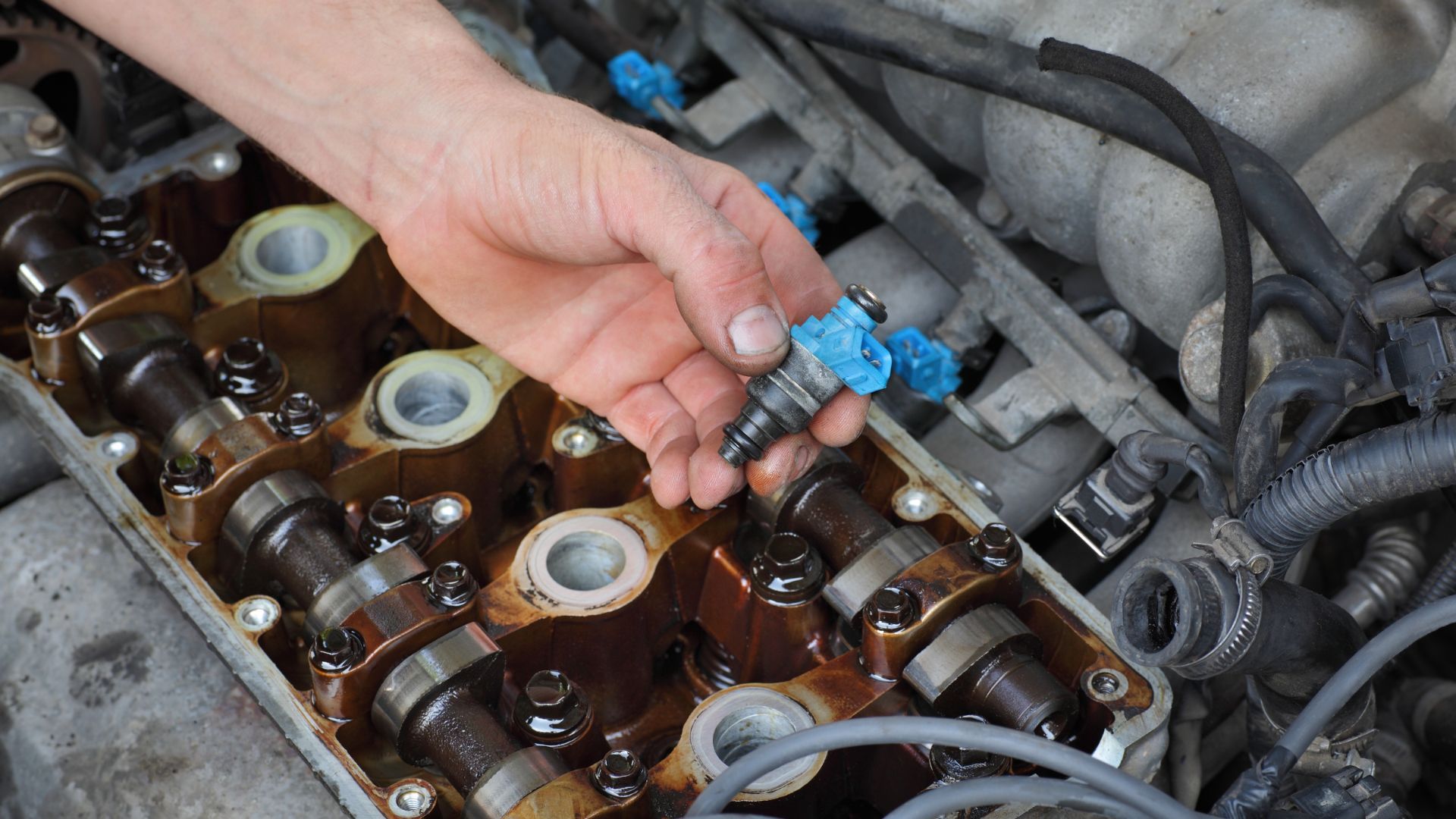 We mentioned issues with the clogged air filter and vacuum leaks, and now it's time to discuss the other side of the coin. A problem in the fuel delivery system can easily cause RPM changes, and clogged fuel injectors are often the reason.
They shoot the fuel into the combustion chamber at a precise angle. If they get clogged, the amount of fuel won't be accordingly sprayed into the chamber, so the engine will struggle with combustion. One of the best solutions could be cleaning the fuel injectors, and the rough idling should disappear.
Bad mass air flow sensor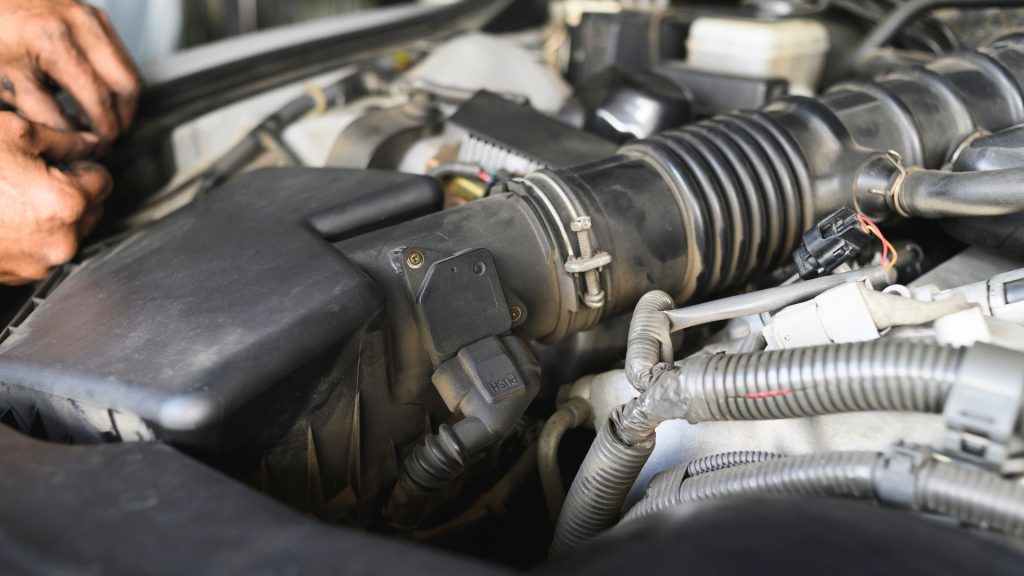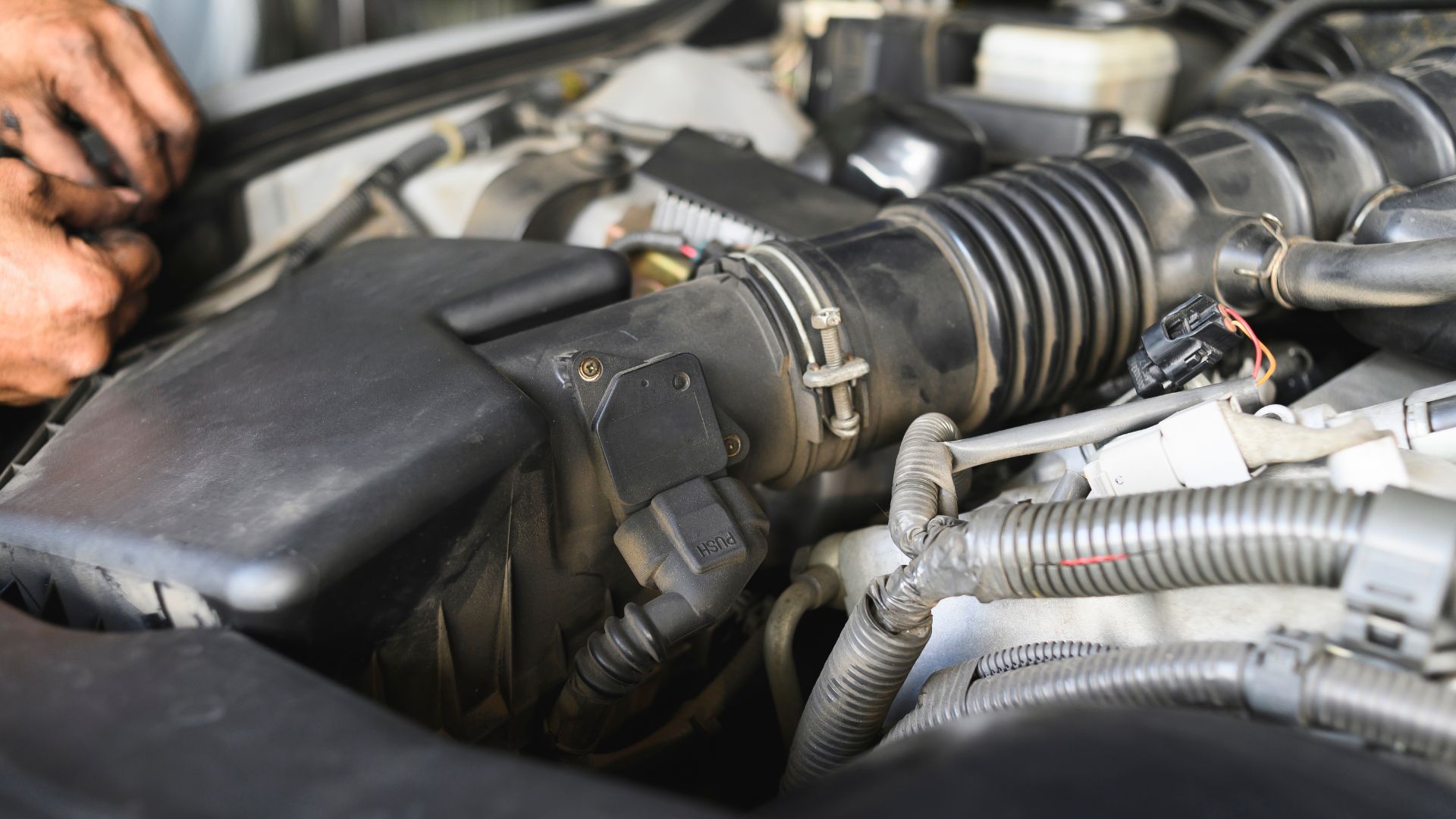 Problems with the mass air flow sensor (MAF sensor) are also commonly known to cause uneven engine operation and RPM fluctuations. This sensor is responsible for calculating the amount of air that needs to enter the engine, and the amount of fuel is also subsequently determined by it.
If it fails, you will experience RPM fluctuations while accelerating and you might even have trouble starting the engine.
RPM fluctuations caused by a bad idle air control valve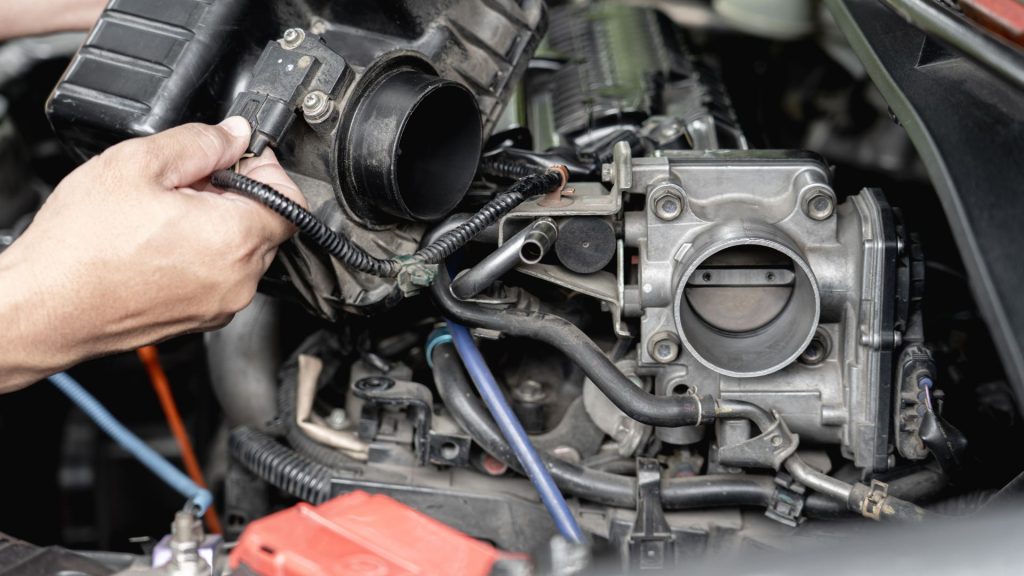 The idle air control valve (IAC) controls the revs when your engine is idle. It's operated by the ECU, and it adjusts the revs according to the engine's operating conditions. The valve does its job in case you are driving with a heavy load, or as the engine's operative temperature builds up in cold weather.
If you notice rough idling and the "check engine" light comes on, it's a potential sign of a bad IAC. The faulty IAC valve can also cause engine stalling, so it's one of the more serious problems.
Our take
If you notice your car's RPMs going up and down, it can be an issue with air or fuel supply to the engine or even transmission. Hopefully, this guide will help you figure out what's causing this problem for your engine if it happens to you while driving or idling.
It's either way, something you should inspect right away, so don't hesitate to drive your car to a mechanic if you experience RPM fluctuations.
Why are my RPMs going up and down at idle?
Your RPMs are going up and down at idle if there's a vacuum leak in the air delivery system or worn-off spark plugs.
Why does my RPM go up and down while accelerating?
If your RPM goes up and down while accelerating, it's possibly due to transmission gear slippage or a bad MAF sensor.
What causes RPM to fluctuate while driving?
Worn-off spark plugs or clogs in the fuel delivery system are the most common reasons behind the RPMs fluctuating while driving.
How do you fix RPM fluctuations?
You can clean the fuel injectors or replace an air filter to fix RPM fluctuations if one of these parts is causing the trouble. However, you'll need a scanner tool and the help of a mechanic to deal with sensors or transmission issues.