Lexus LS 460 years to avoid — most common problems
Learn why you should avoid the Lexus LS 460 for a smarter car-buying decision.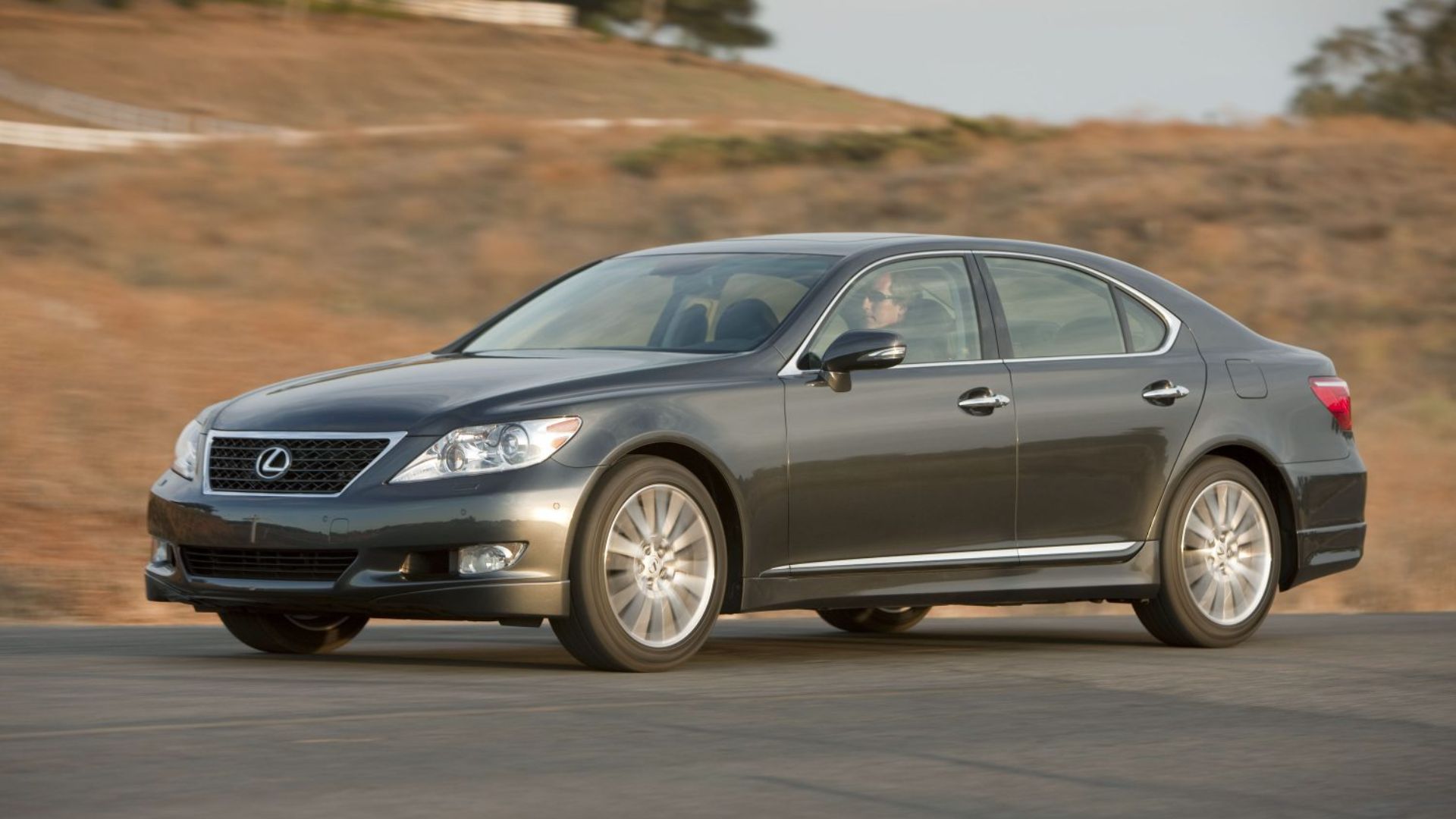 Created by Lexus as a competitor to the BMW 7 Series, Mercedes-Benz S-Class, and Audi A8, Lexus LS is a full-size luxury sedan with nearly 200,000 units sold over 18 production years. It's a car that can truly stand side by side with the world's greatest luxury limousines, and the LS 460 was one of the most popular variants.
It has a powerful naturally-aspirated 4.6-liter V8 with 380 horsepower, so it's a perfect blend of luxury and performance. Still, before you buy one of these, we want to make sure that you are familiar with the Lexus LS 460 years to avoid. It's perfectly normal for a car like this to have a few bad production years, so let us be your guide into these to help you dodge the bullet.
Why you can trust REREV's advice on which car model years to avoid: Our car experts look at official data, ask real drivers what they think, and talk to experienced mechanics to make sure our list is useful. This reliable info can make buying a car easier for you. Want to know how we do it? Find out more about our research methodology.
Most common Lexus LS 460 problems
The LS 460 came with a powerful and simple engine considering there are no turbochargers or superchargers attached to it. While it's a sturdy-built engine that can push over 180,000 miles when properly maintained, there were some serious issues with certain model years.
This car had problems with the aluminum fuel delivery pipes in the engine compartment, similar to some other Lexus models at that time. This problem could easily cause fuel leaks from the pipe, therefore increasing fuel consumption. However, the biggest problem was a fire hazard, since these lines were in the hot engine compartment with a risk of ignition.
Fortunately, Lexus issued a recall to deal with this issue, but there were a few other problems as well. Some of the most notable ones include potential fuel pump failure, electric steering assist malfunction, or problems with the braking system. There were also some issues with the dashboard material that sometimes melted over time, but cosmetic issues are still in the shadow of serious mechanical problems.
Engine and cooling problems
Over the years of production, the Lexus LS 460 had a few issues that were closely associated with the engine. One such issue was the engine coolant leak that sometimes caused the engine to significantly raise temperature and sometimes overheat.
The valve spring was also a major issue since drivers have reported that outer materials could breach into the spring, causing it to degrade and break. We know this all sounds serious, but these are some problems that you have to know about to properly maintain the car and avoid such scenarios.
In reality, the engine has proven to be more than reliable, but it's necessary to inspect the car for problems of this kind. You may also want to check the fuel delivery system since the fuel pipe could easily corrode and cause fuel leaks and further engine issues. To be fair, these problems were common for Lexus models with V6 and V8 engines at the time.
Fuel pump problems
Another issue that you might not expect from the car of this class is the potential fuel pump damage. If the fuel pump stops while driving it could lead to some serious troubles like the engine stalling. The problem was that this model had two fuel pumps – one low-pressure and one high-pressure pump.
The low-pressure fuel pump is responsible for sending the fuel from the tank into the fuel lines where the high-pressure one jumps in. This is how fuel is accurately transferred into the combustion chamber, and the combustion ratio may be off in case the pump fails.
There was an official recall by Lexus and Toyota to fix the issue and replace the low-pressure fuel pump along with servicing the fuel lines. So, at least make sure to check if your vehicle has gone through the recall before you pay the price.
Electric steering assist system damage
One thing you should know before buying the Lexus LS 460 is that it's a car with a lot of electric systems and driving assistance systems. So, these could easily fail for the older models years, and you might have to deal with the steering assist fault.
If this happens, the steering assist could system could activate without a reason, and it may compromise the handling and steering response of the car at that moment. So, Toyota pronounced it a safety threat and decided to recall some Lexus LS 460 model years to fix the problem.
This mostly included the 2009 and 2010 Lexus LS 460, according to the reports from the NHTSA.
Braking system failures
Another serious issue with this Lexus LS model is the braking system failure that could prevent the driver to operate the car properly. Some of the most standout braking problems with the LS 460 included the brake actuator failure which led to bothersome noises coming from the brakes and even malfunctions.
Also, this model suffered from increased brake pad wear and required frequent attention for the brakes even before the changeable parts were due. That's another reason to avoid the problematic model years since such repairs could be expensive for this model.
Which Lexus LS 460 years to avoid?
After knowing all these potential problems, you just have to find out about the specific model years that have proven to be less reliable. Avoiding the years that faced coolant leaks and fuel delivery issues can lead you to pick a worthy luxury sedan that will last for years.
First-generation Lexus LS 460 (2007-2010 model years)
For the sake of this guide, we'll consider the fourth generation of the LS as the first Lexus LS 460 generation. The reason for this is that the LS only had the 4.6-liter V8 engine in one LS generation, but it lasted for 10 years from 2007 to 2017. The model years to avoid are the initial production years that had most of the mentioned problems along with the air suspension issue.
Model years from 2007 before the 2012 facelift had a fair share of interior material issues, such as melting door panels and dashboards. On top of that, the major recall about the valve spring and the fuel line corrosion was set for LS 460 from the 2006 to 2009 model years.
So, it's safe to stay away from the early production years if you wish to get the most out of your LS 460 and avoid paying huge paychecks to mechanics.
Best Lexus LS 460 model years
Now that we've gone through the worst part and inspected the worst production years for this model, let's make the switch to desirable LS 460 model years. The later model years from 2010 tend to be more reliable, especially those after the 2012 facelift.
Here's our list of the best Lexus LS 460 years that didn't have many engine issues and the fuel leak problem:
2011 Lexus LS 460
2012 Lexus LS 460
2013 Lexus LS 460
2014 Lexus LS 460
2015 Lexus LS 460
2016 Lexus LS 460
2017 Lexus LS 460
The car went through a second and final facelift for the 2017 model year, and this one seems to be among the most reliable model years. Drivers have reported fewer engine issues, including the valve spring and fuel leaks alongside fuel line corrosion.
So, it's a much better choice to go for re-designed versions and avoid the 2007 to 2009 model years, if you can afford to pay the difference.
Is the Lexus LS 460 worth buying?
When it comes down to making a final verdict on the LS 460, it's clear that this is a great pick among luxury sedans on the used car market. It holds a good price, but it's still cheaper than some rivals while it offers a nearly matching level of quality and refinement.
The engine itself is more than capable with 0 to 60 acceleration in 5.6 seconds and it doesn't put too much stress on the valves when driving at low revs. We hope that we can help you with our guide on main years to avoid, and it's a solid pick for the 2012 and later model years.
What year Lexus LS is most reliable?
The 2017 Lexus LS is the most reliable for the LS 460 model, while the most reliable year, in general, is 2011 when drivers have reported the fewest complaints.
How many miles will a Lexus LS460 last?
A well-maintained Lexus LS 460 will last around 250,000 to 300,000 miles without an engine replacement.
Is a Lexus LS460 expensive to maintain?
Lexus LS 460 isn't expensive to maintain when compared with the competition, since a range of around $700 to $800 is still cheaper than other premium limousines.
Is LS 460 reliable?
Yes, the Lexus LS 460 is a reliable car and as long as you avoid the problematic model years mentioned in this guide, you should be fine in terms of servicing.