Driving with the emergency brake on — explained
Discover the consequences of driving with the emergency brake engaged.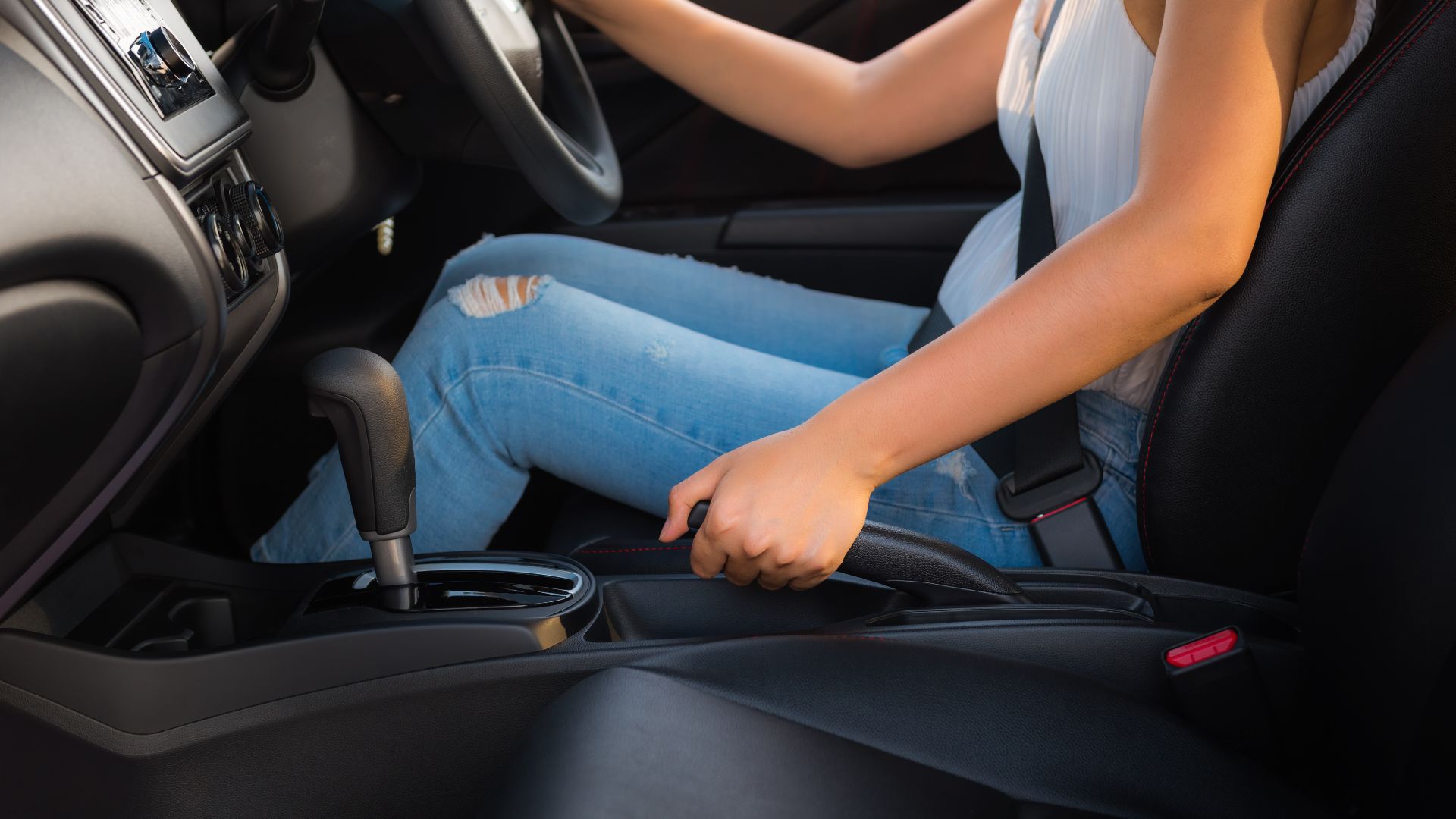 The emergency brake is critical not only when you park on a decline or drifting but also when your main brakes fail. It gives you the stopping power required when parking or in an emergency.
However, you may forget that you have used the parking brakes and will probably drive off. In that case, you'd be putting your braking system at risk. This could cause your brakes to glaze, misadjust your brake cables, or in worse cases, result in a fire outbreak.
As much as the emergency brake is a good feature on your vehicle, driving with an engaged parking brake can pose severe damages that require expensive repairs. Therefore, knowing the issue that could occur when you drive with your emergency brake on is essential.
This article provides detailed information on driving with the emergency brake and answers related questions.
How does the emergency brake work?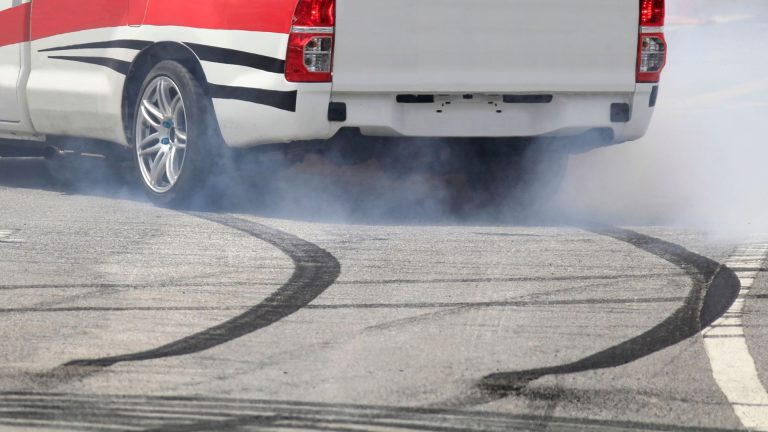 Before we dive straight into what happens if you drive with your parking brakes on, you need to understand how it works. The emergency brake, also known as the "parking brake," is designed to supplement your vehicle's main braking system to support the car when parked or in an emergency.
The parking brake doesn't share the same hydraulic system as your normal brakes. Instead, the emergency is triggered through a cable system that locks your vehicle's rear brakes. The lever you pull to apply the emergency brake on your car is attached directly to this cable.
Each time you pull the lever, you pull the cable that triggers the emergency brakes on your rear wheels. Your vehicle's brake pads push up against the rear drums, stopping your car or keeping it from moving.
Conversely, the same principle applies to a vehicle with electronic parking brakes; however, the cables are not used in this case. Manufacturers often use electronic braking systems in cases where the rear axle uses a disc brake.
When you trigger the electronic parking brakes, an electric motor turns a threaded piston in the caliper, which holds the disc brakes in place.
When should I engage the emergency brakes?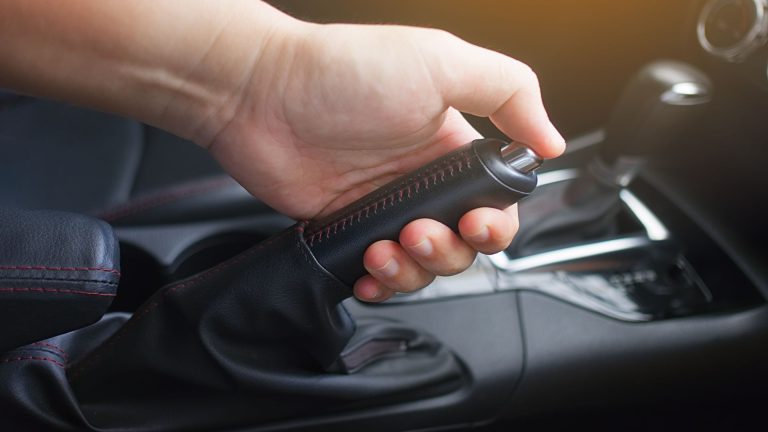 You should always engage your parking brakes each time you park your vehicle. It doesn't matter if you park on a decline, an incline, or a flat surface; you should always activate the emergency brakes whenever you are not driving your vehicle.
Thankfully, most modern vehicles have an electronic emergency brake that is automatically triggered once you shift your car into "park." However, if your vehicle doesn't have this system, remember to pull up the lever, as this could save you a reasonable amount of money on transmission repairs.
Does my drive system affect the emergency brake?
Your type of drive system determines if your vehicle can operate with the emergency brakes on. On a front-wheel-drive vehicle, your wheels might become completely unresponsive. If the car eventually moves, it will drag, drawing your attention to a problem.
On the other hand, if you operate a rear-wheel-drive vehicle, you might encounter some problems when driving with the emergency brakes on. Often, your engine can overpower the brakes in a rear-wheel-drive car to the extent that you might not notice a problem until it gets out of hand.
If you engage the brakes and drive for too long, it can result in early damage to your brake components, leading to wheel bearing wear or failure of parts associated with the braking system.
What happens if I drive with the emergency brakes on?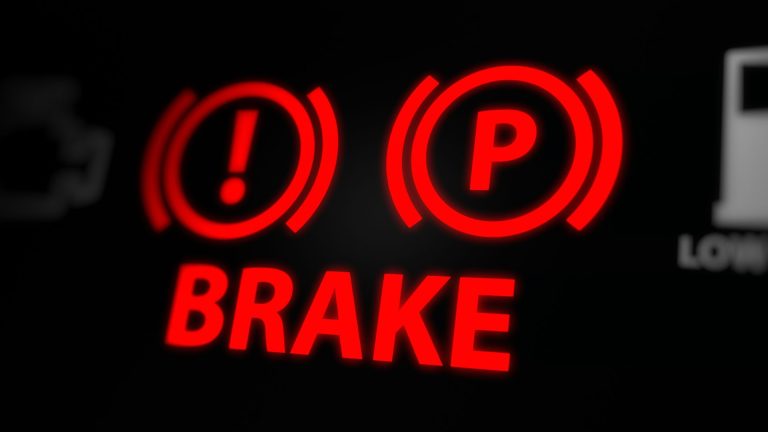 Regardless if your vehicle has an electric or a cable parking brake, you would experience the same challenges if you drive with the parking brakes on. If you've ever tried pressing the gas and brake pedals simultaneously, you will notice that the vehicle doesn't move. And if it eventually moves, it'll be very sluggish. The same applies when driving with your emergency brakes on; the activated brake will create friction while your wheels are trying to move.
Driving over a short distance or at slow speeds with your parking brake on wouldn't be a big deal. However, suppose you drive at normal speeds with the emergency brake on. In that case, heat and friction will build up, resulting in more severe issues.
Below are other possible things that could happen to your vehicle when driving with the emergency brake on:
Glazing
This is the most common symptom of driving with your emergency brake on; however, it is severe. Often, the brake causes your brake pads to glaze, making them less effective.
The excessive friction overheats your brakes and creates a glaze over the pads and drums/rotors. In some cases, using the brakes normally can help correct the glaze, but sometimes you might need to replace them entirely.
Possible fire outbreak
While this may sound too good to be true, it is something we've seen happen. Friction generates a lot of heat; if your parking brakes heat up excessively, they will light up.
We know the last thing you'd want to do is set your vehicle on fire, but that may be possible if you drive with an activated emergency brake.
Burning smell
You won't have the same normal acceleration ability if you drive with your emergency brake on, and there's a good chance you might notice a burning smell if you go too far.
This smell comes from the brake pads because of overheating due to excess friction between the pads and the rotor or drums. While this symptom is common, it doesn't tell you what happens to the braking system.
Misadjusted brake cable
Your emergency brake functions via an adjustment where the brake cable is linked to the brake lever. Driving around with the emergency brake engaged wears down the brake pad and throws off the adjustment by making it too loose. If this occurs, you'd need to readjust the emergency brake else it becomes ineffective in providing the required stopping power.
What should you do after driving with the emergency brake on?
If you drive with your emergency brake on, the effect will depend on how much of the brake you apply. If you pull the emergency brakes just a few clicks up, then there is a chance that the brake systems will still be in good shape. However, if you pull it all the way up, there's a greater chance of damage.
Whatever the case, you'd still need a professional mechanic to check it out to ensure everything is in good condition; the last thing you want is your car to roll down a hill owing to your broken parking system.
Additionally, suppose your vehicle has an electronic-activated emergency brake with a small switch on the console. In that case, the system will alert you with a beep while flashing the emergency brake icon on the panel as a warning.
How do I tell if I need brake replacement after driving with the emergency brake on?
Brakes usually wear with time, thus requiring replacement at specific intervals. However, if you accidentally leave your emergency brakes on, you could accelerate the wearing process, requiring you to replace them sooner or immediately.
You might need brake replacement if your brakes feel spongy after disengaging the emergency brakes. If the spongy symptom persists, you should get a professional mechanic to check if the fluid is in good condition and to see if there is air in the brake lines.
Your brake pads may be damaged owing to excessive heat and may require replacement. A sign to look out for would be bouncing or pulsating in the brake pedal when you step on it. If this happens, you should have a professional check your brakes as soon as possible.
Can my emergency brake fail?
Your emergency brakes can weaken, rust, and snap over time, and you may only notice a problem once you need to use it. Hence, checking your parking brakes each time you have an oil change is a good idea. Technicians can help determine if any part of the parking brake needs adjustment, replacement, or repair.
Our take
Your emergency brake is beneficial not only for restricting motion whenever you park your vehicle but also for averting some accidents that could occur when your main brakes fail. Although it's a good add-on, this feature could cause problems if misused. Besides possibly restricting motion, driving with your emergency brake on could pose catastrophic threats to your vehicle's braking system.
It is possible to forget that you triggered the parking brakes and may drive off without remembering. However, you should always check to ensure you've released it, as this could lead to severe damage to components associated with your braking system.
What will happen if you forget to release the handbrake?
Suppose you forgot to release the handbrake and eventually drive with it still activated. In that case, it may cause wear to your rear brakes, leading to possible total failure.
Is it bad to leave your emergency brake on?
Yes. It is bad to drive with your emergency brake on, and it can cause severe damage to your brake pads and may even lead to more expensive damages.