Why should you drive slower at night? — how to stay safe
Explore the benefits of driving slower at night.

Driving fast might be exciting for automotive enthusiasts, but it's best to do it on a track instead of a public road, especially at night. Your driving visibility gets reduced at night, and if there's not enough lighting, your field of visibility gets even shorter.
That raises a logical question – why should you drive slower at night? You should drive slower at night to ensure you have more reaction time, should anything unpredictable happen on a road with poor lighting. This guide will help you understand the nature of this problem a bit better, and we'll also go over some other important pieces of advice for safe driving at night.
Importance of managing driving speed at night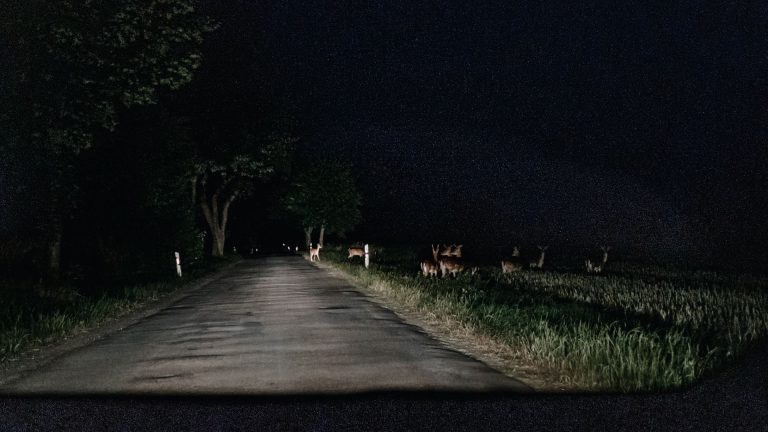 Avoiding a speeding ticket when driving fast at night is not even the biggest reason for slowing down. The crucial thing for safe driving is to maintain a clear road position from which you have the utmost visibility to help you plan.
It's not a mere piece of advice either – safe driving methods like those proposed in the Smith Driving 5 Keys system. Well, driving at night only points out the importance of this rule even more. There are various reasons why your field of visibility might get reduced at night.
Sometimes, lighting by the road might not work, or other drivers might be using aftermarket xenon lights that are too powerful to look at. If your field of visibility gets reduced even for a few seconds, driving at a higher speed could be dangerous. Here are some of the most important reasons why you should keep your speed down when driving at night:
Your visibility is reduced when compared to daytime driving
Your reaction time might be slower
There's a higher risk of intoxicated drivers on the road
Other drivers might use high beams coming your way
On top of it all, there's a higher risk of animals getting on the road on US roads at night. It's not an uncommon situation for a deer or a raccoon to get out on the road late at night or early in the morning. So, driving a bit slower at night can add at least a few more seconds to your reaction time, which can sometimes be a lifesaver.
Managing your lights for higher visibility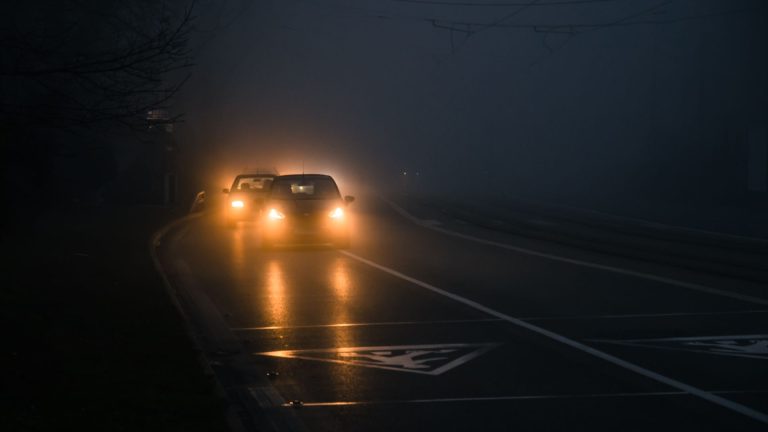 If you are driving on a road with poor lighting overnight, the best thing you can do is slow down and manage your car's lights. Many drivers are wondering – how many lumens are car headlights? This is especially important overnight since most halogen lights are 700 lumens, while LED lights are above 2000 lumens.
Since a lumen represents the brightness of your headlights, you can see around 150 to 200 feet of the road ahead. That's why you should use high beams that illuminate around 400 feet of the road, but only if you aren't blinding other drivers.
If you've got an open road ahead and headlights aren't enough to light up the road, using high beams and driving slowly can significantly increase your safety. If you feel like your position on the road isn't clear enough to drivers coming the opposite way, or your headlight bulb isn't working, use fog lights.
This way you can make sure that drivers coming your way will be able to see you on time. Finally, adjusting the headlight height can sometimes make a difference. You can raise the light beam a little bit to get higher visibility if you can't use high beams because of other drivers.
Tips for safe driving at night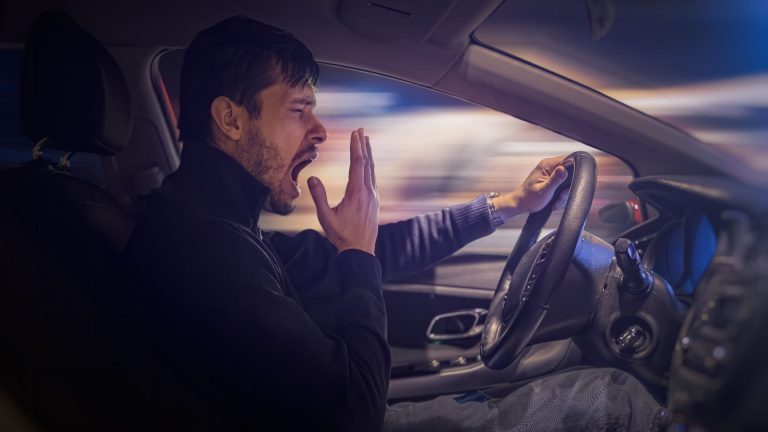 Well, now you know that lowering your driving speed and managing your lights at night can significantly improve your driving safety. Still, there are many more actions you can take to make driving at night feel even safer.
The common thing about them all is – they all speak in favor of adjusting your driving speed to the situation, and keeping your focus on the road so you can plan.
Dim your interior lights at night
Modern cars come with dashboard lights that are much more distracting when driving at night than older cars. So, you can dim the interior lights to keep your focus on the road, in case glowing lights seem to distract you.
Don't use your infotainment while you are driving, even if you have commands on the steering wheel. Making sure that your focus is completely on the road when driving at night gives you the best chance of making it home safely without any complications.
Find a safe place to stop if you are tired
Driving tired is nearly as dangerous as driving intoxicated after a night out drinking with your friends. It's the worst thing you can do, and driver's fatigue tends to increase at night time. At this point, driving at a constant speed might even be bad since your reactions and focus might drop.
However, instead of increasing driving speed, it's best to get off the road as soon as you can and find a safe place to stop. If you are driving with other passengers that have a license, perhaps it's best to give them the key and let them drive instead.
Adjust your driving speed and position to other drivers
The sad truth is – not every driver respects the law and gives up driving in an intoxicated condition. Also, other drivers might be experiencing driver fatigue, so you should be extra careful when you encounter other drivers on the road at night.
It might get difficult to anticipate their next move, so you should adjust your speed. If you see that the driver behind you suddenly changes driving speed or drivers in and out of the lane, you should find the safest spot on the road and use turn indicators to inform the other driver of your intentions.
Sometimes switching lanes and letting the driver pass you is the best option, since you won't have that extra distraction anymore.
Lower your speed even more on unfamiliar roads
If you happen to find yourself on an unfamiliar road late at night, the best thing to do is additionally lower your speed so you can observe the signs. Don't worry – all the street and road signs are reflective, so they get visible as soon as your headlights get in range to shine over them.
However, keeping your speed low just in case makes things easier as you might need a little more time to navigate unfamiliar roads.
Our take
Ultimately, we hope to have answered the question of "why should you drive slower at night" with enough details to make you adjust your driving speed at night. Make sure to adjust your driving speed and prevent getting distracted by interior lights.
Keeping your focus solely on the road is also important during the daytime, but due to lower visibility at night, it's especially important during late hours.
Why should you drive slower at night?
You should drive slower at night due to lower visibility when compared to daytime driving. Also, there are risks of animals on the road, intoxicated or tired drivers coming your way, or drivers blinding you with high beams, so driving slower gives you more reaction time.
Should drivers dim when driving at night?
Drivers should dim their interior lights at night to avoid getting distracted and keep their focus on the road.
When driving at night what's most important?
The most important thing when driving at night is to keep your driving speed adjusted and to make sure that you have the best visibility, as well as a clear position on the road so other drivers can spot you on time.