CV joint noise when driving straight — cause and fixes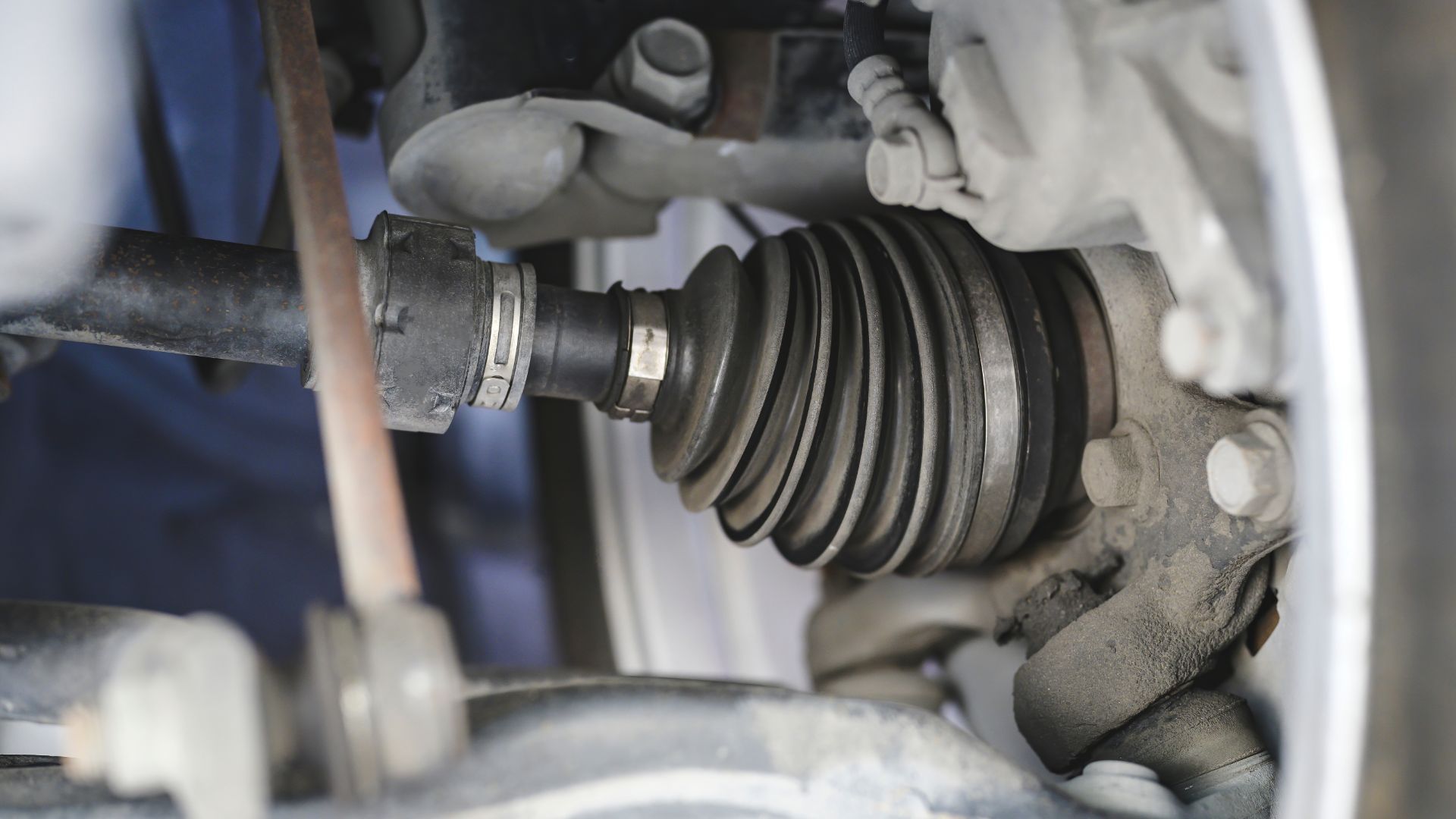 Years of driving often leave a mark on the vehicle's drivetrain and suspension, and this could cause driving noises. In case of a CV joint noise, you might experience some crunching and clicking while turning slowly.
However, you might be a bit confused if you encounter CV joint noise when driving straight. It's undoubtedly possible, especially if you driving a front-wheel drive car where CV joints are mostly found. To explain why your CV joints might be clicking while going straight, our team made this guide to lead you through it.
What's a CV joint and what does it do?
You don't have to be a car guy to understand the basics of how your car's power supply works. Engine and air are mixed in the combustion chamber with a little bit of help from a spark plug. That triggers the explosion which moves the engine's pistons and translates the power onto the rotating crankshaft.
However, how does all that power get to your wheels? Well, that's where the CV joint comes in as a crucial bond between the car's transmission and the wheels. Without CV joints, you wouldn't be able to do a U-turn in a single move, and it would be tough to get the wheels spinning in the right direction.
To put it briefly, CV joints are axle joints that help your wheels spin at constant velocities without putting too much pressure on the drivetrain. The axle has two CV joints in the direction of each wheel – the inner joint, and the outer joint. The inner joint is close to the transmission, and it receives the power directly from it.
They allow certain rotations but are limited in that sense when compared to outer joints. The outer joints are mainly what you mean when you say CV joint. These are located on the wheels, and they translate the power to the wheel and enable it to rotate in different directions.
Thanks to the CV joints, front wheels can rotate at a constant speed that's sometimes higher than that of rear wheels. For instance, this is the case when you go over a road bump. So, all that movement simply causes the joints to wear off, which could cause a clicking noise when turning slowly. However, there are also a few reasons why the CV joint would make noise when driving straight, as we'll discuss in a bit.
Reasons behind CV joint noise while driving straight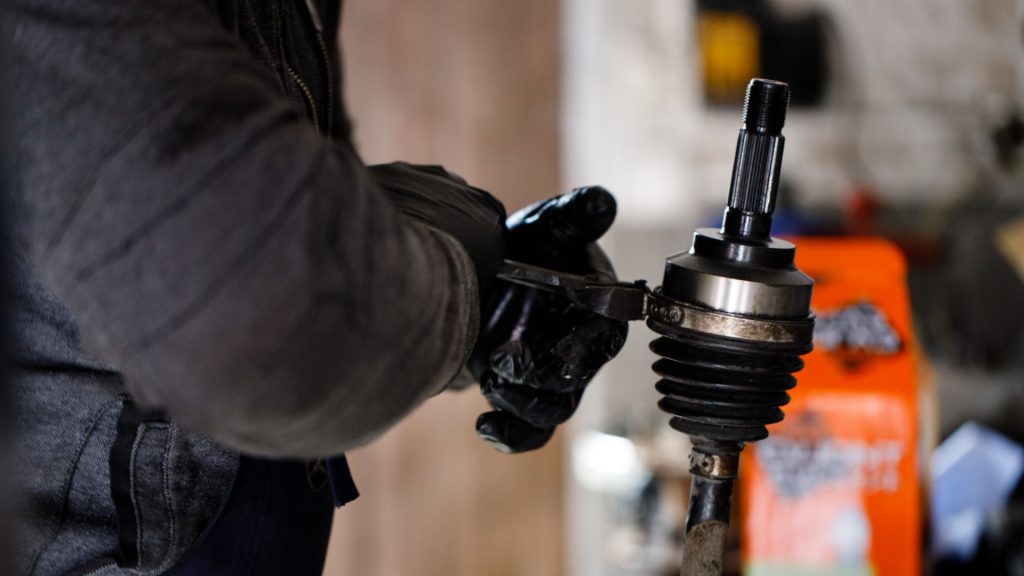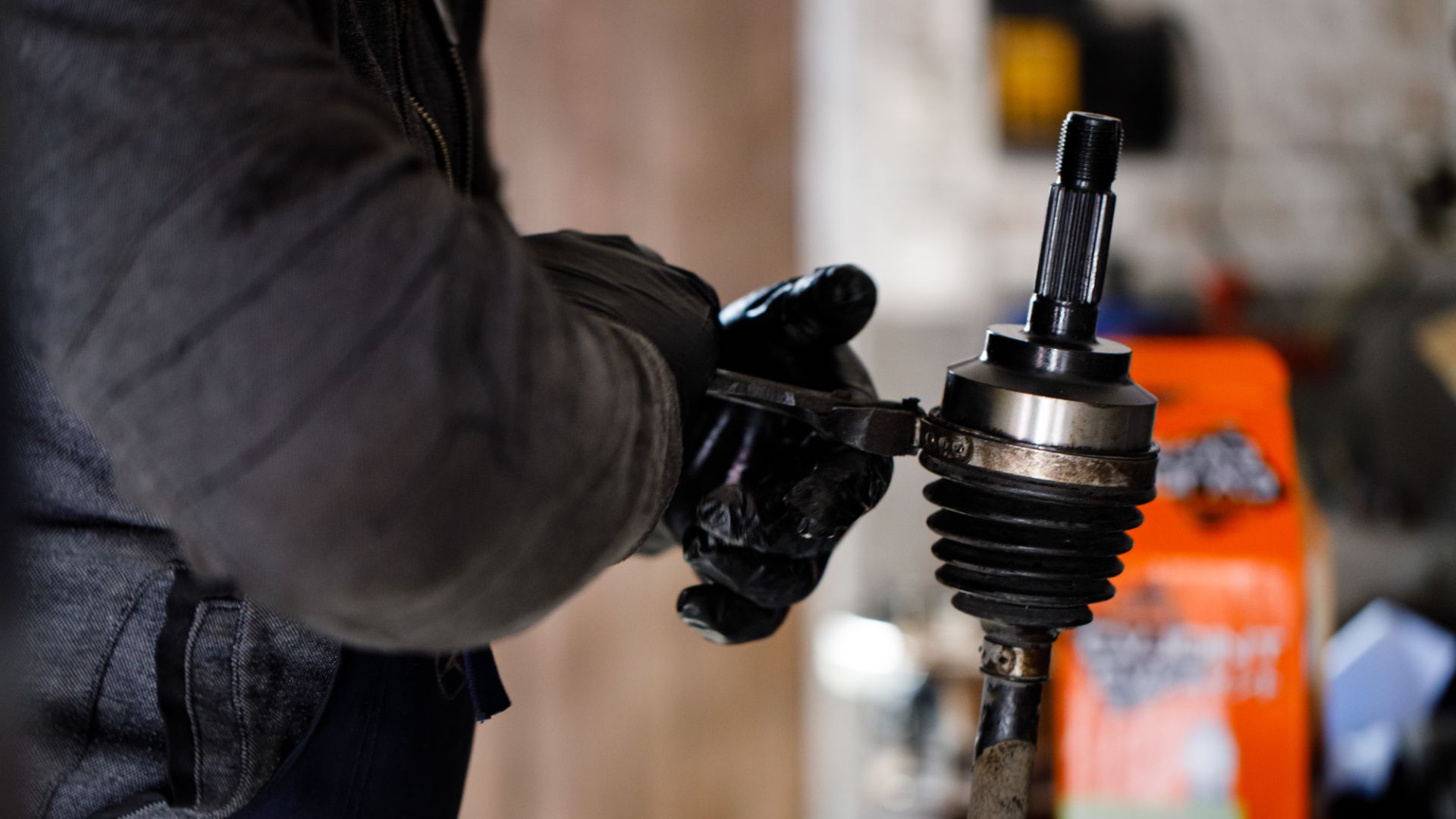 Now that you know the mechanics behind it, it's time to get to the bottom of the issue. Frequent turning and wheel movement causes the CV joint to wear off, and that causes the noise when turning. Still, it doesn't sound natural that you should be hearing this noise when going straight.
These are the main reasons why you may still hear that bothersome crunching sound even if you aren't making a turn:
CV joint leaks
Bad CV boots
Damaged inner joints
Damaged or worn axle
CV joints are made of rubbery components that simply wear off over time. Outer joints wear off faster than the inner ones, so they require more frequent replacement. However, these joints are mostly the cause of the noise when turning, since they are connected to the wheels.
If you are having trouble with the noise when driving straight, it will mostly be due to inner joints, as you'll see in this guide.
Problems with lubrication and grease leaks
One of the main things that could cause that clicking and crunching CV axle noise when driving straight is a grease leak. It can also be due to unlubricated components since grease is applied to lower the damage from constant joint moving and friction.
There's a grease seal that can sometimes leak, so grease won't reach the CV joint and the axle components. The seal is relatively inexpensive to replace and it can fix the noise if unlubricated joints are the cause. Also, it's sometimes needed to simply add a bit more grease to lubricate the joints.
Bad or damaged CV boots
CV boots are those rubbery parts of the joints that enable easy movement. They can sometimes wear off, and that's the most common reason behind CV joint noise. If there's a tear in the rubber, you'll experience vibrations and even grease leaks.
The clicking noise only confirms it, while a grease leak under the wheel means that there's a damaged outer joint boot. On the other hand, if you only experience noise while driving straight, check the inner joint boots for wear.
Even if it's not a noise coming directly from the boots, boot clamps might be damaged. These are the components that hold the boots in place. If they get damaged, boots will be loose and produce driving noise as they flap.
Damaged inner joints
We now reach the core of this problem in almost every case when the noise is only present while driving straight – inner joints. It's easy to distinguish the two since inner joints are directly connected to the transmission.
You can check the inner joints by removing the axle from the spindle, but don't risk it without a mechanic if you have no experience. Instead, you can move your car from the parking spot, and check for leaks under the transmission.
Since transmission fluid leaks are pink or red with a clear density, you'll be able to differentiate them from grease leaks from the joint. Inner joints take longer to wear off than outer joints, as they have a lower range of rotation.
Damaged or worn axle
If you hear a humming noise while driving straight it could be due to a worn or damaged CV axle. The axle holds the wheels attached to the vehicle, so it's dangerous to keep driving in case they are damaged.
You can check the axle for corrosion or accumulated debris since these are the most common reasons behind worn axles. Replacing the axle should stop the noise and it will be much safer to drive with a changed axle.
Our take
If you hear a CV joint when driving straight, it's possibly due to inner joint damage. While it's more common to hear the crunching noise from outer joints when turning, it's an evenly dangerous problem. Hopefully, this guide has provided you with insight into the reasons that might cause CV joint noise.
Make sure to have the entire CV axle, boots, and clamps inspected by a mechanic if you don't feel secure doing it yourself. Don't forget to also look for signs of grease leaks, for just in case.
Can a CV joint be making noise when driving straight?
Yes, a CV joint can make noise when driving straight in case the inner joints have damaged boots, boot clamps, or grease leaks.
What noise does a CV joint make?
A CV joint makes a crunching or clicking noise when you turn in case of outer joint damage, or when you drive straight or accelerate in case of inner joint noise.
What are the symptoms of a bad CV joint?
The main symptoms of a bad CV joint include crunching or clicking noise when driving, grease leaks, or a flapping sound caused by worn-off boot clamps.
Is it safe to drive with a clicking CV joint?
No, it's not safe to drive with a clicking CV joint, since the boot may degrade and the joint can fall out of place. Because of that, your vehicle won't have a connection to the wheel and it would be impossible to drive.