Car jerks when slowing down — causes and fixes
Investigate the unexpected cause behind your car jerking when slowing down.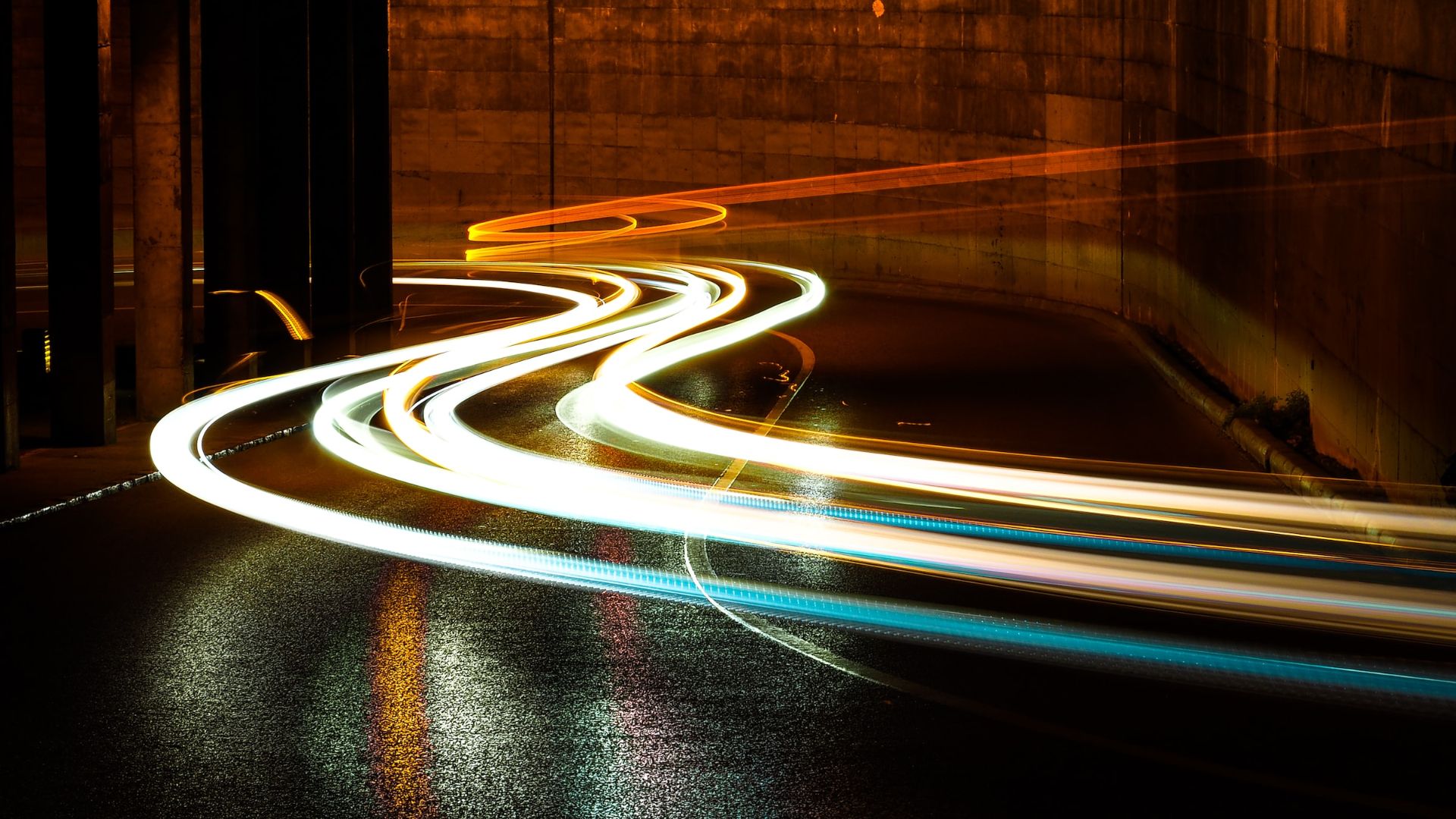 What is more annoying than a car that jerks when slowing down? Probably a car that jerks when accelerating. Once in a while, drivers face the problem of a jerky car, whether when accelerating or decelerating.
However, if your car jerks when slowing down, it could signal severe issues. If your car jerks when accelerating, the primary cause could be moisture in the distributor cap. Now, if the car jerks when slowing down, you have many faults that could be culprits.
Most of these faults will require you to replace car parts. The cause of your jerking when slowing down could be signs of a transmission leak, worn clutch, blocked fuel filter, or a failed mass air flow sensor. There are more possible causes, and you'll have to diagnose the particular problem to fix your car.
Why does my car jerk when slowing down?
If you've recently experienced your car jerking, you're not alone. Due to different faults, a car can start jerking while slowing down. Car jerks and jolts are pretty common.
When your car is jerking, you can feel the vibrations without any sound. Numerous things can cause your car to jerk when slowing down.
Faulty and leaking transmission
Your transmission, mainly if you use an automatic system, could be the reason for your jerky car. If you use an automatic transmission and your vehicle starts jerking, you might want to check the transmission fluid. The transmission fluid could be low or contaminated.
A faulty transmission can affect the smoothness of gear changes and cause the car to jerk. Once your vehicle starts jerking when slowing down, inspect your dashboard. If the check engine light is on, there's a problem with the transmission system.
Another sign that your transmission is causing car jerks is a leak. The transmission pan can wear over time and start leaking. Leaking transmission can cause car jerking.
Depending on the size of the transmission pan crack, you can fix it with a sealant. If the damage is too extensive for a DIY fix, you can take it to the mechanic.
Damaged coil packs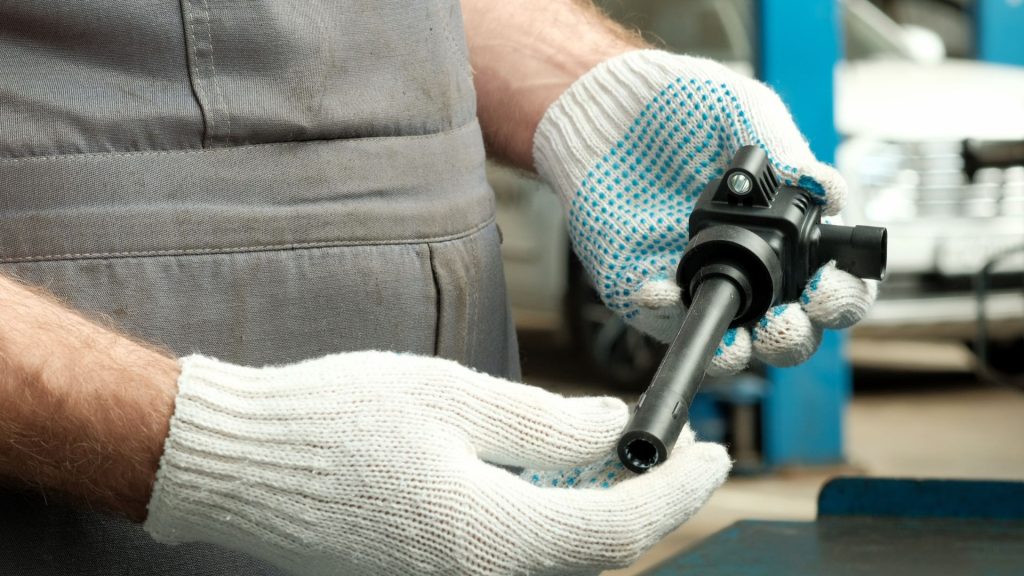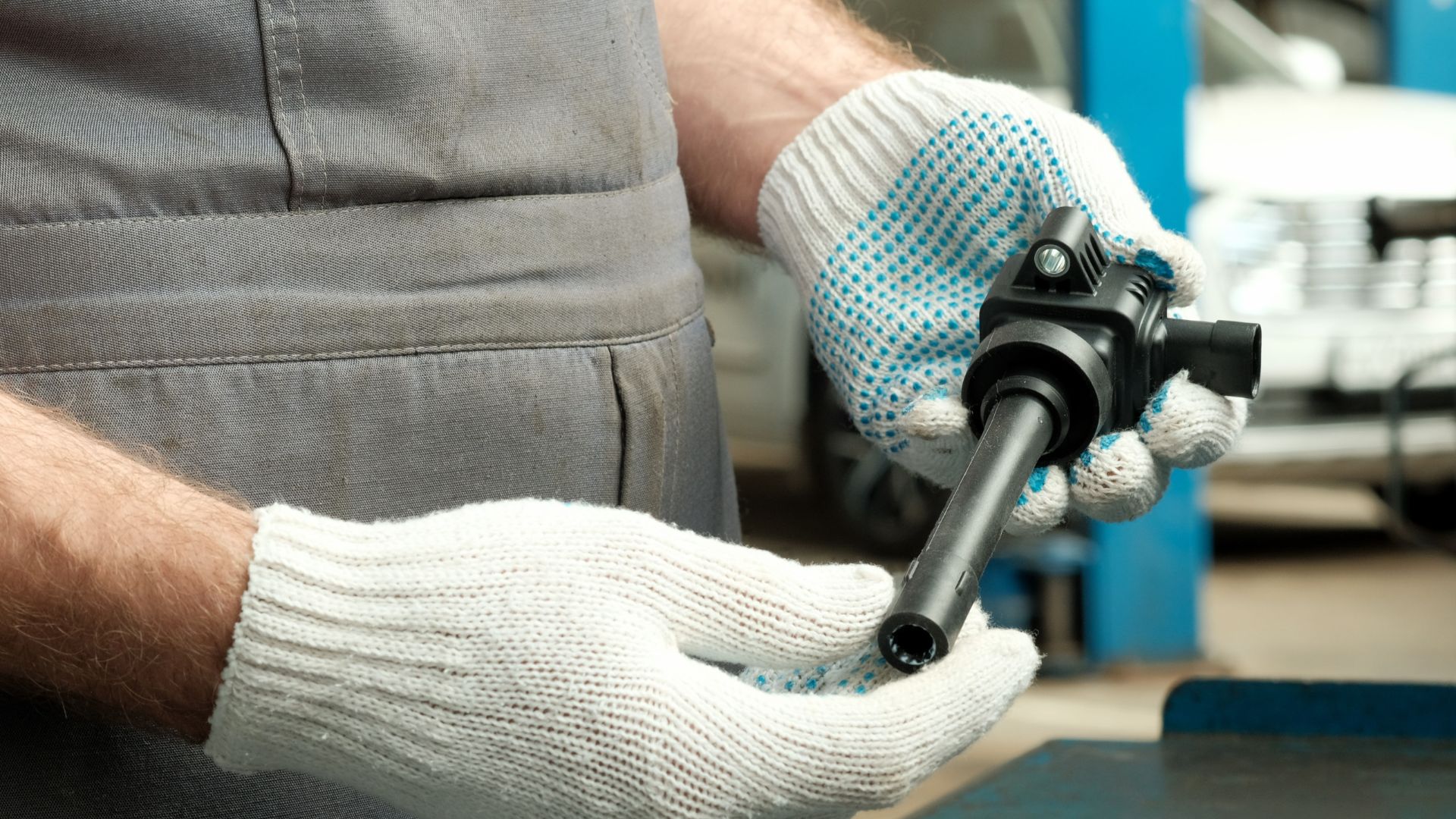 Coil packs are a set of ignition coils that generate power from car batteries and transform it. A computer controls these coils, and they use the power they generate to power individual cylinders. In the 1990s, coil packs gradually replaced distributors and condensers.
Depending on the manufacturer, a car can have just one or multiple coil packs. These coil packs have an average life span of five years. Some factors like heat and friction can degrade your coil packs.
When your coil packs are degraded and damaged, they can cause the car to jerk when slowing down. To confirm if your coil packs are the issue, check for other signs of damaged coil packs.
Some signs of a damaged coil pack include louder engine sounds, RPM drops, an illuminated check engine light, and rough idling. Another sign is when you see the gas warning, even with a full tank.
Faulty throttle body
A throttle body is a vital car component. The main job of this component is to control the amount of air that enters the engine. Most cars have one throttle body, but vehicles with more significant engines can have multiple throttle bodies.
Over time, the throttle body wears out or gets dirty from carbon build-up. Once the throttle body is worn or dirty, it stops working in its usual manner. To solve the problem, you can either clean or replace the throttle body.
A faulty throttle body can cause your car to jerk when accelerating and slowing down. A defective Throttle Position Sensor (TPS) could also make a car jerk while slowing down. Other symptoms of a bad throttle position sensor include rough idle, choppy acceleration, poor fuel economy, and poor engine performance.
Worn-out clutch
The primary purpose of the clutch is to engage and disengage the rotating engine. However, car clutches are responsible for more functions. Apart from engaging the engine, a clutch also transfers torque from the engine to the drivetrain.
In some situations, the clutch can function as an engine brake. Once your car clutch wears out, you will start experiencing difficulty while shifting gears. A worn-out clutch will also make your car jerk.
If unsure about the cause of your car jerking, you should check other signs of a worn clutch. Drivers with worn clutch will notice that the clutch feels either too soft or too loose when stepping on it. You will also notice grinding noises whenever you apply the clutch.
Worn engine mount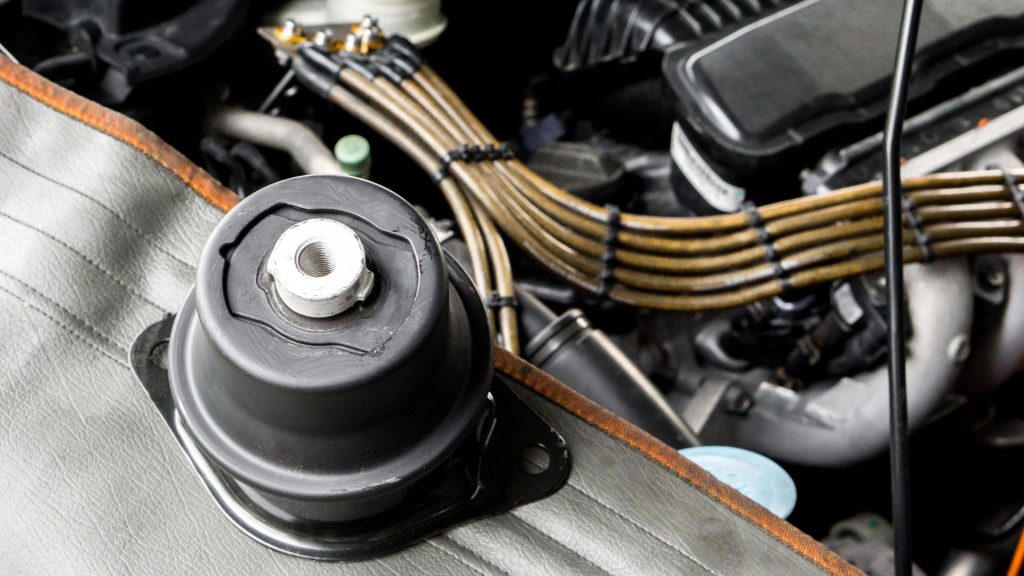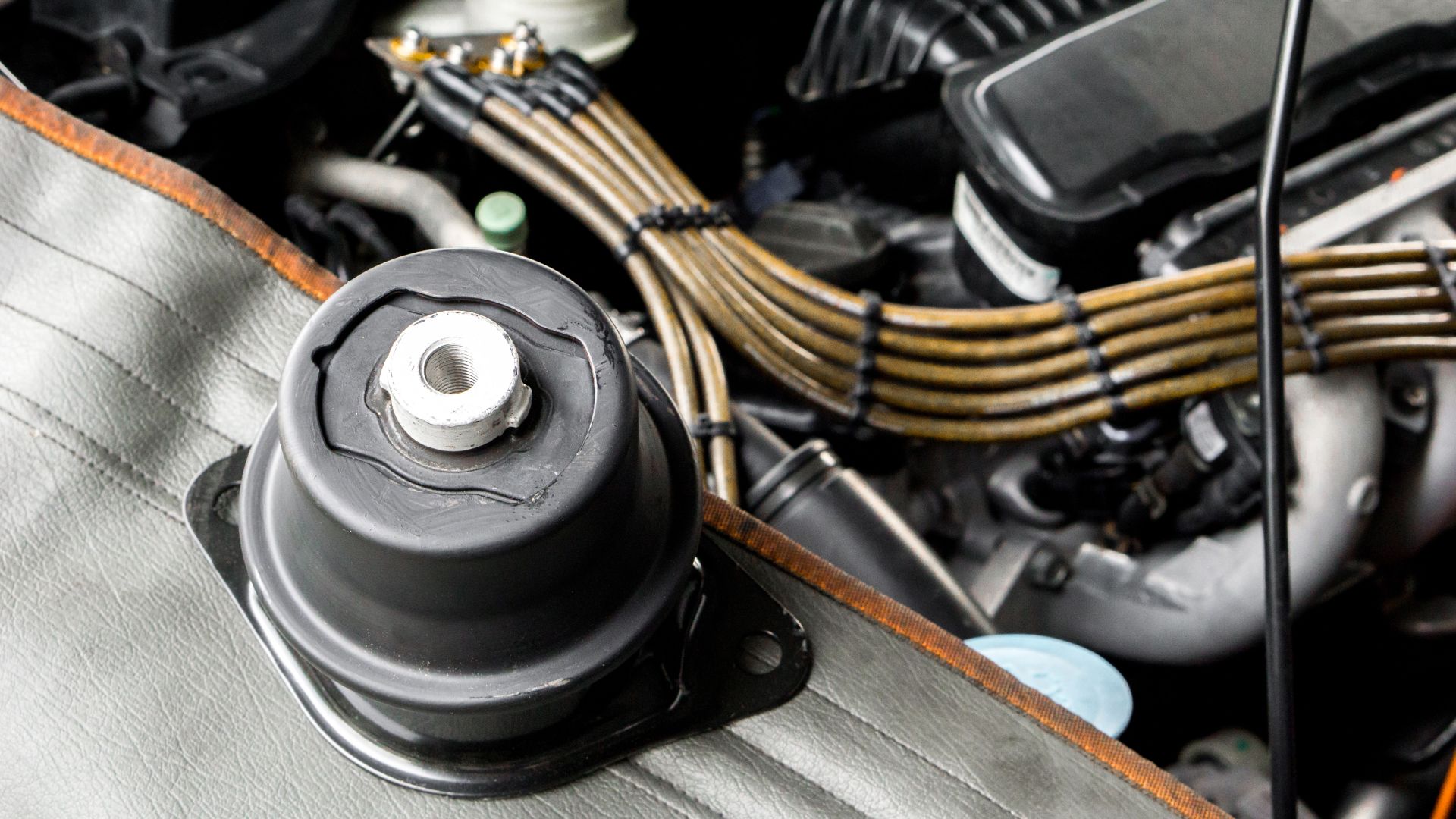 Manufacturers use engine mounts to support and secure the car engine. These engine mounts also absorb vibrations and shock as the vehicle moves. Some of the common bad motor mount symptoms include constant vibrations and movement that can damage your engine.
On average, engine mounts last for five to seven years. However, they can get damaged earlier if the driver uses harmful driving techniques. One dangerous driving style that can destroy the engine mounts is over-revving the gears.
Engine mounts can also wear earlier if fluids leak on them. If your engine mounts are worn, you'll notice vibrations, and the car will start jerking. There will also be clunking noise from the engine bay.
Once you notice that your engine mounts are worn, you need to replace them immediately. If you leave them in a damaged state for a long time, they can destroy other components and even lead to an accident.
Clogged fuel filter
A fuel filter is what you think it is. Fuel filters remove impurities from fuel and help the engine to run in the best conditions. These filters use a mechanism that's similar to the water filter.
Typically, fuel filters can last for about two years. They're not expensive, and you should replace them regularly. However, most drivers completely forget about them.
If your fuel filter gets clogged with impurities, it can cause your car to start jerking. A clogged fuel filter can also cause a random misfire, hard start, and lack of acceleration.
At one point, the car would refuse to start because of the clogged filter. To avoid this problem, you can change your fuel filter every two years / 30,000 miles.
If you've diagnosed your jerky car with a clogged fuel filter, the easiest way to fix it is to replace the filter. The replacement costs between $50 and $170, but it will cost you less if you do it yourself.
Apart from the problems we've mentioned, other things like a damaged MAF meter, a failed mass air sensor, and a dirty fuel injector can cause a car to jerk.
Our take
Different car faults can cause a car to jerk when slowing down. The problem could be a leaking transmission, a dirty fuel injector, or a worn clutch. Drivers can prevent most of these issues by maintaining their cars regularly.
Why does my truck jerk when slowing down?
Of course, regular cars and trucks have similar architecture, so their problems are similar. The reasons that cause cars to jerk are likely the same things that make your truck jerk. u003cbru003eu003cbru003eWe've mentioned some critical faults that can cause a car to jerk when slowing down. One of those issues is what makes your truck jerk. The problem could be your transmission system, clutch, or throttle body.u003cbru003eu003cbru003eIf your truck jerks, you might also want to check the ABS because it could be responsible for the problem.
Why does my car jerk when braking at low speeds?
When your car jerks while braking, it's likely that your brake rotors are bad. The entire effort to brake a car by the brake pads and rotors involves lots of heat and friction. With time, both the brake pads and rotors start wearing off. u003cbru003eu003cbru003eAs the surface of your rotors wears off, it gets uneven. Once the surface is rough, the car starts jerking when braking at low speeds. In addition, the rotors make a terrible grinding noise when you step on the brakes.
What should I do when my car jerks when slowing down?
Do not panic if you ever find yourself in this situation. At least try not to panic. Remain calm and drive to the nearest parking lot.u003cbru003eu003cbru003eIf you know your way around the car, you should inspect it and troubleshoot it. Most issues that cause car jerks usually require you to replace components, so you eventually have to drive out of the parking lot.u003cbru003eu003cbru003eWhen you successfully find what is causing your car to jerk, you can then fix the problem. There are tutorials online. If you're not handy, the best option is to call the mechanic for assistance.
Why does my Honda jerk when slowing down?
If you notice that your Honda jerks when slowing down, we recommend checking the transmission system. Sounds specific, right? Well, Honda's automatic transmission is unique.u003cbru003eu003cbru003eMany carmakers use transmission systems from other manufacturers, but Honda prefers to build their transmission in-house. Only Honda models like the Acura MDX, Acura TLX V6, post-2014 Honda Pilot, and Odyssey have foreign transmission systems. u003cbru003eu003cbru003eBefore 2017, Honda built their automatic transmissions without planetary gears. Unlike automatic transmissions from other companies, the Honda transmission uses individual gears. Manual transmission systems also use individual gears on parallel axes. u003cbru003eu003cbru003eAs a result, Honda automatic transmissions from before 2017 depend on pressure circuits to change gear. The gears are reliable, but there have been complaints about particular models.u003cbru003eu003cbru003eFor example, the 2003 Honda Accord has many complaints about the transmission system. What are we saying? If your Honda is jerking, there's a high chance that the transmission is the problem.