Squealing noise when A/C is turned on — causes and fixes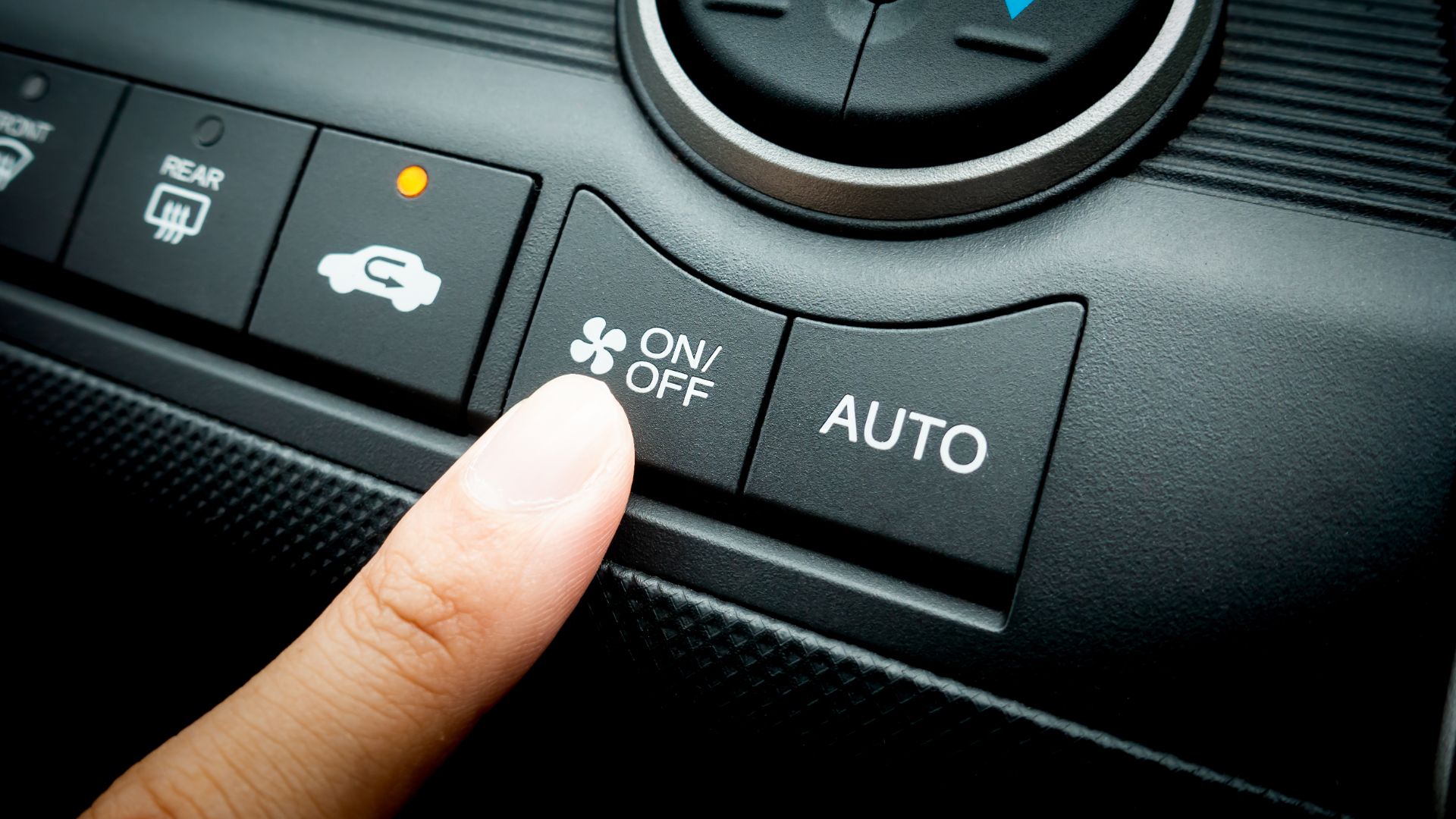 One of the main things that can remove the smile from your face while driving is hearing a noise of some sort. However, the squealing noise when A/C is turned on often goes by undetected, since most drivers think it's something else entirely.
However, the A/C unit can indeed produce that annoying squealing, and we are here to lead you through the reasons and fixes. It's important to deal with the noise straight away since the cabin temperature might depend on it if something's broken in the A/C system.
Different air conditioning noises in a car and their meaning
There are so many braking components and parts in systems like the transmission and engine cooling that might produce different driving noises. Perhaps that's why the A/C noises somewhat go under the radar unless you hear them just as you turn on the air conditioning.
You might even hear a humming noise when driving and not even think that it's got something to do with your A/C unit. Still, the squealing noise is a bit specific, and it often only has to do with the climate control or the brakes. Squealing that has to do with brakes can usually be heard as you step on the brake pedal, so it's easy to differentiate between the two.
There are several reasons behind your air conditioning unit making these noises, and we'll deal with all of them. Even so, the first thing you should do is pay close attention to what happens besides the sound as you turn the A/C unit on.
You'll likely sense something isn't operating just fine in the climate control system, and that can be a huge lead in figuring out the source of the issue.
Why does my car A/C squeal when I turn it on?
Your car's A/C squeals when you turn it on due to a damaged serpentine belt, or a faulty A/C compressor. There are also some possible problems with the other components of your A/C system, so here's a complete list of possible reasons:
Worn-off serpentine belt
Damaged blower motor
A/C compressor faults
Damaged bearings and pulley
Don't worry, though – it won't have anything to do with your car's performance, and you can easily fix the components of your A/C system. It's also worth checking if you have enough freon or refrigerant since leaks can sometimes occur.
If you have a refrigerant leak, it might be the reason behind your A/C blowing hot air, or insufficiently cooling the cabin space. On the other hand, if you have enough freon, but your A/C unit struggles to cool down the cabin air, you likely have a faulty A/C compressor.
The serpentine belt and squealing noises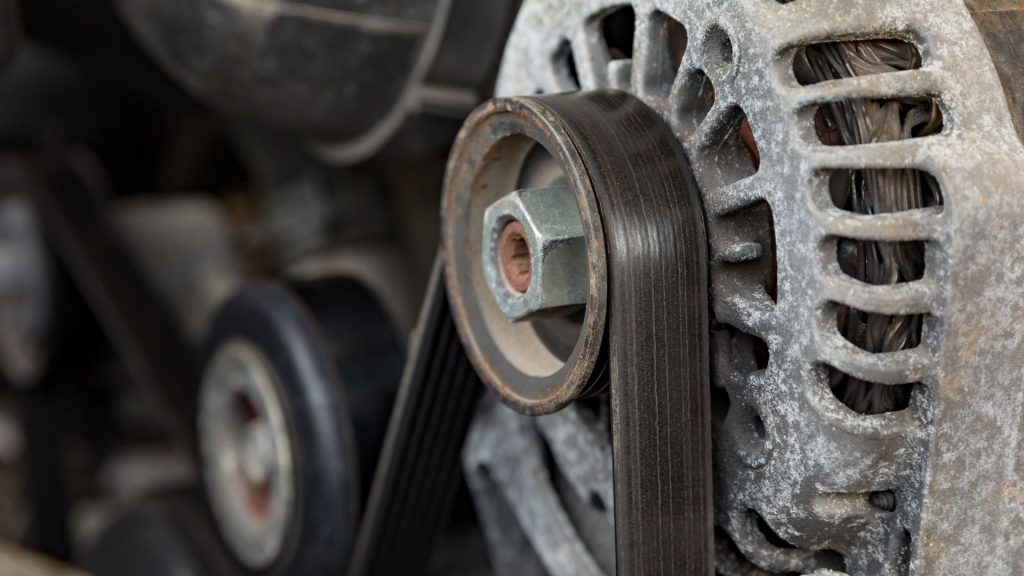 The serpentine belt helps operate crucial parts of your car's air conditioning system, along with the alternator and water pump. If the belt seizes working, your A/C unit won't be able to properly function, and you'll hear a distinctive squealing noise.
On the other hand, the A/C compressor can consequently damage the belt if it stops working properly, due to this connection. So, you should visit a mechanic and have your serpentine belt checked in case you happen to hear these noises.
What does a blower motor have to do with the noise?
The blower motor can also be a reason why your A/C unit produces squealing sounds. A blower motor that struggles to work properly can emit an odd noise, and it can be due to several reasons. The easiest thing you can do is check the electrical connections.
Open the fuse box and check if all the fuses that have to do with air conditioning and the blower motor are intact. On the other hand, it can be a wiring problem, and that's also worth checking out. Finally, you can visit the mechanic to pull out the blower motor and clean it.
Sometimes, dirt and debris can reach the blower motor and create an obstacle that prevents it from spinning regularly.
Check your A/C compressor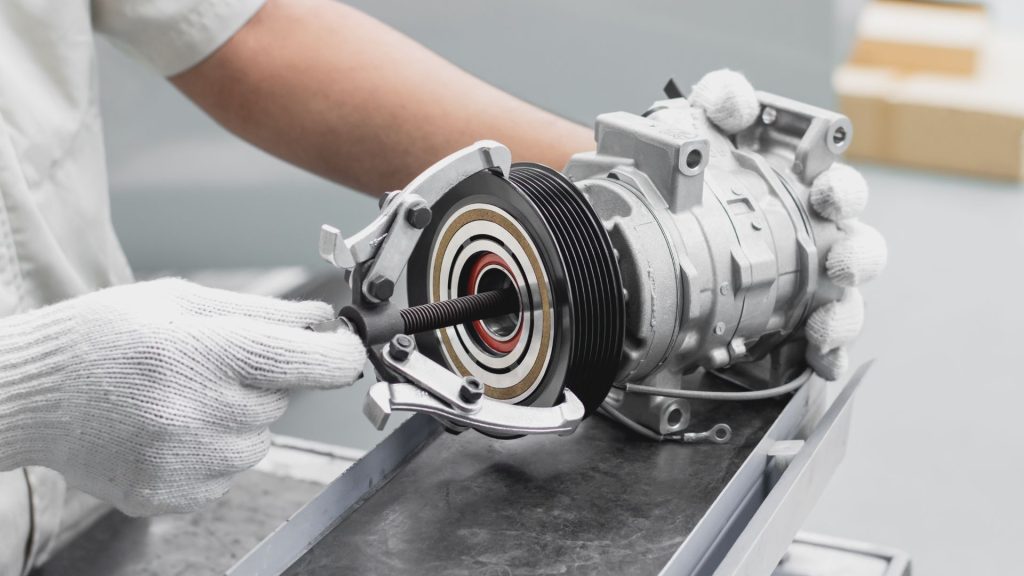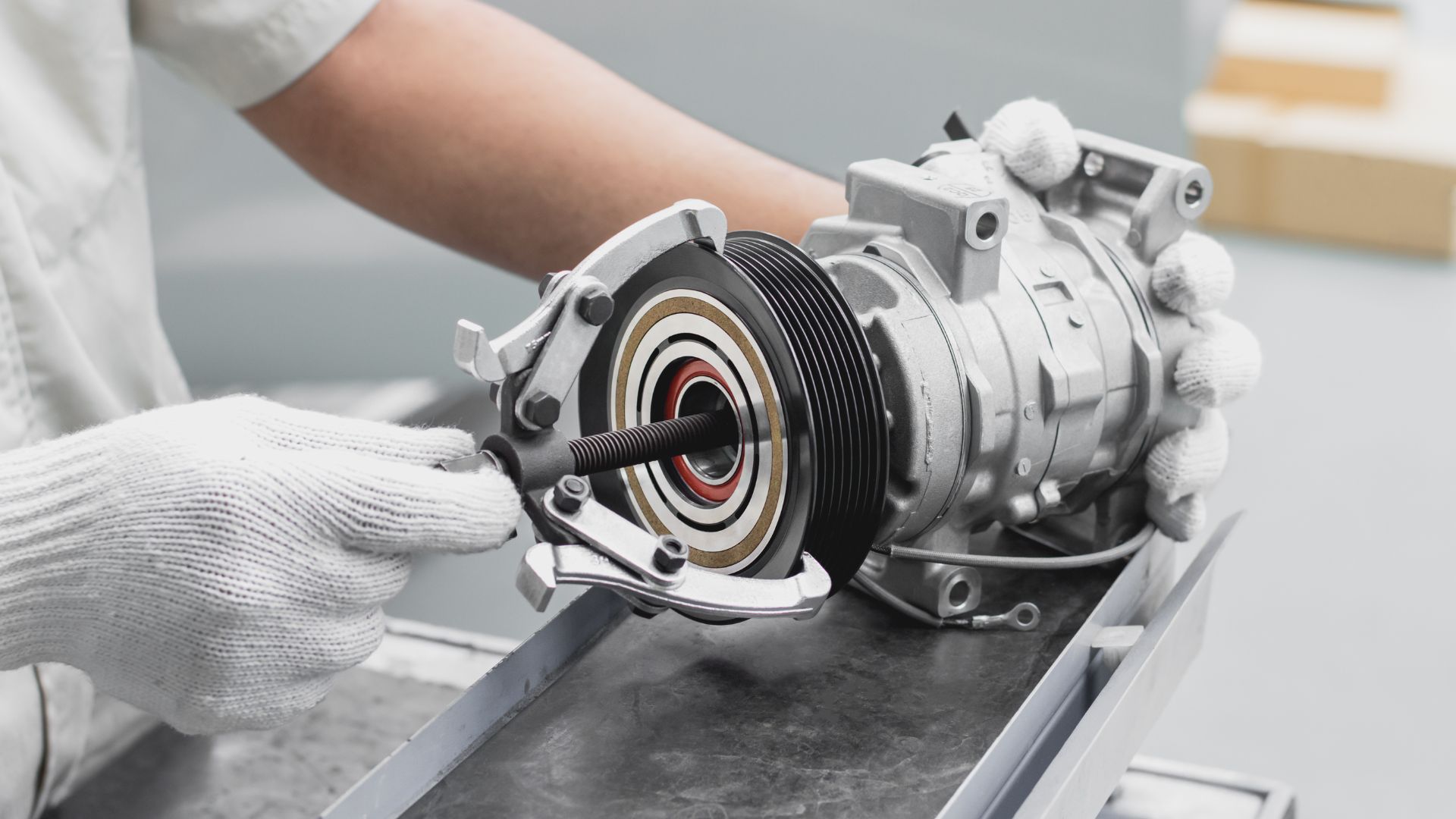 Your next move is to check the A/C compressor and whether it's working normally, in case everything is alright with the blower motor and the belt. You should hear a specific sound of a working A/C compressor clutch in case everything works regularly.
However, if there are damaged parts in the A/C compressor, the climate control system won't be able to blow cold air. Other components of the A/C compressor that might be damaged include the pulley and bearings. The pulley rotates with the belt as you drive, so that rotation can cause squealing sounds in case there's a damaged pulley or a belt.
Also, the breaings will produce a high-pitched squealing tone if they aren't working, or a grinding note caused by the interaction with the A/C belt. It's best to leave these problems to your mechanic since it can be tough to reach the pulley and bearings to replace them.
Our take
Ultimately, the squealing noise when the A/C is turned on can be caused by damage to the A/C compressor parts, serpentine belt, or the blower motor. Using the pieces of info from this guide should get you on the right track in dealing with the issue permanently.
Make sure to pay attention to freon leaks as well before you get to change the expensive A/C compressor if your car isn't blowing cold air.
How do I get my A/C to stop squeaking?
To get your A/C to stop squealing, you should get the A/C belt aligned or replaced, as well as replace the faulty parts of your A/C compressor. On the other hand, you might also have to change the blower motor in case it's damaged by the debris or has seized working.u003cbru003eMake sure to check all of your blower motor's electrical connections such as the wiring and fuses, since you can check the fuse box yourself.
What does a failing A/C compressor sound like?
You'll hear a rattling or clicking noise when you turn on the A/C unit in your vehicle if you have a failing A/C compressor. Still, if it's the pulley and the compressor bearings, you might also hear a loud squealing noise as soon as you try to turn the system on.u003cbru003eReplacing the A/C compressor is an expensive task, and you might be able to save yourself from the expenses in case the bearings or other parts can be replaced. That way your A/C compressor can continue working properly right after the replacement.
How to fix a squealing A/C noise?
You might be able to buy yourself some time by placing a bit of lubricant on the A/C shaft. Still, it takes doing some repairs to the A/C system of your car if you wish to stop the noise permanently. You might have to replace the compressor belt or fix the pulley if the compressor isn't damaged.