Can you jump a car in the rain? — steps and precautions
Safely jump-start a car in rainy conditions with essential tips.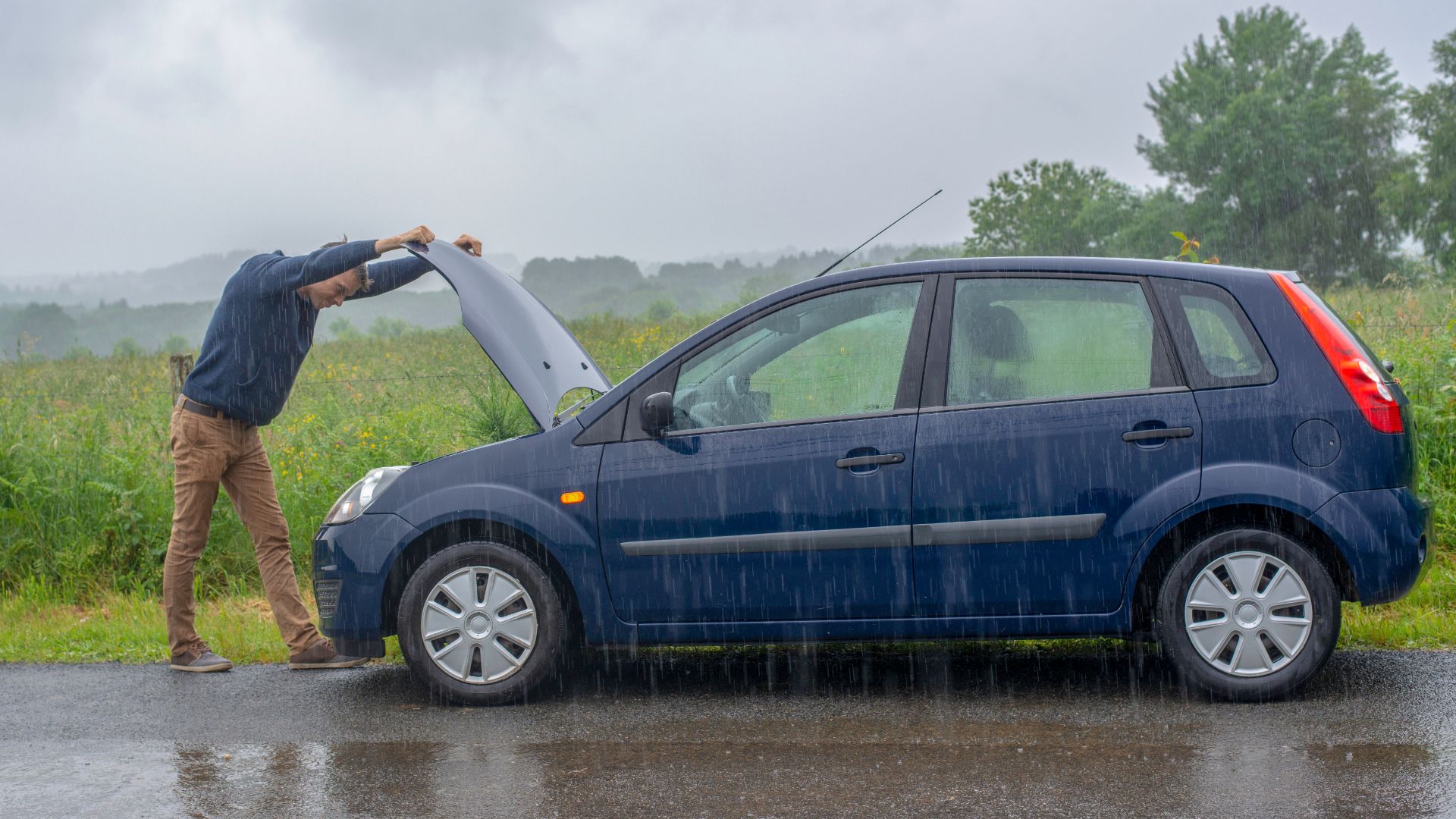 There are only a few things more frustrating than getting into your car, turning the key, and hearing the dreaded clicking of a dead battery. It's happened to most drivers, you leave your headlights on, your battery just drains for some reason, and you need a jump. The experience is double worse if it rains at that moment, which brings us to the question: can you jump a car in the rain?
Although it's not ideal, and many drivers have expressed concerns about safety, jumpstarting a car in the rain is very safe if done correctly.
Is it safe to jump a car in the rain?
Your car battery never dies at a convenient time, but it is more annoying when it does so in the rain. If you stick to a few easy rules, it is safe to jump a car in the rain. These are some things to bear in mind to ensure your safety when jump-starting a car in the rain.
Keep your jumper cables in good shape: Verify that your jumper cables are sufficiently new to have adequate insulation and that there are no exposed wires on them. If rain enters the cable, it could result in a short circuit.
Stay under an umbrella: Ensure you are under an umbrella and make sure it covers the battery too.
Wear eye protection: Be sure to shield your eyes if you decide to jump the automobile yourself. Keep a set of safety glasses to protect your eyes from any potential explosion or hazardous materials.
Wear protective gear: while you should always wear gloves when jumpstarting a car, it is crucial to do so in the rain.
Jump starting a car in the rain is completely safe if done correctly, according to mechanics, automotive experts, and specialists. You won't get electrocuted, and neither will the battery or the engine get drowned in the rainwater. Before you start jumpstarting a car in the rain, it's worth inspecting the car battery corrosion, especially on the terminals you'll be using to jumpstart the car.
Why do drivers think it's not safe to jump a car in the rain?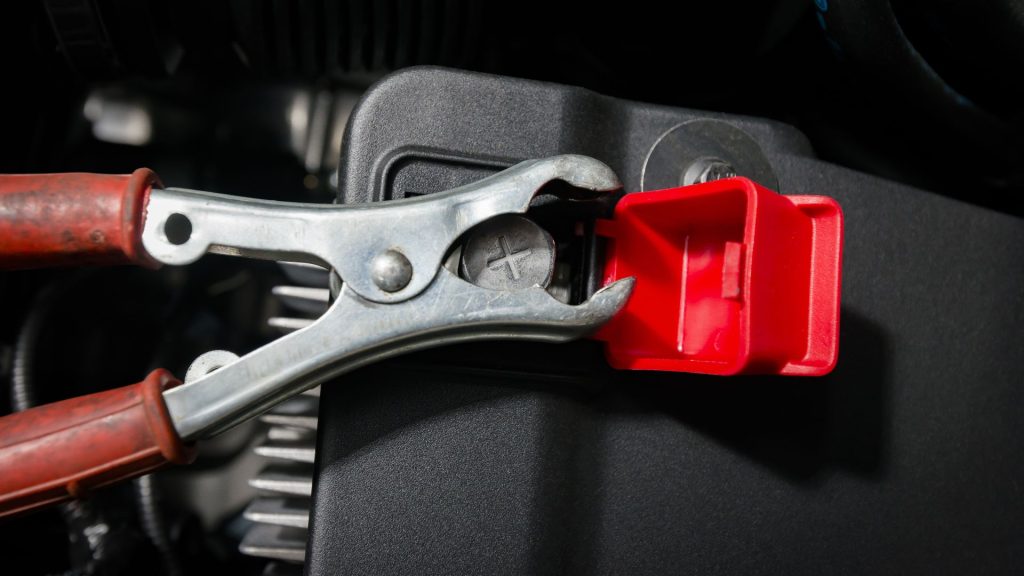 Water is a good conductor of heat and electricity, as we are all aware. Does that imply that trying to jumpstart a car in the rain is a bad idea? False; the situation is somewhat different. Most automobiles have DC 12 volt or, in the case of large trucks, 24 volt and 5-volt electric systems.
A car battery has an amperage of 48 to 50 Ah at the same time. You won't risk getting hurt while attempting to jumpstart a car in the rain because the voltage and current range are relatively safe to work with. You may set your anxieties aside if you are reading this because you are worried about being electrocuted while jumpstarting your car.
Technically, a human being can withstand up to 10,000 ohms of resistance, which, when calculated for a 12-volt automotive battery, equals 0.012 amps. That is much less and cannot have an impact on a person's body.
However, you must be careful when connecting the jumper wires and avoid having raindrops drip onto the exposed terminals, as short-circuiting is a potential concern. And there is the chance of getting hurt from a burn from the battery.
Can I get electrocuted when I jump a car in the rain?
In general, it is possible to jumpstart a car in the rain. When jumped in a downpour, cars don't have enough voltage to electrocute someone fatally. Many people attach jumper wires to a car incorrectly, as a result, get a shock to their fingertips.
By no means are they serious wounds, but they ache, nonetheless. Before attempting to jump a car, make sure your hands are dry because they are more likely to get a moderate zap from a battery if they are damp
How to jump a car in the rain
Aside from taking the precautions listed above, the process for how to jump a car in the rain is the same as jumpstarting a car on a sunny day.
Park the car with the good battery facing the one with the dead battery, then turn off the engine and engage the parking brakes on both cars.
Open both hoods and find the batteries. You may need to remove a plastic hood to expose the battery terminals.
Before connecting any cables, be sure that both cars are turned off. Connect the red clamp of one of the cables to the positive terminal of the dead battery.
Connect the other red clamp to the functional battery's positive terminal.
Ground the remaining black cable by connecting it to a piece of metal on the engine block after attaching the other black clamp to the negative end of the operational battery. DO NOT connect it to the battery.
Start the car with the functional battery, and let it run for around two minutes. Then start the car with the dead battery and leave it running when it turns on.
Things to keep in mind when jumpstarting a car
Although it is relatively easy to execute, and almost always successful, there are a few things to keep in mind:
Recheck the cables to make sure they are all securely connected if the car still won't start.
After roughly five minutes, turn off the engine and attempt to start the car again. If it doesn't start even after all this effort, the battery needs professional help or replacement.
Make sure that the cables are not crossed or tangled with each other. And lastly,
Ensure that the batteries are not sitting directly under the rain. Instead, protect them and keep them away from direct contact with water.
The battery charge level can also be crucial since many drivers wonder – can a car battery be too dead to jumpstart?
Dangers of jumpstarting a car in the rain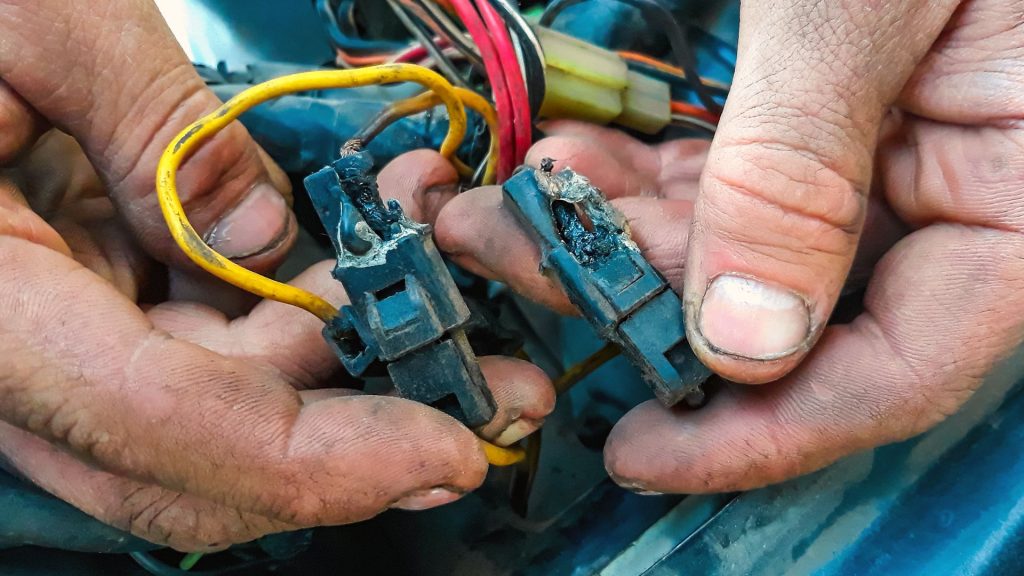 It can be dangerous to jumpstart your car with little or no experience. Here are a few dangers:
Fire or explosion
A bad battery could ignite a fire or destroy the entire electrical system of the vehicle. The batteries contain sulfuric acid that evaporates and is highly flammable. While the jumper cables frequently produce sparks, improper use could cause a fire or even an explosion. It is strongly advised that you let a pro handle the jumping process for you.
Short-circuiting
It can also be dangerous to jumpstart a car in the rain. Humans may not be affected, but the process could potentially harm the car. Modern automobiles often contain pricey and complex electronic systems. Short-circuiting them results in irreparable damage to the parts, costing you a lot of money.
Also, it is even possible to cause damage to the other car with a good battery. The last thing anyone would want to do is make an assisting driver's day miserable.
Risk of eye injuries
According to the Sight and Hearing Association (SHA), nearly 6,000 motorists suffer eye injuries and blindness due to improperly jumping a vehicle's battery. However, these injuries are not the result of electrocution.
Car batteries contain sulfuric acid, a highly corrosive substance capable of severely burning skin, and other bodily tissues. Batteries produce hydrogen gas, which can explode if a spark from jumper cables comes into contact with the gas.
The destructive sulfuric acid is propelled into the air by an explosion of hydrogen gas, frequently landing in the jumper's eyes. Inexperience with jumping a car is the main cause of the risks of exposure to sulfuric acid. It is best to hire a roadside help company to jumpstart your car for you if you don't know how to do it yourself.
Jumpstarting with a portable jump starter in the rain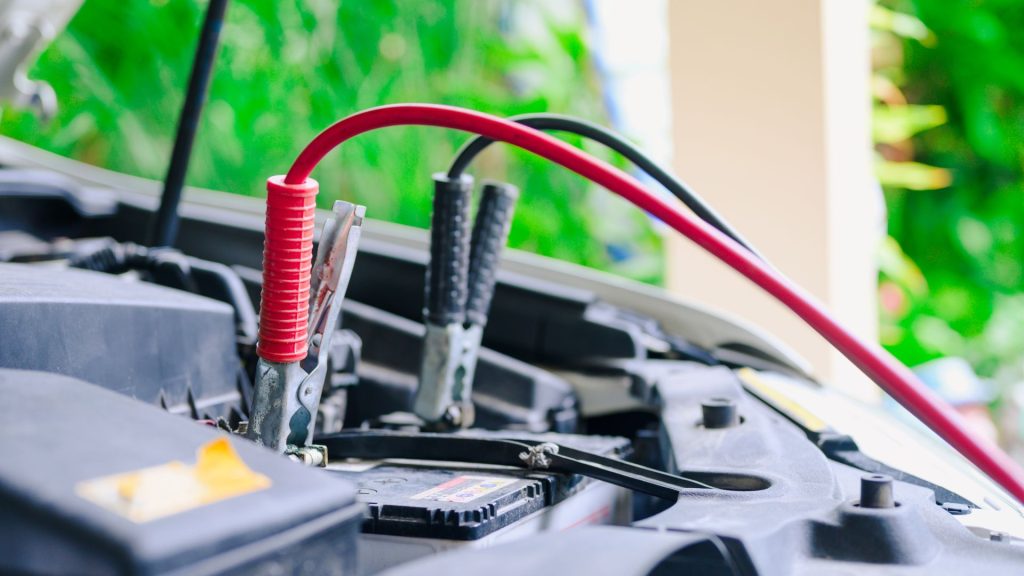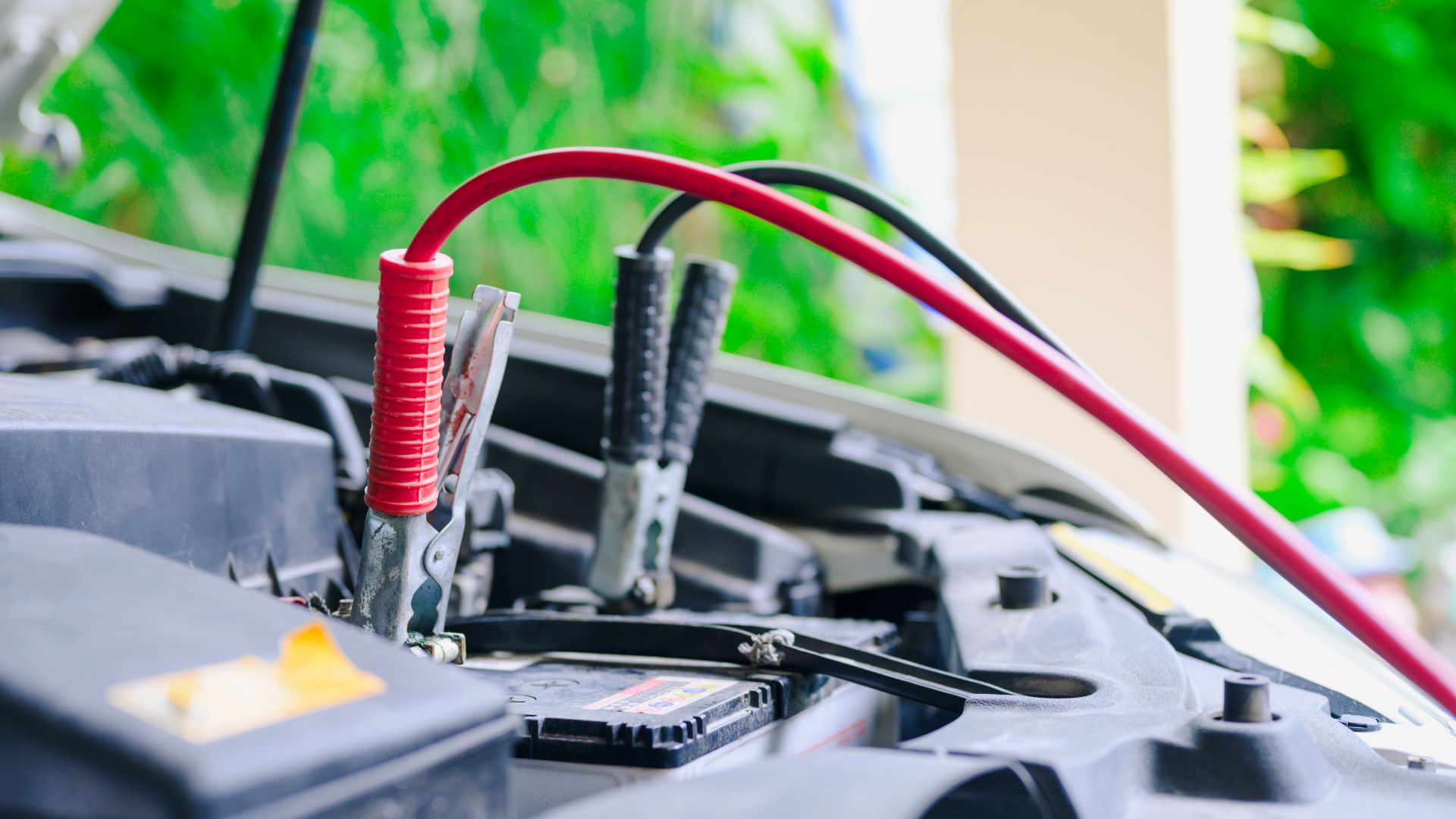 This will be intriguing for you if you've never heard of a portable jump starter! It's as simple to use as opening a pickle jar. There are basically four simple actions needed:
Retrieve your jump starter but make sure that it has some charging in it.
Take the cables and connect them to the battery terminals, while making sure the jump starter is OFF.
Turn on the jump starter and try to start your car.
Take the cables off the battery terminals, and you are ready to hit the road.
A feature that we recommend when buying a jump starter is an air compressor. There are many good jump starters with air compressors on the market right now. And by having one of these bad boys, you are killing two birds with just one stone! A safe choice to back up your car's engine as well as its tires on the road.
Our take
Jumpstarting a car in the rain is manageable and safe, provided you follow the proper steps. Any driver can easily follow the steps to jumpstart a car. The typical rule for jumper cable application is "positive to positive, negative to ground." You can safely jump a car if you keep that in mind.
Additionally, whenever you jump a car yourself, always utilize safety gear. Remember that jumping a car involves risks. And if you ever have any reservations about the procedure, a roadside help service will be happy to jump the car for you.