For over 120 years, Goodyear remained one of the most prominent US tire brands. Ever since the merger with Cooper tires in 2021, Goodyear continues to mark even better sales results in the US and most domestic drivers decide to go with their tires.
So, what separates Goodyear tires from other premium tire brands like Michelin and Bridgestone? Read on to find out the answer to this dilemma, as well as about the qualities and overview of the brand in our Goodyear tires review!
Why you can trust REREV's tire reviews: Our automotive expert researchers analyze tire specs, customer feedbacks and reviews from credible sources. This thorough analysis provides accurate information about tire performance, helping you make the best choice. Find out more about how we evaluate tires.
History and overview of Goodyear tires
The life of the brand and its endurance on the list of the world's renowned tire companies speaks for itself. Goodyear was founded back in 1898, and they've been a constant competitor to premium tire brands worldwide, as well as one of the main domestic brands in the US.
The tire company founded in Akron, Ohio started generating revenue from the revolutionary vulcanized rubber compound. Over the years, they started producing motorcycle tires, passenger car tires, and race tires.
Their status as the best tire supplier for Formula 1 contests confirms the good work that the brand has been doing. Moreover, Goodyear remains the main tire supplier for the NASCAR racing series up to date. Of course, we'll focus on passenger car tires in this review, but it's important to point out the versatility and expertise of the brand in various fields.
Today, Goodyear owns Dunlop and Kelly Tires, and Cooper now operates under the wing of this company as well. Some of the tire categories that Goodyear excels in include UHP all-season tires, grand touring tires, SUV/truck tires, and all-terrain tires.
Key takeaways
If you are in a dilemma on whether Goodyear tires are the best option for your car, there are plenty of perks that come with each set. If you don't have the time to go through the whole review, these are the key points that separate Goodyear from low-value brands:
Reputation and experience – When you say Goodyear, the first thing that comes to mind is over 100 years of great reputation and experience. Goodyear is the most formidable US tire brand along with Cooper and Hoosier, and it makes the most renowned company among the three.
Broad tire categories – Regardless of your vehicle type, you can count on Goodyear to bring some of the best tires in the game for your car. The company produces some of the best touring tires for a comfy and quiet ride, but it also delivers UHP tires and all-terrain SUV tires. They also offer dedicated off-road tires, extreme-conditions winter tires, and even some mud-terrain tires!
Innovative technology – Goodyear embraces the concept of an American dream and gives you something more for your money. That's why you can find tires made with DuPont Kevlar reinforcement that are nearly impossible to puncture. They also make run-flat tires that give you a few extra miles for higher safety when the treads reach their limit.
Where are Goodyear tires made?
Goodyear tires are made in the US production facilities to give you that additional sense of a domestic tire brand. The brand currently runs over 1200 tire centers where you can purchase their products, get a tire retread, or service your Goodyear tires.
Additionally, some Goodyear tires are made off-shore, mainly in Canada, Germany, England, and China. If you only want to use an American-made tire, you can simply look for the manufacturing information on the sidewall.
Who makes Goodyear tires?
Goodyear makes all the brand's tires in-house in numerous production facilities in the US and off-shore. Even the tires that aren't made in the US still have to pass a series of rigorous tests and production protocols to meet the quality requirement.
So, you don't have to worry about some other brand making these tires, although Goodyear holds several other brands under its wing. Officially, it's the world's fourth largest tire brand in terms of the tires produced and developed completely by Goodyear from top to bottom.
Are Goodyear tires good?
Goodyear tires are some of the best on the market, and they can easily tackle the premium brands such as Michelin in terms of tread life, or Pirelli in terms of high performance. Their durability and all-season traction of the tires meant for year-long driving made Goodyear an average American's top choice.
There's no better brand among US-made tires, while the overall quality of Goodyear products is often placed just an inch away from Michelin, Bridgestone, and Continental.
Best Goodyear tires by car type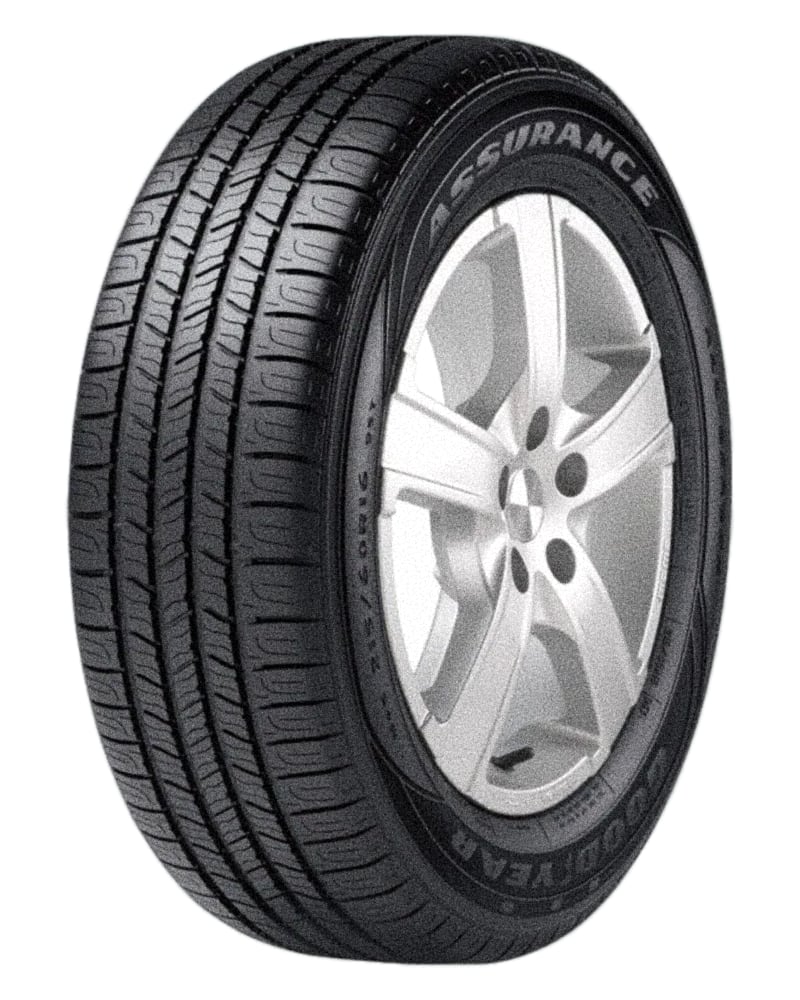 Treadwear
Traction
Temperature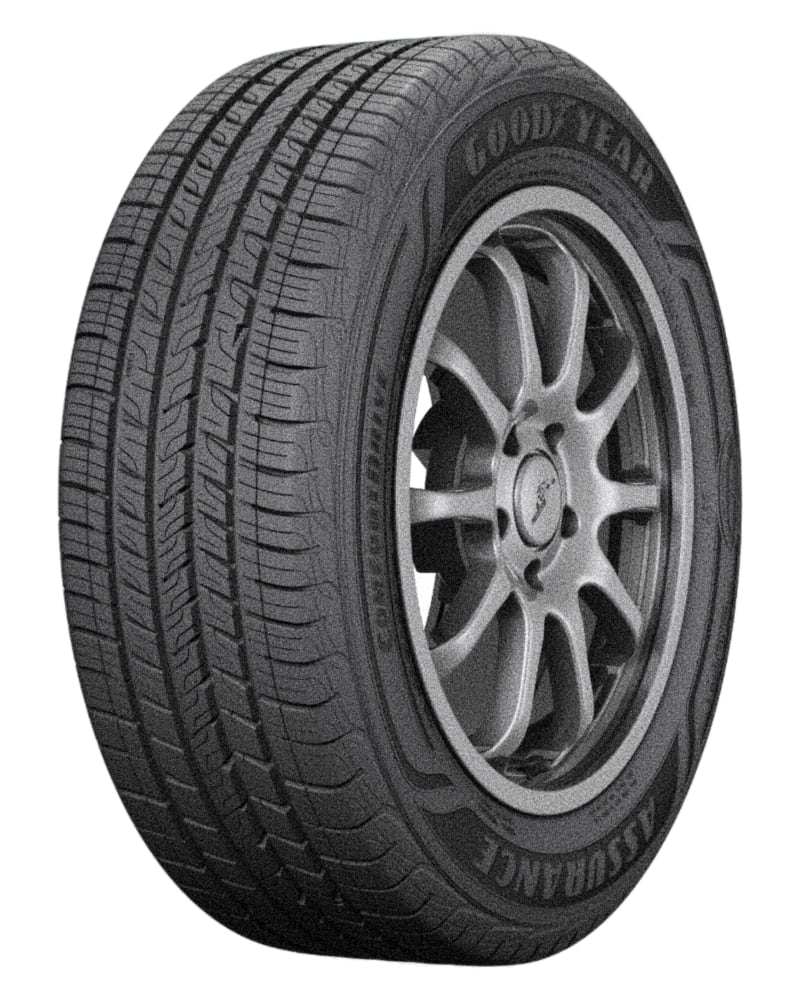 Treadwear
Traction
Temperature
Assurance Maxlife
Passenger Touring All-Season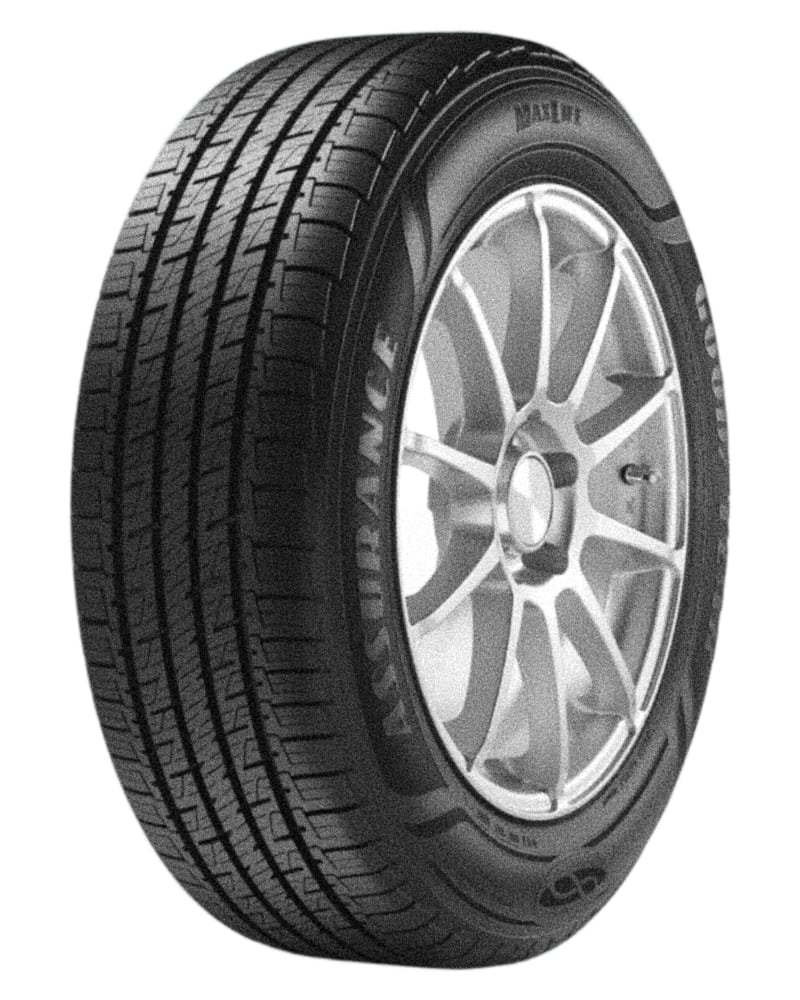 Treadwear
Traction
Temperature
Assurance WeatherReady
Grand Touring All-Season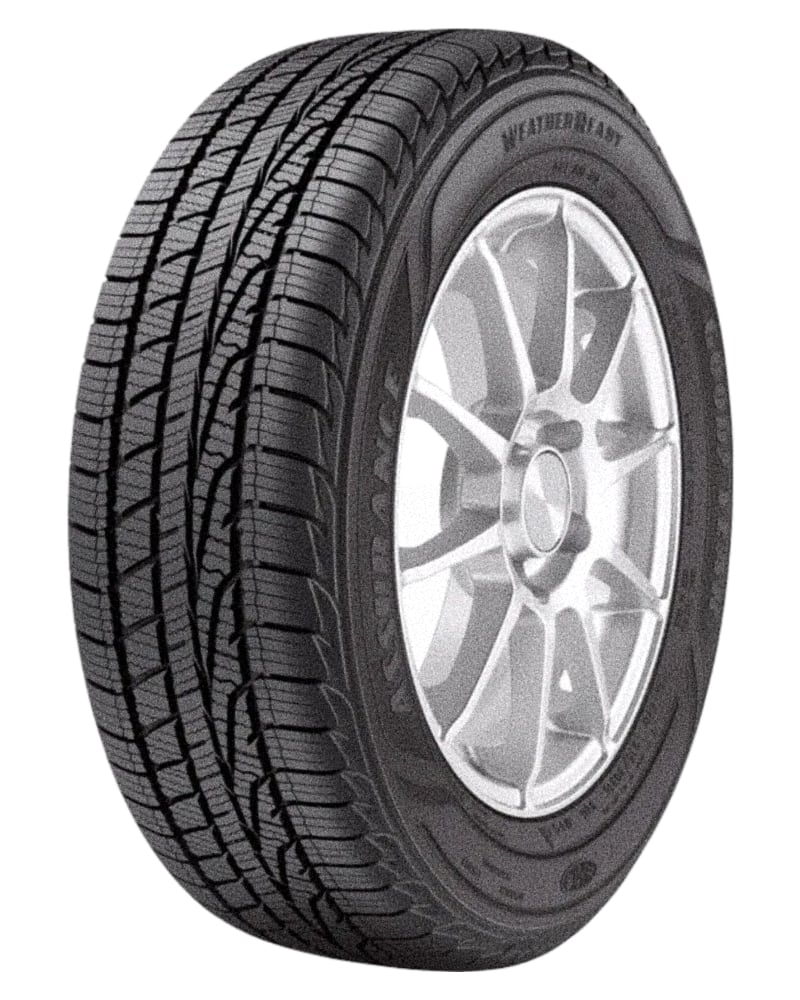 Treadwear
Traction
Temperature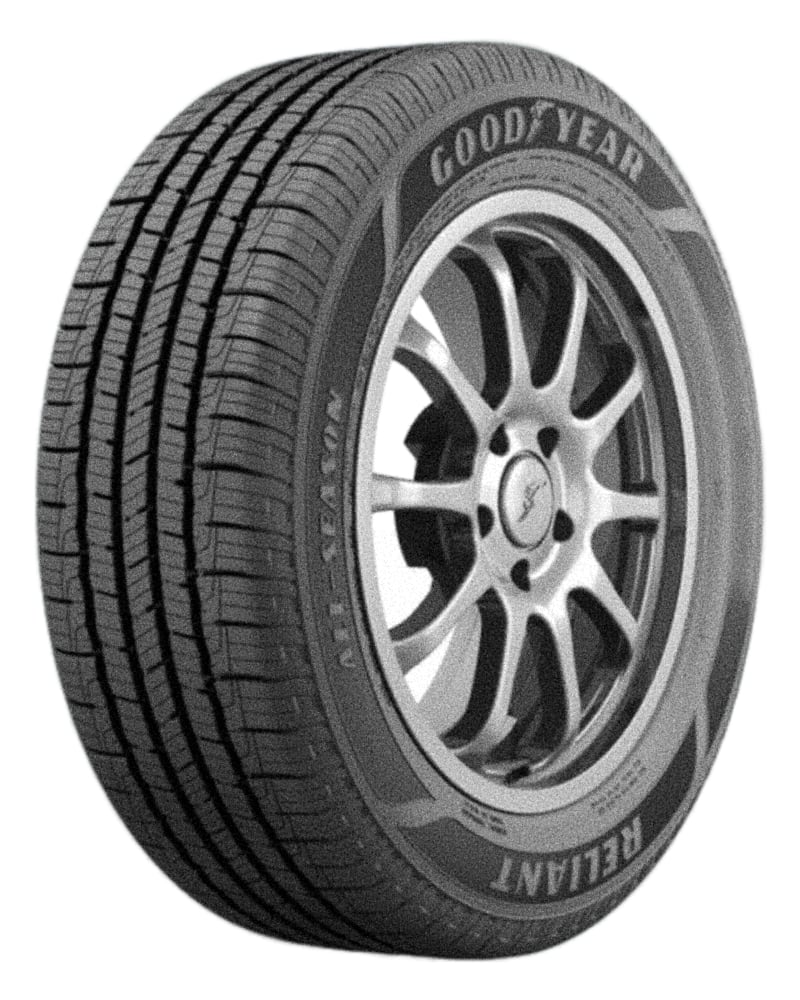 Treadwear
Traction
Temperature
Wrangler All-Terrain Adventure with Kevlar
Light Truck/SUV All-Terrain Tire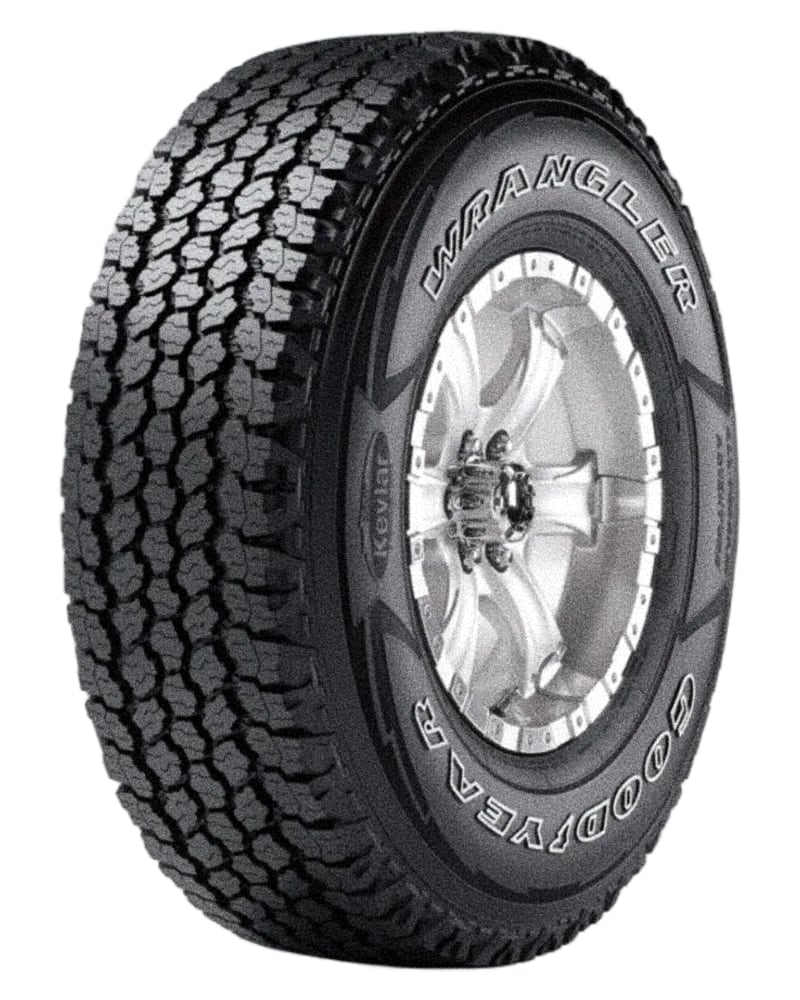 Treadwear
Traction
Temperature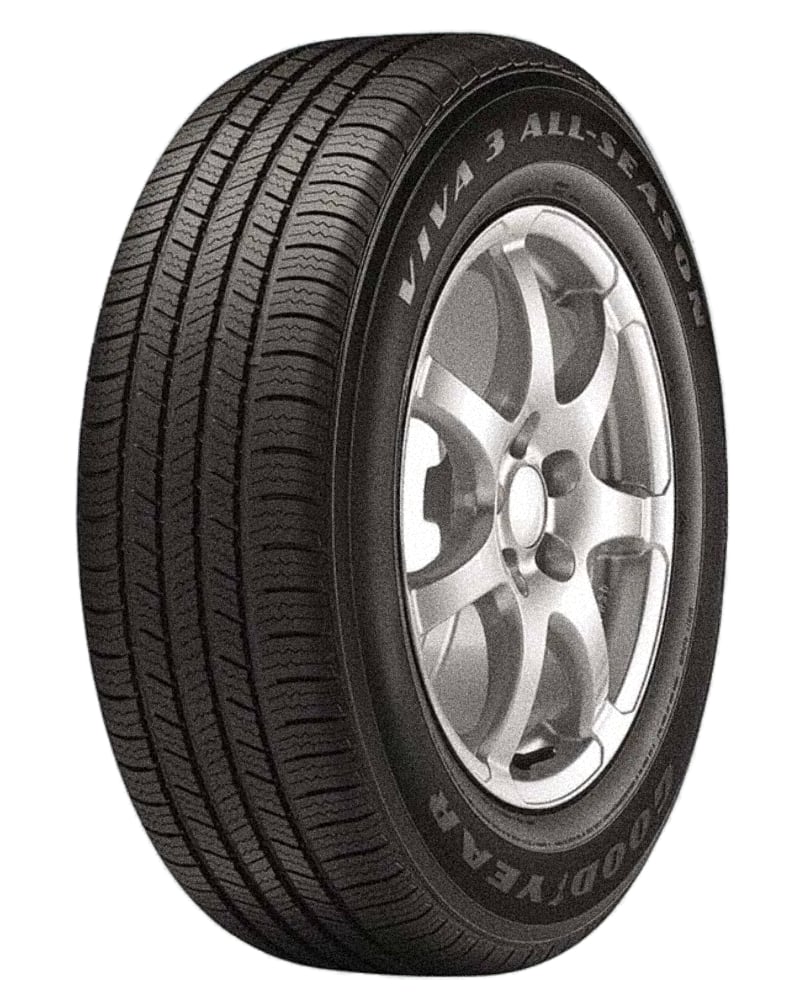 Treadwear
Traction
Temperature
Cost of Goodyear tires
If you want to get a new set of Goodyear tires, you'll have to be prepared to pay a slightly higher price than average. Although with the greater price, comes greater build quality and endurance, you'll not necessarily have to pay top dollar.
For instance, the smaller trims of Assurance MaxLife tires cost around $110 for a single tire, which is rather convenient for the quality. On the other hand, a single Eagle F1 Asymmetric performance tire costs up to $302 for a single 20″ tire, while the average price for one Wrangler AT Adventure with Kevlar tire is around $200.
Why choose Goodyear tires?
By choosing Goodyear tires, you don't only pay for the set itself, but also the masterful expertise and reputation of the brand. So, there are various reasons why you should choose any tire from our list, and here are a few of the most standout ones:
Extensive Warranty Packages: Being such a big name in the tire production business, Goodyear includes some of the best warranty deals. Their package starts with the 30-day Goodyear pledge that gives you 30 days to test the tires and decide if you want to keep them or exchange them for another Goodyear set.

Also, you get a limited tread life warranty that even gives you 45,000 miles with UHP Eagle F1 tires. All-season touring tires like the Assurance series come with a warranty from 60,000 miles to 85,000 miles. On top of it all, there's also the Goodyear road assistance warranty that you can count on if you experience a tire puncture on the road.
Tire Safety Testing: One of the best things about Goodyear tires is that you don't have to wonder about their safety. The company's engineers push the tires through 50 rigorous safety tests before they get approved for wet traction and hydroplaning resistance. This also includes braking tests and overall handling and stability.
Durable Materials: It's no wonder that Goodyear tires include such extensive warranty packages – the tread compound is always made with top-quality materials. From the protective DuPont Kevlar for sturdiness to the high-silica compound for low rolling resistance, you get it all with Goodyear. Some of their tires also include triple-tread technology with reinforced rubber layers for high stability and noise reduction.
Our take
In the end, it's the driving quality and performance that matters the most with a tire, right? Well, Goodyear truly delivers in these areas, and many others due to their rigorous testing grounds and expert engineers that keep the brand's reputation at a high level.
If you are on the lookout for a tire brand that isn't the most expensive out there but does excel in quality for your new set, don't hesitate to go with Goodyear!
How long do Goodyear tires last?
Goodyear tires should get you rolling for at least 60,000 miles on average, and the limit would be even higher if it weren't for UHP tires with estimated 45,000 miles of tread life. However, some all-season touring tires can take up to 85,000 miles, which is above average in the category.
What tire sizes does Goodyear offer?
Goodyear tires offer size trims ranging from 14″ for passenger cars to 22″ trims for larger SUVs and trucks.
Which tire brands are comparable to Goodyear?
Tire brands like Continental, Michelin, and Bridgestone are mostly comparable with Goodyear as a premium tire brand.
Are Goodyear tires the best tires on the market?
Goodyear tires aren't considered the best tires overall on the market, but they do offer the best blend of quality and price among the premium tire manufacturers.