Goodyear Assurance All-Season review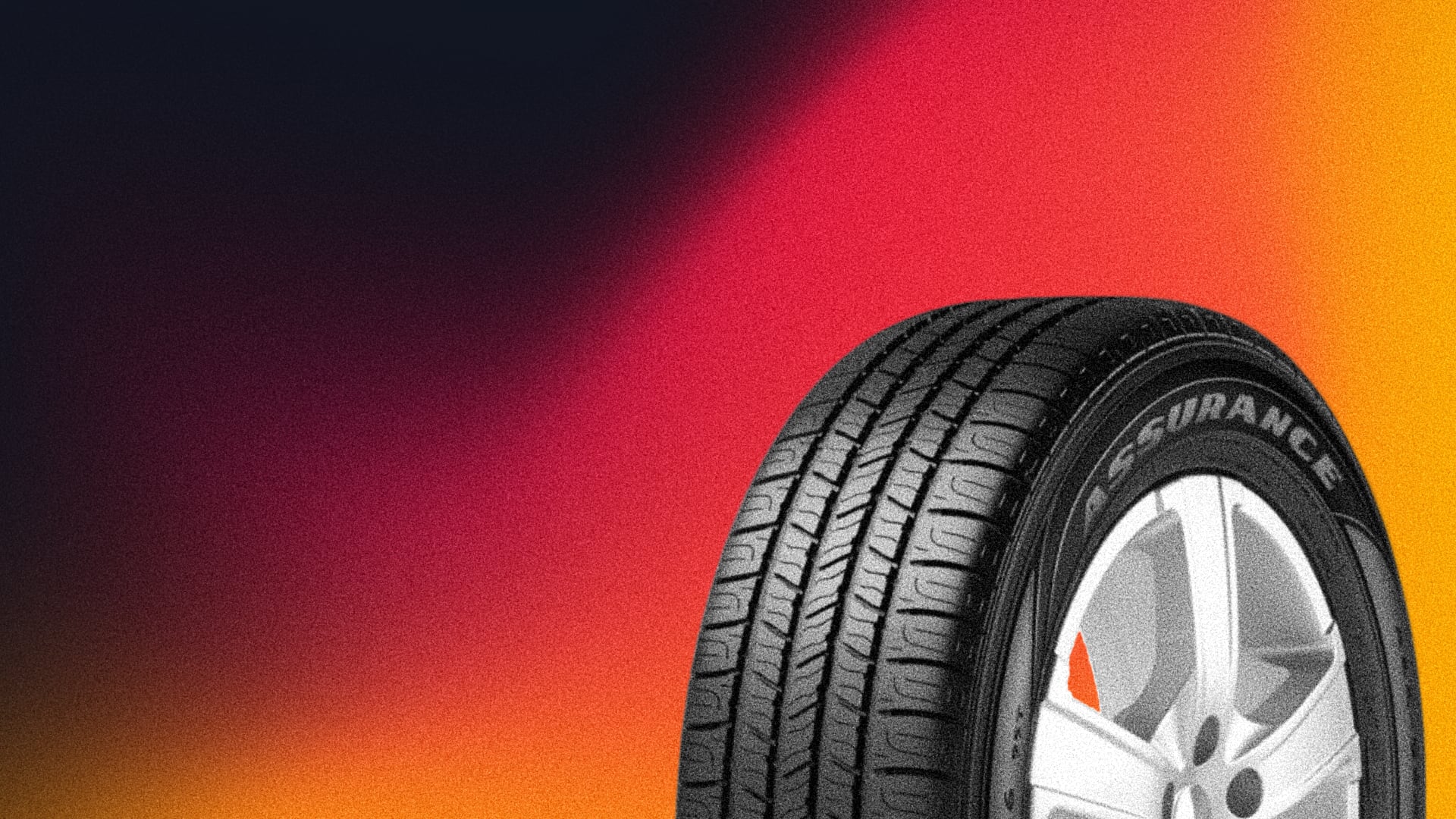 REREV may receive a commission for purchases made through links on our site. Learn more.
Changing summer and winter tires can be bothersome if you spend most of the tire's tread life driving around the town and on the highway. Surely, getting a tire with long tread life capable of tackling all-weather conditions on the road at an affordable price is a dream come true.
If that's exactly what you need, brace yourself – our Goodyear Assurance All-Season review will entice you to take a closer look at these tires. They are perfect for all-season traction, have more than enough safety features to disperse the water, and give you a pleasant, quiet ride. Sounds like a set of tires perfect for your needs? Join us to uncover the rest then!
Recommended
Goodyear Assurance All-Season
The Goodyear Assurance All-Season tire will take you a few thousand miles more than the competition, while delivering a comfortable and refined driving experience along the way.
Purchases made through links on our site may earn us a commission.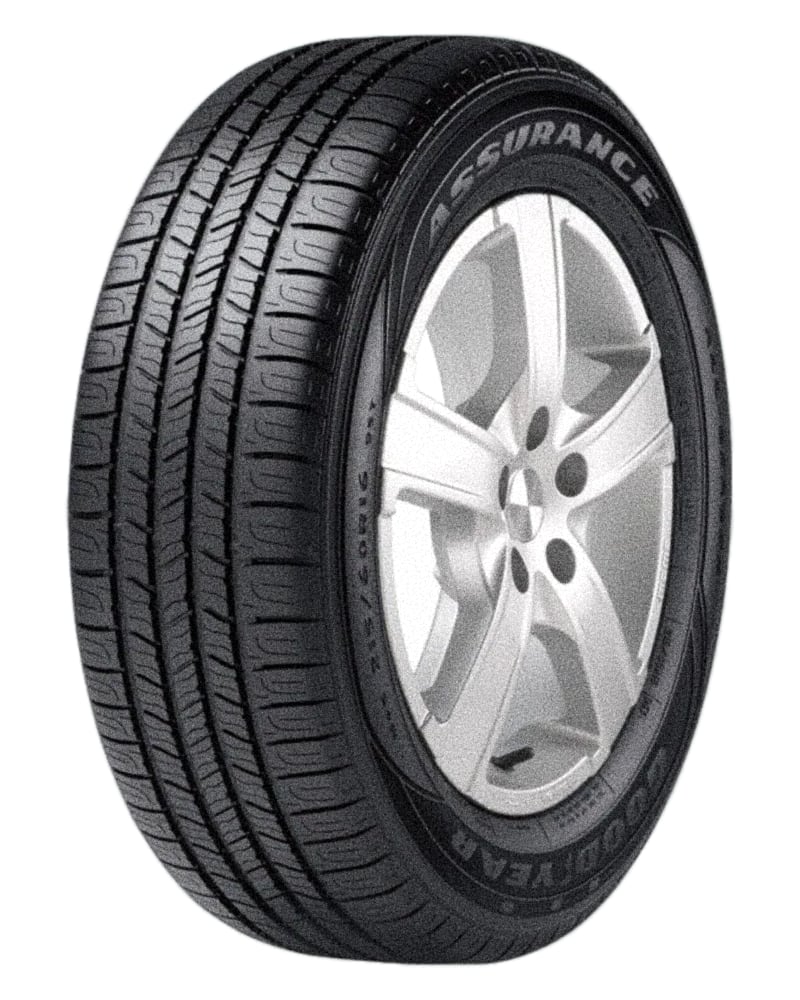 Key features and technologies of Assurance AS
Goodyear Assurance tires are aimed at compact cars, coupes, and sedans mostly driven on town roads and highways. Even if you are not a car enthusiast, the manufacturer made sure that everyone can understand the key features by making the tire simple and affordable.
These are some of the flagship technological solutions used in the production of Assurance AS tires:
Wide reinforced shoulder blocks
Tread grooves and biting edges
All-weather compound
Increased rubber surface for stability and comfort
Looking at the tires, you'll spot the large shoulder blocks on each side. While most tire manufacturers include sipes and wet traction edges on this side for all-season tires, Goodyear focused on comfort and stability here.
The shoulders are thick and help relieve the center ribs of the pressure, which is especially important in turns and cornering. Still, that doesn't mean that there are no wet traction elements included.
The shoulders contain side channels between the tread blocks that lead the water away as you drive on wet roads. It's a decent starting point, but the center rib is where the biting edges truly kick in.
Deep sipes work great with the tread grooves in taking the water away. An all-weather compound is said to make the tire material flexible in the winter, yet pliable and responsive in the summer to give you that genuine AS tire feel. Finally, these tires have more rubber surface that comes in contact with the road than many other all-season tires.
Because of it, your dry traction in the summer will be impressive, without hurting the wet and winter traction.
Safety features
Goodyear didn't sacrifice the safety elements of these tires by making them equally pliable in the summer and winter. The smart design includes wavy sipes that are most useful in wet conditions and light snow.
These provide better traction when compared to flat sipes, giving you a shorter braking distance. Also, you'll see the four large circumferential tread grooves that spread across the tire and help evacuate the water. If it weren't for these safety elements, the tires would slide on wet roads due to their maximized rubber surface that's great for dry performance but could cause you to lose control.
The grooves lead the water away from the center rib of the tire, while the shoulder channels disperse water on the sides. Another safety element is the compound reinforcement in terms of two steel belts inside that add up to the tire's stability in all weather conditions.
Goodyear Assurance All-Season speed ratings
Now, since these are all-season tires primarily developed for town roads and highways, speed rating shouldn't be overlooked. It measures the maximum speed at which the tires can maintain complete control and handling without sliding.
Sure, you could in theory go a bit over the rating, but it could cause more noise and lower grip on the road. It's therefore good that Assurance AS tires come in with three speed ratings – "T", "H", and "V".
The thing is, you can get smaller 14″ and 15″ tires with just the "T" speed rating mark. it means that tires handle best the speeds up to 118mph, as these sizes fit compact cars. The "H" speed rating is introduced with 16″ tires, and it means you can drive up to 130mph without any noise or handling difficulties. With the 17″ tires, there comes the "V" speed rating, meaning that the tires can handle speeds up to 149mph.
Treadwear and durability
You'll love this part of the review since every driver enjoys getting a quality set of affordable all-season tires with solid longevity. The tread life of Goodyear Assurance tires should be at least 65,000 miles.
To give you a better picture of their longevity, an average driver passes about 15,000 miles per year, according to the US Department of Transportation. So, it goes without saying that these car boots will last for at least 4 to 5 years. Due to the symmetric tread design, you can rotate these tires as well to balance the wear and boost their lasting period.
Maintenance indicators
Taking a look at the wear indicators will tell you the exact moment when it's best to replace the worn-off tire. Goodyear placed these indicators into the tread grooves, but you won't be able to see them right away.
It's a good thing tough – once the tread wears so much that you can see the wear indicators aligned with them, you'll be reaching the last 2/32 inches of wear. It's not safe, or even legal to drive on flat tires worn-off so much in the US, so these bars come in handy to determine a replacement period.
Traction performance
All-season tires simply need to have great traction both on a dry surface and on wet roads. Let's take a quick test of the traction performance to give you an idea of whether these beauties are worth your time and money.
Wet traction performance
The most important thing for an all-season tire's wet road performance is hydroplaning resistance. These tires simply bite the road in wet conditions, due to the large amounts of biting edges and wavy sipes we've discussed.
Liquid escapes in two directions – center rib tread grooves help evacuate the water from the middle of the tire, while side shoulder voids direct it out on the sides. To be completely honest, the wet performance isn't the best one in the category, but it's far beyond average as well. So, it's more than just decent wet traction performance for your money, considering the price of these AS tires.
Dry traction performance
There's just one thing to have in mind when it comes to dry traction performance expectations – these are not summer tires or performance tires. With that in mind, the dry steering is excellent for this category.
Assurance AS tires come with a maximized rubber surface that provides better contact with the ground, making them nearly lean toward a summer tire. The reinforced shoulders improve cornering stability on dry roads, so it rates around a solid 8 out of 10 when it comes to all-season tire dry performance. With these tires mounted, you'll experience no sliding or handling difficulties.
Snow traction performance
Having in mind the smaller sizes of these tires available, as well as their orientation to compact cars and sedans, their snow performance is amazing. It's arguably even better than wet traction, and if you live in an area where there's light snow, you can rely on these as a substitute for winter tires.
They won't disappoint, with biting edges spreading all across the center rib to grab the road even when it snows. You'll have no issues staying safe in your lane over light snow, Deep treads prevent a layer of snow from forming in the tire layout, so you are unlikely to lose stability, at least one lower and moderate speeds.
How do they perform on off-road terrains?
Sadly, these are not the tires you should take off-roading. There are several indicators that showcase this – first, they are aimed at compact cars and sedans, and not off-road SUVs and trucks.
Secondly, the tread compound could get damaged by hard rocks, and while it can easily survive gravel and small rocks, it's not advised to take these on a genuine off-road terrain.
Goodyear Assurance All-Season driving noise and comfort
Another area where these tires simply excel is noise and driving comfort. Don't make a mistake here – a difference of just 3dB gives you double the cabin noise, regardless of how slight it might seem.
That being said, the Goodyear Assurance AS tires are among the quietest and most comfortable tires in the category. Reinforced sides take some pressure away from the center section that usually takes all the road impact, so the tires are well-balanced in terms of comfort. You won't even feel passing through a small bump with them mounted, and that gives you a chance to enjoy a quiet conversation with the passengers.
Competitors and alternatives
There are not many competitors to these tires as they offer complete all-season traction along with comfortable and quiet driving. With that in mind, here are some of the worthy alternatives to Goodyear Assurance AS tires:
Yokohama Avid Ascend
Michelin Crossclimate 2
Assurance AS price range
There are several aspects to have in mind when it comes to the price of these tires. First, they are among the rare all-season tires that start from the 14″ size you can find for a low cost of around $90.
Still, as the sizes and speed ratings go up, so does the price. Because of it, the price also goes up to the range of $200 for a single 20″ tire. It's still a worthy competitor to premium all-season tires, given the affordable price range, which can even go down with Goodyear rebates and discounts!
Warranty
The warranty on the mileage that Goodyear issues with these counts up to 65,000 miles, which is more than the average warranty in this tire class. Also, there's a one-year or the first 2/32″ tread wear warranty that the manufacturer gives with this set.
That way you can enjoy the all-season traction with a single tire set while driving completely carefree and relaxed.
Compatible cars
As we said, these tires are aimed at compact and mid-size cars including some sporty coupes and sedans. Here's our list of the vehicles that make a perfect fit with the Assurance AS:
Ford Focus
Audi A4
BMW 3 Series
Honda Accord
Hyundai Sonata
Toyota Camry
Volvo S60
Audi A6
Subaru Legacy
VW Passat
VW Golf
Toyota Avensis
Our take
As the time comes for us to make a verdict on these tires, you are left with a clear picture of their value – Goodyear Assurance AS tires make one of the absolute best bargains. Their convenient price range makes the tires instantly attractive.
Now that you know everything about their superb comfort and quiet driving along with great traction in all weather conditions, even snow, we are confident that they make it to your shortlist!
REREV may receive a commission for purchases made through links on our site. Learn more.